TEGAN & SARA WEEK CONTINUES: Tegan & Sara continue their Spinner.com takeover with the video [below] in which Tegan & Sara interview Tegan & Sara.. Also Tegan & Sara kicked off with a behind-the-scenes video which you also really must check out. Because it is better than a reality show and cuter than puppies!
Also as you may know, we reviewed Sainthood overall AND reviewed Sainthood track-by-track (where you can go and talk about your feelings with us) and there's still time to enter to win a copy!

LOSING IT: Out TV trainer Jillian Michaels will get her own Biggest Loser spin-off show, called Losing It. Apparently, she will move in with a family for a week and fix their lives. Hopefully, she will also curse a lot and yell at her victims the family members. Where do I sign up? Seriously, have you seen her abs? (@ew)
GLAMBERT: Adam Lambert's video for 'Time For Miracles' has debuted! Looks like he's scaled back the glam for this video's 2012 theme. Check it out:
His album titled "For Your Entertainment" comes out (see what I did there?!) November 23rd… looks like we need to make another Terrible/Awesome Forecast Grid to illustrate how excited we are about this.
90210: Samantha Ronson guests on 90210 this week, hopefully to make out with Rumer Willis, but also; probably not. Furthermore, Lindsay Lohan told someone somewhere she wasn't kissing Balthazar Getty last weekend, b/c she would never "do that to Sam." So I guess that much like us, Lindsay still believes that she and Samantha are still girlfriends. Sometimes I actually can't believe this is happening. I wouldn't have expected this ten years ago.  Oh, times have changed.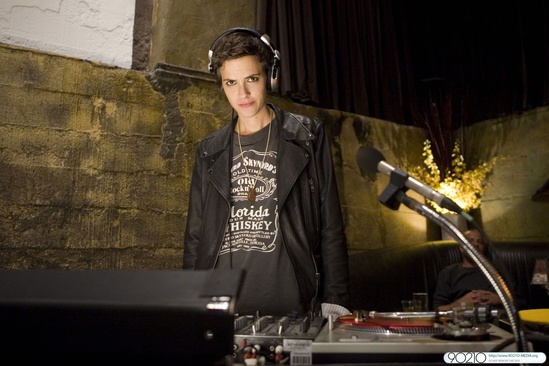 Um, Sam looks REALLY GOOD here, yeah?
TELEVISIONARY: Per always, super awesome – The Week Claire Got Lesbian Kissed, Izzie Got Fired and 30 Rock Got My Heart – Autostraddle Televisionary!
MODERN FAMILY: Great interview with the dudes who play the gay couple on Modern Family:
Eric, it's kind of a shock to talk to you. You sound like such a guy's guy.
Jesse Tyler Ferguson: I know! Everyone is so surprised when they meet him.
Eric Stonestreet: I'm a regular dude from Kansas who grew up with pigs and cows.
BRANDI CARLILE:Brandi Carlile officially came out this week, following the release of her third studio album "Give Up the Ghost" earlier this month. Not that we didn't already know that: her first album was advertised all over Afterellen.com a few years ago, she's been on Autostraddle's Gay Girl Gallery for months, plus Elton John & Amy Ray helped out on "Give Up the Ghost." "The reason why I don't have to have a lot of formality around it, the reason why I don't have to wear it on my sleeve and make a spectacle of it, is because there were people before me who paved the way so I wouldn't have to." Also, you guys, her new album is really good. Better than that sort of wordy quote about not coming out. (@latimes)
GAGA TOUR: MTV has revealed that Jason Derulo will join Lady Gaga for at least part of the Monster Ball tour. He's the guy that did the "Whatcha Say?" song, which shamelessly ruins Imogen Heap's best song ever. (@mtv)