Hello squirrel friends! I watched a lot of tv and got kinda cranky about it so now I'm going to write about it for you. This is no different than any other week except I am sober. And I actually have news this week!
Mia Michaels has quit So You Think You Can Dance so she won't be on at all this season, which bums me out. I love watching her insane judging comments but not as much as I really enjoy watching her choreography. Oh well. They will finally announce the top 20 tomorrow night, after like a hundred weeks of auditions. Tracy Morgan (I almost said "Jordan") wrote an autobiography! And he's doing readings from it (there's one in NYC this Thursday!), and apparently he didn't get along with everyone from the cast of Saturday Night Live during his time there.
I'll get to more of my usual issues with Calizona on Grey's Anatomy in a few minutes, but for now, Sara Ramirez tells E! Online that Callie and Arizona will have a normal relationship for a bit. This article is annoying in many ways but at least this gives me a little hope that maybe they'll kiss like, once, this season… maybe?
Also, best news EVAR: Joss Whedon is going to direct an upcoming episode of Glee. Uhh, my brain just exploded. And finally, if you missed my Glee recap for episode 107, you can read it here. And if you can't get enough Sue Sylvester on Glee you can now get tons of her bon mots on her twitter.
Anyway there were lots of big events on tv this week: firings, weddings, photo montages, girl-on-girl action ratings stunts… let's begin, shall we?
And now…
The Carlytron Television Awards for the Week Ending 10/18/09!

The Pacific Rim Emmy Award – 30 Rock
Episode 401 – Season 4
Yay! The moment we've all been waiting for, 30 Rock has finally returned! This episode, luckily, did not disappoint. I can't stop singing the Cheesy Blasters song or quoting Tracy's insane questions to pedestrians outside of Rockefeller Center ("Are you a pre-op transcentaur?"). Truly an instant classic. I'm already worried though, because the ratings were down for the premiere, but I am chalking it up to two things: 1) a terrible episode of The Office as a lead-in, and 2) NBC's half-brained decision to premiere it in mid-October when the rest of their Thursday night lineup has already been on for well over a month. Also, it's problematic running tons of promos for a show on a network no one watches anymore (sorry NBC). I am really not worried though, cause this season looks like it's going to be very, very funny.


The Totally Random Guest Stars Award – Gossip Girl
Episode 305 – Rufus Getting Married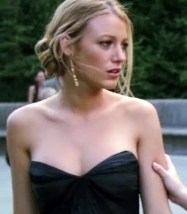 Um, Sonic Youth played at Rufus and Lily's DUMBO wedding. Wow. I love this show. Georgina tried to ruin everything and was amazing, Scott still can't act, Blair was awesome (she called the new Mean Girls "new Mean Girls," which… yay!), Vanessa was borderline-ok, Serena was hot, Carter is probably dead, Bree is annoying and hopefully off the show now, Nate's part of the show again, and Rufus and Lily are finally marrieeeed! Obvs Nate and Serena are gonna hook up now right? And how hot did she look at the wedding? I also like how all of the main characters on the show came together this episode, and have been doing so a lot this season. Sometimes I miss the cattiness but I'm really enjoying them all coexisting a little bit more.


The Expanding Vocabulary Award – How I Met Your Mother
Episode 504 – The Sexless Inkeeper
This was such a great episode! I loved seeing Robin and Barney interacting more as a couple and Marshall and Lily trying desperately to impress them. Marshall's photo montages were hilarious too, and then they made this wacky music video that was not in the episode:
This was probably the best episode of this season so far, and I loved the introduction of the "sexless innkeeper" to the HIMYM lexicon. But does Barney's realization at the episode's end spell trouble for his relationship with Robin? Only time will tell! Dun dun DUNNN!


The REALLY?! Award: Heroes
Episode 405 – Hysterical Blindness
I have no idea what is going on on this show. An invisible carnival? Sound waves that can crack walls? Sylar with ridiculous season-one-Peter hair? And then Claire's ratings stunt revealed herself. The only interesting part of this episode for me was the reveal that creepy lesbian roommate wasn't all that creepy after all, she was being framed by an invisible sorority girl. Ohhh, right. That's totally happened to me before when I had crushes on straight girls in college.
Ugh, this whole thing was so annoying. Such a ratings stunt. Haven't we played the whole "stalker lesbian" thing to death already?? Come on, writers. Grow up.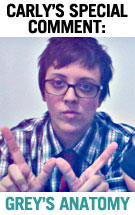 Special Comment: Grey's Anatomy
Episode 605 – Invasion
Is this where we are? It's almost 2010 and the only network television lesbian storylines are about unaccepting parents and crazy stalkers with crushes? Whereas gay male couples on network tv get to be wacky sidekicks or struggling to fit in at high school or adopting babies. I don't really know which is worse but personally I'm not really pleased with either, how about you guys?
Anyway, Callie's dad arrives with their priest in tow to try and "pray away the gay," as Callie so eloquently puts it. They have a Bible-off, screaming scriptures at each other, until it seems that they are at an impasse. The ladies have a conversation about this — literally in a closet — and so Arizona talks to Mr. Callie and in the end he realizes that Callie is the same girl he raised and takes the first steps toward acceptance. Our lesbians embrace sadly but do not do anything else. Luckily no food or wine was consumed during any of their scenes so I guess that's a step in the right direction.
This is one of Meredith's best episodes, since all she could do was sit in bed and make sad faces and act desperate for gossip and throw tissue boxes at Cristina.

The big news of the hour though is that the new Mercy West kids show up and are awesomely mean to the Seattle Grace morons, what with their sneakiness and their ugly orange scrubs and all. The merger claims its first series regular victim this hour, as Izzie is fired, disappears after leaving Alex behind (Heigl needed time to film a movie, zzzz) and I cheer happily from my couch and play with Photoshop:
While watching this last night my friends and I decided that Callie's dad would be so much better if he were actually Betty's dad on Ugly Betty. Callie would be all sad and then he'd make her some flan or something.

The Amazing Home Movies Award – Modern Family
Episode 104 – The Incident
Shelley Long makes a guest appearance as Al Bundy's ex wife and we get to see some home movies that show what happened when she got wasted at his wedding to Gloria. Then she attacks Gloria at a family gathering and they all bond over Dylan's totally inappropriate song (I totally saw that coming, btw). Pretty amazing stuff; I really like this show.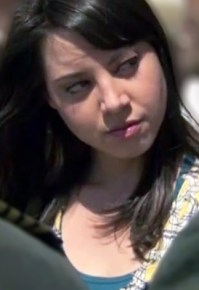 The Hot Girl of the Week
(by Intern Lola)
When presenting the highly esteemed Hot Girl of the Week Award, I usually factor in both the actress and her current TV role. However, I don't have much to add about Parks and Recreation's Aubrey Plaza, who seems to be pretty under the radar. Up until last week, all I really knew was that Aubrey Plaza is not a place, she's a person — a funny person. (I mean, she was even in the movie Funny People.) But you know what else Aubrey Plaza is? Half Puerto Rican! And so is her character April, as last week's episode revealed. While I've always appreciated April's deadpan cynicism, it reaches a whole new level en Espanol. "My Mom's Puerto Rican. That's why I'm so lively and colorful." I don't know which I love more — sarcastic girls or multilingual girls. Obviously any girl who speaks sarcastically in Spanish gets my vote for Hot Girl of the Week.


The SNL Sketch of the Week
Whoa, no digital short? Weeeeird. This episode was sorta lame. I didn't really care about all of the dude stuff, like jokes about The 300 or Braveheart, no matter how gay it all was. My favorite part of this episode was this Beauty and the Beast sketch:
Runner up was this bit from Weekend Update where our girl Kristen Wiig pretends to have a bunch of orgasms.
I'm sorry I keep embedding Hulu clips, which don't work for our viewers outside of the US. Does anyone know of a site that has clips that aren't geoblocked? I'll gladly switch!!


The Gay Moment of the Week
This music video from this Friday's episode of Batman: The Brave and the Bold, featuring my secret boyfriend Neil Patrick Harris as the Music Meister is really, really gay.


Honorable Mention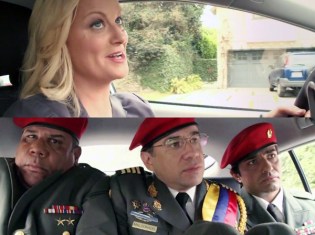 Parks and Recreation: Continues to impress me more and more each week. Fred Armisen was amazing this week!
FlashForward: Joseph Fiennes is so… dramatic. I will stick with this cause I want to know what the eff is going on but it's hard not to laugh a little while watching.
Ugly Betty: It's back! And it's… on Friday! It was good but I'm worried this will be its last season. If it wasn't for Marc, Amanda, Justin and Hilda I don't know what I'd do! Also a two-hour premiere is just cruel guys, srsly. I look forward to more Marc/Justin/Hilda interaction this season (their scenes together were really heartwarming/-breaking) and can't wait for Betty to get her braces off and for Matt to grow up. Also they recast Vanessa Williams' daughter, she's now played by Yaya from Top Model Cycle 3 which I will laugh about from now until the end of time. Respeito, Yaya!
The Office: Uhh… this was extremely disappointing, a mostly unfunny filler episode. I'm kinda bummed. It did not hold up well against 30 Rock, Parks and Rec, and even Community.
Cougar Town: I should probably be more annoyed by this show than I am, but I still think it's funny.
It's Always Sunny in Philadelphia: Not as good as last week's intervention episode but the bachelorette party that Dee threw for the waitress was so funny, as was Charlie's horrifying blind date.
Gone Too Far: I want to urge you all to check out some episodes of Gone Too Far, the series the late DJ AM was working on before he unfortunately passed away. It's like Intervention but with a celebrity host, and a bunch of my friends worked on it so check it out! Really moving stuff.
'Tron out!