Hello, cupcakes and stud muffins, salads and meats, pinks and blues, guns and tiaras, dogs and cats, sport balls and books, gray-bottled body washes and body washes, shops and salons! Welcome to another Straight People Watch, our own private hell!
As many of you know, things… aren't great. Straight people continue to wage their war on decency, style, and logic while the waters and temperatures rise. Still, we must supervise the chaos, tired and detached, like a hungover substitute teacher.
I don't know if it's due to the thrill of now having an audience or the delinquent nature of summer, but one thing's for sure: the heterosexuals have been on a tear as of late.
---
This is on some "I ordered my American Girl doll the SEAL Team 6 kit" vibes.
Mommy, I love you so much and *loads magazine of 30 bullets* I just want to thank you *takes off safety* for everything you do for me *cranks chamber* and my sisters, Haley and McKhaley. *while firing all 30 bullets* Happy Mother's Day to the best mom in the world. *a gas tank being used as the target explodes in the distance*
---
yesterday a woman told me her boyfriend has one special shirt he doesn't let her wear because "this is the last item of clothing i bought as a single man babe, it's special to me" and i just…what?

— vanessa 🔪🔪🔪 (@vanessapamela) July 19, 2018
Brought to you by our very own Community Editor is this piece of information that I now consider every time I encounter a coupled straight man. I've thought about taking it a step further and asking if an item a coupled straight man is wearing is their LSP (Last Single Piece). I'm sure many will pretend they don't know what I'm talking about when I inquire about their LSP, but there's no way Vanessa's incident was an isolated one. To those already single I'll say, "Wow, man, look at all these potential LSPs!" while I point to their coats of many khaki. I wouldn't fault you if you did the same!
---
What does God look like? Researchers at the University of North Carolina at Chapel Hill found that Americans generally think God looks like a young, Caucasian man. https://t.co/TjrxeMrtGm pic.twitter.com/K40kMVD4MC

— NBC News (@NBCNews) June 12, 2018
HELP WHY DOES GOD LOOK LIKE A GUY NAMED DARREN TO STRAIGHT WHITE PEOPLE?! Hey, it's me, God, Mike's buddy from FanDuel fantasy football and/or the Golden State Killer, and I just wanted to tell you it's chill if you mess up sometimes, 'cause like, we all do it. At the end of the day it is what it is, bro.
Also please do not disrespect me and ask me how I know this is straight white people's doing.
---
Crazy video: Gender-reveal fireworks fail sends people screaming https://t.co/NUt6pG175D pic.twitter.com/h8dUfS7xAg

— KETV NewsWatch 7 (@KETV) July 19, 2018
Look at Darren's work!
---
Sassy VH1 memes? This phrase is haunting my brain and every time I try to unlock its meaning, a new layer of the maze presents. Sassy… VH1… Memes… Sassy VH1 memes. Sassy memes, VH1. VH1's sassy memes. Also why is soy capitalized? Is he referring to soy as like Big Soy, a la Big Data and Big Tobacco?  It's dark in here and I'm scared!
---
straight ppl: two women or two men together is just unnatural

straight ppl: pic.twitter.com/G8txoc4dAh

— Erin Sullivan (@sullivem) May 5, 2018
What an upsetting piece of media. If I had to see this YOU had to see this. Something I love is when someone laughs nervously after I kiss them.
---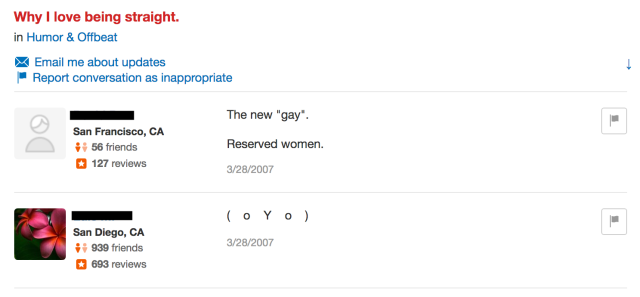 This is from a decade ago, yes, but it was brought to my attention last month and so I'll be allowing it. There's obviously a lot going on here. What does the first comment even mean, for example. Then just a symbol-depiction of boobs. Little does that person know that there's the opportunity for twice the ( o )( o ) with reserved women.
---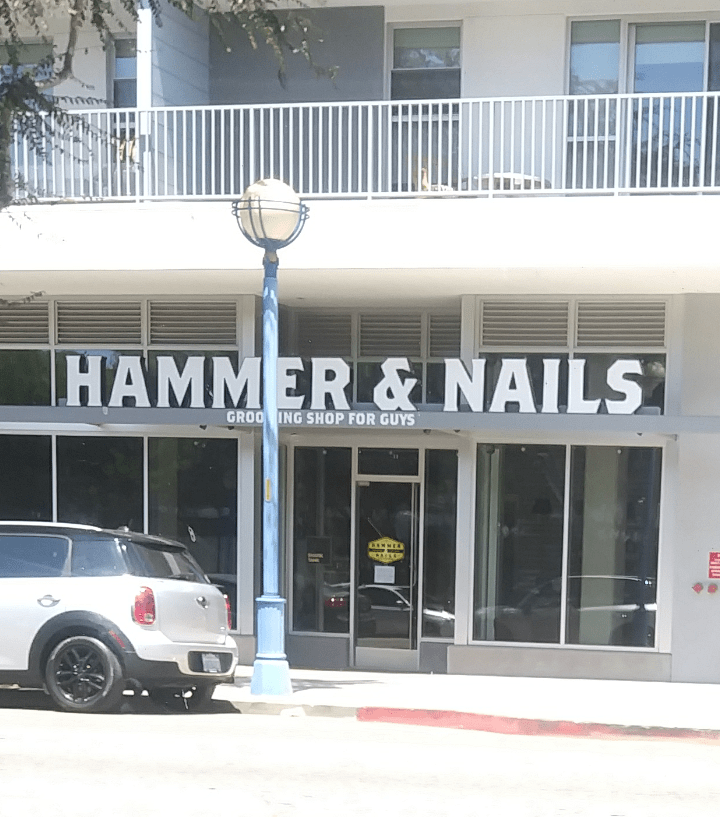 Among the City of Angels walks the devil himself. I have to pass this every single day, and every day I'm surprised that their version of a sign-spinner isn't a man non-stop punching a wall. I will never know peace.
---
https://twitter.com/barstoolhrtland/status/1019905856769544197
Ah, Barstool, the apple of Straight People Watch's eye. Look, I understand that everyone has their passion, but what in the hell are we actually doing here. Left to their own devices queer people will create a vegetable co-op and gather under the new moon to set their intentions — and this is what's happening on their end.
---
https://twitter.com/wicklund_lainey/status/1023335337341476864
LET THEM PERISH.
---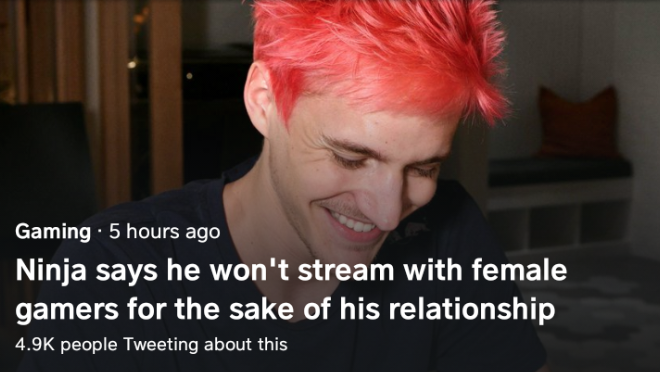 I'll be honest, as a female, I have no idea what any of this means or is referring to, but could the headline here have read "women" instead of "female gamers"? That's just one thought I had as a female writer. This femalely reminds me of the trend from last summer where straight people were considering whether or not married people could text people of "the opposite sex," and I'm excited for next summer when I hear with my female ears that straight people are debating whether or not their spouse can have a doctor or female doctor treat them.
---

Straight from the DMs isn't a story from 1930!
---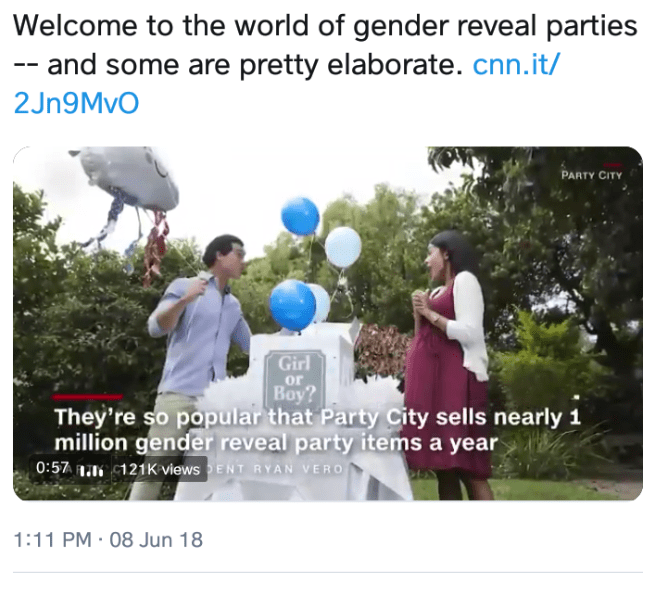 One. Million. A. Year. First of all, stop having babies. Officially, we're good. Second of all, I'm going to be the dead body in Party City from this tweet if this continues.
---
I'm not linking to this tweet that was sent to me, because it autoplays and traumatized me, but I will set the scene for you: this woman sent a picture of her newly engaged hand to a group of friends without realizing it was a Live Photo, which included her fiancé hopping toward her with his pants and boxers down in the background. Imagine. Imagine the person you've just committed the rest of your life to decides the best thing to do upon you trying to capture the moment is to expose themselves while hopping toward you. Roughly how old are men in their 20s/30s?
---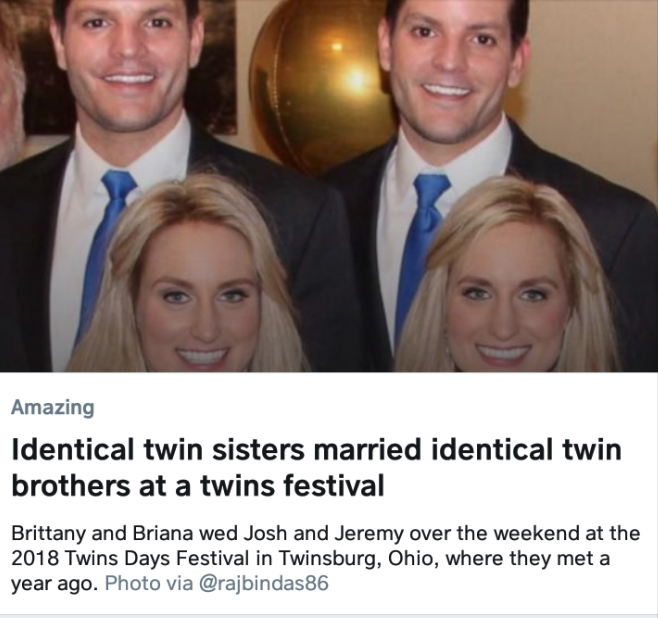 :)  :) :) :)
---
Checking in for the Wage Gap Haver! I'll need a single bed for a fifth more of the price, if you could swing it. Also, hello, I'm an adult man who can pay for a hotel and I'd like one "his" personal care kit please! I'm a big boy!
---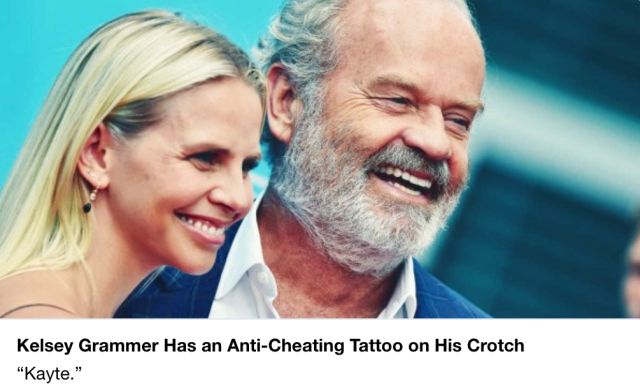 When the hubby gets inked for you.
---
I love that this man brags in his opening line that he and his wife didn't have a gender reveal moment on social media as if he isn't writing a 2000 word article on his baby's gender reveal. Straight people and their bread/meat/vegetable thing as if babies are a charcuterie plate is really sending me to a new drag dimension. You know what's a food that's almost a baby, like your almost-baby? AN EGG. GO EAT EGGS, THAT AT LEAST MAKES SENSE. PAIR IT WITH FLAPJACKS & JANES, HA-HA-HA, LIKE THE MAN AND WOMAN NAME.
---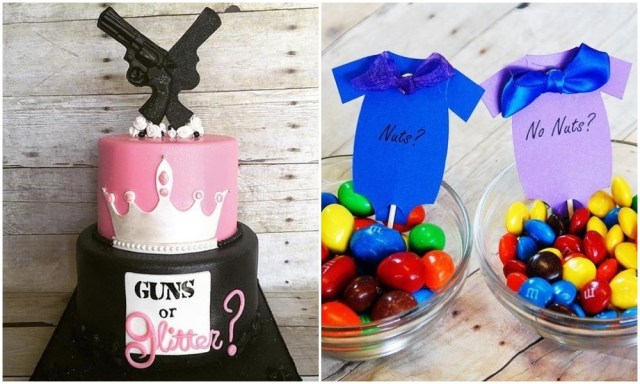 I'm so tired.
---
When the moon hits your eye like a big pizza pie that's (big) tobacco.
---
Are you sure YOU don't have anger issues? Your husband's dead and a skeleton who operates an AK-47. It's okay not to know what to do with grief or fear. We all handle it differently. Okay and this is a serious question: do straight people want to… fuck guns?
---
1.) Get Me Pregnant Or Let Me Go is my one-woman show that I will be taking on the road. 2.) Do straight people know they can adopt? 3.) "Starring down the barrel" confirms it: straight people want to fuck guns. 4.) These people deserve each other.