Is there a bigger cry for help than a sequel?
If you can remember the year of our lord 2017, you may remember I did a little thing where I 
forced my friends to re-enact the Planet from the L Word for an entire week.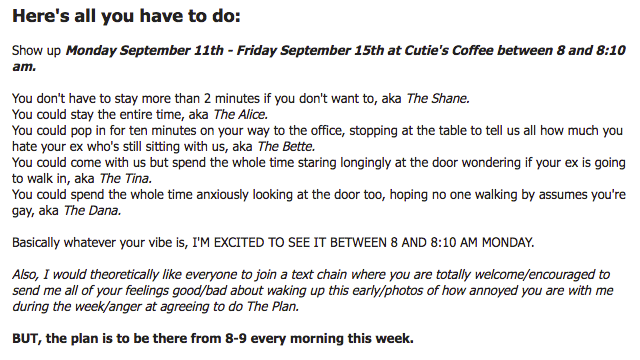 I did this because: a. I'm a Very Normal friend and b. I wanted to prove that it's completely unrealistic to expect a group of adults to meet BEFORE work at an inconvenient location to spend money and talk, especially when that's what they already do every night. And tbh, it was. But somehow we did it. So why, you ask, would I put myself and innocent others through this again?
Because no one stopped me!!!! And because I woke up one June morning and realized I hadn't tested my friends' patience in a while.
The Pre-Show
It started just as innocently as before.
Once I polled the group (my potential new series regulars), the enthusiasm reverberated through my phone. These people needed me!! I had a job to do. So, I got to work executing Season Two of Re-Creating The Planet from the L Word aka: Why Am I Like This?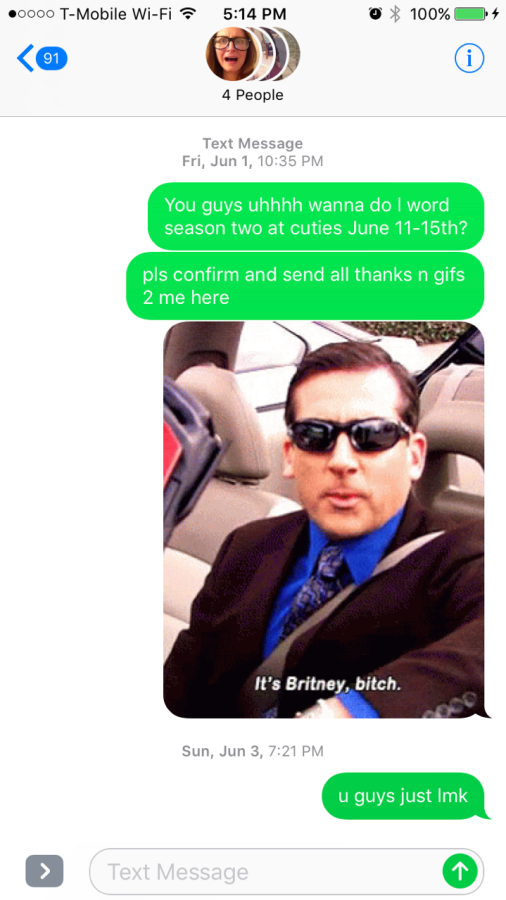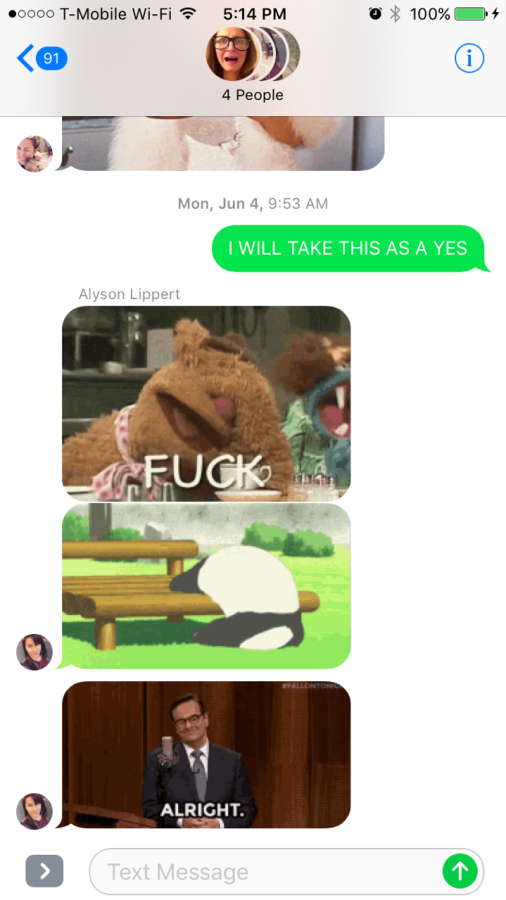 Season two is a true #tbt to all the cast shakeups, the plot lines (holes), the guest stars, Ivan! Welcome to hell my babies.
Day One: Monday. Oops.
In what may be the MOST L Word moment of all, Monday morning, the first day of Season Two… we completely forgot. As a group. All of us just… forgot. No one texted, no one called. No one anything'd. We collectively were so exhausted/hungover from Pride that weekend that NO ONE WENT. And if that's not the most L Word thing you can imagine, just wait for Thursday.
It wasn't until about 4pm that day that I realized what happened. After shaking off my 'embarrassment' with some modern medicine, I sent out some feeler texts like, "Hey, remember when we were supposed to do that L Word thing again?wp_postsand "soooo, are we really still doing this?wp_postsUnfortunately, yes. Yes we were.
Periods: 0
Tickets: 0
Coffees: 0
No-Shows: 6
Day Two: Tuesday. The First Day.
To say the least, we all woke up bright and early, excited to get a fresh start for our new beginning of the week: Tuesday.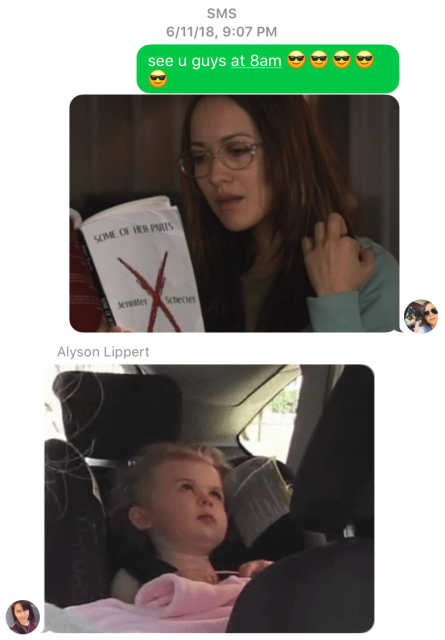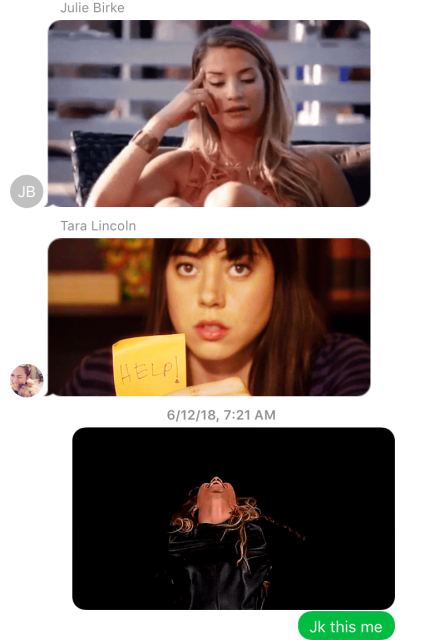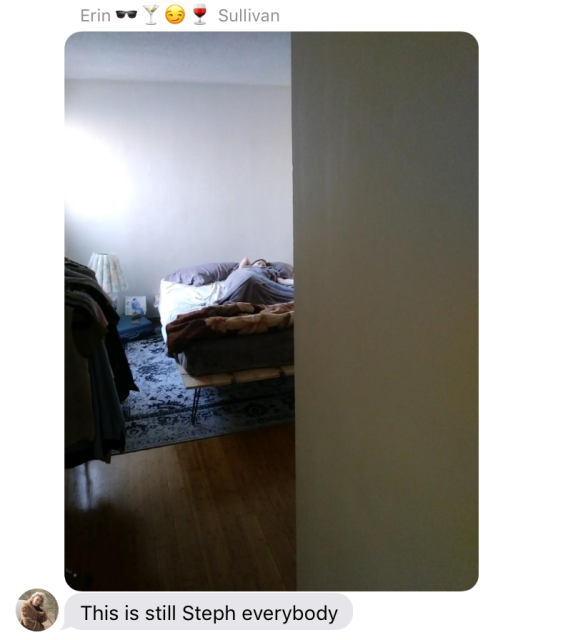 @sullivem the sellout!!
I was awake… barely.
Tara, our 'Token Straight,' was a no-show because of 'cement trucks blocking both ends of the street.' A cement truck or newfound homophobia? You tell me.
Alyson, always excited, showed up first, ready to greet us with open arms and the gift of technology. It seemed like Saturday's Dyke Day and Sunday's pride parade were still pulsing through our veins because everyone was ready. to. PARTY.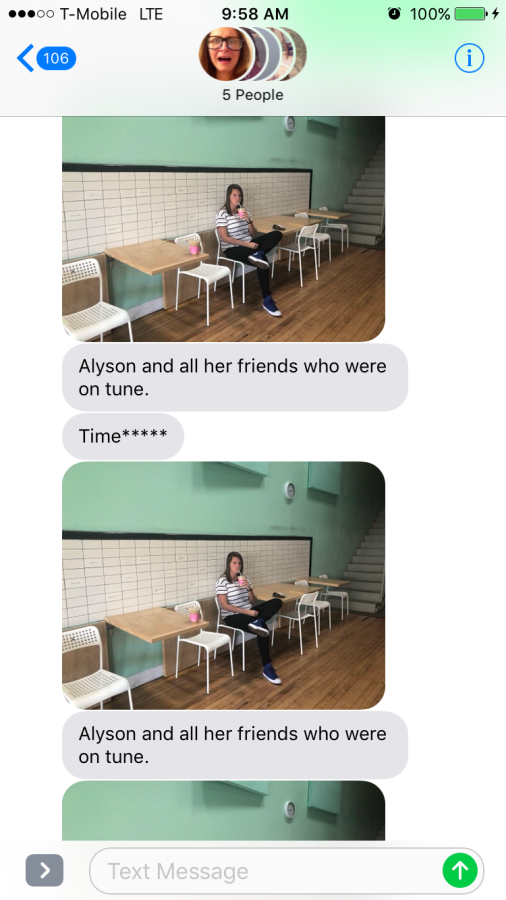 Testing friendship through trials and drained bank accounts seems to be my specialty! We poured in eagerly, ready to start the week on this holy Tuesday, and put together the pieces of the weekend, Memento-style.
Then this happened…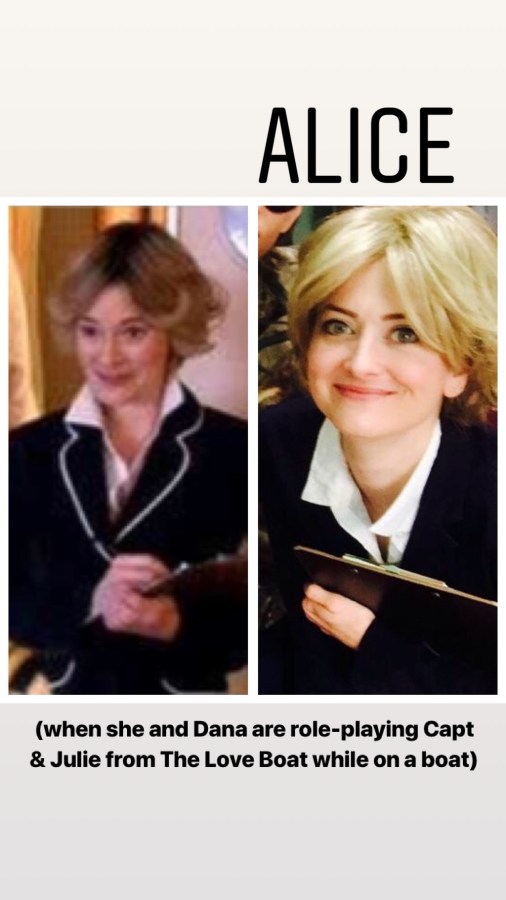 If you remember, Julie chose some particularly exciting (upsetting) characters to emulate last year and everyone loved (cried over) it!
But that aside, we. had. THINGS to discuss. We had all been politely sitting on (too-sun-poisoned-to-previously-discuss) our stories from pride weekend. It's as if the universe knew we were about embark on Season Two and forced us to chug warm beers in 95-degree heat. :)
For example: within minutes of entering the Dyke Day venue that past weekend (which was, by the way, a large open field only accessible by hiking up a giant hill), not one but two of my Exes appeared, seemingly out of nowhere.
Side note, am I the Shane? You can tell me. I thought I was the Dana but I was informed I'm "not athletic'"and "quit my gay kickball team after one game because I screamed every time someone threw the ball at me," which felt like an attack.
The Two Exes were together. As in, arrived together, not necessarily "together-together." But you never know! Together they walked by our group a cool seven times, staring at me so pointedly, I'm choosing to believe it was a gift. A gift that would give our group a solid jumping off point of discussion to begin our Tuesday week.
Stephanie Ritter: bringing people together!
Periods: 0
Tickets: 0
Coffees: 5
No-Show: 1
Day Three: Wednesday. Lucy, can you hear me?
The previous night, a group text began, unbeknownst to two of our cast members: me and Alyson. It seemed everyone joined forces to share how exhausted they were. Perhaps another way to share their excitement?? Unsure because Alyson and I were already asleep, which I learned the next morning by way of these photos…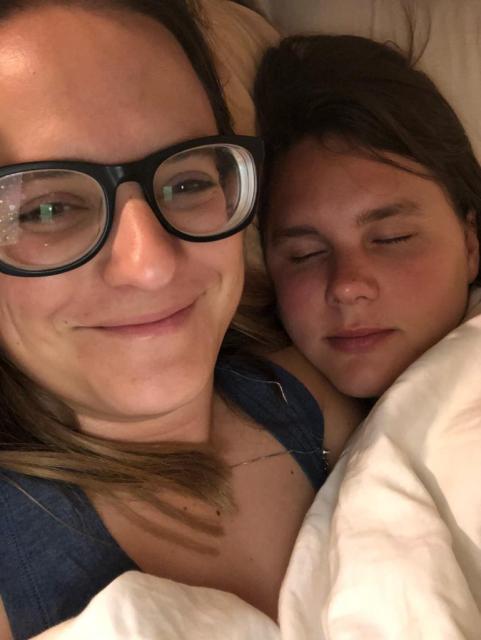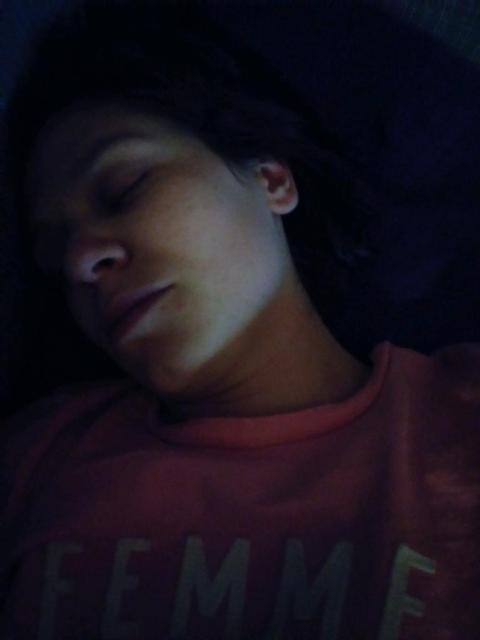 Vicious.
At the last minute, the team tried to rally for a swap to 9-10 am. It didn't work but it did spark a fire that we learned would never go out. That fire? A desire to END. THIS.
That day, the music at Cutie's was a little loud so we retreated to the upstairs loft, just in time for another assault on our ears: the presence of Carmen de la Pica Morales, 'DJ' extraordinaire, complete with CUPS on her ears, temporary hair dye that may or may not have been applied to her eyebrows as well… and a hat with a post it note reading 'fedora.'
RIP us. Here we were… and it was only day two. And again, our Token Straight was a no-show. Was this a message? A warning? Did she know something we didn't? Only time would tell.
Periods: 0
Tickets: 0
WhiteCarmen: 1
No-Shows: 1
Day Four: Thursday. The Planet is… Closed?
If you remember correctly, desperate for a change after all 'the pussy, the penis, the baby' of Season One, Season Two threw us some curveballs. Two of which we experienced on Day Four/Three.
First: Our breezy arrival timeline seemed to just disappear. Season Two was getting lax…
Next: Remember when the Planet just like, shut down, for a minute?? It jostled the cast, who had to order coffee at a NORMAL COFFEE SHOP, but they turned into alien-like creatures that had never had breakfast anywhere but the Planet.
I will say, despite the location change, the L Word cast still managed to show up. Even though they hated the coffee, even though this locale made TANYA the only normal person, even though they were turning their backs on Kit… they made the jump.
Could our guest stars survive the jump? We decided to hop from Cuties to Stories, and what a hop it was!
We got *three* guest appearances, plus some dogs, and a Mena Suvari sighting (my favorite Six Feet Under guest star, do not @ me). Finally, our Token Straight appeared. As did Brittani Nichols, our first actual Guest Star of the season.
Julie continued upsetting us, this time, appearing as everyone's favorite drag king Ivan Aycock (How Did This Show Exist).
The waitress came out to deliver Julie's tea, and somehow, shockingly, knew exactly who she was. No prompting. Not sure whether this is a win or a loss.
And, everyone's favorite sociopath (not Jenny), but NewJenny: Adele, complete with Jennifer Schecter's Sum of Her Parts, appeared. Be still my bookshelf.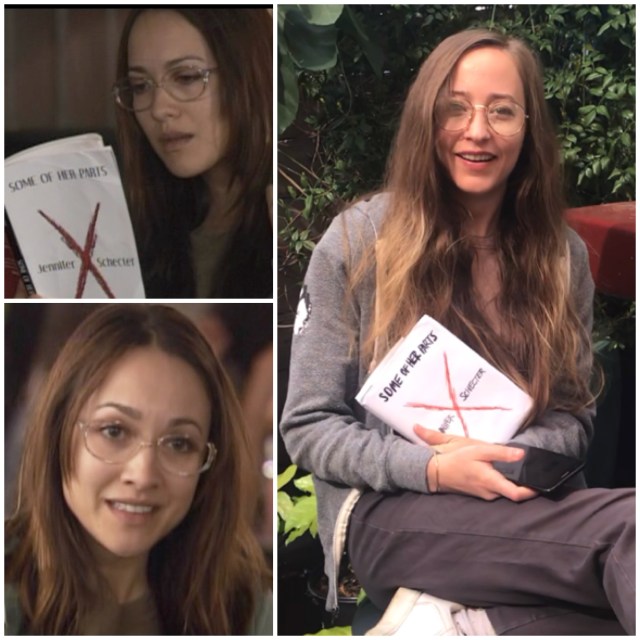 Sure, Adele didn't actually appear in The L Word until Season Five, but you know, on the off-chance we don't manage to repeat this event three more times, I'm glad we got her in while there was still time.
Periods: 0
Ivans: 1 :-(
Guest Stars: 2
No Shows: 0
Day Five: Friday. MAD LIBS: Free (name) from this (type of prison).
They say hindsight is 20/20. But that's accounting for what I can only assume is a normal sleep schedule, a healthy regiment of caffeine instead of mainlining espresso between our toes, and having normal jobs. Despite the fact that at the end of last year's v casual Week of Torture, everyone was unanimous in their support for a repeat performance. Did we learn nothing??
Spoiler alert: just like Jenny deciding to date Gene and work at a chill Fred 62's ripoff called "Hank Fifty-Nine" where they serve Mountain Dew in CANS, we made some mistakes.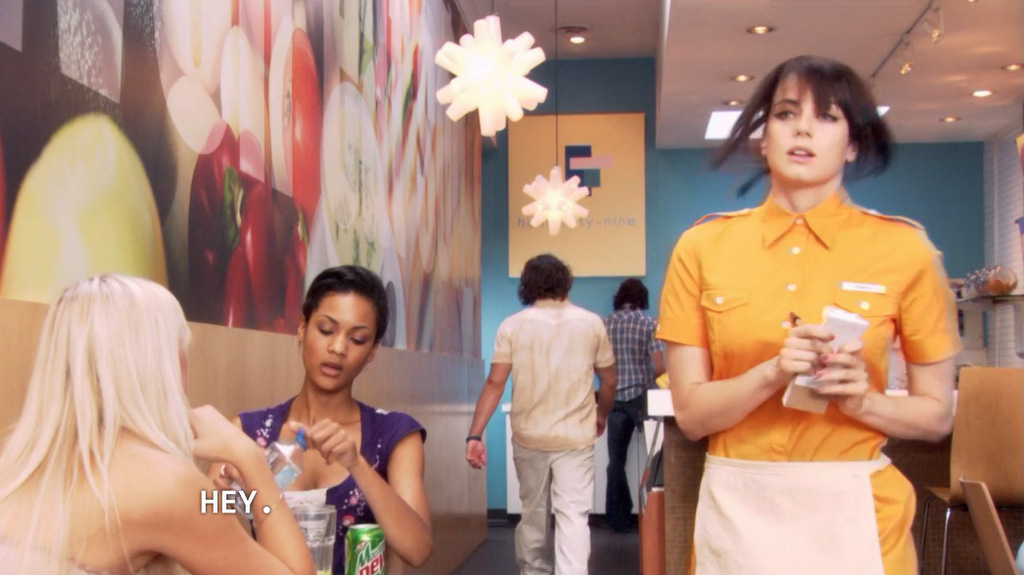 We continued to hang out at night, which, if I ever do this again (arrest me), perhaps should be stopped? So obviously, by Friday morning, we were digging in the trenches for things to discuss. On Thursday, in a last-ditch effort to bring up the morale of the final day, we decided to call the day Egg Bagel Friday. But then! Egg Bagel Friday was topped when the Lesbian Gods shined down upon us and Sue from Great British Bake Off appeared next to us at the bar. It was a sign. A sign we were on the right path? That we picked the right week? That we should invite her to 'The Planet' the next day? That we were all delirious and imagined this appearance?
Well be GRATEFUL we didn't because, again, after too many Tiki drinks, we changed the time from 8 to 9 and forgot to tell someone…
Sorry Brittani! Here is my public apology!
But tbh Brittani should be grateful she left before we got there, because this monstrosity showed up…
We discussed finances or something, played Buffy MadLibs (queer culture), and debated whether or not we made the wrong choice not inviting Sue to Friday's coffee.
Periods: 0
Quinceañera Princesses: 1 :-(
Guest Stars: 0
No Shows: 0
At the end of the day, my main questions are:
Why do I keep doing this to myself/others? Is this something I should bring up in therapy or should I just rewatch Season 5?
Did Sue really appear or was the universe giving us a collective mirage for the sole purpose of giving us a discussion point?
HOW DID NONE OF OUR PERIODS START ALL WEEK?
Until next year, (do not let me do this again next year)
steph