Hi crush monsters, this is Straddler On The Street, a feature where I celebrate all of you incredible Autostraddle readers by hunting you down, demanding you chat with me, and then writing about you on the Internet so we can all crush on you. Get excited, because butterflies in your stomach 24/7 is a fantastic way to live.
Header by Rory Midhani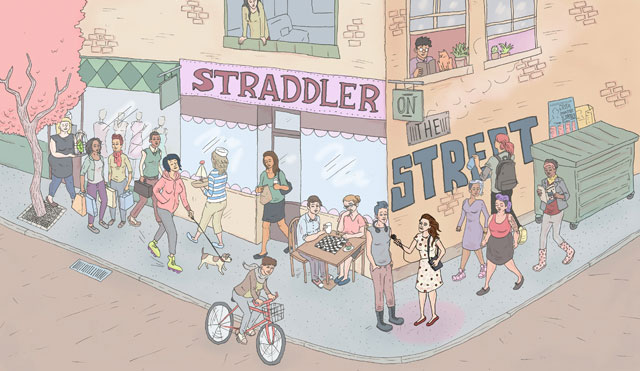 ---
Straddler On The Street: Marika, 26
If you have read Autostraddle even once, then it's likely that you've seen some of Marika's brilliance in the comment section. She is one of our most prolific commenters, and she always brings something excellent to the table, whether it's a thoughtful explanation about something science-y, a funny joke about vaginas, a willingness to be corrected and to learn and listen, or just some simple validation that we're doing an okay job and that someone is out there reading. And for that I think I can speak for the whole team and say, thank you, Marika!
Because of her prominent presence on this website, I feel as though I've known Marika for much longer than I actually have – we only just met in person at A-Camp in May! She hails from Crystal Falls, Michigan but is currently a grad student at Notre Dame in Indiana, working on her PhD in molecular biology. She likes bow ties and hammocks and science and is allergic to many things. When I asked if she's single she said, "I have a jealous girlfriend named graduate school, but sometimes I sneak around." I guess it's up to you guys to find out how serious she is about that relationship!
Can you tell me a bit about your PhD studies?
We focus on protein secretion in tuberculosis. Basically, the world revolves around genes, which encode for proteins. And bacteria secrete proteins – push them across cell membranes – into the host that they are infecting, and those proteins are responsible for destroying things and/or provoking some sort of response from the host, like a response from the immune system. I spend my days basically playing Legos with proteins, seeing which ones interact with each other.
That sounds very complex, but I assume there are some likeminded science-y humans out there who totally get it. As one of our most prolific commenters, tell me how you found Autostraddle.
I found Autostraddle probably about three years ago? My then-girlfriend sent me a couple of articles – one was to make your own suspenders, one was to make a tie into a skinny tie – and I was like, "Where did this website come from? This is so cool!" The girlfriend didn't stick, unfortunately, but Autostraddle did! Also, I have OPINIONS – hence all the commenting.
Haha, we love it, for real. Because you're such a serious commenter, it feels like we knew a lot about you, even before meeting you in person at camp. Can you tell me your A-camp feelings?
Wow, I have so many camp feelings. Camp is really amazing for me because I live in an area without a lot of visibly queer people, and I am basically a 50 footer. It's nice to sometimes be in a place with people who share your basic beliefs and don't judge you by the way you are dressed/your haircut/your bow tie, you know? I find camp to be both relaxing and cathartic.
Plus, it's so nice to meet some of the amazing people I interact with on the internet on a regular basis, you know? The AS authors are fantastic. Especially that one who always wears floral print crop tops.
Oh my god stop you're making me blush! But I must stay professional. Ahem. Aside from being married to grad school, what are some of your hobbies? I know you like making eggs…
I really love eggs. We're pretty much involved. I'm cheating on graduate school with eggs almost every day. Don't tell.
But seriously, food is a major hobby for me. When I went gluten free, I was depressed for a while because I couldn't eat food. Then I figured out what I could and couldn't have and started baking. A lot. And now I bake pretty much all the time. Shannon posted this recipe for brown butter whiskey chocolate chip cookies a while back, and I like to make those with 6x the bourbon and gluten free flour. I got second place in a cookie competition with them. Also, I make a mean Nutella swiss meringue buttercream and pretty good cupcakes.
My newest hobby is cross stitching. I just sent my brother and my sister-in-law two Portlandia theme cross-stitches for their respective birthdays. I'm also in the midst of making several gay themed ones, and a Ke$ha cross-stitch that says "go insane, go insane, throw some glitter make it rain!"
Another major hobby of mine is hammocks. I have one in my living room in lieu of a couch, and another portable hammock that is currently strung across my back porch.
Okay WHOA. First of all I've totally made those cookies and they're fantastic, even with the regular amount of bourbon. And hammocks! Can you give us some hammock wisdom, please? Once my roommate got a hammock instead of a bed but then she got bored and bought a bed.
Hammocks are fantastic! I would highly recommend that people just buy a portable double wide hammock and straps for it, because then you can hang the hammock between trees or posts pretty much anywhere. I have a Trek Light double hammock and adjustable straps from Eagle's Nest Outfitters. It takes about two minutes and no knots to set up a hammock. It holds itself in place with physics. SCIENCE!
Also, never get a hammock with a spreader bar – not that kind of spreader bar – because they are not good for your back. Hammocks traditionally have gathered ends and are made from tightly woven cloth as opposed to rope. So the basic backyard hammock that we might think of is actually not the greatest hammock.
Also, I have discovered that you shouldn't lie in a hammock in a straight line, along the line of the hammock? Because then you are curved like a banana shape.
I am really excited that we are talking about the Science Of Hammocks.
I know right? Hammocks are all about science! Isn't it great how you can bring science into everything?
It is so cool! I am actually really impressed by people who understand science, mostly because it is so mystical to me. Okay on a much more serious note, I am wondering if you feel comfortable talking about your family and your dynamic with your parents?
I can share. A lot of people are going through the same thing, so maybe it can help.
I grew up in a very Catholic family and as my parents grew older, they became more conservative. I never really knew how they would react to me being gay, so I hid it from them for a couple of years. Then, when my older brother was getting married to a woman from a Jewish family, my parents said they wouldn't come because they have a policy of not going to non-Catholic weddings. I wasn't out yet, but that hit me like a punch in the gut. If they won't go to my brother's heterosexual wedding, they're really never going to be okay with my future hypothetical wedding, right?
So through a series of convoluted family things, my aunt – who had it confirmed by my other aunt that I was gay – outed me to my dad, and I got this weird letter in a birthday card saying they were disappointed to hear I had "outed myself as a 'homosexual' on the internet." That was awkward. We haven't actually talked since. That was about two years ago.
Since then, they skipped two of my brothers' weddings. Which is not cool. On the plus side, I have four really amazing siblings! And three really amazing in-laws.
Is it tough to not be in touch with your parents? Maybe that is a stupid questions – I just don't want to assume any specific feelings you may or may not have about it, and am curious to know how it personally affects you.
Mostly holidays are hard? I'm really into Christmas. 100% pro-Christmas. I like stockings and cinnamon rolls and presents and trees and lots of Christmas carols. And so far I've always had people to spend Christmas with, which is nice, but I do miss home then. Also birthdays, Mother's Day, Father's Day… those are all pretty hard.
That makes sense. Do you wish that your parents would come around? If that happened, would you be interested in reconnecting?
I think there are a lot of apologies they have to make to a lot of people in the family. But yeah, I would consider it. I just don't want to sacrifice my ideals and my identity for the sake of being in contact with them? It would feel like being closeted again, which was terrible and resulted in lots of crying.
That's really understandable. Thanks so much for talking candidly about this – I think a lot of people deal with similar circumstances and I bet it will be helpful for others to read about your experience.
You're welcome. It can be rough sometimes, for sure. I definitely hope it helps someone.
I really think it will. Now, onto some more lighthearted stuff. Can you tell me about your favorite books and/or movies?
I am a huge nerd with regard to books. I will read pretty much anything I come across, but one of my favorite authors is R.A. Heinlein. His stuff ranges from hard sci-fi to, well, not so hard sci-fi and I just really like his stories and the way he gets into characters' heads. His portrayal of women leaves a lot to be desired, though, and I don't necessarily agree with his politics. On that same note, I like Orson Scott Card, but I won't buy any of his books new because I refuse to give him money that he can shuttle towards fighting gay marriage.
Also, one of my all-time favorite books is Love in the Time of Cholera. I'm a sap, and it's very romantic.
With regard to movies and TV, I'm on a Joss Whedon kick right now and just re-watched Firefly and Serenity. Plus, I plowed through Orange is the New Black in a couple of days, which was fun and sleepless.
And I watch Jeopardy all the time, because again, I'm a nerd.
So rad! Do you have any celeb crushes?
Vanessa Friedman.
Oh my fucking god I am blushing again.
I was hoping you would ask that so I could use that line!
What a line! I totally fell for it. I can barely remember the rest of my questions I'm blushing so hard. Oh! I know. Where are some of your favorite places to buy bow ties?
Yesssss! Bow ties are one of my favorite things, if no one has noticed that yet. I buy most of my bow ties and a few regular ties from thetiebar.com, which has $15 ties all the time and I love it. The selection is just ridiculous. Actually, I heard their bow ties were just on an episode of Project Runway so that's a thing.
For my birthday, my brother got me a gift certificate to The Cordial Churchman, which is a company that makes hand made bow ties. I got a really fantastic rainbow-y striped diamond tip!
Plus, you can't really go wrong with the Macy's clearance rack. I got a very nice basic black bow tie there.
I knew you would be the right person to ask!
I have a lot of bow tie feelings. Also, never wear a pre-tied bow tie if you are over the age of 8! This is my humble request. You will look so much cooler if you tie your own.
Noted! You grew up in Michigan and now you're in Indiana… can you describe both places? Was or is there much of a queer community in either state?
There wasn't any sort of queer community in my hometown, although I did make two guy friends who happened to be gay. It's a pretty conservative area.
However, I went to college in the Twin Cities, which is incredibly gay. Even though I was at a Catholic school, my experience there was mostly – not entirely – gay-friendly. Plus, Minneapolis pride is honestly hard to beat. It was a really good place to come out, especially since one of my best friends from undergrad is gay and kind of took me under her wing.
Aw!
Moving to South Bend was kind of a shock. Notre Dame is somewhat more conservative than my first school was. There's a queer community, but it's a little bit more underground, which is getting better. The only decent gay bar in the area closed last year, which is a bummer.
However, on the plus side, South Bend is really being revitalized, partially through social networking and events. There was a Pride Prom event that was organized by community members in June, which was fantastic. Also, South Bend residents organize a monthly "Guerrilla Gay Bar" event, in which they take over a bar for a queer-friendly evening. Very fun. Being queer in South Bend has gotten much better for me just in the past three years.
The resources at the university and community level still have much to be desired, but it's all on the upswing.
Yay, that's so great to hear! And now, my final question: Do you have anything else you would like to share with the Autostraddle community?
Well. I guess I just want to say that you all are beautiful and unique snowflakes and I hope that you all work to make this community even better and more inclusive than it already is. Also, your hair looks really good today.
---
If you would like to be featured as a future Straddler on the Street, please email vanessa [at] autostraddle [dot] com. Include a few photos, 3-5 sentences about yourself and put "Straddler Submission" in your subject line. Approximately a million people have submitted so far, so please be patient as Vanessa goes through her inbox — you're all sexy with really smart brains, and don't you forget it!