Beginning this November, parents in Germany will be able to opt out of designating their children "male" or "female" at birth. The new law allows the gender field on birth certificates to be left blank, leaving it up to the individual to choose whether to identify as male, female or neither later on in life.
The German Federal Constitutional Court earlier ruled that being able to legally identify as one's "deeply felt and lived" gender is a personal right.
While the law will primarily affect intersex people, it is likely to also have effects in areas of legislation affecting trans* people, including "comprehensive reform" of registration rules for other legal documents such as ID cards and passports that presently restrict gender options to "M" or "F." German family law publication FamRZ has recommended the introduction of a third gender category designated by "X", partly to circumvent difficulties intersex and trans* individuals might encounter travelling overseas.
Marriage law is another major area that has been identified as set for reform. Marriage in Germany is defined as between a man and a woman, while same-sex couples can apply for civil partnerships. Neither arrangement has provisions for non-binary-identified individuals.
Germany is the first country in Europe to make this step in recognition of non-binary genders. While Finland has similarly made "significant progress" in this area, no concrete legislative change has yet been made. Australia is commonly cited as the first country to allow passport holders to use "X" (meaning "indetermined/unspecified/intersex") in 2011, followed shortly by New Zealand in 2012, though hijras in India and Pakistan have been granted legal recognition since 2005 and 2009 respectively.
In June 2012, the European Commission released a report titled "Trans and Intersex People: Discrimination on the Grounds of Sex, Gender Identity and Gender Expression" which found that discrimination is still widespread in all EU countries, with "negative attitudes towards trans and intersex people […] often directly correlated to the importance that a determinate society places on the binary gender model." It noted that the situation was made particularly complex as "legal recognition and rights afforded to this community are often intertwined with specific medical and psychological obligatory requirements," and explored the dissonance between rigid laws and the actual lived experiences/choices of trans* and intersex people.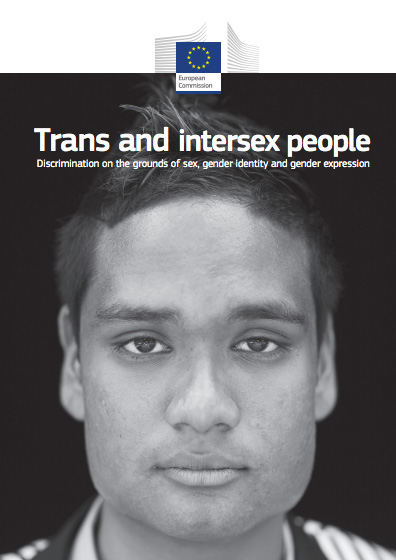 Silvian Agius, a co-author of the report, has expressed his frustration with the EU's lack of progress since then.
According to Silvan Agius, policy director at human rights organisation ILGA Europe – the European chapter of the International Lesbian, Gay, Bisexual, Trans and Intersex Association – the European Union is lagging behind on the issue. Though Brussels commissioned a report on trans and intersex minorities in 2010, and has since attempted to coordinate efforts to prohibit gender discrimination, progress has been halting.

"Things are moving slower than they should at the European level," says Agius. "Though Brussels has ramped up efforts to promote awareness of trans and intersex discrimination, I would like to see things speed up."
EU non-discrimination law still does not explicitly recognise gender identity or expression, though those who have undergone or are intending to undergo gender-confirming surgery may be protected by provisions on discrimination on the grounds of sex. Proponents of Germany's new law, however, are optimistic that this move will place pressure on Brussels and perhaps other EU member-states to step up protections and provisions for trans* and intersex people.