Learning to feed yourself can be one of the most terrifying things. Am I about to give myself food poisoning? If I eat this too often will I end up with scurvy? How can I get the most nutritional bang for my buck? Why does this still taste like ass?
With Ode to My Pantry, learn to navigate a grocery store without having a meltdown in aisle three. Give a man a fish and feed him for a day, teach a queer to cook and stave off malnutrition for another semester.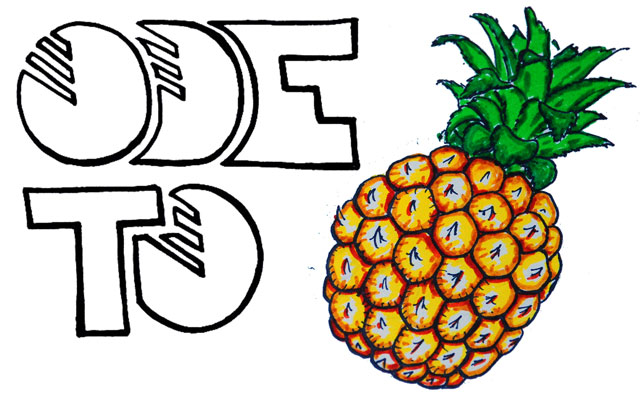 When I was in uni, whenever I would go back to my parents' place, there'd be a pineapple sitting on my counter – no matter what season. November? January? March? May? There'd be a pineapple sitting in the fruit bowl. I asked my mom about it one day and she was like, "Well at first it was a coincidence, then it was funny and now it's just kind of a habit." But now that it's grilling season and I finally figured out how to use it myself, I have become my mother with my own ubiquitous fruit.
Much like last week where I told you that cucumbers are fruits called pepos, pineapples are also sneaky, sneaky fruit and are actually a giant cluster of fruits, masquerading as one. One pineapple is a whole giant spiral of baby fruitlets that grow together before fusing to the central core. (Think Megazord!) So on the fun side of things, you're a giant devouring hundreds of fruit simultaneously. On the not-so-fun side of things, the fruitlet fusion might trap a bunch of yeast or bacteria inside and cause it to rot from the inside out. So beware of the pineapple trickery.
When it comes to pineapple produce picking, you have to keep in mind that those spiky jerks are non-climacteric, meaning they don't store starch and they won't get any sweeter as they age. However, they do soften into a practically melting texture, which is a boon for you and a boo for shippers. Most of the time your fruit will be shipped with half its sugar content just so it can get to your market without turning into a pineapple smoothie. So take care to find the sweetest specimen you can lest you waste five bucks on yellow fibre. I like to play produce roulette, trying to get as close to fermentation as possible without slipping into accidental piña colada territory. If you play your cards right and look for the right cues, those pineapples in the discounted section can be the sweetest thing you bring home.
Pick up your armoured fruit and try to interpret the cues that you can see. For one thing, it should feel heavy, implying it's loaded with water and juice. Secondly, look for evenly sized fruitlets to imply even, unstressed growing. Colour doesn't necessarily matter as some varieties are green instead of goldenrod, but just check that it's free of mold, cracks or bruising. The base fruitlets developed first, so check  to make sure a pretty pineapple isn't already rotting. But most importantly, do the sniff test. Pick it up and it should smell like pineapple. Any overly musky, alcoholic or vinegary notes should tip you off that this baby's past its prime.
If you're in the habit of buying almost-overripe pineapples like I am, you should dismantle and eat ASAP. But if you bought a firmer specimen, it can stick around on your counter for a little bit longer. Don't shove your tropical fruit in your chill chest lest the thermal shock makes it blacken. Just say hello to your pineapple friend puppy-style and sniff its butt. If it stays sweet and musky, it's great, but anything more means you'll need to go; it's emergency surgery time.
When it comes to dismantling a pineapple into succulent chunks of yellow molten goodness, you're facing a few hassles related more to a pinecone than an apple. For one thing its pokey and for the second thing its itchy. In this case pokey and itchy (highly professional terms here), refers to not only the physically pointy bracts that will scratch your face and bromelain enzyme that breaks down proteins. So before you can dive face first into that tropical splash, you gotta figure out how to remove the armour without sacrificing the whole goddamn thing.
When it comes to kitchen unitaskers, pineapples are pretty king. Everything from pineapple corers to pineapple wedgers exist to make it "easier" to disembowel your prey. But these gadgets are unwieldy to store and usually sacrifice a good portion of fruit in the name of "convenience." So unless you needed some type of tropical punch bowl situation, instead of picking up your Handy Dandy Pineapple Sacrificer™, just pick up your serrated knife. You just need a teensy bit of patience and you'll end up with a Pinterest-worthy fruit.
Start by lopping off the pineapple's ponytail and butt to provide yourself with a stable work surface. Keeping your knife parallel to the pineapple's surface, gently saw off a thin layer of skin. You just want to get off the outer rind as we'll focus on the embedded eyes in just a second. Now give it a rinse.
Remember how I said pineapples grow in a spiral of fruitlets? We're going to use that now. Mentally line up the eyes, figuring out of your have a left-handed or right-handed pineapple, and cut a spiralled streak into your fruit directly beneath one row of eyes from head to tail. Angling your knife in the other direction, cut above the eyes to release your thin pineapple wedge from the fruit's surface. Continue going around and around until you have a pineapple barbershop pole. Minimize the waste even more by cutting the eyes off wedges.
We're now left with the problem of the pineapple core. If you bought an undersized specimen, chances are the core's still soft enough to be chewable. If your pineapple's on the older side of things, you might as well be chewing on pineapple-scented incense at this point. Plus, if you're prone to itchy tongue, you'll definitely want to toss it. If you still crave the look of canned pineapple rings, you can a slice your pineapple and use a ring cutter to eject the cores to the compost heap. However, if you don't have a bunch of them kicking around or the need to make a pineapple upside down cake, simply quarter your fruit and cut off the core piece by piece.
If you're still paranoid about itchy tongues, give your pineapple a brief saltwater soak. You might find that you don't even want to rinse it! Salt may seem weird, but pineapple's high fructose and citric acid content begs for a counterpoint. The heady aroma of tropical esters, vanillin-like chemicals and sulfur compounds want to be complemented. You can go the caramel and butter route with baked goods, but it also pairs well with acid, salt and chemical heat. Make a fresh pineapple salsa, sprinkle some Tajin on a wedge or make my favourite margarita using pineapple juice, tequila, habaneros, lime and a rock salt rim.
If your tongue still gets that familiar itch when you're munching, you can try to cook the bromelain into submission. You can go the ol' fashioned pasteurization route, but grilling is so much more fun. Next time you're on burger duty and the coals are starting to die, simply toss a few thick slices on and cover it while you eat dinner. Give it a turn every now and then and the gentle heat should cause the excessive sugars to caramelize into a crispy crust. Serve with ice cream or just shove it into your face.
But really, it's pineapple, you should always just shove it in your face.