It's been ten years since The L Word premiered, and we've got lots to talk about. Welcome to The L Word week!
---
I make people laugh for a living. Well, no. That's not exactly true. I make people re-laugh for a living. As a recapper/reviewer/pop culture commentator on the WebTubes, I retell people — mostly gay ladies — the stories they've already watched or read, so they can re-laugh or re-think or re-swoon or re-rage about it. But my main goal is the re-laugh part. People tell me I'm pretty OK at it.
That's what I told my best friend last summer when she waded through a heap of takeout boxes and t-shirts and comic books and RedBox DVD sleeves to sit beside me on my bed, which I hadn't left in at least a week, to tell me she thought I might be depressed. "I can't be depressed," I said, opening up my laptop to my Twitter/Interactions feed and showing it to her. "Look at all these LOLs."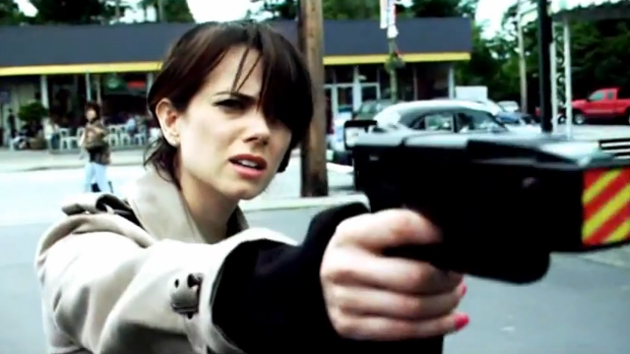 There were other reasons I knew I wasn't depressed. When I was growing up, my mom's physical and emotional abuse, her inability to think through things rationally, her bone-deep narcissism: all of it was a byproduct of what she called her "condition," but what our family doctor called "depression." Later, doctors would call it "Bipolar I" and then "Borderline Personality Disorder," but her traumatizing behavior had taken root in my brain as "depression." I wasn't flying into frantic rages or going on impulsive spending sprees or being dumb about sex and life-threatening drugs or beating up the people I claimed to love. So, no. I wasn't depressed.
And, of course, I didn't want to kill myself. I didn't even really want to die. Not in the conventional sense. I did spend a lot of time fantasizing about how I could stop existing — but in ways that wouldn't be sad or inconvenient for my friends and family. No funerals, no dead bodies, none of that. I thought about exploding into a shower of adorable forest critters like in Sonic the Hedgehog and imagined my family being like, "It sure was cool when Heather was here, but look at these little bunnies!" Or being called up to heaven like God did for Elijah in the Old Testament. Like, "Good work, man, but take a break for an eternity or two." A boating accident wouldn't be so bad, hitting an iceberg while doing climate change research or something. Or maybe falling off a cliff after rescuing a bus full of puppies and otters. I didn't want to be alive, but I didn't want to be selfish about it.
I don't remember how my not-depression started. I remember waking up on Christmas Eve morning in 2012 and crying so hard into my girlfriend's shoulder that it took me over an hour to explain that I couldn't explain what was wrong with me. I remember crying in the grocery store for no reason, in the line at the DMV for no reason, at the movie theater for no reason. I remember feeling impossibly alone even when I was surrounded by people who adored me. I remember slipping my hand under my girlfriend's t-shirt in the middle of the night, resting my palm on her stomach, feeling her breathe in-and-out, the warmth of her skin, the way she always smells a little bit like peppermint even though she never eats peppermints. I remember whispering over and over, "She loves me she loves me she loves me she loves me." I knew she did. I knew it. But I couldn't feel it.
Sad things stopped making me sad. Happy things stopped making me happy. Cold things didn't make me cold. Hot things didn't make me hot. I wasn't hungry. I wasn't thirsty. I wasn't sleepy. I opened my eyes in the daytime and closed my eyes at night time and that was my whole life.
My friends hosted viewing parties to remind me of movies and TV shows that used to fill me up with energy and joy, but I'd already begun to resent the reminders. Belle, my all-time favorite Disney princess, suffered from Stockholm Syndrome and dissociative personality disorder. Elizabeth Bennet was selfish and impractical and really fucking cruel sometimes. Emma Thompson had no excuse for not leaving Alan Rickman's cheating ass in Love Actually. And I read the Wikipedia entry about the real Von Trapp family, so I don't know why you're acting so self-righteous, Fraulein Maria. I could find nothing wrong with my beloved Harry Potter books, but Dumbledore's death didn't even bum me out anymore.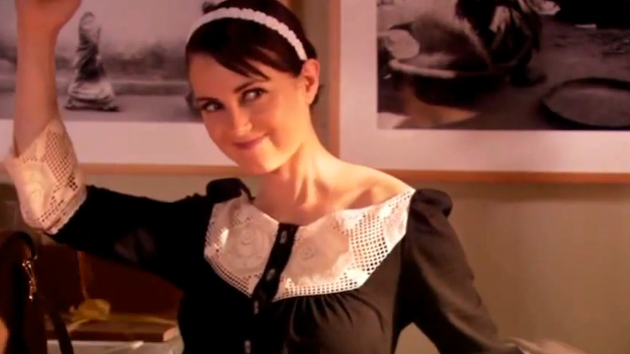 Somewhere between the engulfing cloud of despair and isolation and the Astronomy tower where Snape blasted Dumbledore with an Avada Kedavra curse, I'd stopped feeling… everything.
But, hey, I was still making people laugh! Sure, it took me 18 straight hours of sleep to recover from writing a five-hour TV recap. And yeah, I'd completely stopped returning my friends' and family's calls and texts. I didn't shower or eat. I couldn't even work up the energy to wish people happy birthday on Facebook. But those LOLs were rolling in. I was OK. I was going to be OK. Writing about TV was going to keep me OK.
When Syfy announced a Julie Benz/Jaime Murray/Mia Kirshner tag-team in their post-apocalyptic human/alien space western Defiance, I campaigned to cover the show. Because did you hear what I just said? Post-apocalyptic human/alien space western. When I was prepping to interview the cast, I decided I should rewatch The L Word. My frustration at that train wreck is as fresh as the day it was when Max got pregnant, but Mia Kirshner is a notoriously tricky interview because she doesn't want to placate you with viral soundbytes; she wants to have an actual conversation about shit that matters. So I figured I should brush up on my Schecter 101 before I talked to her.
And it's a good thing I did, because I'm pretty sure it saved my life.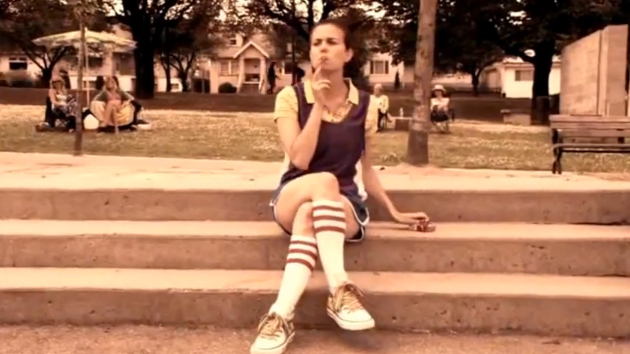 Jenny Schecter was a mess. There's no denying it. The writing for her character was so outlandishly inconsistent that you never knew which incarnation you were going to get from one season to the next. She was a duplicitous megalomaniac whose self-indulgent, self-destructive antics knew no boundary. But you know what? So is Don Draper. So was Walter White. So was Dexter and Jack Bauer and House and Tony Soprano. But they're dudes, so that makes them interesting. Jenny Schecter is a lady, so her deal makes her a cunt.
I knew that in my head when I was rewatching and then an amazing thing happened to me: Jenny Schecter made me feel it in my heart. During her tirade against Mark, her roommate who filmed her on the sly for all of season two, her rage became my rage:
What I want is for you to write "fuck me" on your chest. Write it! Do it! And then I want you to walk out that door and I want you to walk down the street, and anybody that wants to fuck you, say, "Sure! Sure! No problem!" And when they do, you have to say, "Thank you very, very much." And make sure that you have a smile on your face. And then, you stupid fucking coward, you're gonna know what it feels like to be a woman!
I was angry. Really fucking angry. Angry because Jenny Schecter was right. Angry because Jenny Schecter had endured so much hate and criticism over the years that had never been leveled at male archetypes who behaved like she did. Angry that I'd been so brainwashed when I first watched the show that I hurled horrible sexist/patriarchal insults at her too. (Some insults she deserved [see: Sounder] but most she did not.) Because of the way Mia Kirshner refused to cloak Jenny in anything other than the rawest emotions, she became real to me in ways none of my go-to happytimes characters ever could have. I didn't have anything in common with her, really. But I felt connected to her because I was rooted in that expanse of ancient sadness she also seemed to occupy.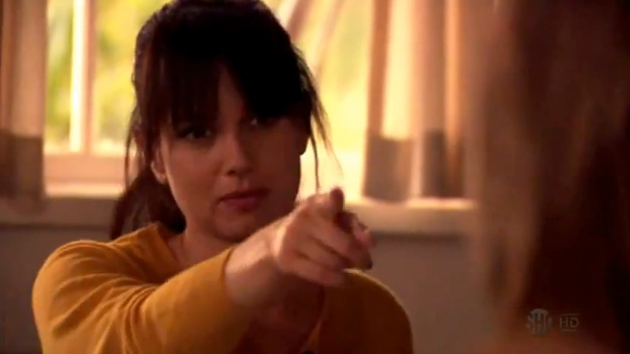 I hadn't realized it the first time I watched: how righteous her fury really was, how deeply neglected were the wounds of her childhood (one of the show's many enormous failures was never getting Jenny into therapy), how terrified she was of her own potential for creating chaos, and all the million ways she begged and pleaded and cried out for compassion.
Feeling sad, feeling angry, feeling connected, feeling any feelings at all was so foreign to me by then that my heart beat as fast as a little rabbit caught in a cage of fire all the way through my The L Word re-watch.
After I interviewed Mia Kirshner, I cried for a couple of hours. Crying was as weird as feeling. I hadn't done either of them in so long. It was unprofessional, I know, but I told her that connecting to Jenny's darkness had helped me start my own journey back toward the light. She sighed sweetly. "Thank you for telling me that." And then she paused for a long moment before saying, "Stories are deeper than reality, you know."
I didn't snap out of my depression. I clawed my way out, inch-by-inch, with the help of people who love me more than I deserve, and I know I'm going to keep on battling this beast for the rest of my life. But I had to ask for help. And I had to feel something about anything before I knew how much I needed it. It couldn't be a Disney princess; it had to be someone who'd crawled on her hands and knees through the shadows like me.
There's a Post-It note on my refrigerator that says Schecter 3:16. "Jenny died so you can live?" my roommate asked the first time she saw it. "Yeah," I said. "Yeah, something like that."