One of our readers wrote to the A+ inbox and complimented our Monday Roundtables (thank you!) and also asked if we could put together a roundtable where "fat staff members talk about how fatness / diet culture / body positivity / etc relates to their queerness, identity, gender, and such?" We thought that sounded like a great idea, and we aim to please, and we have a lot of fat feelings, so here we are! Enjoy this roundtable of all our fat feelings and if you're fat, let us know how you feel in the comments!
---
Siobhan Ball, Contributor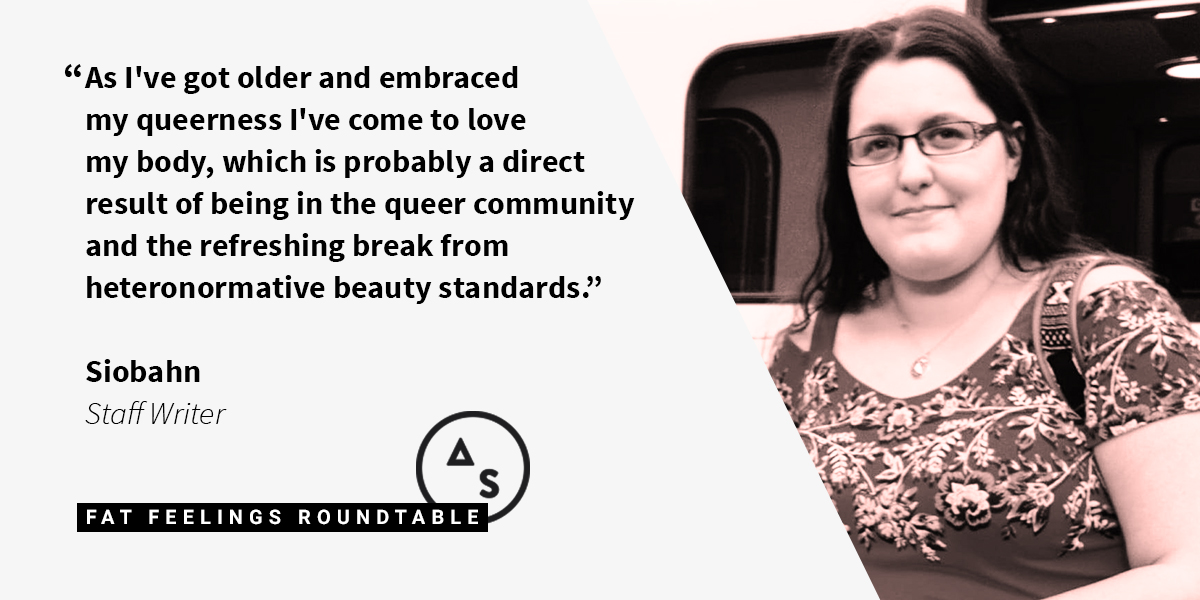 My relationship to my body and my queerness aren't connected exactly but they do run parallel. I'm tall and muscular with giant shoulders and for some reason as a teen there were several years where I was constantly active but still fat, especially around the face, and like my queerness these were all added to the pile of how I was Substandard and Unloveable. As I've got older and embraced my queerness I've come to love my body, which is probably a direct result of being in the queer community and the refreshing break from heteronormative beauty standards. I'm larger than I ever was as a teen but it doesn't bother me any more.
---
Alexis, Staff Writer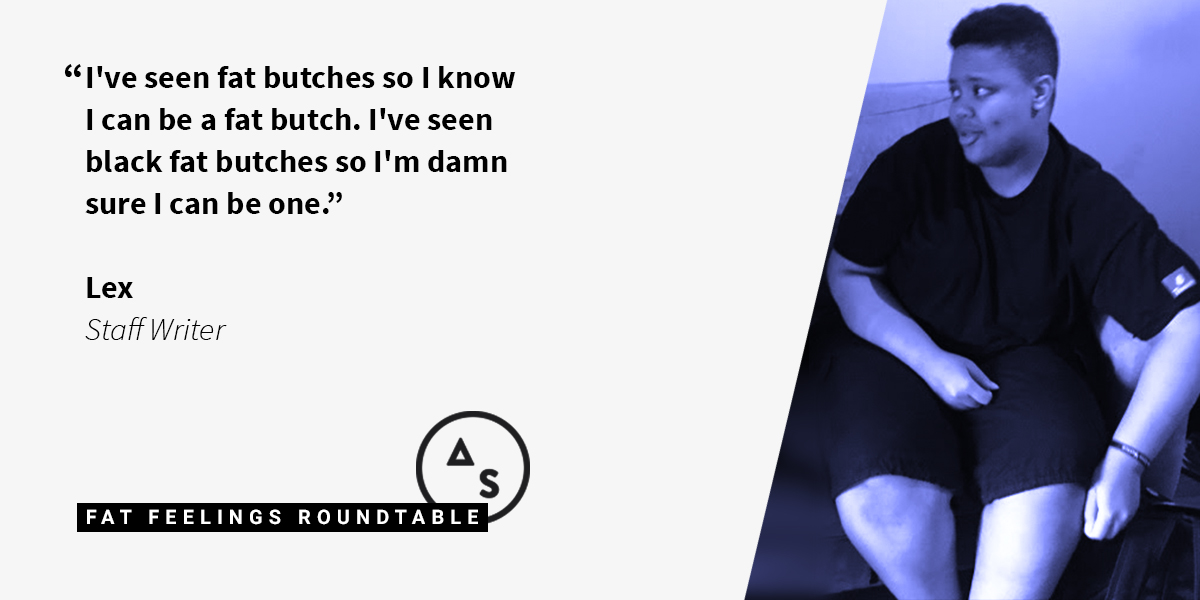 Before I get into it.
1. I wanna write books on hunger and fatness and lesbian identity. Just putting that out in the universe.
2. You need to know that a huge part of why I'm fat is because I'm stubborn and ridiculously competitive and that's not going to change.
People say, "You can't finish that." Bitch, watch me.
"Maybe you should exercise." I was working out BUT NOW I'LL JUST SIT HERE.
"Are you losing weight?" Now that you've noticed? Not anymore.
So just keep that in mind.
When I first came out (accidentally, in a writing class my senior year), I was really obsessed with being thin. I went to a predominantly white school and was in the theatre department a lot, where they have to be very particular about their looks, and it probably wasn't the best for me. I ate dinner and usually drank coffee with a lot of whipped cream for the rest of my meals. Since I've graduated, I've had more time on my hands / more depression / a nervous breakdown and am now on meds so I'm probably the biggest I've ever been and it's been hard coming to terms with that. Like today, I feel really good about it. I'm like, "LOOK AT YOU, BODY! YOU'RE ALIVE!! HOLY SHIT!! YOU MADE IT EVEN THOUGH YOU WERE SURE IT WAS IMPOSSIBLE! YOU'RE POSSIBLE!!" But that's not every day. It's more than it used to be though.
My fatness only ever becomes super apparent to me in pictures or when I can't physically do something, but it's got to be something like not fitting through a window when I'm sneaking into a haunted house or something. Like, if I'm walking to the comic book store and I feel my legs going noodley, I'm not thinking about my weight, I'm thinking about how if I move now the pain will probably go away and regardless this is the only way I'm getting to my new books so may as well ignore my noodles. That kind of thinking has helped me in the past few years and is mostly informed by Shonda Rhimes' book where she says something to the effect of: when I realized getting healthy was not gonna be fun, that it was probably gonna suck, it got much easier. Like, feeling good about my fatness is better for me when I'm doing the good-for-my-body thing and every step of the way I go fuck you fuck you FUCK YOU ALL THIS SUCKS and then I feel better. Like the permission to not be all smiles and showtunes about my body is what helps me in fact smile and sing showtunes about my body.
I've also, like, made peace with my fatness through poetry – like I'm pretty sure I can only write this because I cried while writing a poem about my body last week. The literary community I surround myself with, like everyday I see posts about how to unlearn toxic body shaming, or how to treat your body softer, or fat forgiveness (and realizing there's nothing that needs to be forgiven!).
When I was in outpatient, we had to do workouts weekly and the first two weeks I hated it (I skipped the first month before I got caught) because I was the fattest one there and also I don't like people looking at me. But the trainer was really great and I started to feel really strong and I loved it and I've been chasing that feeling instead of the ones the media tries to sell me. There's a post somewhere that goes, "Every time I feel shitty about my body, I ask myself, 'What man is profiting off this feeling?' and then I feel better." I didn't even know I'd lost weight 'til she told me, "I just wanna tickle your ribs!" and I was like, my what? So uh, I only think about my body for extended periods of time in regards to diet culture / weight loss when it's brought to my attention.
Since people like me are rarely represented in media truthfully anyway, most of my body issues come more from inside my family. One of the top three things said to you at a family function, if you're in my family, will be about your weight. Maybe not at every visit but at least every other visit. But thinking about my family's history, it makes me hesitant to call them out on it. On one side, my grandparents' parents were sharecroppers, he was one of 10+ and was hungry a lot, so little kid logic said I needed to never be hungry in order to make up for his hunger. We weren't allowed to leave the table until we finished our food, so I was allowed to go all the time – and then I'd eat my sister's food when they weren't looking. On my other side, my grandparents who were also hungry a lot of the time growing up, take us go grocery shopping and get literally whatever we wanted. Once, I ate chocolate peanut butter sandwiches and milk for every meal for like a week straight.
It also probably doesn't help that almost everyone in my family is an amazing cook and food is a love language for a lot of us. Actually, those are both good things. I don't want to take away from that, but there's a way things can be inherently good and we fuck them up so much that they end up hurting us. I'll stop talking in "we" language here. I usually felt like it wasn't enough that I'm black and a girl/woman and probably not straight, just not right in the head, so the least I could do was be smart and be skinny. Both of those fell apart when I couldn't go to college and I'm just kinda picking up the pieces now.
I think it helped when I really attached myself more to butch than any other term because it not only helped with coming to terms with being nonbinary and strangely enough (but not really) my blackness but also how my body is supposed to look. So with the butch thing, it helps that I just wanna be strong and like literally carry my loves wherever they need to go, especially during the apocalypse. My butchness informs my tacky fashion sense which literally stays in the 2000s era of baggy clothes and helps me remember that this body is mine. I want to wear these clothes, by the way, not because I want to hide my body but because that is what I wanted to wear when I was little and now that I can I most certainly will do this.
I've seen fat butches so I know I can be a fat butch. I've seen black fat butches so I'm damn sure I can be one.
Also – I was the perfect cuddling partner when I was skinny so now the sky's the limit on my cuddle power.
---
Reneice, Staff Writer
Body positivity is linked with my queerness 'cause it's responsible for all the actually fulfilling sex I've had in my life! It was through body positivity and the self love journey I started after finding the movement that I was able to accept and be proud of myself and therefore my sexuality and want to share it with the world. To live and love authentically, because I now knew I deserved it. Body positivity was how I gained confidence in my joyously fat self and realized just how sexy I am and had always been. I also believe that because I learned how to treat myself and my body with unconditional love and respect, I'm able to do the same with others, which is so queer and beautiful.
---
Creatrix Tiara, Staff Writer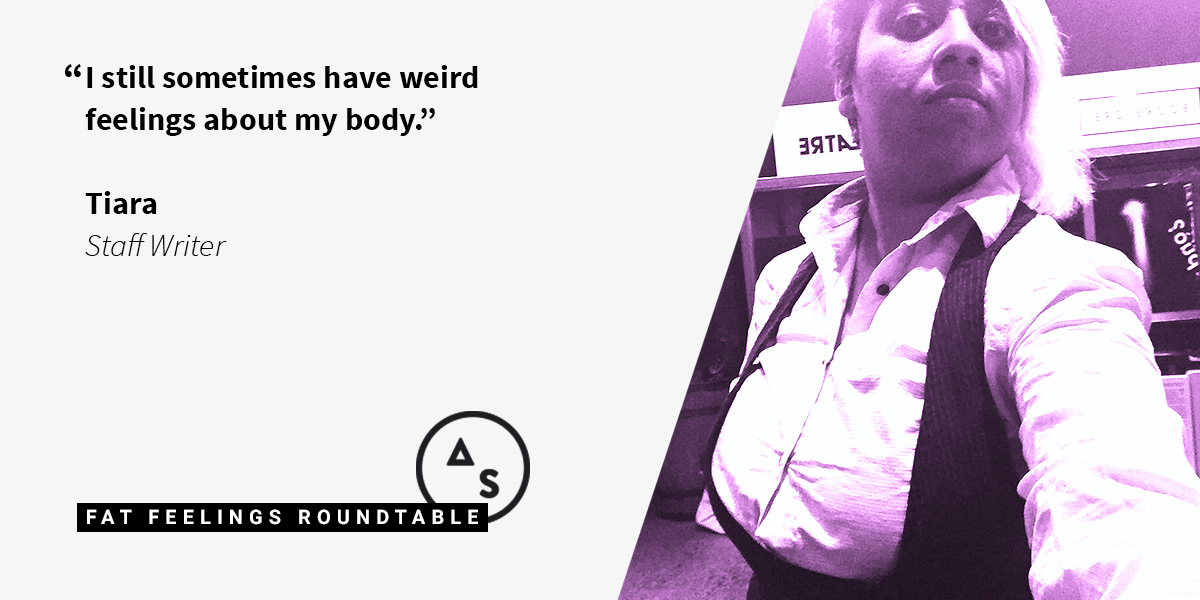 Growing up in Malaysia, I was Fatty McFaterson Fat Fat FAT. My body shape was the Before picture in weight loss ads. My BMI was "obese." My clothing size was at minimum XX+L. Before I could enter a shop the salesperson would yell at me, "We have nothing for you." I hated clothes shopping because nothing fit.
The thing is, back then, and even now, I wouldn't be considered fat by Western standards. It was a revelation to me when I went to a department store in London when I was about 15 and found that I was squarely a Medium. Now as an adult I'm somewhere between M and L, 10-12 US, 12-14 Australian. So not thin, but not even plus-size.
It makes interacting with fat spaces in the West really weird. By their standards I'm an "inbetweenie" at best – at worst, I'm infiltrating. I "don't know what it's like to be fat." I'm "just normal." I'm "privileged to find clothing my size." I "can fit in seats." I "have nothing to worry about."
But by Asian standards I'm still fat. You want to know why clothing from cheap online shops like Wish always run too small? Because that's their beauty standard: small, slim, flat. Just my boobs alone push me to the plus-size zone – never mind my other curves. Japan only just embraced plus-size fashion and a lot of the models in their flagship magazine look like me – but I don't think there's ever going to be something similar in Malaysia or, hell, even in my family's home country of Bangladesh. I've been in magazine photoshoots in Australia but no media outlet in Malaysia is ever going to include me because I'm not thin enough. (Then again, I'm not tall enough for Western plus-size modeling, which is its own annoyance.) For nearly 20 years I grew up in an environment with an especially narrow idea of what an acceptable body size is and was always perceived as some kind of extreme outlier – and now I move halfway across the world and I'm told my experiences don't actually matter?
I still sometimes have weird feelings about my body. Not necessarily that I'm too fat or whatever. But more that I'm always some kind of in-between, never quite one size or the other, not quite normal but not quite plus-size either (outside of Asia). Maybe if I were fatter and taller I'd more obviously belong somewhere? Like yes, good, now I know my size, now I know where to look. But right now I'm so ambiguous. Everything about me is ambiguous. And that gets old.
---
Carmen, Staff Writer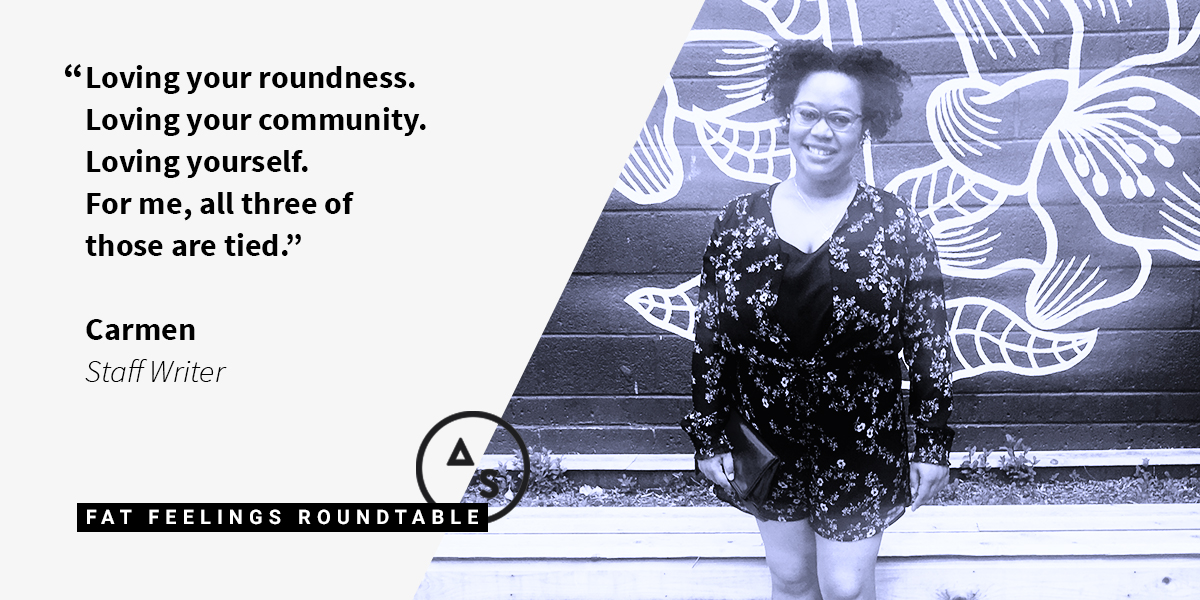 I was just talking about this recently. I've been at least "soft", if not yet fully fat, since I was tween and first hit puberty. There was a time when I was about 16 where, thanks to strenuous after-school activities and my own struggles with stress and depression, I stopped eating sufficiently and landed around a US women's size 4 in clothing. I hate those pictures. What amazes me (or really, thanks to the ways we have indoctrinated as a culture to fatphobic western beauty standards, doesn't amaze me at all) is that whenever I bring up how much I dislike those pictures to my family, they uniformly respond with, "Oh but you looked so beautiful!" I didn't. I was in emotional pain. And physically, with my always large breasts that my smaller frame could barely physically support, I looked like a drawing of Olive Oil from the Popeye comics. They don't see it. They only see that I was thin.
In general, I've ranged from the same few dress sizes (between a US women's 14 and 16) for most of my adult life. If I go lower or higher, you can bet that I'm mentally unwell. I use that as a guide. Being comfortable and my most healthy at a size that isn't what society or an ill-informed medical community says is "ideal" can shock a lot of people. I've gotten into fights over it before. You know what? Others' opinions don't matter! I get a yearly check up, I eat fresh vegetables whenever possible, if I'm in a good mental state I force myself to work out. Sometimes, if I stick with it long enough, I even find that I enjoy it! (I've always really hated sweat, even as a kid. Still, it's good for me.)
When I do those things, eating balanced meals and moving my body, I don't do them to lose weight. I don't have any interest in it. I don't want to subscribe to systems of beauty that weren't designed for my queer, black body anyway. I want to feel comfortable in my skin, I want to feel strong and capable for whatever life throws at me. I want to be kind to myself when I fall short of those goals. I focus on that instead.
If you get to know me, you'll learn that I quote Alice Walker a lot. As a black queer woman, her words often speak to me. Perhaps none of her writing impacted me more than this line; she defends a black feminist as one who: "Loves music. Loves dance. Loves the moon. Loves the Spirit. Loves love and food and roundness. Loves struggle. Loves the Folk. Loves herself. Regardless."
Loving your roundness. Loving your community. Loving yourself. For me, all three of those are tied. It's not always easy to approach your body from a place of love. It flies in the face of everything that a multi-billion dollar fashion and beauty industry has been built on, you know? Capitalism, it sneaks into our innermost thoughts. But what is feminism, if not love? What is queerness, if not love? And what kind of queer feminist would I be if I didn't start by loving myself? That requires loving all of me, even the back rolls that I sometimes cringe at and the stretch marks on my belly that I sometimes try to hide.
One last thing, it's great to be having this conversation with these fat babes on Autostraddle because two of them have sincerely helped me in loving myself! Reneice and Vanessa are the hottest women I know, and watching their body confidence inspires my body confidence. I suppose those are my last parting words: find a fat friend! Even a virtual fat friend! Find someone who makes you feel good about your body. If you aren't lucky enough yet to have someone like that in your life, can I recommend Yvonne's recent article about Tomboy Fat Femmes? You don't have to be a femme (or a tomboy) to pull from it, but looking at those babes had me walking taller and feeling brighter all week.
---
Vanessa, Community Editor
I am almost always thinking about my body. I say almost always because surely there must be some times, occasionally, once in a while, when I am actually not thinking about my body, right? Surely those times must exist. I can't pinpoint them – I can't prove they are real – but… surely, right? It's impossible that I am always thinking about my body. Or is it?
My body, my body, my body. I love my body – I do, that is true, it is a fact – but I've put off answering this roundtable question, even though I'm the staff member who asked everyone else to participate, because I want to give you more than that. I want to be honest, want to find a way to talk about loving my body and also being human.
We live in a fatphobic world. When I was seven I thought I was fat. I was not, but I was bigger than a GAP XS so the girls at school told me I was. When my brother was eight he asked my mom and dad why calories kill you, because that's how my family talked about them at dinner. "Why do calories kill you?" He was eight. I was ten. That same year my family moved and I was the new kid at school and I made sure to wear overalls on the first day to hide my stomach because I thought if the other kids saw how fat I was they wouldn't like me. It should be noted, I was still thin. Also, I was ten.
I spent a really long time hating my body. I don't want to spell out the things I did to my body when I hated it to try to discipline it into submission, but I was not kind to myself. One thing that is strange about me that I think is probably a mixture of who I am as a person and the privilege of always being small fat is that even when I hated my body, I have always loved myself. That's not a narrative I hear a lot so I would like to add it here, just to make it exist. In high school I hated my body and I loved myself. I never thought, if I just lose weight all my problems will go away. My body felt very separate from who I am, intrinsically. I pursued crushes and made out with boys and felt good about my brain and my personality but I hated my body, I hated it, I hated it so much. I did used to think, if I just lose weight all my problems with my body will go away. Because my problem with my body was that I was fat.
I don't want to say "I came out as queer and all my body image issues went away" because that's not true, but I do know that coming out as queer and learning to love my body are absolutely linked, no doubt about it. To be queer is to rewrite normative stories. Queerness already lives outside of the center, is already on the margins. A girl I know does a stand up bit where she says she has to explain to her straight friends that she's like, a 4 in the straight world but she's a solid 9 in the queer world. The joke is problematic, I know, but I think it gets to the heart of how I feel about my body and the way I look in straight society versus queer community real bluntly. Queer community can still be fatphobic. I will never pretend otherwise. But being queer suddenly gave me the framework to potentially love my body. It was like…okay, if I can be gay, what else could I be? If this can be okay, what else could be okay? And fellow queers proved me right. I started to feel hot, and other folks treated me as though I was hot, and while I would love to say external validation means nothing to me and it's all inner peace, of course it's not. It is a combination. I finally felt desirable, and I liked that others saw me as desirable. They feed into each other. They work in tandem.
Oh, but also – living in New York as a queer person did not allow for me to learn to love my body. I know plenty of fat queer humans who live in New York and love their bodies but I couldn't do it. For me, it took moving to Portland, Oregon to really fucking learn to love my body. And not only did I learn to love my body there – I gained a lot of weight and learned to continue loving my body, even as it shifts and changes. It was not lost on me that I was much fatter in Portland than I ever had been in New York, and yet I loved my body and how it looked so much more than I ever had before.
And this is where I want to be real, and complicate things a little bit. Because… I… listen, it's still hard for me to love my body. I love it! I do! I'm hot! I know that! I hear from people frequently that my attitude toward my body helps them love their bodies a little bit more. That feels so good. I want to be that person – other fat queer babes inspired me to love my body, that is real, that can happen, I want to exist in this world and help make that happen more.
And also – I'm human. The world is fatphobic. My friends go on diets (or, excuse me, no one calls them diets anymore because that's not trendy, but you can still say you're "changing your eating habits" or "getting healthy" or my least fucking favorite "practicing clean eating") and post before and after photos and I know everyone can do whatever they want with their own body, of course I believe that, and also, what do you think your celebratory post about how thin you are now compared to a year ago says about how you feel about fat bodies? You don't have to tell me you still hate fat bodies when you post those photos – I can see it. Talk about the health benefits and how energetic you feel all you want, I've been there, I've done that, but I live in this world too… I know it's easier to be thinner. I know how good it feels to be complimented on weight loss. I know the things that are hard in a fat body get a little easier in a thin body.
And so sometimes on Facebook I encounter a before and after photo and I just keep scrolling, because I'm tired or I don't know how to gently bring up how hurtful those images are to see, or sometimes I'll engage and a friend will get frustrated with me. "You love your body, so you don't understand," a friend said to me months ago, when I gently suggested her aggressive weight loss talk on social media was off-putting and that while I was stoked that she felt good in her bod, maybe she didn't have to post about restrictive eating and excessive exercise all the time. Her comment really threw me off, because it told me she didn't understand what a fucking challenge it is for me to love my body every day. I am not special. I am not super human. Loving my fat body in the context of a world that tells me I am supposed to hate myself because I am fat is no easier for me than it is for any other person who struggles to love their body. Just because I try to be vocal about body positivity and performative (not in a fake way, that's not what I mean, but in a very public and purposeful way) about how much I love my bod on social media, doesn't mean I'm immune from our fatphobic world. I don't know, it just felt so bizarre for this woman to say to me, "my posts about weight loss shouldn't bother you because I hated my fat body and you love yours." That's… that's not how this works?
I don't know. I'm scared to share this with you. I don't want you to think I don't love my body. I do. I don't want you to think I am not body positive. I am. I don't want you to think I don't realize the privilege I have of being a small fat person. I do. I just… I don't know. I've been thinking about this all so much. It is a choice, every fucking day, for me to wake up and love my body. I put work into it! I look at myself naked in the mirror and give myself compliments. I force myself to post photos that aren't "flattering" or "taken at the right angle" because I think it's important to accept and celebrate what I actually look like! I do a lot of mental work with my own internalized fatphobia. It's a lifelong project. It's not easy, but it is easier than hating myself. But also, it is not effortless. Fatphobia still affects me. We all need to hold each other up and we all need to do better all the time, myself included. So it's jarring when people imply that I should have a thick skin, that I shouldn't let actions that are rooted in fatphobia upset me because I'm "body positive" or "confident" or "love my body." I do love my body, and also that shit still hurts.
I treasure the queer community because it does feel like when I came out I actively removed myself from the cis straight male gaze and I truly do not give a fuck what individual cis men or the patriarchy at large think about my body. Being queer and fat does not solve all my problems, but I would choose to be queer and fat than straight and fat any day of the week. Being a queer fat femme is a huge part of my identity; I am grateful to exist in this way.
I accidentally wrote an essay so I'll stop here, but I feel like I should note that I could keep thinking and talking about this forever. I guess I can safely amend my opening sentence: I am always thinking about my body. These are just some of my thoughts.