I have to be honest. I had never watched the 1992 cult classic Poison Ivy until last night. I know! And even stranger, I thought about watching it through the suggestion of my favorite sad crooner and self-proclaimed "gangsta Nancy Sinatra," Lana Del Rey. And by suggestion I mean I was obsessively listening to her new album Ultraviolence where she mentions being called "poison ivy" in the title track. And before you start, no I don't think she was referencing the comic book character, which I also wrote about. Even though I had never watched the movie, its presence and the namesake's titular character has permeated pop culture, and some of my favorite blogs. When I heard Lana's deep voice utter the name I instantly thought of the VHS cover with a bleach blonde wearing a red miniskirt in the rated R section of my local Blockbuster that I was never allowed to rent from. This lasting image made me realize of a perfect subject for RWW, and that I simply couldn't go on another second without watching this movie.
We meet Ivy, played by 17-year-old Drew Barrymore, swinging at the edge of a quarry, her curly blonde hair trailing behind her, some scuffed cowboy boots and a leather jacket with drawing of a naked woman riding a tiger on the back. The title credits hadn't finished rolling and I knew this was going to become a favorite movie of mine. And it's not JUST because Lana Del Rey copies this exact scene in her music video for "Ride." While the movie is named after Barrymore's character, the movie is narrated by Sylvie Cooper (played by Sara Gilbert), a lonely outcast with a privileged background and an awesome hairdo of an eyeball shaved on the side of her head. Sylvie becomes instantly enamored with this mysterious girl and they become the best of friends. This is when the movie starts taking a turn for the strange.
First of all, Ivy isn't really her name. It's actually the name Sylvie gives her (it's kinda complicated, so just watch the dang movie). So we never actually know her true identity. She tells Sylvie she's living with an aunt because she had a negligent father and a mom was a junkie that died of an overdose. But as we notice throughout the film, Ivy is a bit of a pathological liar, a great characteristic for a HBIC but one that puts her entire past into question. By the end of the movie we virtually know absolutely nothing about "Ivy".
The only thing we do know is that Ivy longs for everything Sylvie has (wealth, family, a red Mustang) and plans to take it in the most insidious way possible. What starts as a harmless sleepover turns into Ivy moving permanently into Sylvie's mansion with her sickly yet beautiful mother and creepy dad (the true villain of this movie as I see it).
Though Ivy's trashy appearance turns off Sylvie and her parents, Ivy's charm and seemingly vulnerable nature not only fascinates them, but also makes them want to take care of her. However well intentioned this might be, it all comes off a bit arrogant, like they pity Ivy more than anything for her lower class status. I have to give props to Ivy for acknowledging this and using it to her advantage. Sylvie's mother feels bad that Ivy doesn't have any "proper" clothing so she lends her designer clothes which is where Ivy gets her signature red miniskirt and jacket from. Suddenly Sylvie notices not just how much Ivy is starting to look like her mom, but how her parents appear to act more affectionate to her than their own daughter. Even her dog Fred likes Ivy more.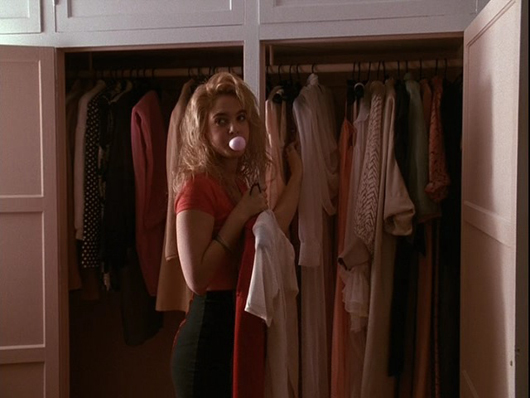 She just wanted all these beautiful things and didn't see any possible way of getting them that didn't involve single white female-ing her best friend. I don't want to give any spoilers but needless to say after all the terrible things that she does, Sylvie can't help but miss her. And I totally get it. For all of her diabolical plans to take over Sylvie's life, Ivy made any person she was with feel like they were the most important and interesting person in the world. She could make you despise her but could just as easily win you back with a comforting smile and the feeling that she was the only person that could understand you and knew how to make you better. And that's what makes her so lethal. She slithers her way into your heart, then smothers it and doesn't let go.