Hello and welcome to the fourth recap of the third season of The Real L Word, a half-hour sitcom about an intelligent yet mischevious teenage girl struggling to carry entire flower bouquets on her head via Giant Floppy Hats while dealing with an absent mother, working musician father, an allegedly charming dumb jock brother with a lot of hair on his head and a recovering alcoholic older brother. Along with her idiotic-but-hot best friend named after the number of beers her father ingested prior to her conception, she struggles with very special teenage issues like buying tampons, going to second base, peer pressure and marijuana joints.
This week on The Real L Word, everybody cried and everything hurt and I was mostly bored! Are you also bored? Just saying, last week my recap didn't even get 100 comments, so. Anyhow, I feel like this recap isn't as funny as usual, but I'd like to blame that on the rain that was falling and mostly on Ilene Chaiken and/or the patriarchy. #BOTP.
Two announcements: we're raising money and need your support and we interviewed Somer and I think you'll like it.

We open deep in the bowels of California's intellectual epicenter: Hollywood, California. Here our newlyengayged couple's prepping for a trip to San Jose to blindside Sara's Portuguese parents with news of their impending nuptials.
Sarahara interviews that her parents grew up on a tiny island with one donkey, three dirt roads, a duck pond large enough for only 1.5 ducks and a ramshackle grocery store that only sold rice and wide-ruled notebooks. There were no gay people on this island so therefore Sarahara's parents know nothing of the gays and their wedded ways.
Whitney's struggling to select which neutral-toned top, jeans, and stupid hat she'll don for the big trip:
Whitney: "I can't with this outfit, I'm not feeling confident —"
Sara: "You look — change your shoes, if that's the problem —"
Whitney: "— and I need to feel confident because — I think it's my pants —"
Sara: "No, I love your pants, there's nothing wrong with your pants."
Whitney: "I think it's my shirt. I feel like I wanna look like, presentable."
Sara: "You look like a 15-year-old little skater boy."
Whitney interviews that weddings are "a whole thing" in Portugal but Sarahara's unlikely to fit into her parents' vision of matrimony 'cause she's marrying a woman. What woman is she marrying?

We then segue somberly back to The House of Sad and Fog, where Kacy and Cori are lying in bed, as they've done every day since their whole world imploded.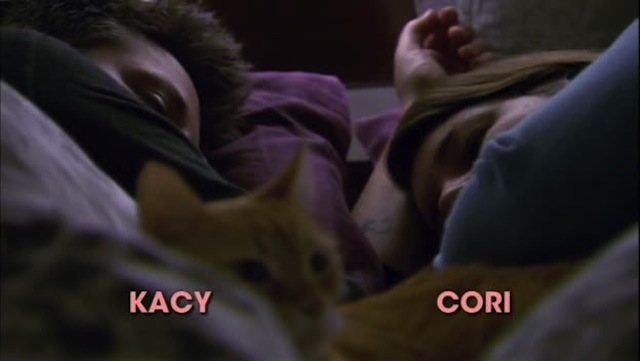 Kacy: "Cori and I have gotten used to just being here, with each other. It's been uh, pretty difficult, damn near impossible, to leave the house."
Cori: "Our lives have just stopped, and we're shattered, we're so broken. I just wanna crawl in a hole and pretend that this isn't my life."
Kacy: "We are both broken-hearted and sad, and we are there together, sitting there in the pit of hell, and I wouldn't wanna be in there with anybody else but her."
:-(

We cut jarringly cross-country, where Amanda and Lauren have landed in New York City for a few days of fun that'll ideally cure Amanda's fatal case of The Homesickness.
The Twirlable Twosome are crashing at a dog-urine-soaked Brooklyn pad inhabited by somebody's male friend and as Amanda showers, Lauren once again interviews to explain that Amanda and Lauren both had girlfriends when they lived in New York and now they're both single at the same time and they've never been single at the same time before and REALLY DO WE HAVE TO EXPLAIN THIS EVERY SINGLE EPISODE, I quit.
"This is our first time out in New York, single," Lauren explains, 'cause their situation requires (apparently) constant explanation. "This is our first time eating pancakes, single," "This is our first time accidentally taking the N train to Queens, single," "This is our first time shampooing our dogs, single."
Amanda says she's got some errands to run and will be back in an hour. Hopefully she'll return with the rest of her shirt.

Elsewhere in New York City, Hunter Valentine are returning from Tour!
Kiyomi: "South by Southwest was awesome, we did a really good job, we busted our asses, but there were some altercations, for every show that Somer sounded really good, there was another show that was a complete catastrophe."
I really wish this show would embrace the 'show don't tell' ethos, but I suppose that's unlikely when nobody wants your cameras in their venues.
Somer returns to her lady-love, Donna, and her two dogs, one of which appears to have eaten a third dog or maybe just a very large houseplant, and is relieved to descend into her wife's arms, far away from Kiyomi's menacing facial expressions and a van that smells "like fish."
Somer interviews that after being On Tour, she totally understands how Odysseus felt:
Somer: "All I could think about was just being at home with her cuddling in bed, and she's always there for me to bounce ideas off of and give me a good perspective and those were all things that I really craved while I was on the road."
I think that's ultimately the thing, you know? I mean, there's sex. You miss the sex when you're away, but more than that you miss the person who has been processing all your feelings with you for howevermany years, the person who gets you and usually agrees with you and can tell you if you're being stupid or the other guy is being stupid. It's the only situation in which life partner seems like the most accurate term to describe the person you miss and love.
Somer explains that when you're out there on the road with a vicious womanbeast, Smee and Vero The Coolest Cucumber, everything's just "naked and bloody" and nobody is polite and it's hard. Somer and Donna have lots of processing to do about whether or not Somer should stay in Hunter Valentine.


We cut cross-country to Sunny San Jose, California, the city Kayak always suggests I fly out of when I'm hunting for cheap plane tickets. What Kayak doesn't know is that I don't have a car, so like, I can't just go to San Jose on a whim in my Lexus with my fiancé or something, like these guys:
Sarahara says they've got news. Mãe and Pai strike out once with "you're moving to San Jose," and then again with "you're pregnant." The latter prediction is totally ominous, obviously. They've got no idea what's about to happen.
In a surprisingly hilarious twist of fate, Whitney's got no fucking clue what's going on 'cause they're all talking in Portuguese, forcing Whit to simmer in nervousness while chugging red table wine and laughing politely at what seem to be the appropriate moments.
Sara: "I'm nervous."
Mrs. Sara [in Portuguese]: "What is it? You're not expecting a baby, are you?"
Sara [in Portuguese] : "She asked me to marry her."
Whitney, who — keep in mind — has no idea what's been said, smiles nervously as Mr. Sara chuckles benevolently and Mrs. Sara's face crumples and it's really sad. You can't even be mad at Mrs. Sara, because you can see her entire vision of her daughter's future dissolve into a big black nothing and you can see that she is mourning this life and probably wishes she could mourn it off-camera. Sometimes it's important to take a step back from our knee-jerk self-righteous indignation at anybody who doesn't embrace our sexuality and recognize that "accepting" doesn't have to mean "immediately embracing."
Sara: "Do you guys love me?"
Mrs. Sara: "I love you very much Sara —" [stumbles on her words]
Sara: "Are you sad?"
Mrs. Sara: "Well." [pauses] "Old-fashioned." [looks down]
Sara: "What do you think? What does that mean?"
Whitney interviews:
Whitney: "So yeah I'm not 100% well-versed on Portugese but I'm pretty well versed on the look of shock and dismay and tears. That's a dead giveaway. She's not 100% happy about this."
Sara sort of purrs and hugs her Mom and tells her she loves her over and over as her mother stares at her fork and her lap and everything but Whitney, who at least shares a kind broment with Mr. Sara.
Mr. Sara: "I love my daughter, and I will do everything for her to be happy. And we really like Whitney and she's a very nice person."
Some Sadistic fuck takes this opportunity to interview Mrs. Sara, who clearly needs more emotional support than an exploitative television camera could offer:
Mrs. Sara: "This is a big surprise for me. It's not easy. I'm sorry, I don't know why I'm saying this but it's not easy." [starts sobbing]
Mrs. Sara: "I never believe in gay marriage. I thought marrying is for woman and a man. Plus it's not only me, really I don't believe my family is going to the wedding. They all love me very much. Very much. very close family. But I don't think they'd do that, even for me." [starts crying again]


Back in New York Shitty, Lauren's peeved 'cause Amanda said she'd be back in an hour and now it's been three hours and she still isn't back!
I believe we're being set up to think Amanda is riding somebody's hobby horse in a secret playpen and Lauren's being overly possessive but seriously guys, don't tell somebody to expect you in an hour and then go MIA, it's ultra-rude, especially if you're allegedly on a vacation together and have plans later.


Pages: 1 2 3See entire article on one page