Well well well what have we here, another Pride and another opportunity for brands to "align" with the LGBTQIA+ community by printing LOVE IS LOVE or LOVE IS FOR EVERYONE or LOVE OUT LOUD in a rainbow gradient on a bunch of t-shirts with a wink and a gay nod. Have they done a good job?? Let's judge!
If you really wanna support queers this Pride Season, you should definitely shop at stores run by actual queer people — here's your list. But let's look at the splendorous brands who continue to exist and send us press releases but never advertise on our actual website!
The Criteria:
This year brands earned points for:
Having non-profit partner that isn't one of the most well-known and well-funded non-profits
Designs that go beyond slapping rainbows on things and/or designs that would count as cute any day of the year
Collaborating with queer designers
Using queer models for its collection or campaign
Developing a custom campaign around its pride content (aka "they did a dedicated photoshoot to promote this stuff")
Dedicating website space aside from the product pages to share more info about their spokesmodels, community partners or Pride / LGBT history in general
These rankings are not influenced by the company's overall ethics, their history or reputation in other areas, or by the politics, religious affiliations or lobbying activities of its leadership team. These are corporations in a capitalist society, with a few exceptions they all taketh more than they giveth, if you know what I mean.
Observations About the 2022 Collections:
This is the fourth year I've compiled this information — we did it in 2017 and  in 2018 and in 2019 before taking two years off because pandemic. Pride Collections have evolved massively since those earlier years — for starters, brands learned quickly that traction required a non-profit partner, but there's also more queer designers and models involved than ever and unsurprisingly, the clothes are getting cuter. A field once dominated by "t-shirts with logos in rainbow gradients" has evolved into various wearables that would be suitable in many contexts, not just "sweating on the sidelines of the Pride Parade wishing you hadn't taken an edible."
There's been shifts in the non-profit partnership space, too — the HRC and GLSEN once dominated the field pretty handily, but that monopoly has slowly shifted. GLSEN is still a top partner, but we're also seeing a lot more of The Trevor Project, The Ali Forney Center, and PFLAG, and rarely seeing the HRC at all. More brands are working with smaller and local orgs. Furthermore, very few brands are sticking with the "portion of profits go to [x]" model and instead are making flat donations regardless of sales.
Finally, this was the first year where a few brands seemed to do pride campaigns without any pride collections, which was an interesting phenomenon, so I did include two of those for funsies.
---
The "Give Us Nothing 2022" Award Goes To Urban Outfitters!!
Non-Profit Partner: In an incredible move, Urban Outfitters is inviting YOU to round up your purchase to make a contribution to GLSEN, which will enable them to get a tax break using your money!
Either their Pride Collection is a late-season debut or Urban Outfitters, who reliably produced some trendy designs in years past, has completely given up, and this page is their entire Pride effort. Who pressed "publish" on that??
---
H&M: My Chosen Family
Non-Profit Partner: Beginning June 15th, H&M will be matching donations to The Trevor Project up to $150,000. They also provide "ongoing support" to groups such as the Ali Forney Center and the Marsha P Johnson Institute.
H&M has interviewed three queer "chosen families" to assemble a delightful read about family dynamics and meanings. However, H&M has not debuted a Pride Collection, which in the grand scheme of things is for the best because the last thing we need is more fast fashion in a landfill, but it gives me very little to say in this paragraph. Also, the "donation matching with a cap" angle is a personal pet peeve — we won't give unless you do but also there's a limit to how much we'll give??? 
---
Non-Profit Partner: Wal-Mart indicates which brands it carries are donating to LGBTQ+ causes ($1 from every pack of pride Skittles to GLAAD, for example) but its own Pride giving isn't noted aside from a portion of its Queer Eye line sales going to the Ali Forney Center.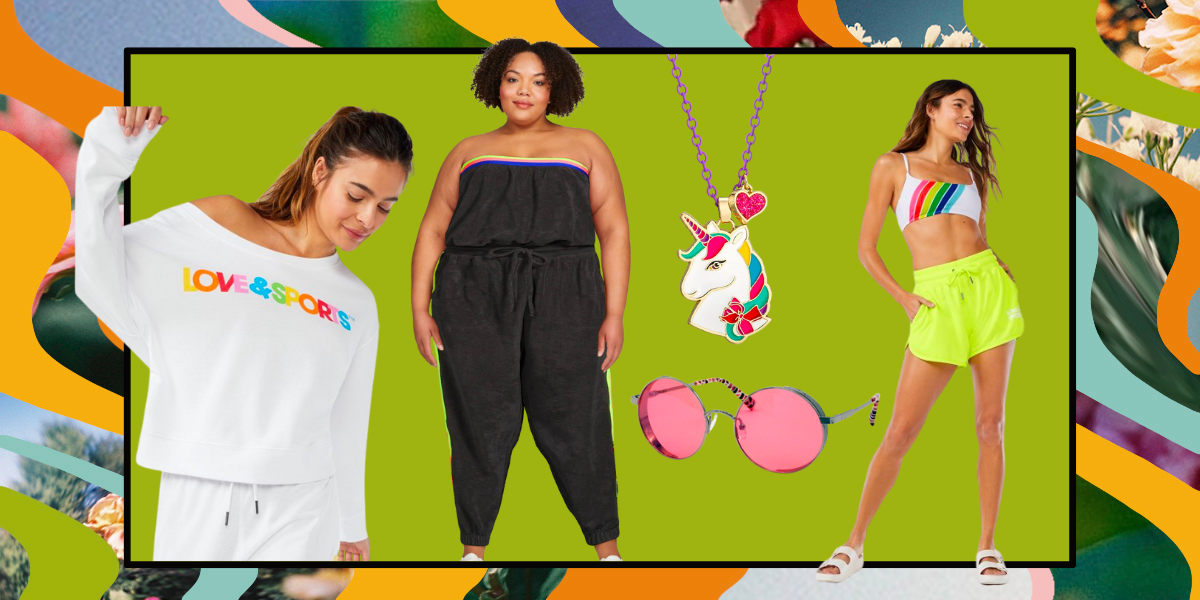 Wal-Mart partnered with Love & Sports, an athletic and swimwear company owned by celebrity fitness instructor Stacey Griffith and fashion designer Michelle Smith, for a line of high-performance wear. Elton John of all people has collaborated with Wal-Mart on a line of pricy sunglasses. Wal-Mart's Pride Fashion section quickly devolves into a vibe best described as "Page 17 of an Amazon category search" vibe. Like what is this???
---
Non-Profit Partner: Old Navy is donating $50,000 to the Ali Forney Center
Great news: whoever you are and however you love, Old Navy is here for it! As an option for buying Pride merch in a multitude of shapes, sizes, styles and price points; Old Navy shines. Their Pride store page includes some real queers declaring why they are "LGBTQ & Enough" or "LGBTQ & Transgender" and a variety of apparel and accessories — highlights include adorable rainbow-striped Pride Pajamas for the whole family and low-fi Queer Eye tie-dye tees, lowlights include a "we designed this at 4pm before a holiday weekend" vibe radiating from this LOVE OUT LOUD line. It's unclear if any queer people were involved in designing or modeling the collection.
Sixes up to 4X.
---
Non-Profit Partner: Gap is donating $50,000 to GenderCool, a youth-led movement bringing positive change for transgender and non-binary youth.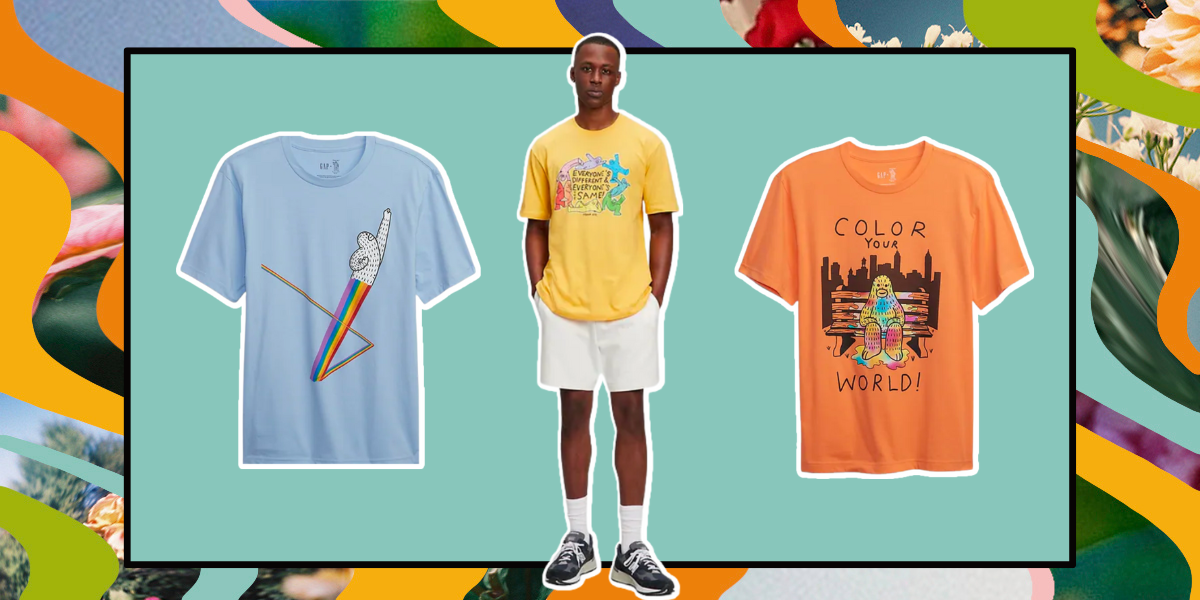 Gap gets props for donating to a small non-profit that'll get a lot of mileage out of those dollars. They commissioned artist Brandon Sines, creator of the Frank Ape character, to produce a series of playful, unique graphic tees that feel lifted from the doodled margins of your crush's notebook. Sizes up to 3XL.
---
Non-Profit Partner: Dockers "continues its long-standing partnership with the Stonewall Community Foundation"
Dockers' collection celebrates LGBTQIA+ activism around the world, brought to life through joyful illustrations by queer artist Richard Ceely inspired by the "Castro birds" which Ceely says are "meant to inspire all people to let their love soar and to remind us that we're all birds of a feather in pursuit of a life well-lived." This is great because I love birds. It's a wee collection and there's no dedicated pride site, but it's also the smallest brand on this list so, nice effort!
---
Non-Profit Partner: 50 percent of the purchase price "will go to the ACLU foundation and its mission to maintain and advance civil liberties for all."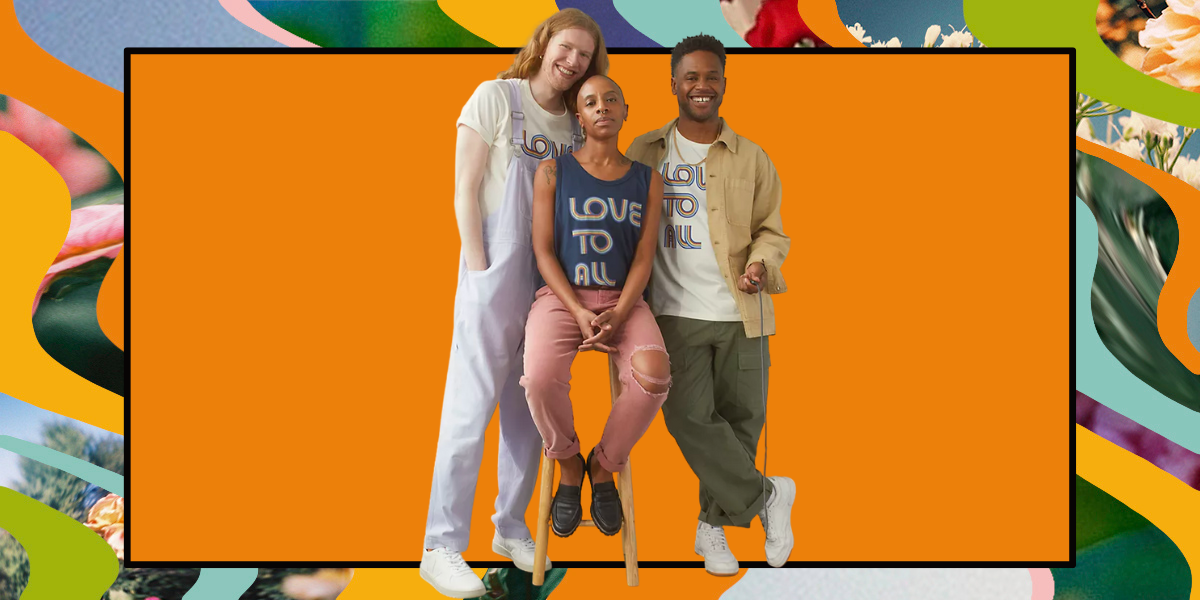 Queer creators Regina Rocke, Theo Swanson and Menelik Puryear will be helping Madewell celebrate Pride on social media all month long. Sizes up to 2XL.
---
Non-Profit: J Crew is making a donation to PFLAG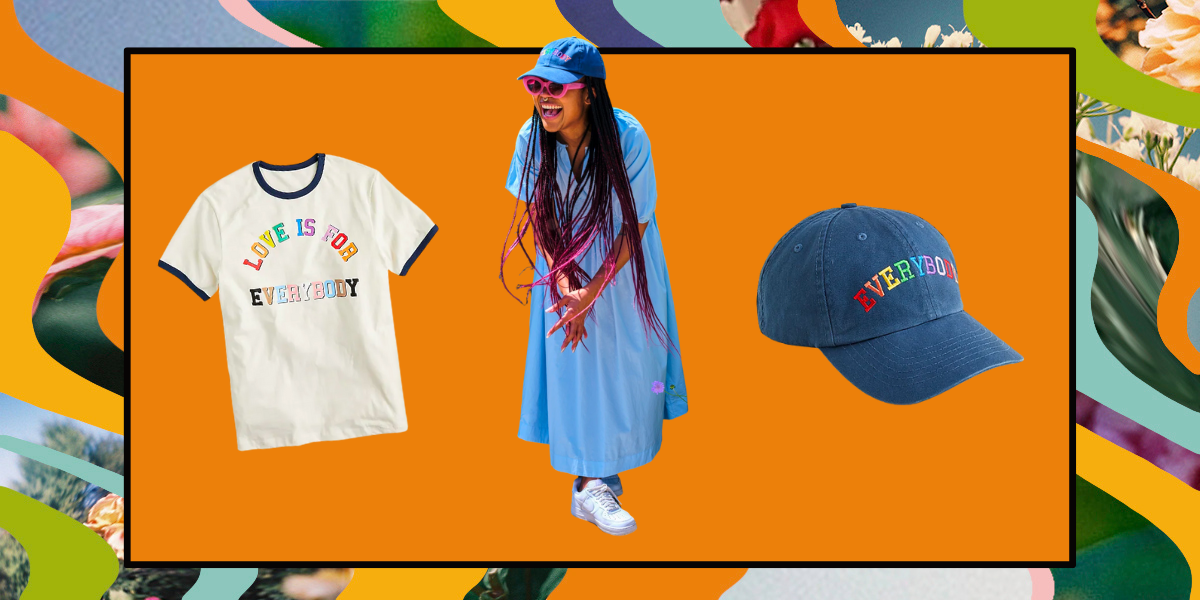 J Crew's Pride website would like you to know that love is for everybody, even the homosexuals! They've slapped their Love is For Everybody attire (two t-shirts and a hat) on a collection of real LGBTQ people like Critic & Curator Kimberly Drew and Coming Soon co-owners Helena Barquet & Gabiana Faria. Sizes up to 2XL.
---
Non-Profit Partner: Tom of Finland Foundation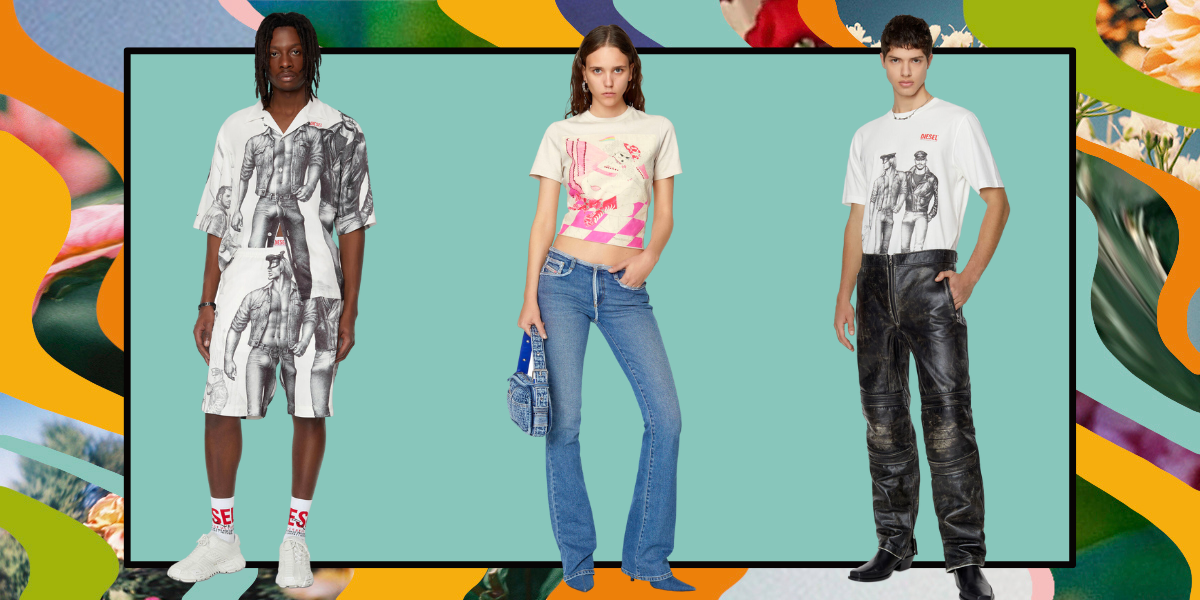 In Partnership with the Tom of Finland Foundation, Diesel's exclusive expensive capsule collection sees erotic art "come to life" on bowling shirts, hoodies, boxers and more. You can also catch the Diesel x Tom of Finland logo emblazoned on socks, bras and jockstraps. Diesel gets points for a genuinely risque and original approach to its art, although I'm not sure how many lesbians are looking for apparel covered in pictures of topless leatherdaddies. Diesel worked with queer creators like Silvia Prada and Florian Hetz and are sponsoring an erotic art exhibit in London and Venice. Sizes up to 2XL.
---
Non-Profit: $50,000 to OUT There Adventures, who empower LGBTQ+ youth to embrace their identity through time spent outdoors.
I'm pretty sure REI said "Outside With Pride" before LL Bean did but um, ANYWAY, weird that "LL Bean" as a word sounds basically like "lesbian," if you think about it, and I did! You can hear from the very cool founder of Out There Adventures on the LL Bean website.
---
Non-Profit Partner: 20% of net profits will go to the Torrid Foundation in support of GLAAD.
Torrid wins for utilizing the basic rainbow in as many creative variations as possible: a brightly striped Challis rainbow sunddress, rainbow-plaid biker shorts, metallic-rainbow heels, a colorblock-rainbow denim jacket, tie-dye rainbow joggers and a leopard-print-rainbow underwear set! You can see some of their styles modeled by influencers @malleyinlove. Even Spongebob thinks that love is love! Sizes up to 6X / 30.
---
Non-Profit Partner: Hollister is donating $250,000 to GLSEN and customers can round up their purchases to make a donation.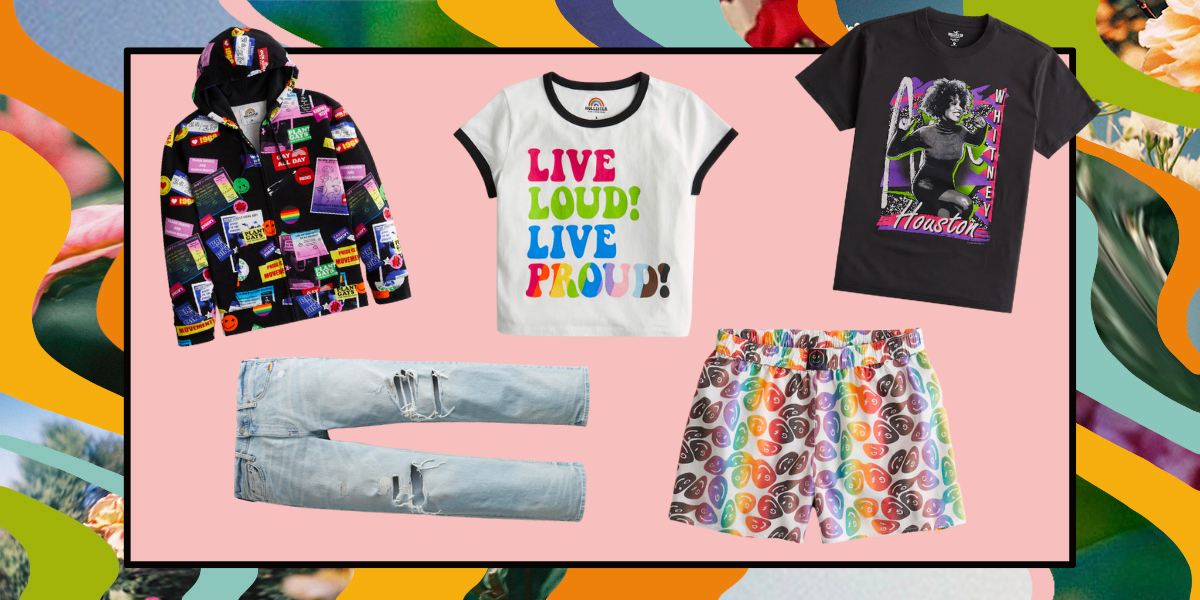 Hollister invites you to "celebrate Pride at full volume in gender-inclusive styles" co-created by GLSEN's student activists. This tiny-tee cluttered with screen-printed stickers such as "Hello my pronouns are Ze/Zir" "Bi We are Here!" "BLM" "Latinx" and "Lesbian Lover" and its terrifying Relaxed Terry Hoodie cousin (which contains even more messaging!!) are absurd but also earns points for being the only brand who dared to print "lesbian" on a t-shirt. It's a massive collection — jeans, swimwear, tennis skirts, bike shorts, an exuberant Live Loud! Live Proud! design available on everything, some Gilly Hicks Printed shirts and finally its best offering: a Whitney Houston Graphic Tee. Sizes up to 3XL.
---
Non-Profit Partners: All profits are going to LGBTQIA+ organizations including the Ali Forney Center, GLSEN, GLBTQ Center OC's Youth Program, the Los Angeles LGBT Center, PFLAG National, the SF LGBT Center, The Trevor Project, the Zebra Coalition as well as six European organizations, It Gets Better Latin America and two Asian and South Pacific non-profits, Minus18 and Nijiro Diversity.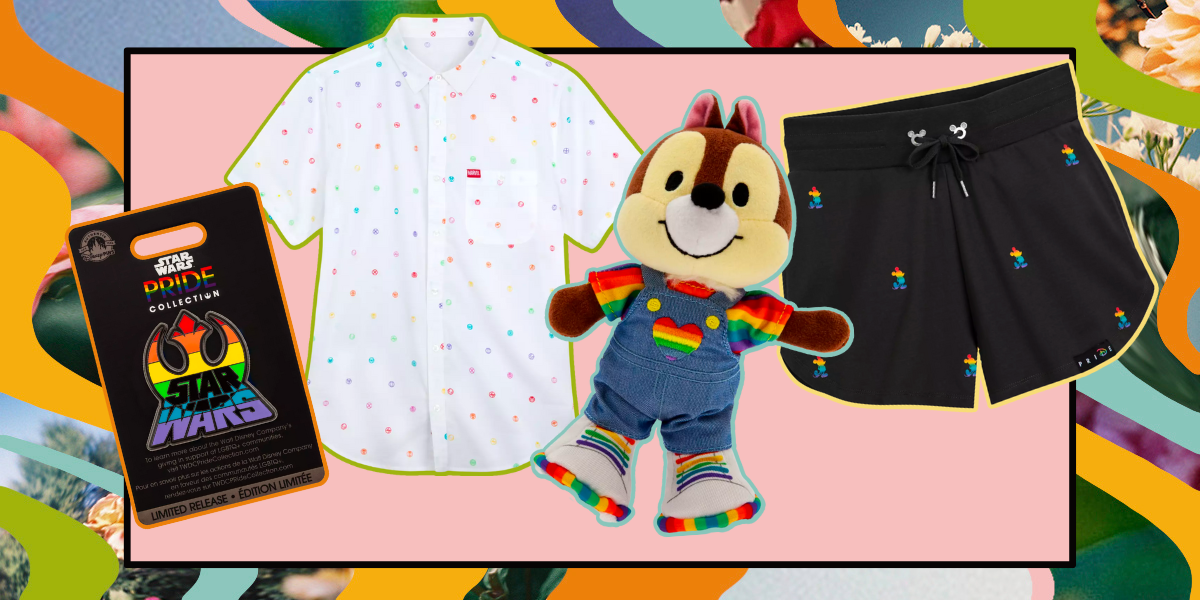 Disney debuted its first-ever Pride Collection in 2022, created by LGBTQIA+ employees and allies to "stand in solidarity with our LGBTQIA+ community everywhere" and encompassing its Disney, Pixar, Marvel and Star Wars franchises. It has all the hallmarks of a debut collection, like "making a logo into a rainbow gradient," but a few original concepts exist, like their punchy Marvel Pride Collection Woven Shirt and these printed Rainbow spirit jerseys for Disney nuiMO plush toys. Sizes up to 2XL.
---
Non-Profit Partners: UA is supporting Unmatched Athlete and $10k Under Armour Pride Grants, both aiming to provide safe places for LGBTQ+ athletes and allies to play and compete.
The 2022 collection was designed with UA Unified, "a group of LGBTQ+ teammates who advise and advocate at Under Armour." It all plays on the concept of "the rainbow road," a print that "represents where we've been and where we are — how we got to today." The road travels upon sneakers, hats, t-shirts, tanks and other athletic gear. Sizes up to 3XL.
---
Non-Profit Partner: "With support from" AE & aerie, the It Gets Better Project is funding 50 Grants in 50 States to support projects empowering LGBTQ+ youth.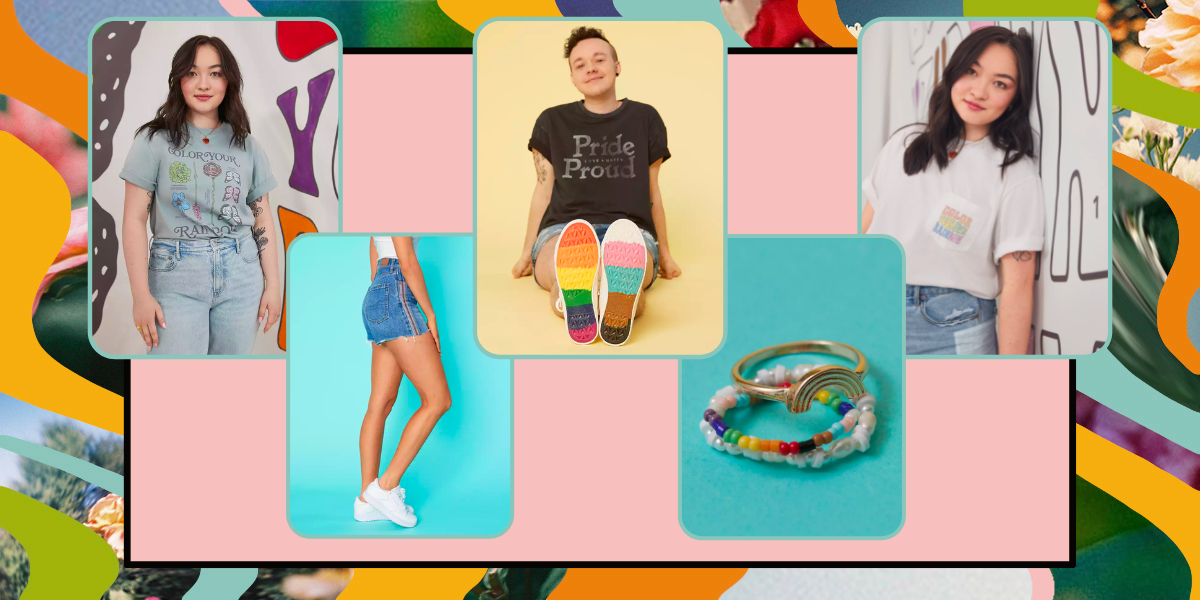 In collaboration with musician/activist/creative mxmtoon, American Eagle's exclusive, limited-edition collection invites you to "color your own rainbow." Models include queer employees of AE, who tell their own stories on thee AE blog. The collection includes soft cotton t-shirts, pride-printed boxer-briefs, Pride jewelry, jeans with rainbow embroidery, socks, shoes and swim trunks. Sizes up to 3XL.
---
Non-Profit Partner: Abercrombie is donating $400,000 to the Trevor Project and historically has raised over $2.8 million for The Trevor Project. Their "love chain" TikTok duet campaign aims to raise up to $100,000 in matched donations using a special hashtag on the platform.
Abercrombie gets points for using queer models and creating, in collaboration with The Trevor Project, unique, trendy and completely wearable options for its gender-inclusive line like its pastel color-block hoodie, sun-blasted Clueless crop-top, soft pastel rainbow ombre Pride Cabana Swim Trunks and two vintage Keith Haring tees. They've also got a gender-inclusive collection at Abercrombie Kids. Sizes up to 3XL.
---
Bombas: Be Your Most Supportive
Non-Profit Partners: Bombas Giving Partners across the US and UK include The Red Hook Community Center, The Safe Place for Youth and year-round Giving Partner The Ally Coalition. For every piece of apparel purchased, one is donated to homeless LGBTQIA+ youth.
Bombas pride website addresses LGBTQIA+ youth homelessness and indicates that every purchase from the Pride collection means you're giving clothing to LGBTQIA+ youth in need. It includes their signature durable socks in all formats as well as t-shirts, tanks and underwear. Sizes up to 2XL.
---
Non-Profit: The Hetrick-Martin Institute, The Albert Kennedy Trust, the Point Foundation and the CenterLink Community of LGBTQ Centers.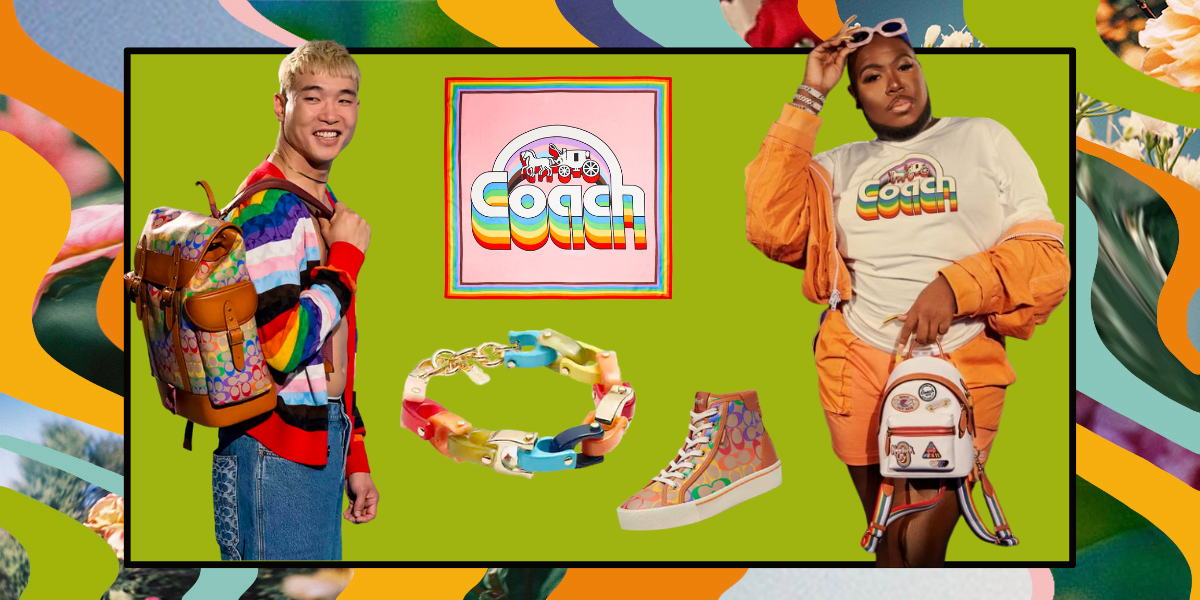 Coach's campaign is gorgeous — models include Joel Kim Booster, Benny Drama and Saucy Santana, Coach employees model Pride gear on the website and Coach's social media is full of campaign pics and shots from their Monster Bar NYC Pride party. Somehow they've employed a traditional rainbow gradient throughout without splitting my retinas, and its Rainbow Horse & Carriage Tee is the only rainbow tee I've ever considered wearing. Unfortunately it costs $150 so I will be taking my business elsewhere. Sizes up to 2XL.
---
Non-Profit: Lane Bryant will contribute $30k to GLSEN
Lane Bryant enlisted Lane stylists who work in Lane Bryant stores to model their Pride collection on their website, sharing reflections on what Pride means to them. Highlights include these f*cking adorable overall shorts with rainbow stripes, this wearable-year-round striped romper, this strappy high-waist bikini and my favorite Pride fanny pack. Sizes up to 40.
---
Non-Profit: Savage x Fenty is partnering with GLAAD and For The Gworls to " to "highlight the incredible work they do to uplift the LGBTQIA+ community." Savage x Fenty is making a donation to GLAAD and Rhianna's Clara Lionel Foundation nonprofit is contributing to For the Gworls.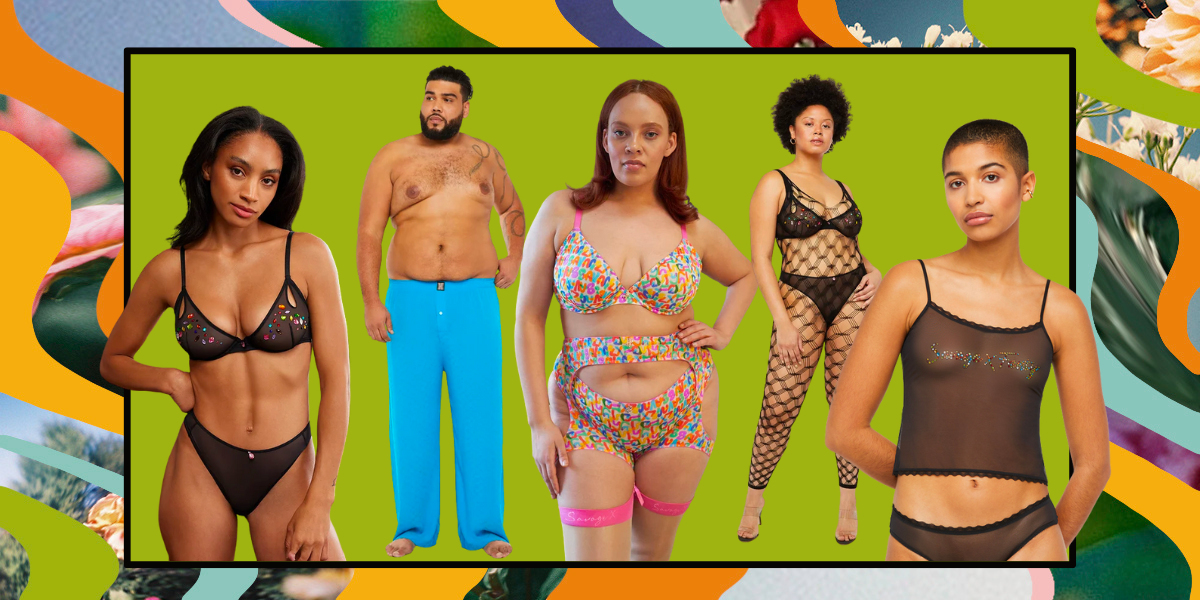 LGBTQ+ Ally Icon Rihanna's lingerie line has recruited an iconic set of models including Honey Balenciaga, Xoài Pham, Tomás Matos, Nikki Garza, Lilli Johnson, Armiel Chandler and Shaheem Anderson. The collection taps into our slutty gay roots with bras, slips, fishnet tanks, thigh-high stockings, teddys, jock straps, catsuits, body stickers and more! Savage x Fenty is also sending a Savage x Pride Truck to Los Angeles Pride. Sizes up to 4X.
---
Non-Profit Partner: Nike donated $625k to 18 organizations focused on advocacy in sports, creating safe spaces and elevating the history of the LGBTQIA+ community, such as The GenderCool Project in Chicago, the TransLatina Coalition in Los Angeles and You Can Play in Denver.
On Nike's Be True website, they've partnered with "five inspiring changemakers" to share their stories, like Schuyler Bailar, the first trans athlete to compete in any sport on an NCAA Division 1 Team, dancer Honey Balenciaga and softball player Aleshia Ocasio. They hosted a virtual summit celebrating pride and progress on June 13th, in coordination with the official drop of their Pride collection, which includes new sneaks, shorts, a tie-die hoodies, a tee and some very complicated sandals that feel like they would protect me if I was trying to fight an alligator. Sizes up to 2XL.
---
Non-Profit Partner: Adidas is "excited to continue our partnerships" with Athlete Ally and Stonewall UK.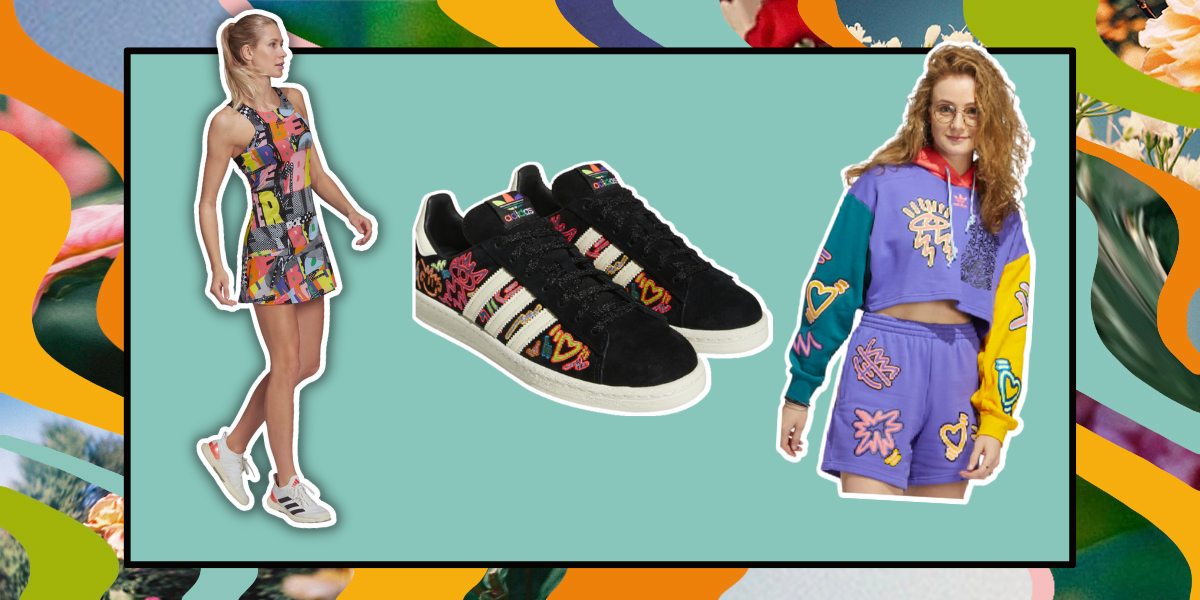 In collaboration with queer Australian artist Kris Andrew Small, the Adidas Pride collection is "a big celebration of movement, color and joy" somehow "inspired by the 1969 Stonewall Uprising" as well as an intentional reworking of "the traditional rainbow / pride visual language we are so used to seeing." Love an intentional reworking! They've got hoodies, track pants, tees, sneakers, fanny packs, a Pride Y-Back Dress made In part with everybody's favorite ocean plastic, Parley Ocean Plastic. You can read more about the collection and its artist on the Adidas site. Sizes up to 4XL.
---
Non-Profit Partner: Levi's makes an annual $100,000 donation to OutRight Action International, a "global organization working to advance human rights for LGBTQIA+ people all over the world."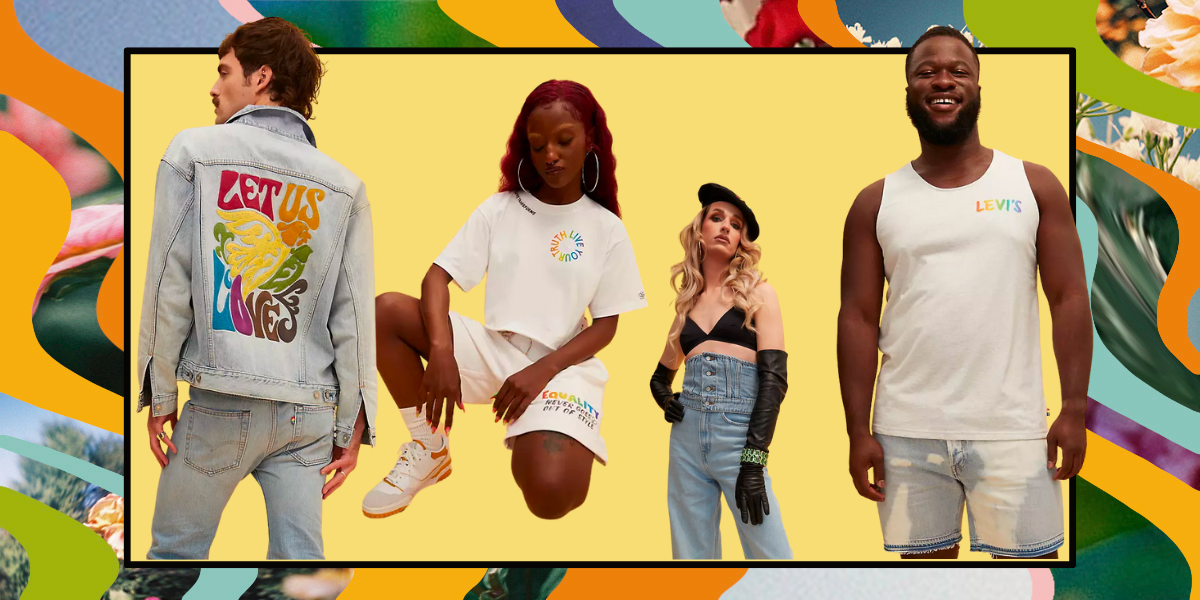 In addition to the rainbow-centric pride collection — a mix of predictable "Live Your Truth" nonsense and more eclectic offerings from queer designers like the Levi's Pride Liberation Trucker Jacket — Levi's has a section of its website filled with blog posts highlighting real activists and artists like "Black, biracial, queer glamputee" Alex Locust and the legendary HIV+ trans human rights worker Cecelia Chung. Sizes up to 2XL.
---
Non-Profit Partner: UGG is donating $150,000 to The Trevor Project as it seeks to create a welcoming, loving world for LGBTQIA+ young people."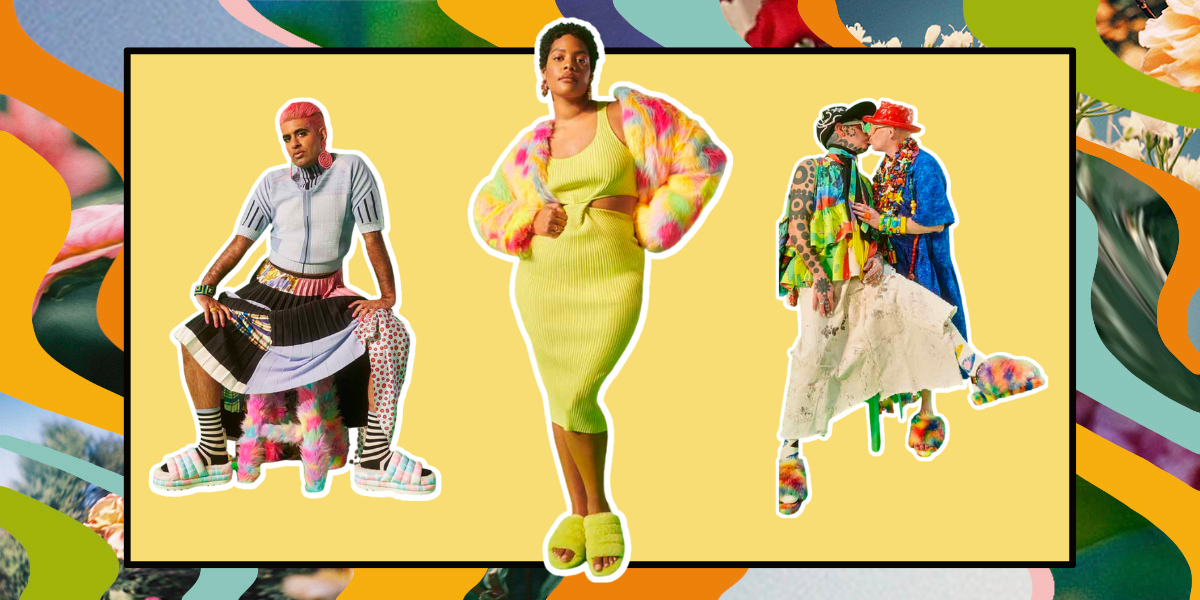 Ugg partnered with queer artists Alok and Robert & Orren on its super-fun campaign focused on the concept of "a world where we all feel safe to openly discuss the importance of mental health." Its Pride styles include fluffy slippers in rainbow and trans flag gradients, a bold print slapped on some shorts and tees, slides, a $248 sequin tee dress, cropped hoodies and t-shirt dresses. Highlights include Trans Pride striped socks and this delightfully loud Pride Sherpa jacket. Sizes up to 2XL.
---
Non-Profit: Nothing is listed specifically for this campaign, but REI donates year-round to organizations that promote inclusivity in the outdoors, and their own initiative #OptOutside with PRIDE supports LGBTQ+ equality.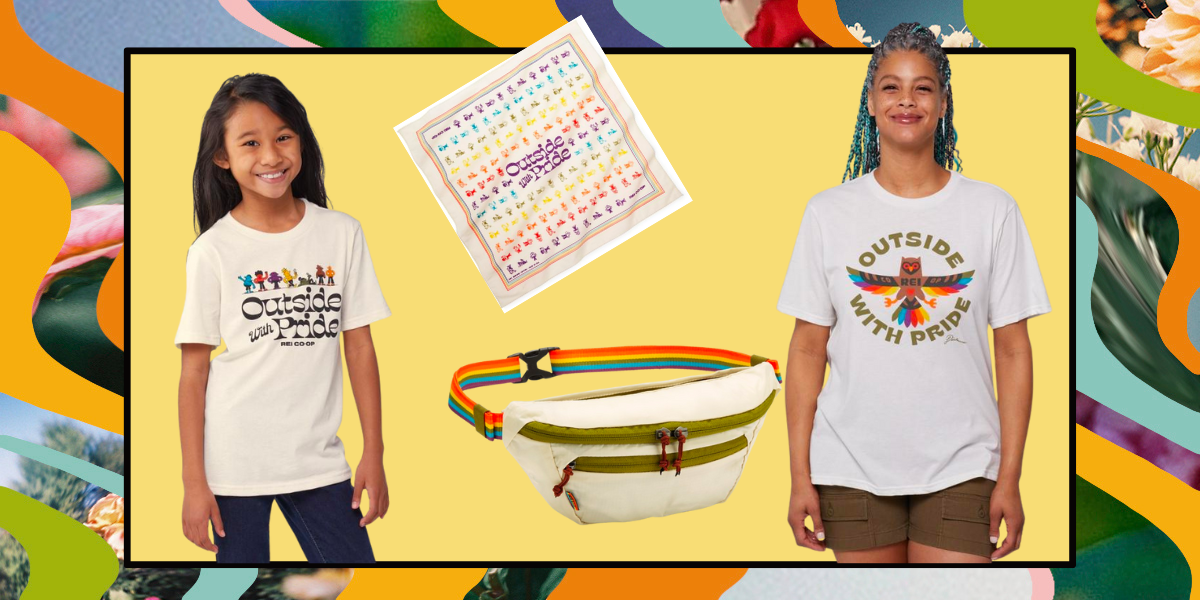 We love REI with our whole hearts and they are the only brand on this list that has put their money where their mouth is with queer women and trans communities by advertising directly on this very website!
Their year-round Outside With Pride initiative includes partnering with brands like ours as well as a dedicated website with hosted conversations around LGBTQ+ people and the outdoors. Their Pride collection, designed by LGBTQ+ artists, features nostalgic typography and graphics on tees, fanny packs, stickers and scarves, plus Pride gear from partner brands, like Chacos and North Face. Sizes up to 3XL.
---
LGBTQ+ Pride 2022 Collaborations That Scored 100%
These brands scored on all categories: using queer models and designers, giving to non-profits outside of the Big Ten, building a dedicated pride site, developing a custom Pride campaign and designing clothes beyond the traditional rainbow gradient.
Non-Profit Partner: 100% of the proceeds go to The Phluid Foundation (up to $100,000)
My favorite place to buy something fancy the day before a formal event has partnered with the Phluid Project to debut a gender-neutral capsule collection that "reinvents the rainbow and celebrates the freedom of universal love and self-expression." The vibe is "lounging at a mid-century modern Palm Springs hotel in May": a leaf print kimono, tropical-print travel belt bag, trans flag pastels on a palm-print slide-slit caftan. The Saks Pride site includes queer models, quotes about inclusion, info on the Phluid Project and a section highlighting "LGBTQ+ designers we love." The latter is funny because so many high fashion designers are gay men so basically it's like…. every designer? Anyhow! Sizes up to 2XL.
---
Non-Profit: So far in 2022, Calvin Klein has committed $400k in support of NGOs fighting for LGBTQIA+ equity, advocacy, safety and justice, including The Trevor Project, PFLAG National and the Transgender Law Center.
Calvin Klein is delivering what the queers really want by telling the platonic love story between John Waters and Mink Stole, the chosen family tale of the House of Xtravaganza, the sweet sibling bond between Sasha Lane and Sergio D'arcy Lane, "Snail Mail and Her People" and more. Sticking with its poppy bright variation on the traditional rainbow, its collection adds "This is Love" to the signature Calvin Klein waistband and logo or a rainbow trim to a cut-out swimsuit or Micro low-rise trunk. Each item includes a woven label that indicates what each Flag color represents, including reminding us all that the original Pride Flag included Hot Pink and it was supposed to stand for "sex." Sizes up to 2XL.
---
Non-Profit Partner: "Through annual grants and with the passion of our team, Converse supports the transformative work of our community partners" including the It Gets Better Project, BAGLY, The Theater Offensive, The Ali Forney Center, Out Metrowest, Skate Like a Girl and Las Photos Project.
Converse's 2022 Pride Collection features a set of base designs — like the Trans Flag turned into a flower, a paisley rainbow print — and a variety of laces, eyelets, ruber sidewalls and exclusive upper and midsole prints to make each design your own. You can also add your name, number or a personal embroidered ID. The Pride section of the Converse website is focused on "found family," and highlights a diverse group of six LGBTQIA+ All Stars from around-the world on " on the importance of home, family, and support."
---
Non-Profit Partner: $100,000 to GLSEN and "continuing to support local, regional and national LGBTQIA+ organizations throughout the year including the HRC, PrideLive, and Out & Equal."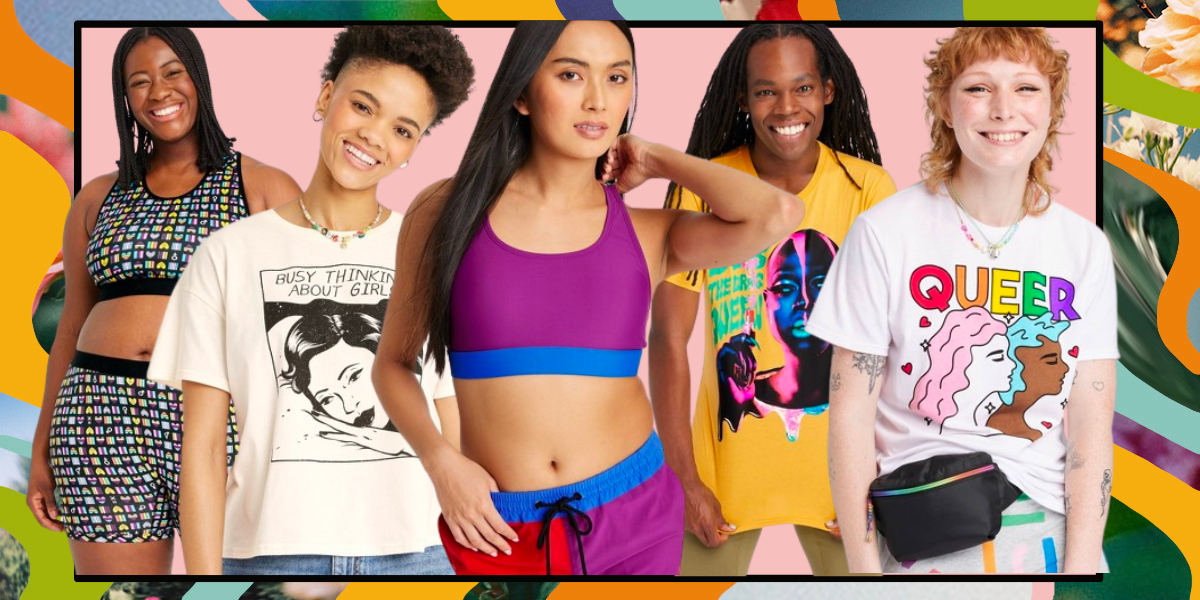 Target has teamed up with "two beloved queer, female-founded brands stand for inclusivity in every way" — Tomboyx and Humankind — to create unique capsules for pride.
The 15-piece limited edition TomboyX line is pretty remarkable, as it makes Target the first major retailer to carry packing underwear and compression tops in its stores. Target also is stocking TomboyX bras, boxers, briefs and boyshorts. Humankind has designed swim trunks, tank tops, unisuits and swim tops for people of all genders.
And Target has teamed up with LGBTQIA+ designers, entrepreneurs and team members to design a Pride collection over 250 pieces strong, including items intended to enable you to celebrate Pride at home because, you know, Pandemic. There's a host of offerings from The Phluid Project as well as work from queer designers including Jermel "Blu" Moody and Alice Butts.
But that's not all! Target Creative worked with our beloved young adult author Leah Johnson and its own team members to develop this year's marketing campaign celebrating stories of affirmation. Their "Take Pride in Our Stories" online book collection includes nearly two thousand books, from "Honey Girl" to "Heartstopper" to Alok Vaid-Menon's "Beyond the Gender Binary."
Target of course has more resources and encompasses more retail categories than any company on this list besides Wal-Mart, so it's surprising that this is the first year they've been near the top. They made it here because investing in the LGBTQ+ community isn't just about non-profits, it is about supporting our designers and small business owners and artists. Due to the vastness of their collection, Target also includes designs that go beyond safe messages about equal-opportunity love into using words like "queer" and "trans" and "smash the cis-tem."
It inspires a lot of mixed feelings, though, like Pride itself: on the one hand, it's fantastic for young queer people to be affirmed everywhere they look and to be able to see a binder on a shelf in a store. But there's some dissonance between being able to buy a t-shirt declaring "Protect Trans Lives" at Target while actual trans lives are under attack nationwide.
Sizes up to 5X.
---
To wrap up, this is what we learned about love this year:
Love transforms
Love is love
Sport is love
Love is for everybody
Love wins
Love unites
Love is not a crime