Ahh, Pride Season. The special time of year when giant corporations make rainbow versions of their logo and then sell them to you because Love is Love and Love Unites and Equality is Love and Love is Equality and Families Need Love and We All Need Love and Love Is All We Need. Apparently gay people are the most loving people around — to which I would say, have you met our exes??? 
If you really wanna support queers this Pride Season, you should definitely shop at stores run by actual queer people — here's your list. But let's look at the splendorous brands who continue to exist and send us press releases but never advertise on our actual website or send me sneakers! (And also REI, who are great and I put them on the list because we love them. And The Parks Project. They're great too!) This year I tried doling out points for the following achievements:
Non-profit partner
A non-profit partner that isn't widely known and therefore rarely gets the same level of giving that the big name orgs do
Designs that go beyond slapping rainbows on things
Clothes that are actually cute
Actually mentioning words like "gay" and "lesbian" instead of generic "love" and "pride" messaging
Using queer designers or queer models who are doing interesting things in the world worth spotlighting
Dedicating website space to more info about their spokesmodels, community partners or Pride / LGBT history in general
After doing so, things still felt off so I moved them around until I'd totally destroyed my own system. FYI: only four brands actually used any of the words from the LGBTQ+ acronym in their merch (Target, American Apparel, Hollister and American Eagle). Everything else is about Love, Equality and Pride, which feels… neutered.
These rankings are not influenced by the company's overall ethics, their history or reputation in other areas, or by the politics, religious affiliations or lobbying activities of its leadership team. Undoubtedly most corporations do some bad things. This is a fact of capitalism.
An asterisk (*) means they have used an actual lesbian or bisexual woman in their campaign as a model or spokesperson. 
---
Non Profit Partner: ??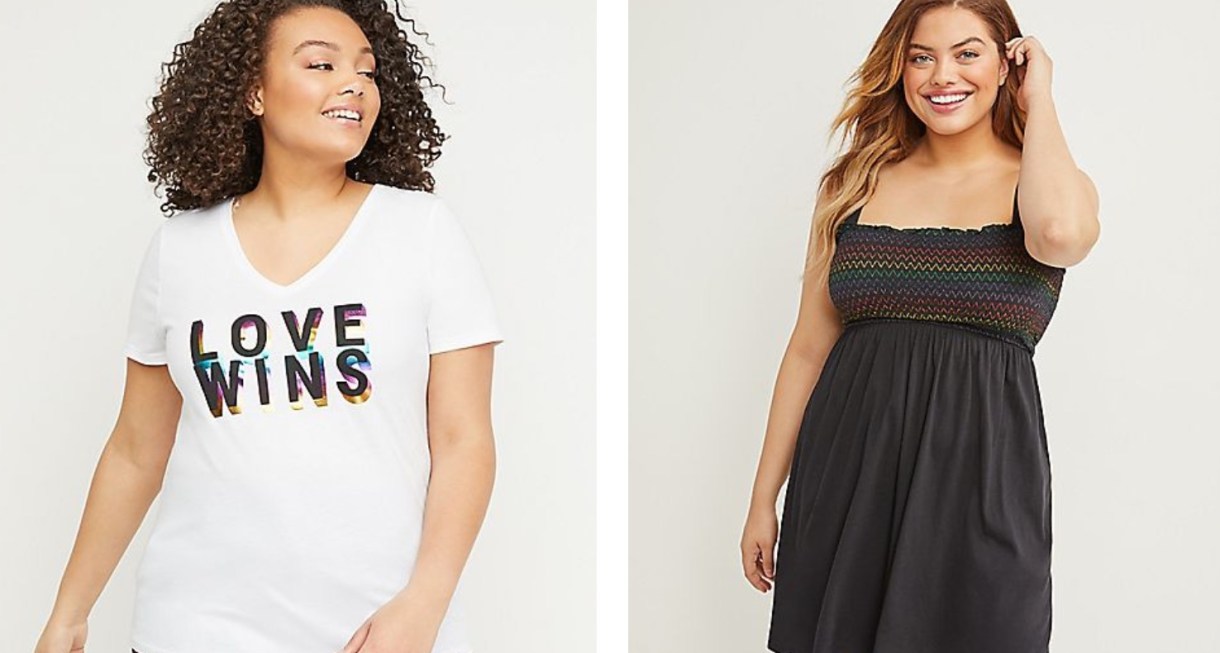 You are invited to "celebrate the curve in every rainbow" with some exclusive styles, which include some of last year's styles and some new links. Last year they partnered with GLSEN, but this year there's no non-profit partner mentioned anywhere. Also last year they sent stuff to Reniece and we all got to enjoy that photoshoot so like, what happened Lane Bryant???
---
Sperry: Made With Pride
Non-Profit: ?!?!?!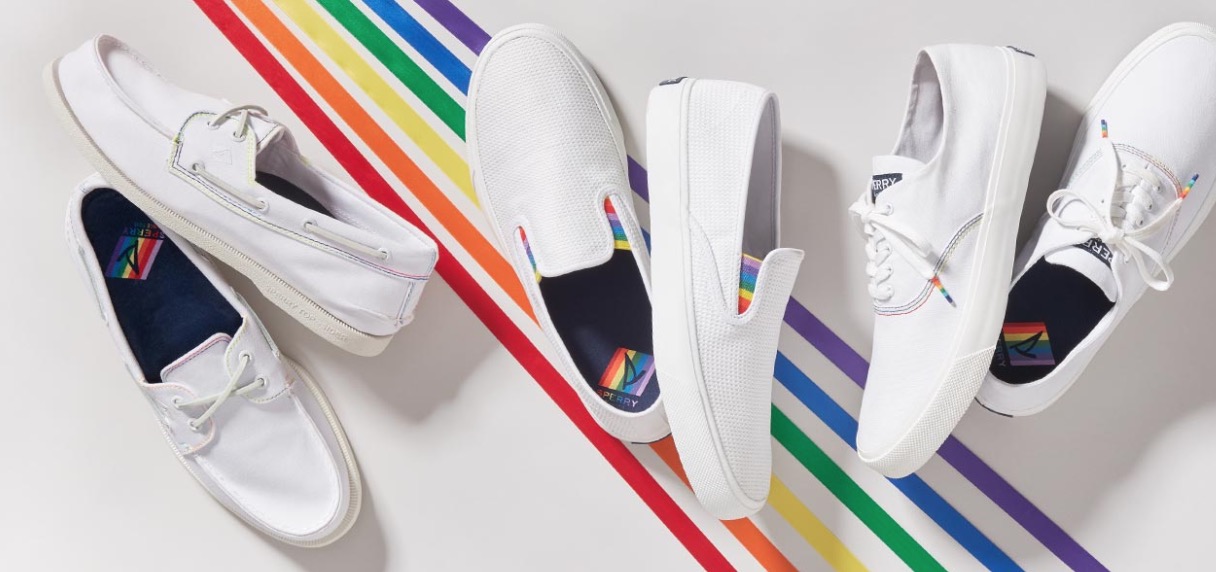 Celebrate Pride Month with your "unique style," expressed by wearing white Sperry shoes with little rainbow (!!!) details allegedly "made with pride, for Pride." Furthermore, these shoes promise to "take a stand for a movement we'll always stand behind." What movement? Maybe a movement of tomboys with cuffed-up jeans and white Sperrys holding a cocktail on a yacht.
---
ModCloth: Full Spectrum Collection
Non-Profit: None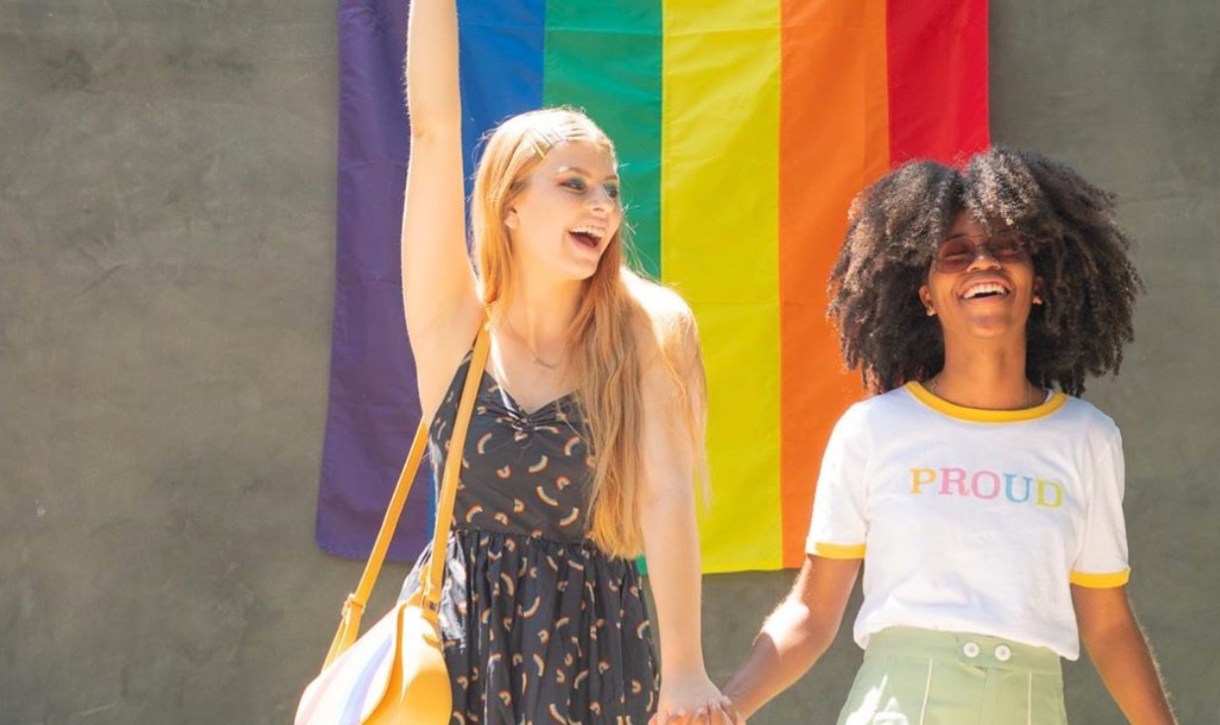 I got an email from ModCloth inviting me to shop the Full Spectrum Collection and the page it led me to was indeed filled with a full rainbow spectrum of genuinely stylish clothing that would probably look really cute on you, including "Proud" and "Equality" tees. When asked about their non-profit partner status for aforementioned tees on Instagram, ModCloth declared that they love working with LGBTQ+ groups and that the community is very important to them but "for now we don't have anything set up for the sales of our products, but it's absolutely something we'd love to do in the future!" We can confirm that they do indeed love working with LGBTQ+ groups (they've worked with us, as well as with Hayley Kiyoko and Mary Lambert), but considering the depths of Wal-Mart's pockets, not partnering with a non-profit partner on this is about as rich as Sam Walton.
---
Non-Profit: 50% of purchase price to the United Nations Foundation in support of the UN Free & Equal Campaign for LGBTI equality, with a maximum donation of $60k.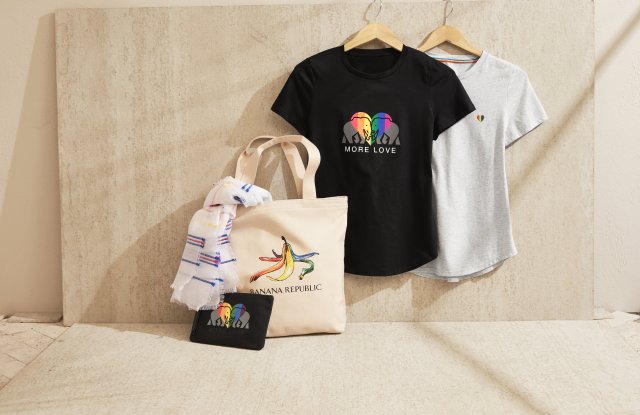 Another year, another picture of an elephant being mauled by a rainbow from my former employer, the BR! This year, they've also unleashed a rainbow-colored banana illustration, which you can subject your belongings to courtesy of this convenient tote. We also have the words "Banana Republic" in a rainbow gradient, which are very difficult to take any sort of pride in.
---
Dr. Martens: March To Your Own Beat
Non-Proft: The Trevor Project, a portion of sales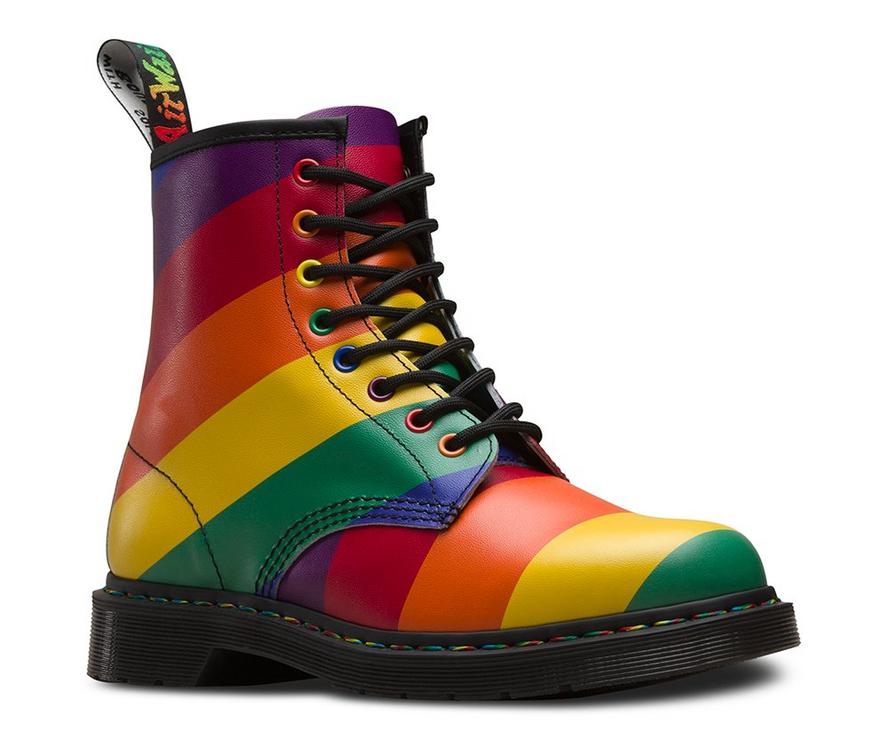 Maybe you didn't buy these last year or the year before and now you're like, "this is the year I am going to do this to myself!" Do so with the knowledge that Dr. Martens "celebrates individuality and diversity in all their forms" and is eager to pay tribute to "the Pride movement." I believe that is a reference to the migratory patterns of Lions.
---
Non-Profit: HRC, undisclosed amount.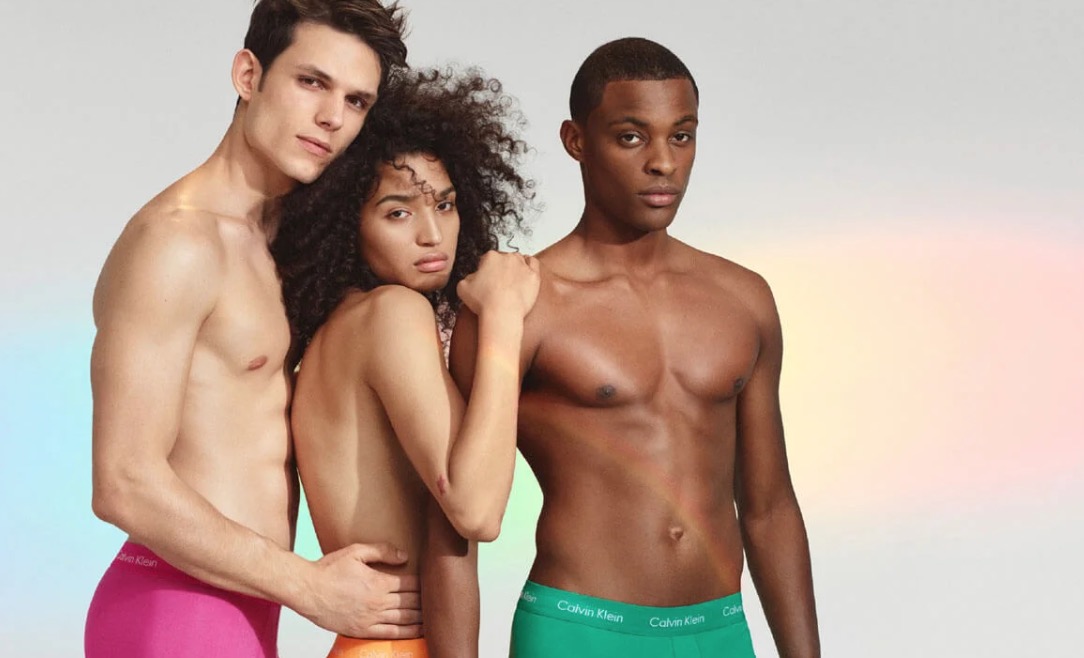 Actress Indya Moore without a shirt on is a highlight of this effort from Calvin Klein, who also features Kevin Abstract and Troye Sivan in short films. In addition to underwear that comes in colors, they have shirts displaying their very own logo in a rainbow gradient, some random keychains, and a very cute bralette I recently saw on sale at Nordstrom Rack but didn't buy because I was in a hurry.
---
Non-Profit Partner: GLSEN, undisclosed "portion of its proceeds"

The Pride Collection page on Urban's website includes its own line as well as so many others' Pride collabs (e.g., Adidas, Calvin Klein) and so much random rainbow apparel. UO's line this year are four t-shirts that I would not necessarily be upset about wearing but would likely review with a "shrug" emoji. Each shirt comes with Iron-on letters for wearers to "customize" their shirts "with the empowering words EQUALITY and PRIDE."
---
Macy's: Pride + Joy
Non-Profit: The Trevor Project, 20% of the sale price from every item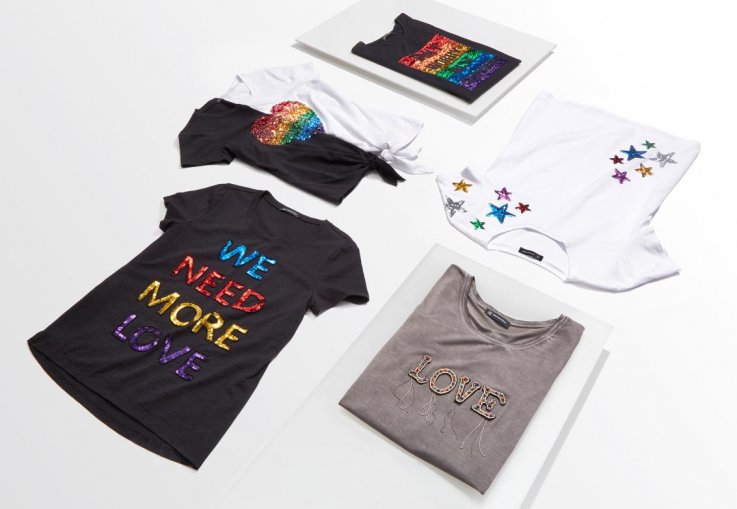 Macy's is debuting a capsule collection of INC International Concepts tees, tanks and socks reminiscent of shirts I made with paste and glitter in Second Grade, which's before I even knew I was gay. In addition to being an official Trevor Project Partner, from June 1-17 at all Macy's stores, shoppers can round up their purchase to the nearest dollar (up to $.99) and donate the change to The Trevor Project. I'd love to watch a video of who turns that option down.
But — Macy's website truly goes the extra mile, including a History of Pride and a special section honoring their LGBT employees, such as a lesbian with an undercut who heads up the Men's Active and Young Men's digital presences. They also answer questions like "How do you celebrate Pride every day?" which I bet were fun. There are 533 items tagged as a "Pride Product" in their online store if you wanna get lost somewhere over the rainbow.
---
Nike: Be True
Non-Profit: 20+ LGBTQIA+ organizations including Campus Pride, the Hetrick-Martin Institute, the GLBT Historical Society in San Francisco, the Los Angeles LGBT Center and Timberfish Portland.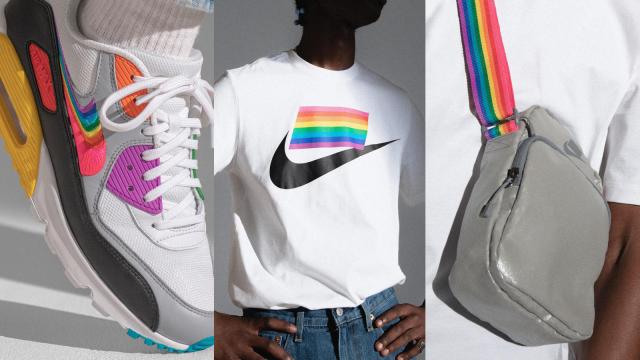 Would you like to celebrate the passion and pursuit of sport by all athletes? Good news: Nike has some shoes and t-shirts for you, especially if you happen to be a fan of RAINBOWS! We've got t-shirts with the word "NIKE" in rainbows, we've got rainbow sandals, we've got a rectangular rainbow over a Nike swoosh and we've got a 50-Year Stonewall anniversary sneaker paying homage to Gilbert Baker (the rainbow flag designer) that dares to add a lot of colors to one shoe in hopes that it'll land. (It does not.) The Pegasus Turbo BETRUE sneaker has what each color stands for on the shoe bottom (e.g., Sexuality, Sunlight) and comes in a signed rainbow box. Still — big bonus for donating to smaller charities and highlighting a genuine LGBTQ historical figure.
---
Non-Profit: United Nations Foundation, 15% of sales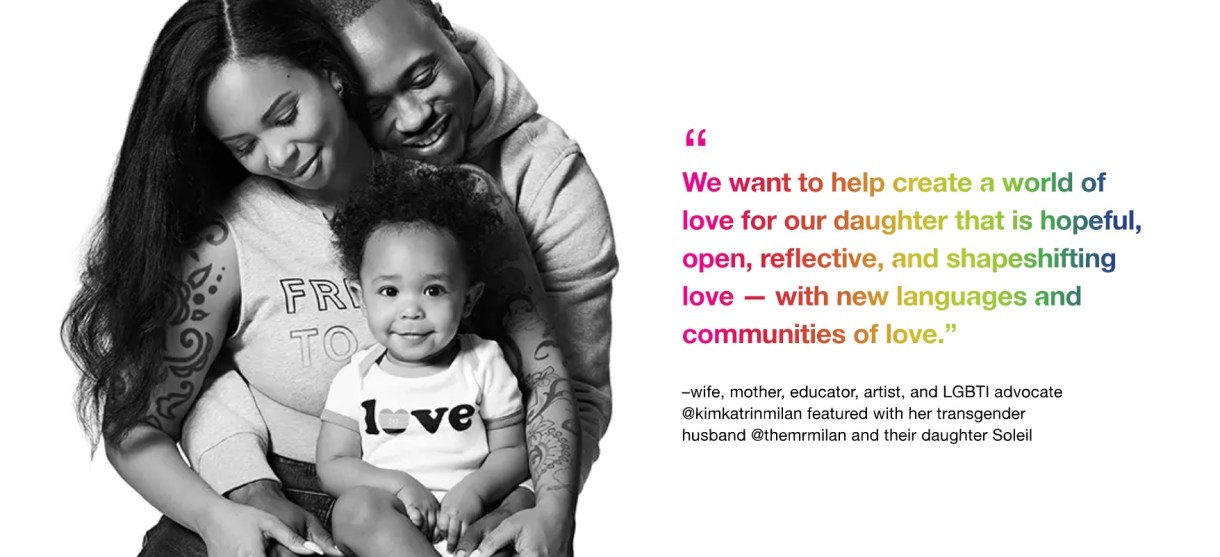 I traditionally give The Gap low marks for uninspired design and weak donation commitments, but this year's digital assets are pretty cool — it celebrates activist Jodi Patterson and her chosen family of queer, trans and gender non-conforming people with a focus on people of color and trans kids. That being said, I'm curious why Gap's donating 15% of sales to the UN Free & Equal Campaign instead of to the smaller non-profits represented by the faces of their campaign. The vintage gap logo actually pops in a rainbow gradient, but the "Free to Be" and "Love" merchandise remains a yawn.
---
Non-Profit: The Trevor Project, proceeds up to $100,000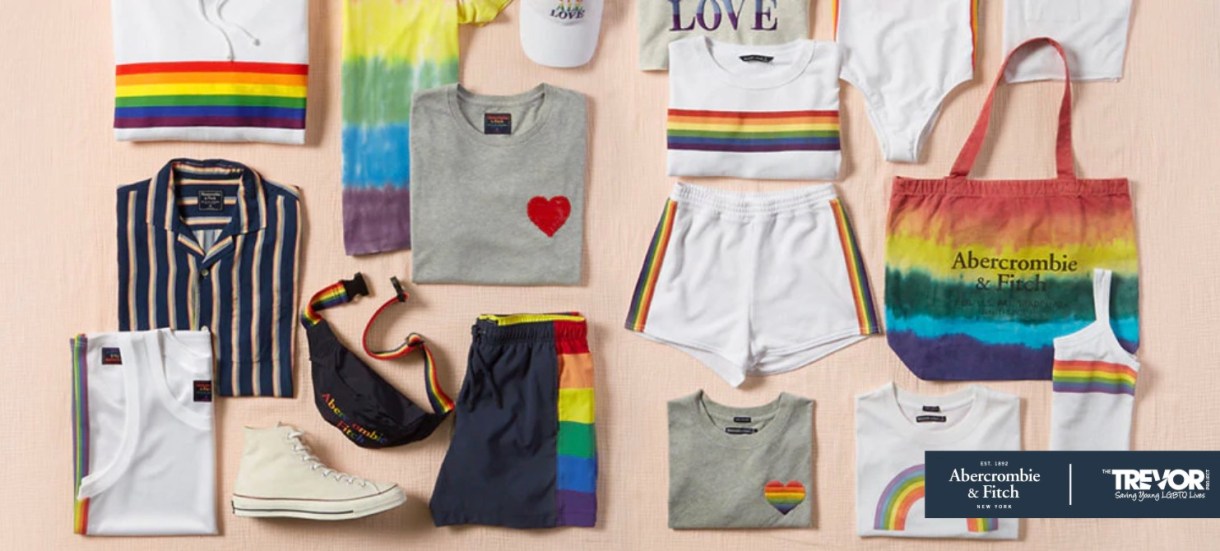 What better way to support LGBTQ+ youth than by purchasing an $84 bottle of cologne decorated with the Abercrombie-typical tightly chiseled white male chest and the word "Fierce"?
There is no better way! The collection also includes a variety of shirts covered in — WOULD YOU BELIEVE ME IF I SAID RAINBOWS — boardshorts, a crop top, a sleek white bathing suit, a fanny pack, and a few pieces declaring "IT'S ALL LOVE," which is a very meaningful statement with a direct emotional impact on us all. Props for their campaign featuring familiar faces like Phillip Picardi, Mena Sachdev, Crystal Anderson and Tyler Oakley.
---
Reebok: Strong & Proud
Non-Profit: Fenway Health, undisclosed portion of proceeds up to $50k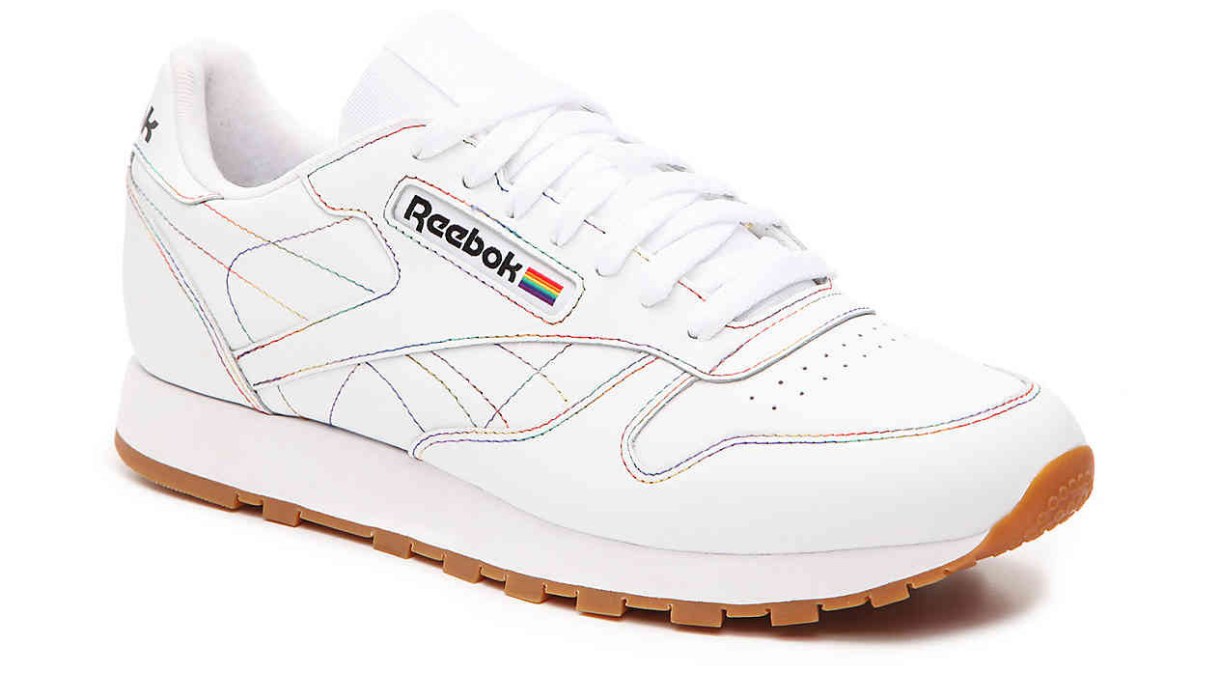 Props to Reebok for supporting Fenway Health and for making genuinely cute shoes, although they lose some points for not responding to my email requesting a 9.5 in every style. They've also got some Strong & Proud t-shirts with a rainbow gradient, a cute retro tank and probably an employee who would like to mail me some shoes! Who are you!??!
---
Non-Profit: Happy Hippie Foundation, $1 from every sale
Lounge pants, underwear, socks, onesies and t-shirts invite shoppers to be proud and love themselves and also unicorns. DJ and EDM producer GRiZ (Grant Kwiecinski) is the white cis male face of their LGBTQ pride collection, which's impossible to find from their website homepage. They also sponsored the It Gets Better Pride Party in Los Angeles.
---
Non-Profit: Athlete Ally, undisclosed amount

Under Armour has love for every athlete, even the gay ones! Because if you want to win your football game, it is important that you be united with the other players on your team, even the ones who like scissoring. You can win yourself by purchasing some… RAINBOW THEMED T-SHIRTS and also a special edition sneaker, described as "a rainbow-striped version of its UA HOVR SLK EVO."
---
Non-Profit: The Tegan and Sara Foundation, $15 per pair up to $30k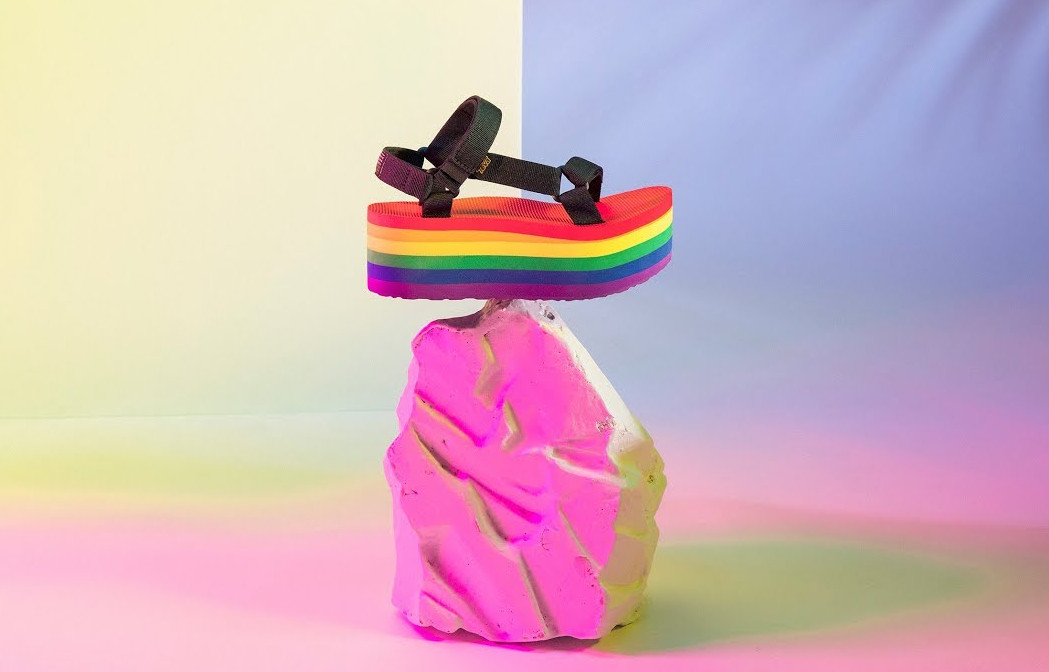 Teva, well aware that lesbians love a practical shoe, teamed up with our favorite twins to create a limited-edition platform rainbow sandal that will make Tegan and Sara as tall as me.
---
Non-Profit: Los Angeles LGBT Center, 100% of Proceeds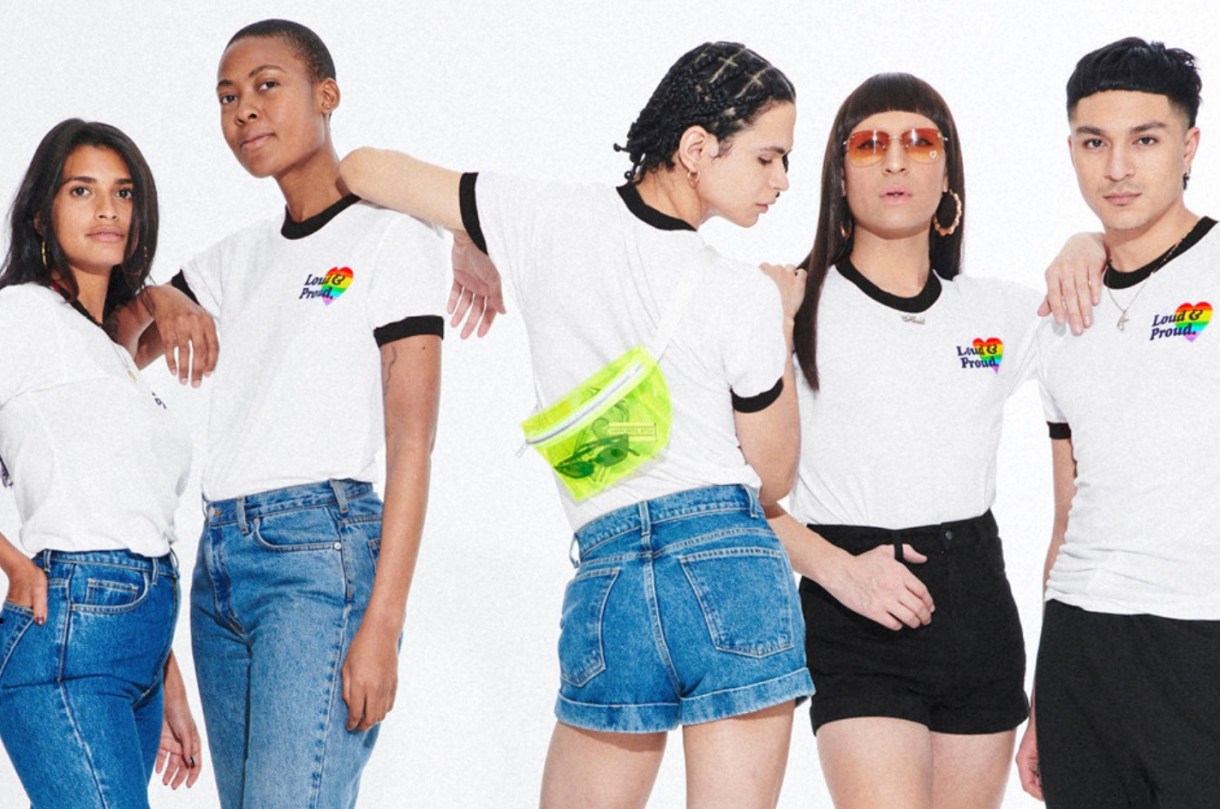 American Apparel wins for actually using words like Gay, Queer and Transgender on their shirts, and loses for what seems to be an attempt to circumvent accusations of copying Everyone is Gay merch by making "Everyone's Gay" merch, which I think we can all agree is the inferior phrase. Other items include a "Still Here / Still Queer" number, a shirt that simply displays an array of diverse butts, and a "Words Matter" shirt that inexplicably contains the following words: "Diversity. Transgender. Evidence-Based. Science-Based. Fetus. Entitlement. Vulnerable." So if you thought you'd go your whole life without encountering a shirt that says "Fetus" and "Transgender" on it, this is your year. Happy Pride!
ETA: Commenters have informed me that the "words matter"  are all words banned by the CDC, so therefore that shirt design actually makes perfect sense.
---
Non-Profit: It Gets Better Project, 100% of sales
American Eagle combined last year's backstock with this year's new concepts to smash together their sporty collection of apparel reminding us that Love is Love. They don't stop there, though — American Eagle also takes the bold step of using words like "gay," such as their "Gayer than Gay" t-shirt and "Super Gay" tank top. The AE Mesh Pride Tank Top is a hottie too, but a t-shirt that smashes "I am Lesbian" and "I am Gay" and "I am Bisexual" and "I Am Trans" labels atop one another makes me turn my head, stare at my dog and ask, "who is in charge here?"
---
Non-Profit: $100k donation to GLSEN.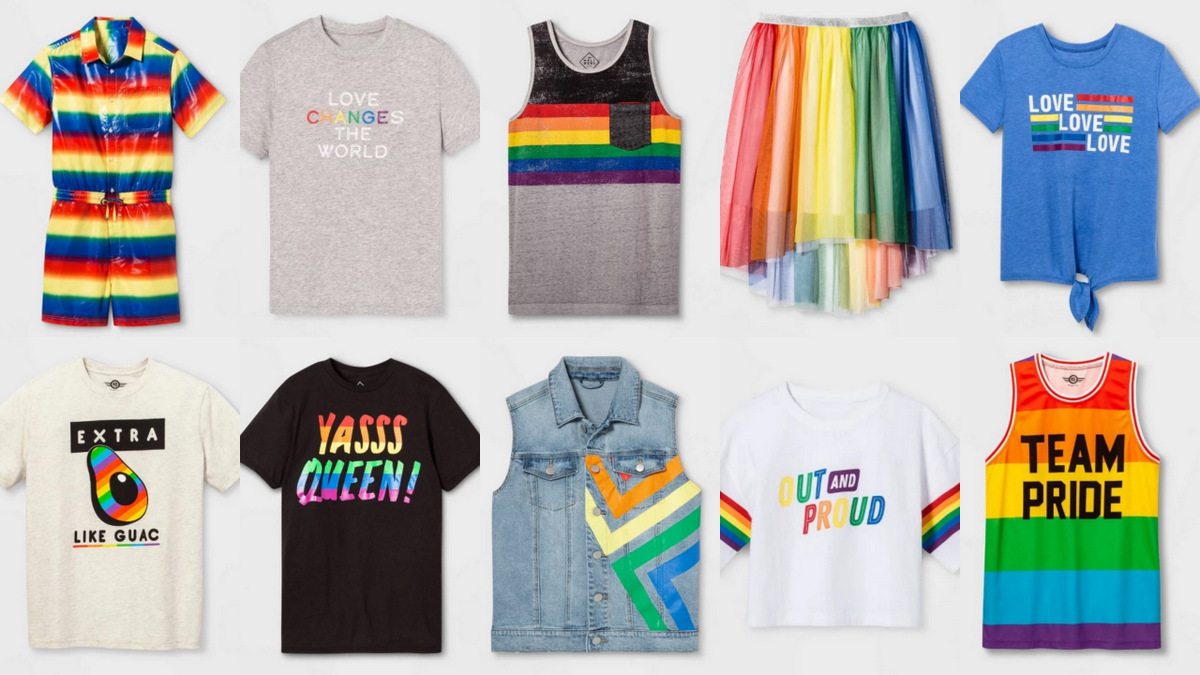 Amongst the items taking a brief sojourn to front-of-store before languishing on the sale racks through Back-to-School are some very cute shirts and some very unfortunate shirts, including shirts that say the word GAY. The good news is that Target is making its donation whether you buy a Pride Adult Striped Gender Inclusive Jumpsuit or not, so you may as well just spend $100 on face masks, towels and candles like you intended to when you decided to go to Target in the first place! However, it is always worth noting that Target is a big ally to the LGBT community, sponsors lots of Pride events and earns high marks when it comes to treatment of its LGBT employees and has been an industry leader on issues like gender-neutral bathrooms.
---
H&M: Love For All*
Non-Profit: United Nations Free & Equal Campaign,10 percent of Proceeds
The "Stay True, Stay You" campaign is fronted by Laverne Cox and is also modeled by Shannon Beveridge, a physically attractive lesbian YouTuber known as @nowthisisliving. There's a windbreaker that'll definitely enable your girlfriend to find you in a crowd as well as apparel daring to make political statements such as "Proud" and "Love." Also by the way… there's some… rainbows!!!!!!!!
---
Adidas: Love Unites*
Non-Profit: The Trevor Project, $250k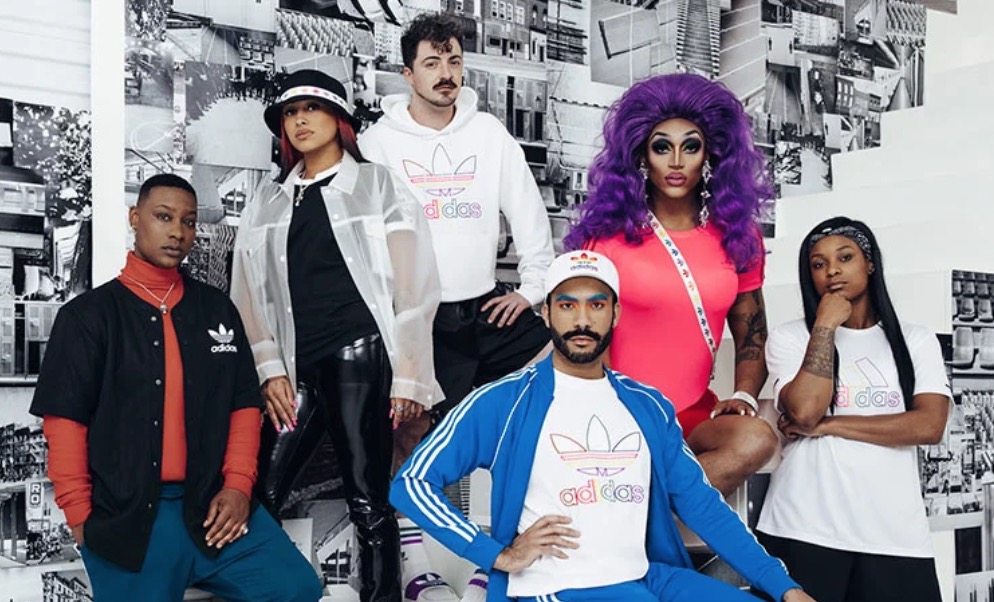 Adidas has gathered a diverse group of moderately edgy personalities like Rapper/Singer/Songwriter The last Artful Dodgr, DJ Venus X and soccer player Taylor Smith to tell their stories and model their wares, which include the actually cute Continental 80 Pride Shoes and the less ambitious trefoil logo slapped on various pieces of cloth in a rainbow gradient.
---
Non-Profit: The Stonewall Community Foundation, 100% of the profits from the T-shirt and 50% from the four other pieces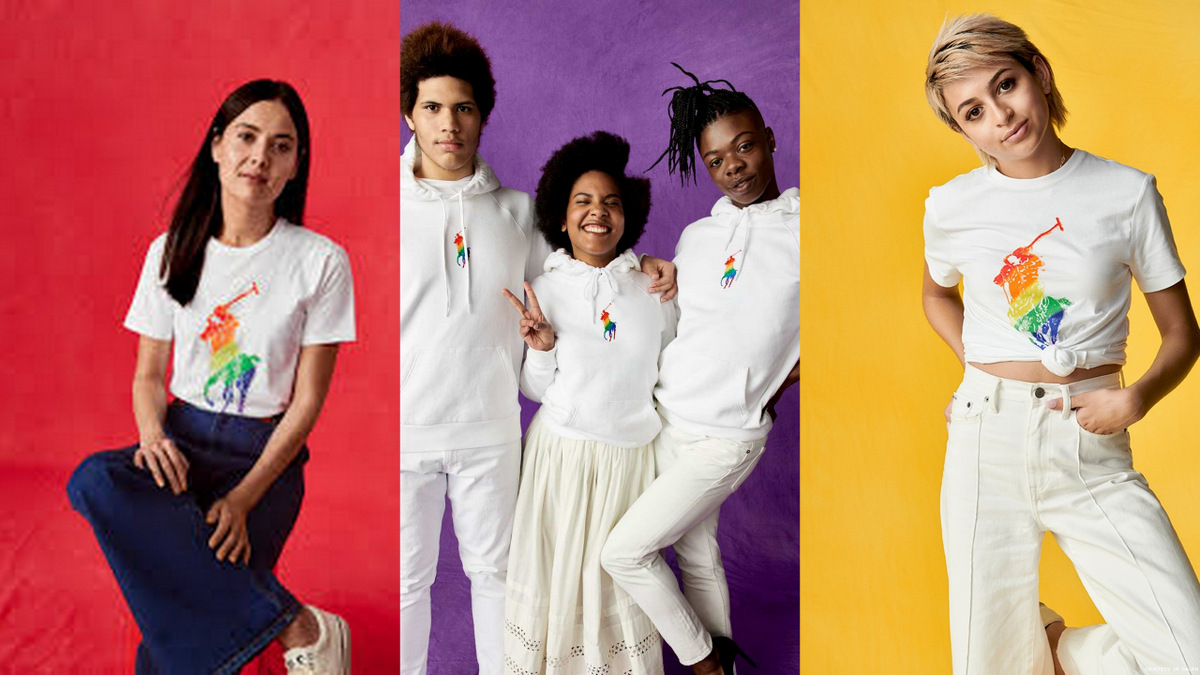 The Rainbow Flag-Adorned Capsule Collection features the… Ralph Lauren logo… but… in… rainbow!?!?!?!! These crisp white outfits you will definitely spill a vodka-infused lemon slushie on while jostling to catch a glimpse of a bare butt in the annual Pride Parade are modeled by celebs including comedienne Patti Harrison, actress Josie Totah and Evrisha, Tyriq and Cory from the queer youth group Hetrick-Martin Institute. Lesbian photographer Cass Bird shot the campaign and the website features short films and quotes from all the included stars.
---
Non-Profit: Stonewall National Monument through the National Parks Foundation, 20% of Sales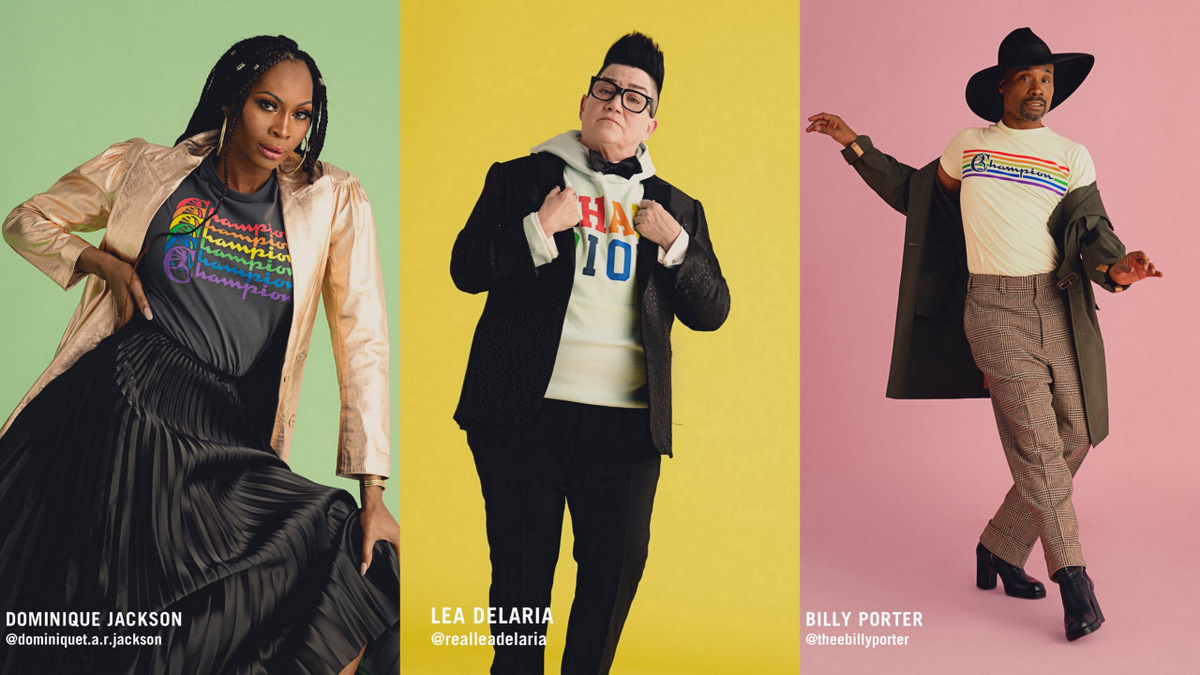 Did Champion re-print their logo but in rainbow colors? They sure did. Is the result actually visually appealing? Wow somehow it is! Printed on Minty Green, Pale Yellow, Black and White, Todd Snyder's designs look very hip on spokesmodels Billy Porter, Jenna Lyons, Lea DeLaria, Dominique Jackson and James Whiteside.
---
Hollister: Be The You You Love*
Non-Profit: GLSEN, up to $25k
Hollister's stylish options include a t-shirt that says "Lesbian Gay Bisexual Trans" on the back as well as socks, shorts and tees that express feelings with our FAVORITE SYMBOL OF ALL TIME, the rainbow.  They've partnered with GLSEN to create a First Time Pride Guide for their tween shoppers, including personal stories from queer teens, a playlist, and list of events.
---
Non-Profit: GLAAD, 25% of net income from every Love Unites item purchased by July 15th ($100,000 minimum donation)
Express teamed up with Out Magazine and GLAAD for its "Love Unites" collection, and you can see Out Editors Raquel Willis, Phillip Picardi and Coco Romack — three humans I like a lot — modeling this body decor. I would definitely be caught alive in their Love Unites Rainbow Taped Thong Bodysuit and High-Waisted Biker Shorts. You can also peruse some tube tops, a $228 blazer lined with the deeply meaningful phrase "Love Unites" and, if you really wanna treat yourself this summer, the word Express in A RAINBOW GRADIENT!!!
---
asos: design x glaad*
Non-Profit: GLAAD, 100% of net profits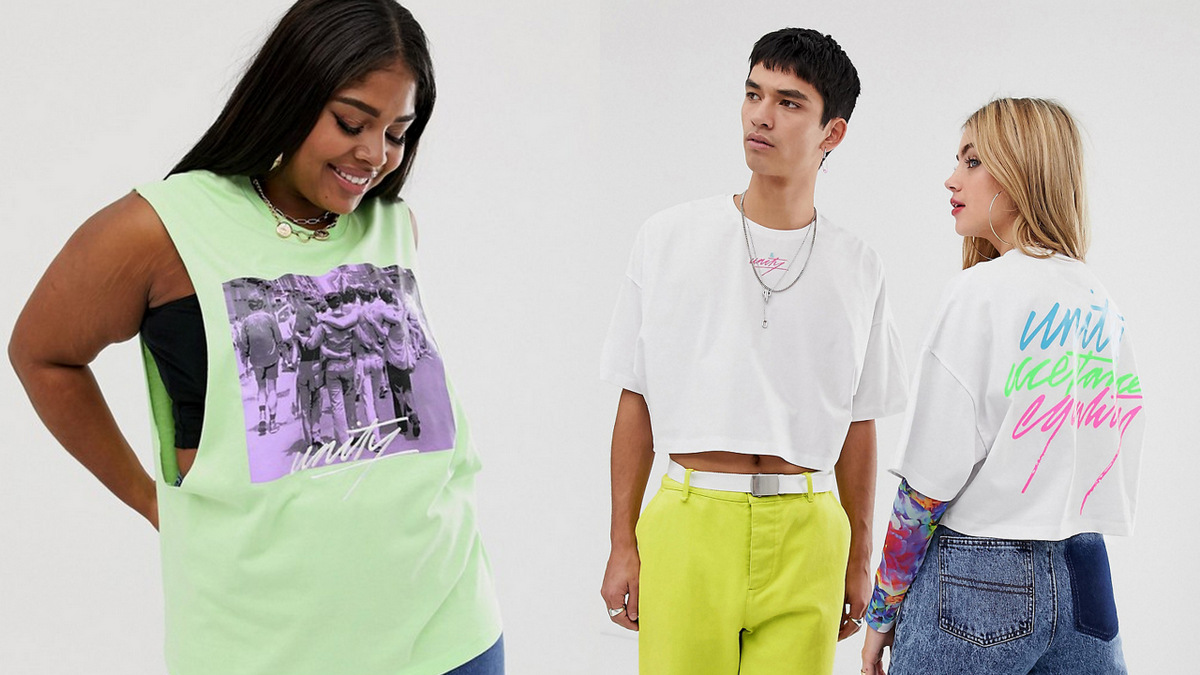 Props to asos for creating a 50-piece collection that doesn't rely on rainbows to communicate its aesthetic, and providing plus-size options for all of it. There's tanks, shorts, hats, tanks, tees and an eye-popping bomber jacket advertising the admittedly abstract concept of "Unity" in many colors and styles including actual pictorial representations of actual homosexuals. Black lesbian YouTuber Amber of Amber's Closet showed up on their Pride Float in Los Angeles, and they've also collaborated with queer black influencers Ari Fitz and Jazzmyne Robbins.
---
Non-Profit Partner: Lesbian and Gay Big Apple Corps
The Todd Snyder x New Balance Love 997 shoe, in gracefully muted rainbow-ish colors, is "light and breathable," just like your bank account will be after spending $220 on these hot lil numbers. Todd Snyder's website contains little films of gay marching band members living their best lives in these shoes that I would actually wear on my feet.
---
DKNY x HMI: 100% Proud*
Non-Profit: The Hetrick-Martin Institute's Arts & Culture Program, undisclosed amount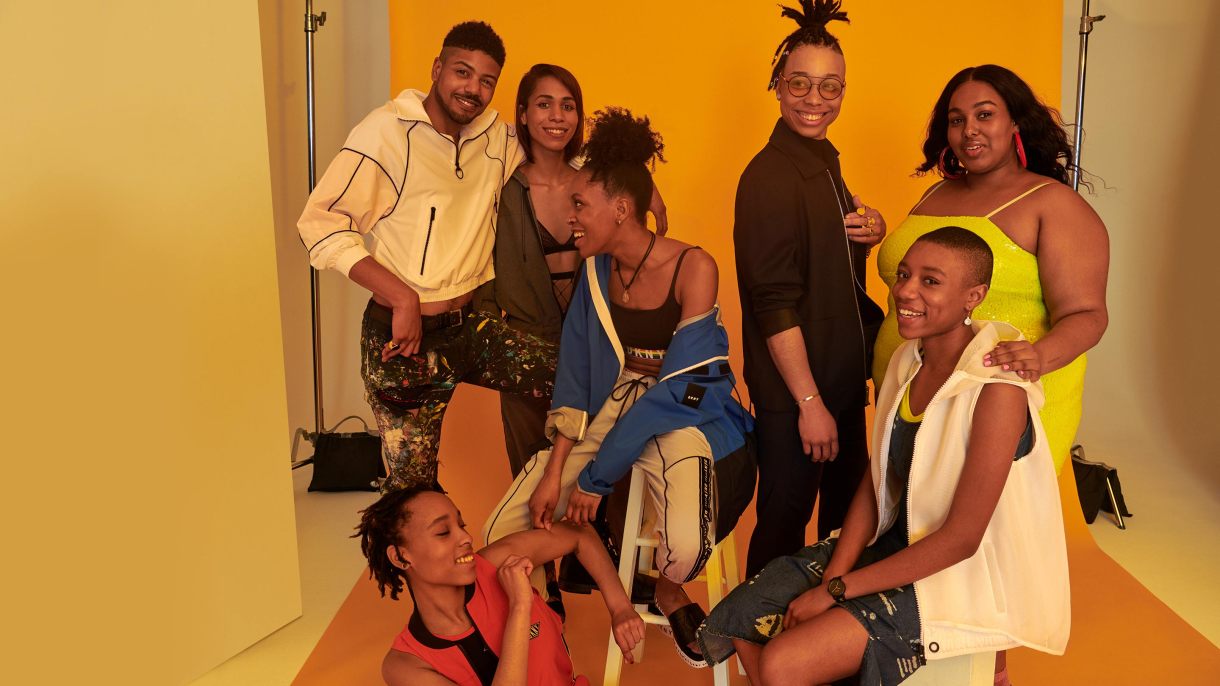 Using models who are actual participants in the HMI's Arts & Culture Program, DKNY has created a collection to support LGBTQ youth generally and QTPOC specifically with a video explaining the importance of the work they do. DKNY's parent company, G-III, has been working with HMI since 2006, and HMI and DKNY began working on this collaboration last winter.
---
Non-Profit: Local and global LGBTQ+ partners, including the It Gets Better Project, Fenway Health and OUT MetroWest.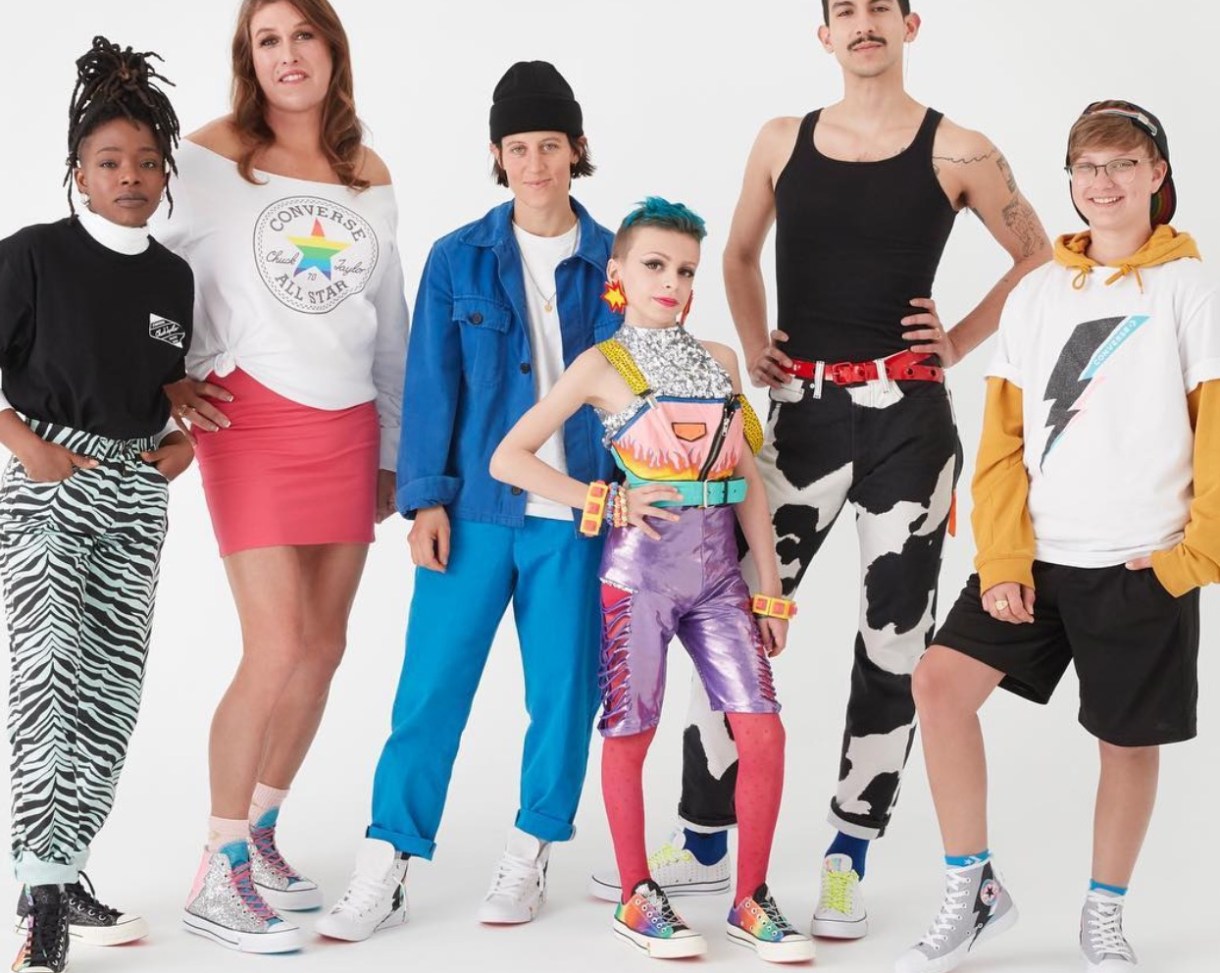 Converse partnered with six very cool individuals connected to the LGBTQ+ community who "show the power in expressing one's true self," like "drag kid" / actor Desmond is Amazing, Out Magazine deputy Editor Fran Tirado and writer/photographer Ayishat A. Akanbi. Their trans pride sneaker is a standout for including exactly zero rainbows and exactly all of the possible glitter.
---
Levi's: Proud Together*
Non-Profit: 100% of net proceeds to OutRight Action International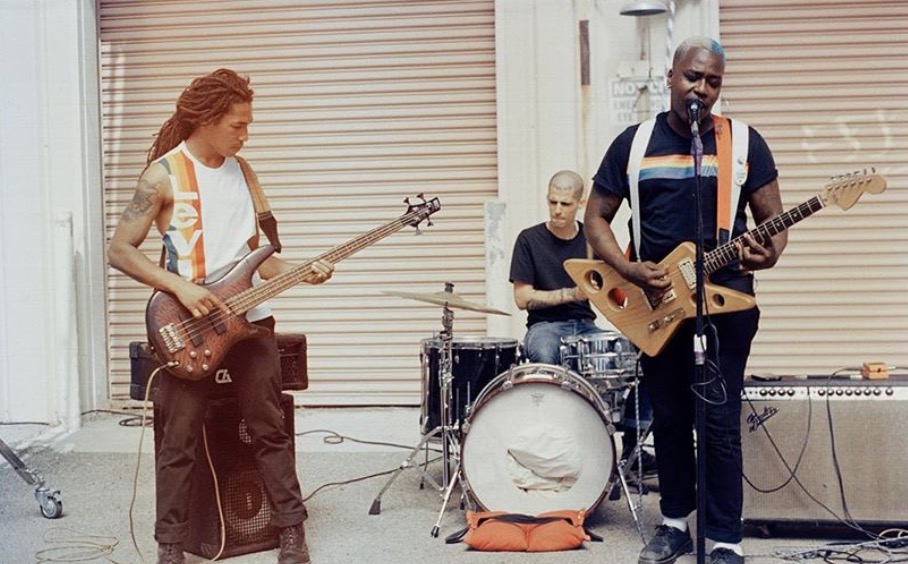 This year's Pride Collection aims to "celebrate togetherness and finding your people" by seeking out various chosen families to model its rainbow-heavy attire, such as the Bay Area Queer Skaters, the Global Street Dance Collective and the hardcore punk band Younger Lovers. Levi's also consistently makes the daring choice to choose an actual style aesthetic with which to center their collection rather than just slapping rainbows on shit. This year's range of '70s skate-inspired style includes ringer tees, 501® Cut-Off Shorts, Trucker Jackets and vintage-cut socks with rainbow details.
---
Non-Profit Partner: The Christopher Park Alliance, 10% of purchase price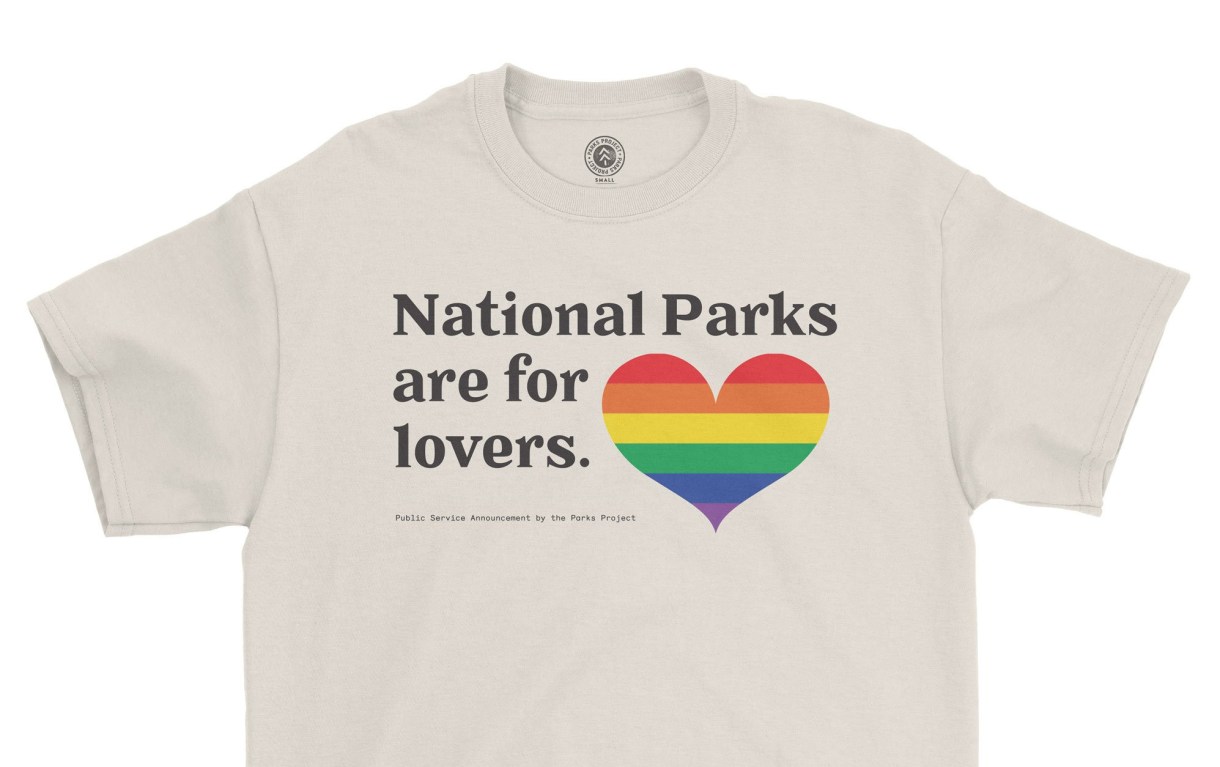 This company gets props for sending me a t-shirt personally and also for their support of the Stonewall National Monument, one of America's newest National Parks. The Parks Project itself is dedicated to promoting, protecting and preserving public lands and already donates its funds directly to one of 30+ conservancies helping to fund backlogged projects in our national parks.
---
REI: Outside With Pride
Non-Profit Partners: 5% of sales to nonprofits that connect LGBTQ+ people to the outdoors
You may have spotted A-Camp Staffers sporting "Outside with Pride" t-shirts from REI this year, noted for their employment of the new Pride Flag colors (which include black and brown to represent POC communities). REI is a co-op, not a corporation, which means its profits already go to support its workers and community rather than shareholders, but we know from working with them that encouraging LGBTQ+ participation in the outdoors is something they're genuinely committed to. The collection includes a t-shirt, fanny pack, water bottle, bandana and blanket. You can read the stories of a diverse group of 30 LGBTQ+ adventurers on their website. (Also they are not paying us to say this!)