Ah, Pride Season. A time to take pride in who you are, especially if "who you are" is a person who is skeptical of Pride! The LGBTQ+ community's contentious relationship with the corporations who cash in on / celebrate our community every June is a storied and well-documented saga, and every year we approach a new chapter of this epic tome. However, as much as we often feel conflicted about corporations, most of the brands selling gay apparel this summer are giving significant donations to LGBTQ+ non-profits doing incredibly relevant work — and a corporation's Pride collection can often suggest that they've got some good LGBTQ+ people working for them who are making innovative and relatively progressive choices.
A quick sidenote: every June we're bombarded with press releases about Pride branding tie-ins, but never do these companies actually want to buy advertising from us. They just want free coverage of their partnerships. So, that's my disclaimer: a great way to support LGBTQ community health is to put money into independent queer media, and I wish these companies did that.
I've loosely grouped the collaborations into possibly arbitrary groups based on vague criteria, none of which I feel very strongly about. The rankings are mildly influenced by a company's positive history with the LGBTQ community but are not influenced by the company's overall ethics, their history or reputation in other areas, or by the politics, religious affiliations or lobbying activities of its leadership team. Undoubtedly most corporations do some bad things. This is a fact of capitalism.
"Non-Profit Partner" refers to a non-profit who is the direct recipient of money raised around the company's pride apparel collection. Many of these companies donate to LGBTQ non-profits independently of their Pride Collections.
In total, the apparel we will consider today includes 23 variations on "Love" (including five "Love is Love" items and four "Love Wins") as well as 15 takes on Pride, Equality, and being United. Only two companies on this list actually used one or more of the words represented in the LGBTQ+ acronym.
---
The Okay, Sure
Non-Profit Partner for Pride Apparel: ????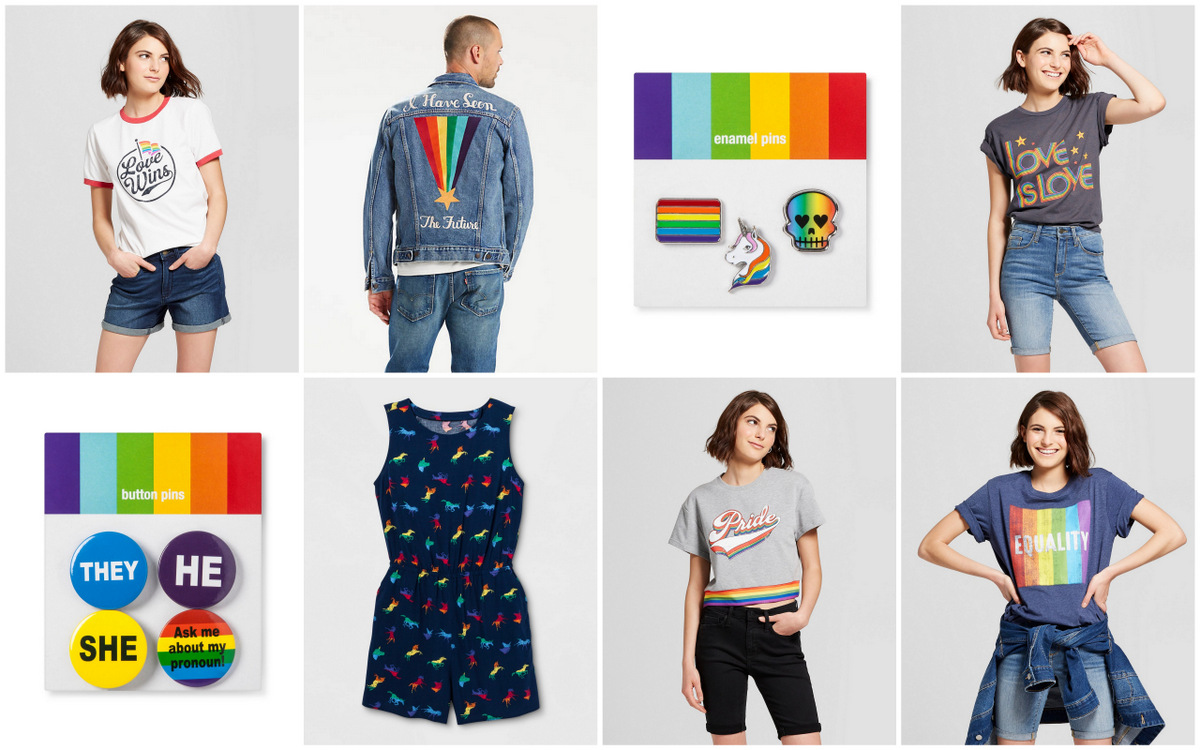 In 2017 and in years prior, Target, a consistent LGBT ally, has publicly partnered with non-profits around their Pride Gear and engaged in high-level gimmickry: this year, not so much, although their press release is very enthusiastic regardless, especially regarding their exclusive release of Love Simon and the fact that they are selling The Harry's Shave Kit in stores (100% of profits from that specific product do go to GLAAD.) They've got some fresh-faced queers on their website sharing their favorite Target items, aggressively rainbowed accessories, and cheap pronoun pins you could also easily pick up from a queer indie retailer!
Target has been good to our community, though, through standing up for trans folks w/r/t bathrooms, moving away from gender-based signs, committing $20 million to installing gender-neutral single-stall bathrooms in stores that don't have one, and making their stores obnoxiously gay for a month every year. Meanwhile, conservatives remain flummoxed by Target's refusal to cater to their intolerance, and alt-right news outlets remain convinced that their Target boycott caused the store's sales to tank. They also earned a 100 on the 2018 HRC LGBTQ Corporate Equality Index.
ETA: A reader reports that they're selling bi and trans pride items in their stores — I didn't see them online in the Pride section of Target's website, but that's pretty cool!
---
Non-Profit Partner for Pride Apparel: ???!?!?!
Style-wise, these are winners. Abandoning the gaudiness of yesteryear's Pride situations, Adidas's 2018 Pride Pack sneakers are all about subtle pastels and year-round cool. Adidas's copywriter promises that "these shoes celebrate LGBT pride with an explosion of bright colors," which is false, because shoes cannot celebrate things because they are inanimate objects. However, if you've always dreamed of sticking your foot into a shoe that says "LOVE UNITES" on the sole, then wow have I got great news for you.
Adidas earned a "100" on the HRC's 2018 LGBTQ+ Corporate Equality Index.
---
The Pretty Good
Non-Profit Partner for Pride Apparel: "Organizations supporting LGBT issues in sports," unspecified amount, unclear if this is tied to sales.
Nike has donated a portion of its proceeds to LGBTQIA causes since launching its first "Be True" campaign in 2012 (over $2.5 million as of 2017), and purportedly will continue to do so this year. They've been funding The LGBT Sport Coalition (recently renamed The LGBT Sports Foundation and seemingly struggling through some growing pains) since its inception, as well as sponsoring the annual LGBT Sport Summit, but no specific recipient is noted in any current BeTrue materials. Nike has earned a "100" from the HRC's LGBTQ Corporate Equality Index.
But… two sneakers from Nike's 2018 collection promise to "reclaim the past" and "empower the future" by taking a pink triangle — a symbol originally employed by Nazis during World War II and reclaimed by designer Avram Finkelstein's Silence = Death Project in the '90s, who then donated it to HIV/AIDS activist organization ACT UP! — and slapping it directly onto some very aerodynamic and stylish sneakers. Yikes!!!! While it's true that pink triangles are commonly incorporated into gay apparel, this particular company and this particular design in this particular context inspires intense cognitive dissonance. It's tacky at best, profoundly messed up at worst. ACT UP agrees:
Hey @Nike, we love that you're moved by our work. How about donating the proceeds to current work we continue to do? https://t.co/Uv7jLfUouk pic.twitter.com/pdXuD6fCMp

— ACT UP NY (@actupny) May 31, 2018
Nike tweeted back "Let's talk. Our BETRUE team will reach out," and we'll see what comes of that.
---
GAP: We Are One Collection
Non-Profit Partner for Pride Apparel: United Nations Free & Equal Campaign for LGBTI equality, $5 from each t-shirt sale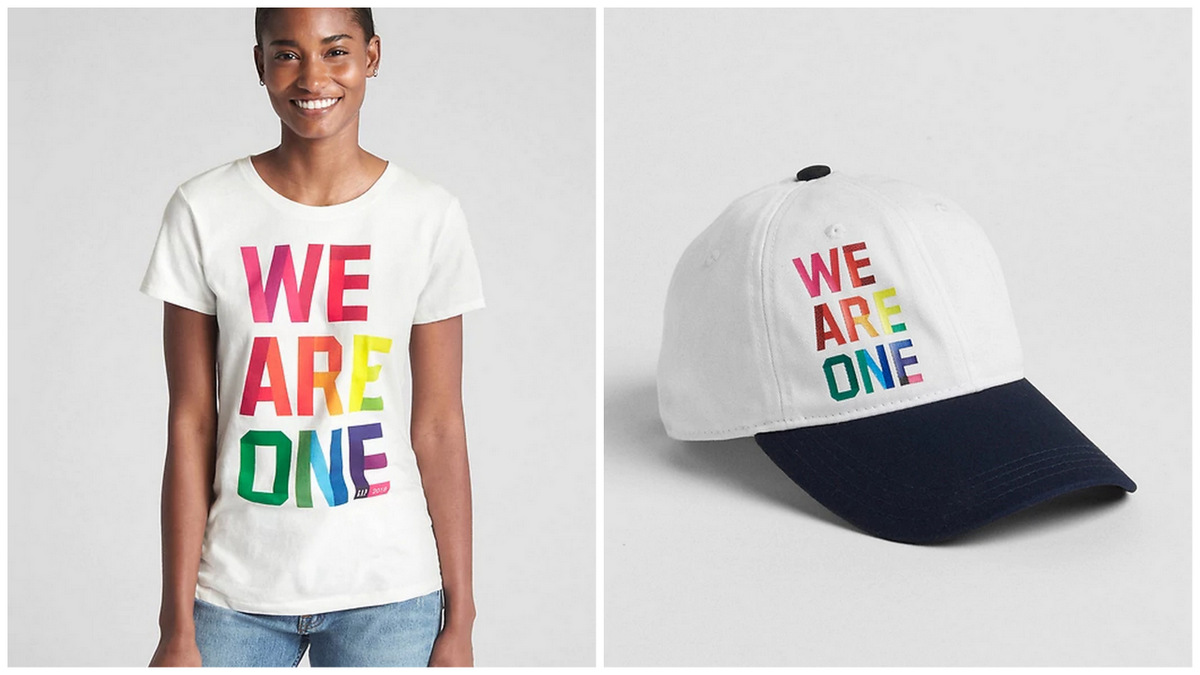 As in 2017, The Gap is coming in cold with an uninspired collection of Pride Tees that are somehow already on sale. Maybe it's because I personally designed the logo with leftover washi tape from camp and am ashamed of myself for having so much internalized homophobia that instead of writing words that had some meaning to the LGBTQ+ community, I wrote "We Are One" instead, which could honestly really mean anything and also is definitively untrue.
Gap Inc has consistently earned high marks from the HRC's Corporate Equality Index, a national benchmarking tool on corporate policies and practices pertinent to LGBTQ employees, scoring a perfect 100 in 2018.
---
Non-Profit Partner for Pride Apparel: United Nations Free & Equal Campaign for LGBTI equality, $5 from each t-shirt sale with a minimum $10k and maximum $60k donation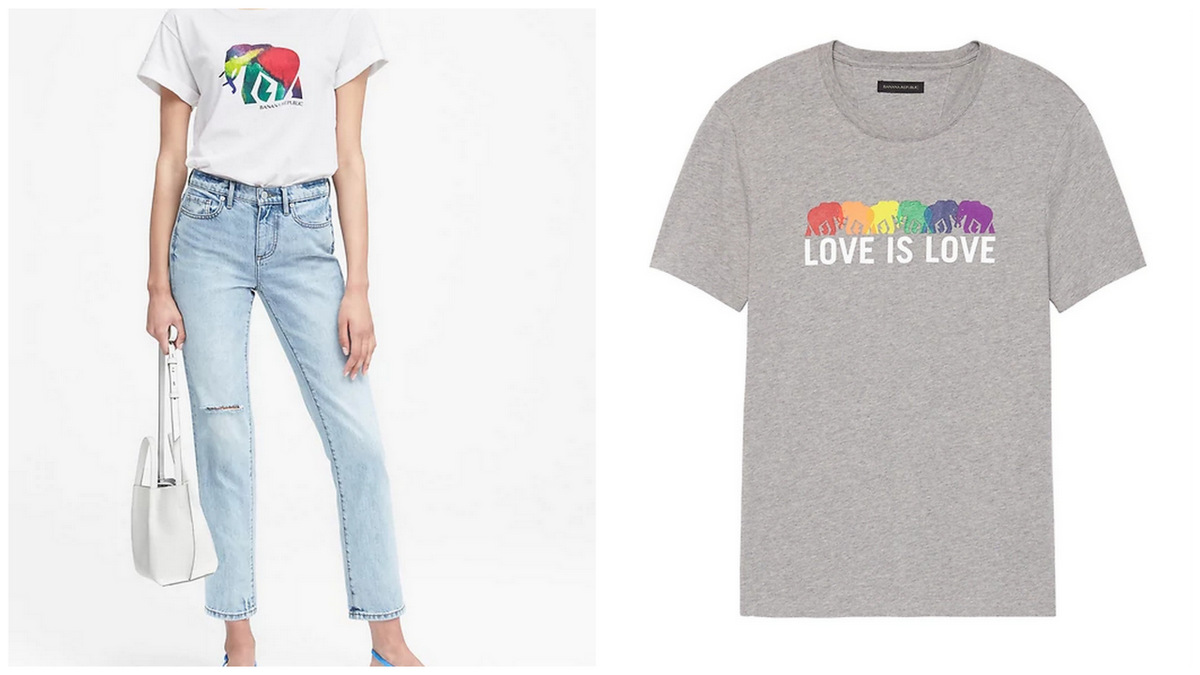 My former employer Banana Republic, another Gap Inc property, unleashed a terrifying display of love and affection upon the city of San Francisco to kick off Pride Month by having all its employees, appropriately adorned in colorful Pride tees and carrying sheets of colored poster-board, exit their corporate offices en masse and walk enthusiastically towards the landmark Cupid's Span sculpture (commissioned by Gap founders in 2002) where they eventually formed the shape of a rainbow-colored heart, "creating a powerful image of equality to be shared around the world."
Another powerful image of equality? Elephants, apparently. Why elephants? Love is love!
---
The Good
Non-Profit Partner for Pride Apparel: The Trevor Project, $250,000 plus 100% of proceeds (with a $20,000 max contribution)
Love is love love is love love love love rainbows love and rainbows pride love rainbows!!! You know, when I close my eyes and think about gay people, the first thing I think is "Love… Try some."
Abercrombie & Fitch earned a "100" on the HRC's 2018 LGBTQ Corporate Equality Index.
---
Non-Profit Partner for Pride Apparel: Athlete Ally, 100%


Next time you're out there on the b-ball court shooting hoops and dreaming big, please feel comforted to know that "no matter who you love, how you look, where you're from, or what sport you play," Under Armour stands behind you. That's right: they're right behind you. Turn around and look for yourself! I'll wait. Under Armour will "stand behind all athletes, no exceptions." Under Armor specifically is going to celebrate you by making normal UA gear, but with rainbows! Proceeds support Athlete Ally, who educate athletic communities at all levels on how to be more inclusive of LGBTQ people in sports.
Under Armour earned a "100" on the HRC's 2018 LGBTQ Corporate Equality Index.
---
Non-Profit Partner for Pride Apparel: Human Rights Campaign, but it's unclear if this is tied to Pride Apparel sales in any way. "In support of LGBTQ equality, CALVIN KLEIN has made a donation to the Human Rights Campaign Foundation™"
Calvin Klein has taken clothing they already make and turned it into… rainbow clothing they already make! Yay rainbows for everybody! Rainbows forever!
Calvin Klein consistently ranks among the most LGBTQ-friendly brands. I mean honestly their CK One campaign in the '90s is my root. They earned a "100" on the HRC's 2018 LGBTQ Corporate Equality Index.
---
Non-Profit Partner for Pride Apparel: Human Rights Campaign, 50% of purchase price
I love Madewell's jeans and wispy-soft t-shirts and Madewell loves all, and "all" includes the HRC.
---
Non-Profit Partner for Pride Apparel: Human Rights Campaign, 20%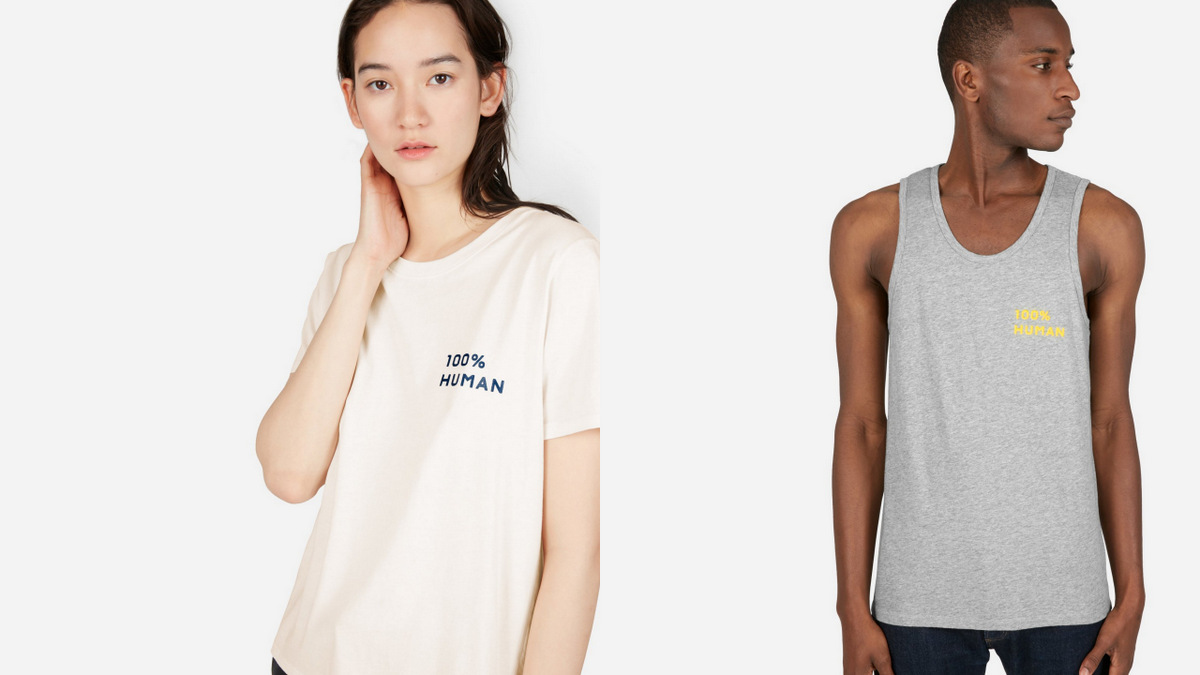 Everlane, one of the few companies on this list truly committed to ethical production practices (and STILL one of the few companies on this list to reject Autostraddle as an affiliate, BUT IT'S FINE), continues the 100% Human campaign they started last year with another 100% Human Campaign Pride Collaboration with the Human Rights Campaign. Last year Everlane won high "marks" from us for its inspirational assemblage of cool LGBTQ folks, like Hari Nef and Rowan Blanchard, and their #HumanTogether initiative, but this year they've taken a more low-key approach. It's okay, we're all only human.
---
The Great
These companies get extra points for exceptionally inventive & informed design choices, actually saying the word "gay," and/or featuring a cool and/or diverse array of actual lesbian, gay, bisexual, queer and trans people in their Pride campaigns.
H&M: Pride Out Loud
Non-Profit Partner for Pride Apparel: United Nations Human Rights Office Free & Equal Campaign, 10% of sales (guaranteed minimum of $350,000)
H&M's first-ever Pride collection was launched in collaboration with Out Magazine and gets extra points for featuring Art Hoe Collective founder Gabrielle Richardson (I believe she is representing the "L" for us) as well as Kim Petras, model Shaun Ross, Olympic skier Gus Kenworthy and RuPaul's Drag Race star Aja. They're also making a huge guaranteed minimum donation to their non-profit partner.
H&M's Pride Out Loud page intermingles their Pride line — some basic tanks and tees slapped with words like "Equality" and "Love" and a fun black mesh t-shirt dress with a rainbow "Equality" gradient logo — with other H&M items.
"H&M believes in everybody's right to love who they want," H&M's head of Menswear Design told WWD, clearing up any misconceptions anybody had about H&M's stance on love. He hopes people can use H&M's Pride collection to celebrate their belief in equal love. Literally every time I think about equal love, I go to H&M, so this is going to be really easy for me.
---
Non-Profit Partner for Pride Apparel: GLSEN, 10% of sales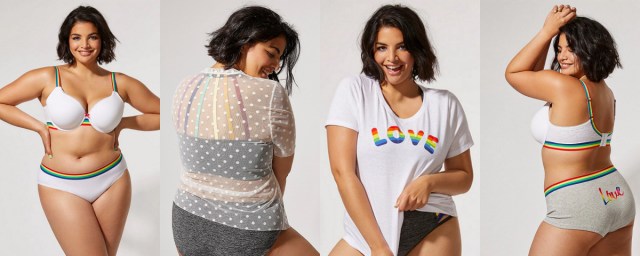 Life in the fast lane, surely make you lose your mind, life in the fast lane, everything, all the time! Wow, I love love! Also that bra is real cute and Lane Bryant gets bonus points for sending all this cute stuff to Reneice for her to model for you all.
---
Non-Profit Partner for Pride Apparel: It Gets Better Project, 100% of Proceeds
American Eagle, my favorite source of AA-cup bras, has a selection of tees and tanks with inspirational messages like "Proud," "It Gets Better" and YOU GUESSED IT — "Love is Love." It Gets Better Executive Director Brian Wenke says, of the collab: "Our partnership with American Eagle Outfitters for the #WeAllCan campaign is the perfect collaboration to ensure that LGBTQ youth know they have the potential to achieve great things and to make a tangible and positive difference in the world."
American Eagle gets major bonus points actually printing the word "gay"!! One of their shirts even says "lesbian" on the back!!!!
American Eagle earned a "100" on the HRC's 2018 LGBTQ Corporate Equality Index.
---
Non-Profit Partner for Pride Apparel: Happy Hippie Foundation, "Converse's LGBTQ+ youth community partners around the world," 100% of proceeds
If you're looking for an idea, here's one from Converse, which is owned by Nike: "show your support for all genders, orientations, and identities with shoes and clothing from the Converse Pride Collection designed by Miley Cyrus." In addition to the shoes pictured above, the collection includes a white tracksuit and some polka-dotted t-shirts with matching hats that would befit an employee of Dylan's Candy bar or somebody trying to give me a migraine. All net proceeds will support Converse's LGBTQ+ youth community partners around the world, including Miley's Happy Hippie Foundation.
---
Non-Profit Partner for Pride Apparel: Human Rights Campaign, 50% of purchase price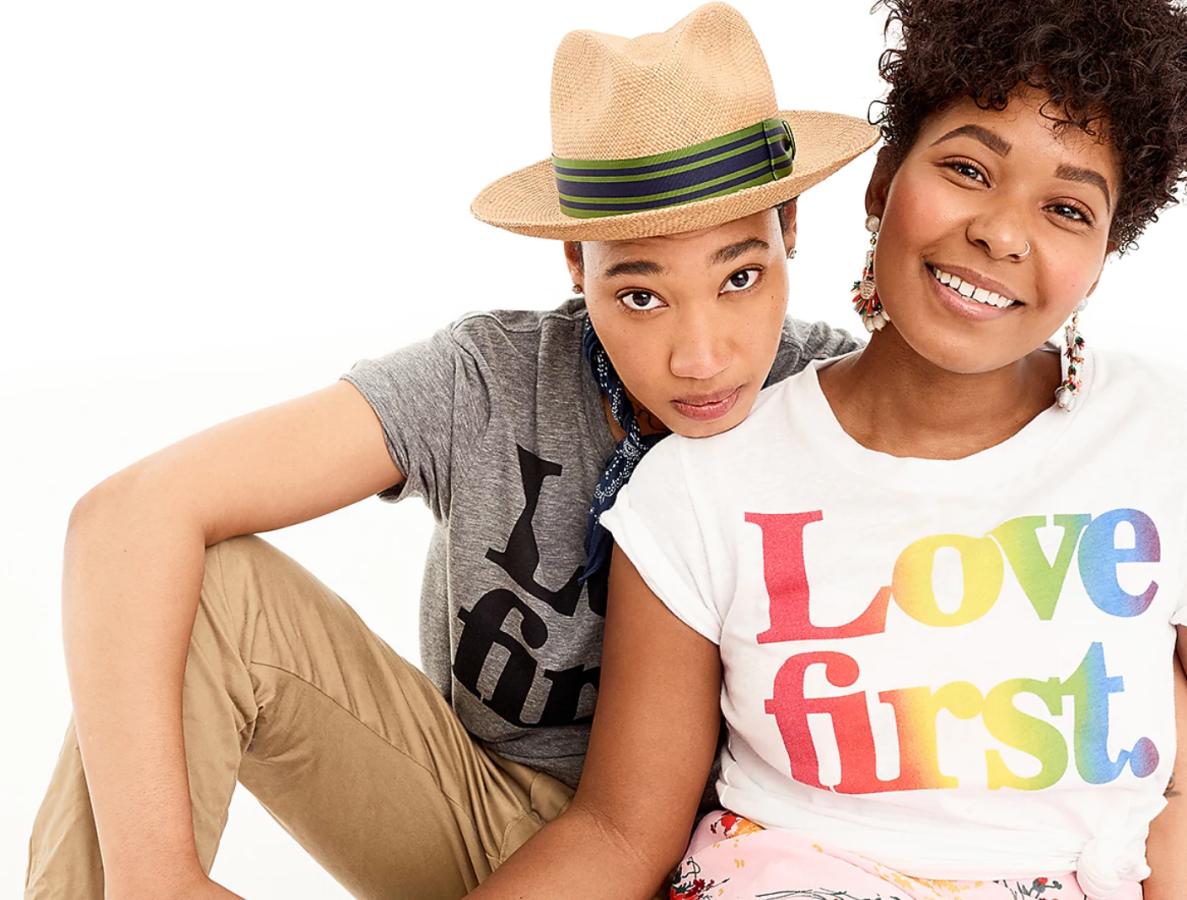 J.Crew promises to send 50% of the purchase price of its Love First socks & tees collection to the Human Rights Campaign, but more importantly, they recruited Jamaican women-in-menswear fashion icon Allison Graham of @shedoeshim and makeup artist Earon Dianna (@earondianna) to front for the brand.
Unfortunately, in what I can only interpret as a personal attack on me, Toby from Pretty Little Liars is somehow involved in this campaign and is pictured canoodling with Shoshanna from Girls on their Pride page. Are they dating? Don't tell me.
This campaign gets high marks for how adorably Allison is geeking out about being part of the campaign on her insta feed, and also because the t-shirts are actually cute.
---
MeUndies: Wear It With Pride
Non-Profit Partner for Pride Apparel: True Colors Fund, unspecified amount, unclear how it is tied to apparel sales.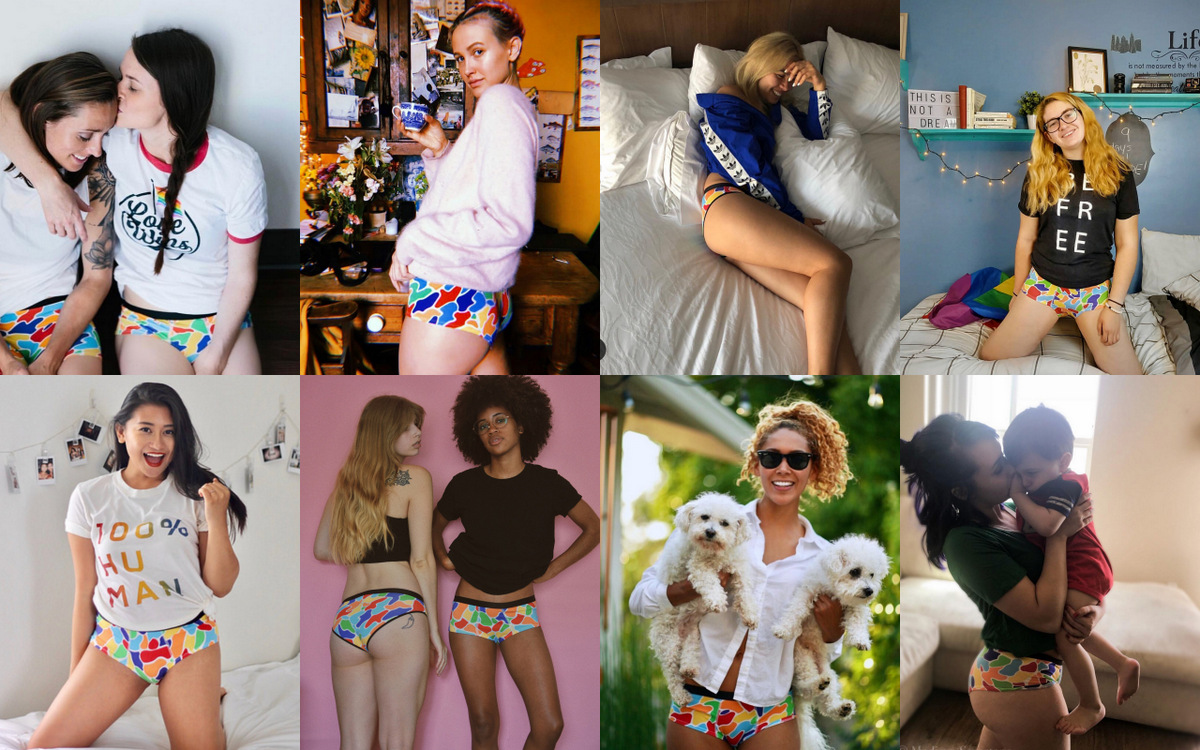 MeUndies, who continues to deny Autostraddle membership in its affiliate program for reasons that remain mysterious and elusive, debuted one of our fave collaborations last year — this year's slightly less ambitious, but still notable for working with QPOC designer Oscar Zaldaña and getting lots of hot LGBT influencers to wear underpants on their instagram accounts, including your true love Hayley Kiyoko.
---
Levi's: Be Proud. Be Bold. Be Yourself.
Non-Profit Partner for Pride Apparel: The Harvey Milk Foundation and the Stonewall Community Foundation, 100%
As last year, San Francisco based Levi's gets props for a genuine commitment to the LGBTQ community that began far before such a commitment was even remotely popular. Levi's 2018 Pride collection isn't quite as daring or inspirational, design-wise, as last year's, but their 2018 Pride Cast includes some pretty kickass faces, like chef Melissa King, photographer/speaker io Tillett Wright, genderqueer model/motorcyclist TJ & her partner, model/actress Nicole.
Levi's was the first corporation to give to HIV/AIDS causes, with a commitment that dates back to 1982, when they were the first corporate donor to help open the world's first AIDS clinic at the San Francisco General Hospital. Then-CEO Robert Haas was a fierce critic of the federal response to AIDS and added AZT to employee healthcare plans in 1987. They were the first company to file an amicus brief with the CA Supreme Court in favor of same-sex marriage, and the first Fortune 500 company to extend domestic partnership benefits to same-sex couples. Their inclusive advertising efforts include the 2008 Logo/Levis Unbuttoned campaign that included a clip starring Sarah Croce, shot by our very own Robin Roemer. They also earned a "100" on the HRC's 2018 LGBTQ Corporate Equality Index.
In total, Levis has contributed over $70 million US dollars to HIV/AIDS organizations in over 40 countries and supported organizations including the National Center for Lesbian Rights and Lambda Legal.
The FIGHT STIGMA campaign also includes a video series featuring LGBTQ Levi's employees.
---
Non-Profit Partner for Pride Apparel: The Trevor Project, 100% of Proceeds
As usual, American Apparel is aiming straight for your hipster heart with a trendy line of tees, modeled by actual everyday LGBTQ people recruited by open call. On the AA campaign website, real human models share their experiences with coming out and being themselves.
---
Non-Profit Partner for Pride Apparel: GLSEN, donating $250,000 as well as 100% of proceeds on the collection up to $25k
Hollister coming in strong, like last year, with a collection that mixes sort of unfortunate choices with genuinely cute items and makes a significant financial commitment to GLSEN. Hollister has partnered with GLSEN in the past to produce a Safe Schools campaign and coordinate the Day of Silence, and its website features a video of LGBTQ students talking about what makes school safe for them. Hollister is also conducting an in-store round up bringing donations to GLSEN, in addition to their 250k sponsorship. Last month, GLSEN honored Hollister with their Corporate Ally Award for their leadership in supporting safe and inclusive K-12 schools.
---
Non-Profit Partner for Pride Apparel: GLSEN, $10 – $15 per item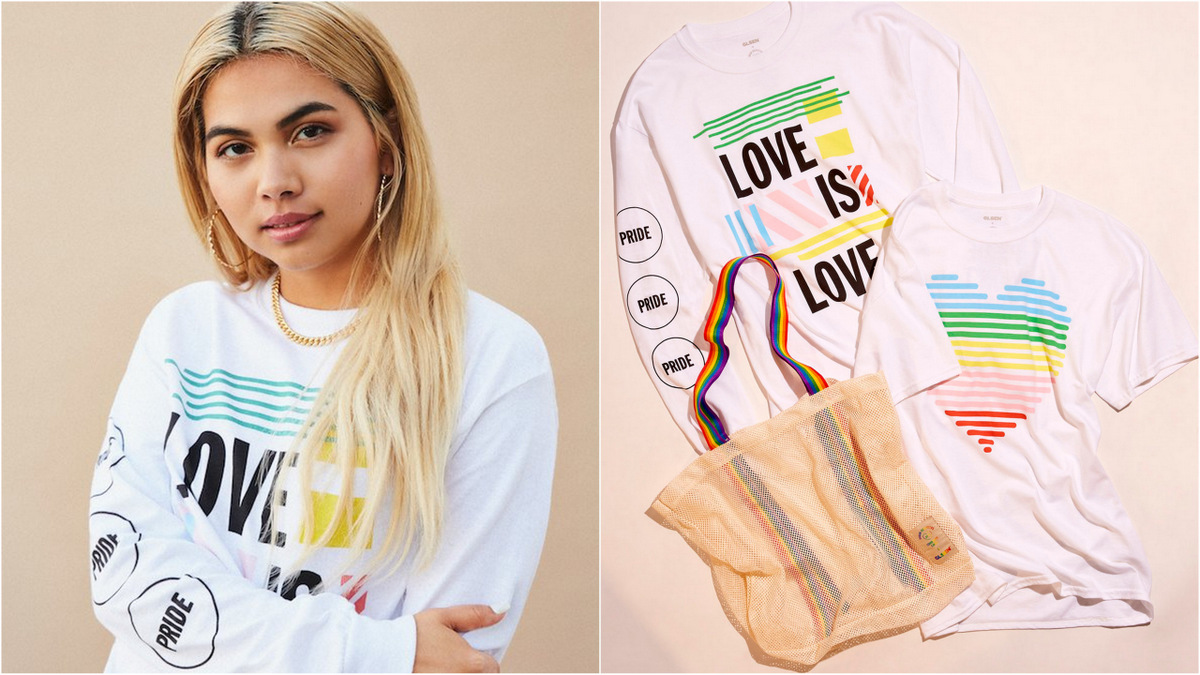 Again, it bears mentioning that Urban Outfitters is… not a great corporation in general. But! They've clearly got some very clever, socially conscious human beings on their team 'cause last year's Pride Collab was HOT and this year's even hotter because it's fronted by your true love Hayley Kiyoko. No piece in the collection is over $35, and a significant portion of every purchase (between $10-$15, depending on the item) goes straight to GLSEN. This shirt is my favorite Pride design of 2018.
---
Just Wanted To Mention
In addition to above criteria, these stores are not only making donations to LGBTQ+ non-profits, they are LGBTQ-owned! This means literally all your money is going to a great cause.
Wildfang: Show Your True Colors
Non-Profit Partner for Pride Apparel: The Trevor Project, Unspecified Amount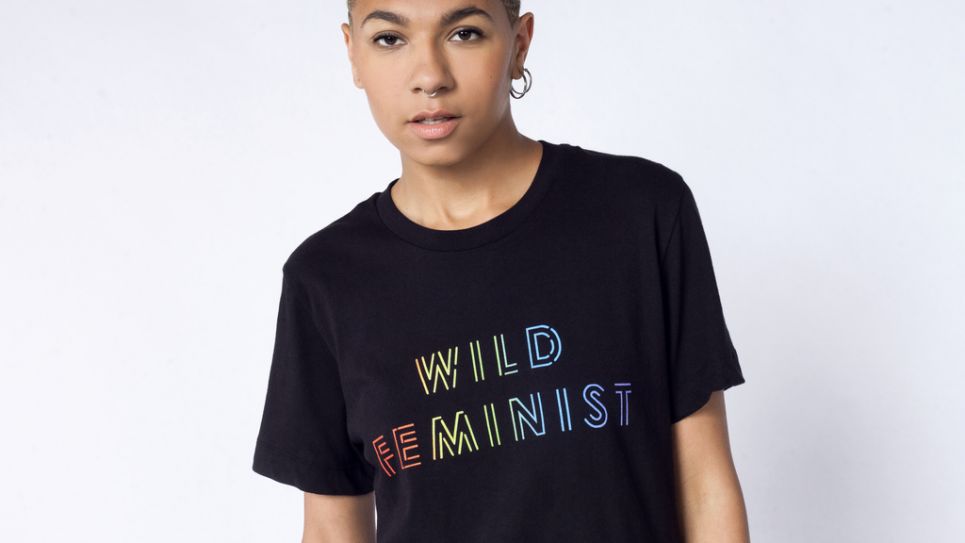 Although a portion of the proceeds from the Wild Feminist Pride Collection go towards the Trevor Project, it's worth noting that Wildfang is owned and operated by lesbian and queer women already, so you're really getting a double whammy here.
---
Non-Profit Partner for Pride Apparel: National Center for Lesbian Rights, Unspecified Amount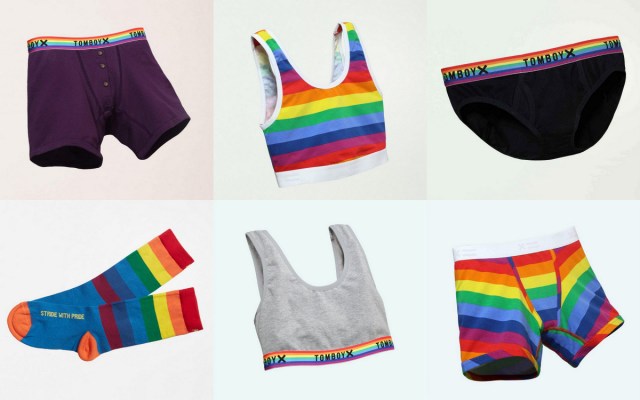 Tomboy X gets all the bonus points: they're a lesbian owned-and-operated brand dedicated to size inclusion and bodies that don't necessarily conform to mainstream conventions. They're giving back to an organization other corporations on this list have likely never even heard of, and probably would avoid due to its specific focus on women. Also, it's really fucking hot at Pride and if you are really devoted to rainbows, a sports bra counts as a top!
---
Wanna pick up a Pride-relevant tee from an actual lesbian or queer person?? Check out our list of indie merchants here.