'Tis the season for brands to solicit the LGBT community's affection and hard-earned money while also funneling funds to LGBT non-profits and obtaining oodles of free advertising with hashtag social media campaigns as well as posts like the one you're reading right now!
Pride branding has come a long way as a new generation of queers rise the ranks of various corporations, help start new companies, and infuse them with aesthetics that go beyond a basic rainbow splash on an otherwise unremarkable t-shirt. More brands than ever are using models of color and trans models to promote their tie-ins, and spotlighting local community activists rather than leaning on reliable celebrities.
A quick sidenote: every June we're bombarded with press releases about Pride branding tie-ins — but never do these companies actually want to buy advertising from us. They just want free coverage of their partnerships. So, that's my disclaimer: a great way to support LGBTQ community health is to put money into independent queer media, and I wish these companies did that.
I've loosely grouped the collaborations into possibly arbitrary groups based on vague criteria, none of which I feel very strongly about. Please note the rankings are mildly influenced by a company's positive history with the LGBTQ community but are not influenced by the company's history or reputation in other areas, or by the politics, religious affiliations or lobbying activities of its leadership team. Undoubtedly most corporations are, in some way, evil, and have literally zero integrity. This is a fact of Capitalism.
But also, not everybody can get a job that pays their bills at a company that has 100% integrity, and it's clear that some of these places have good queer people, or maybe even just good queer allies, working within them, doing their best to Robin Hood it and spread the wealth and amplify diverse voices. Even the gay non-profits many queers disparage are employing really excellent people too — many of whom read this website and participate in this community and contribute financially to its existence. THIS IS ALL SO COMPLICATED.
---
The Okay, Sure
Puma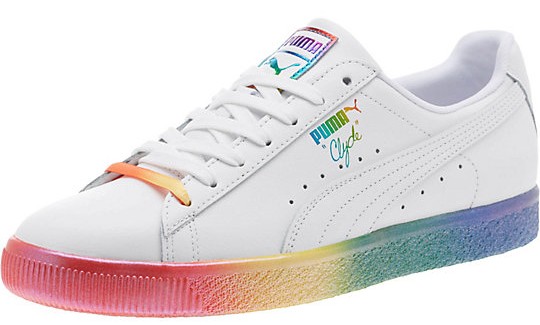 Puma's $95 Clyde Pride Sneakers are "designed to represent all that you stand for," which is smart because it's good to wear shoes while standing. Puma's Clyde Pride Pack also includes a tank top, tees, socks, hat, and a $40 fanny pack. The sneakers are definitely some of the season's most aesthetically pleasing Pride-themed kicks, but appear to be a stand-alone effort for the brand — there's no mention of an awareness campaign or non-profit partner.
---
Gucci
Gucci is another merchant with Pride tie-in items that don't seem to benefit any specific LGBT non-profit. However, there's never been a better time to buy $920 platform sneakers, $695 terry-collar leather high-tops or an $850 Pride Print t-shirt.
---
The Pretty Good!
Gap Inc: "Wear Your Pride"
Non-Profit Partner: United Nations Free & Equal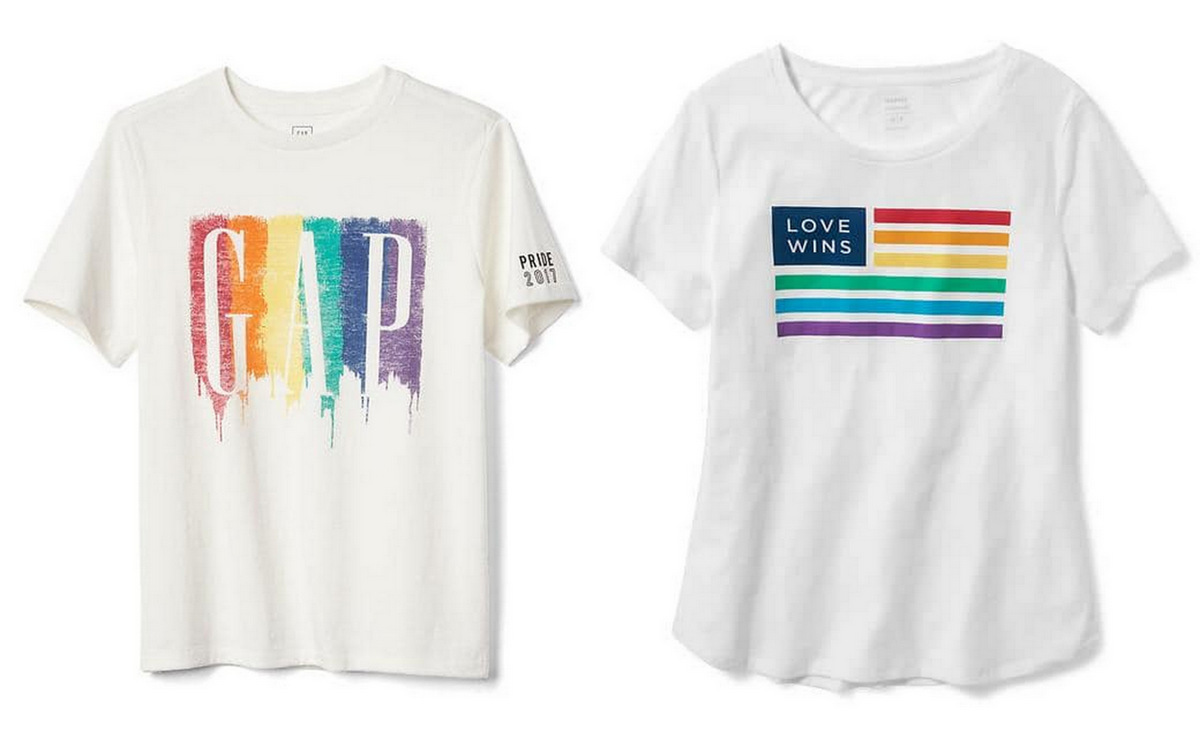 Coming in as the least-exciting brand tie-in with a non-profit partnership is my former employer, Gap Inc, with points docked for its relatively uninspired pride tees buried deep within their respective websites and its eGiftCard donation cap.
The Pride Line is basically rainbows, "Love is Love," "Love Wins," etc. On the upside, Gap Inc and the United Nations Foundation announced a new partnership for Pride that aims to raise awareness and funds for UN Free & Equal, which promotes fair treatment for LGBTI people globally, with 30% of Gap's Pride T-Shirt net sales and $2 from every Pride-themed eGiftCard (up to $25k) going to the organization. The Old Navy tees, however, appear to mostly just benefit Old Navy.
Gap Inc's LGBTQ-focused business resource group, GEAR (Gay Employees, Allies + Resources) are celebrating Pride this month in a video series encouraging employees to "wear their pride."
---
Adidas
Non-Profit Partner: Stonewall's The Rainbow Laces Campaign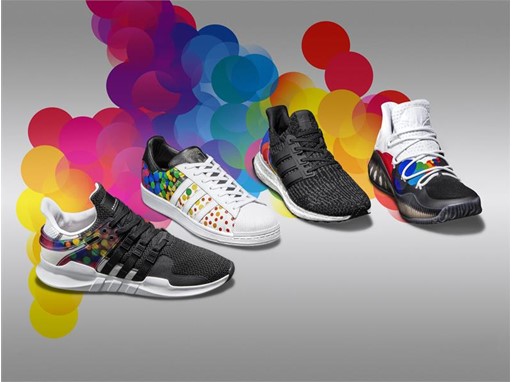 Adidas has a limited collection of pride-colored shoes, including the $200 Ultraboost Pride Shoes (which have already sold out) and the $100 Superstar Pride Pack. Although no specific profit percentage is going to any specific place, Adidas "will continue to support Stonewall's Rainbow Laces campaign," a charity that aims for LGBT equality in all sports.
---
Asos: Individuals Unified
Non-Profit Partner: GLAAD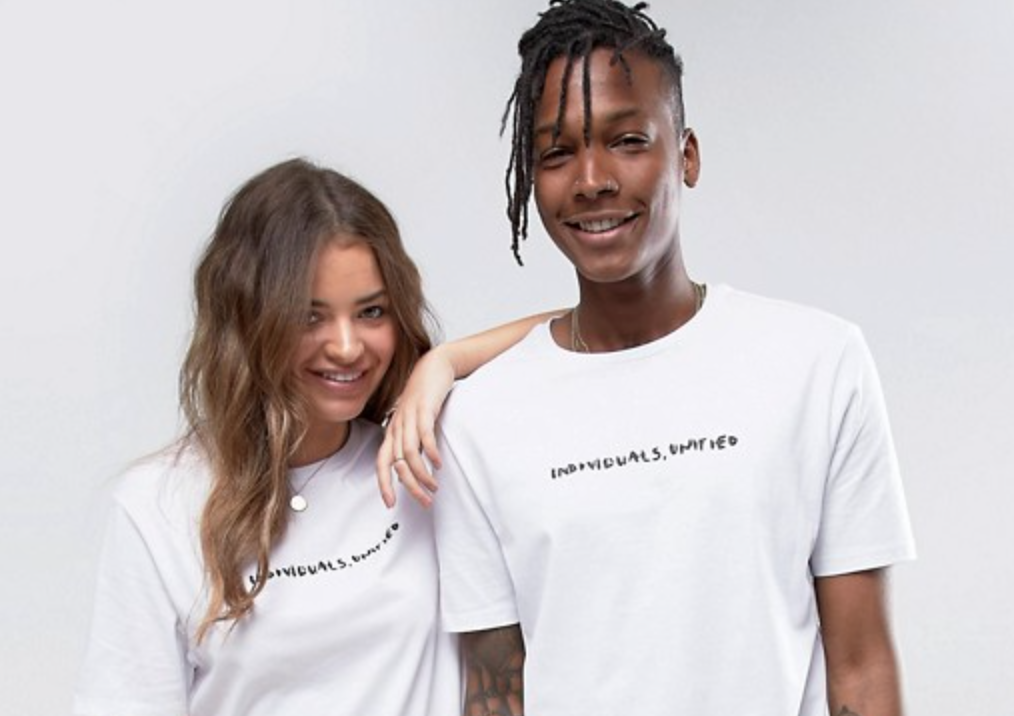 $15 of each $24 "Individuals United" t-shirt will go straight to our friends at GLAAD! Bonus: they're printed on Better Cotton Initiative Cotton.
---
Dr. Martens: Wear Your Pride
Non-Profit Partner: The Trevor Project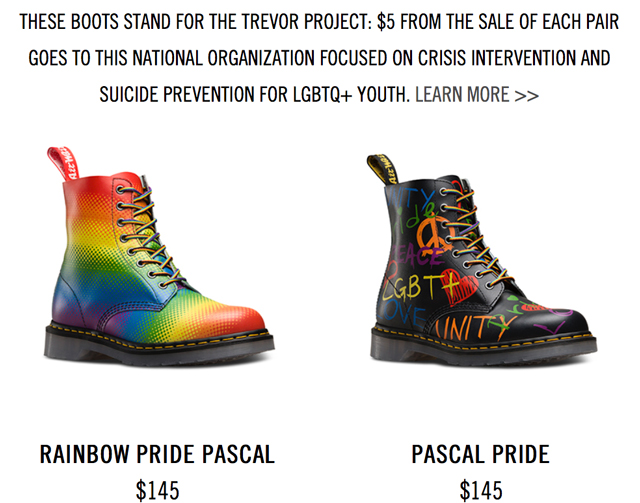 Listen I was a teenager in the '90s and I will never love any boot like I love my Doc Martens, but don't the Pascal Pride boots kinda look like they were ripped off the set of RENT? You should buy them anyhow, or the Rainbow Pride Docs, 'cause $5 from the sale of each boot goes to The Trevor Project and Doc Martens stores nationwide will be hosting Pride events all summer long. What will happen at these events? It's a mystery!!! I hope it involves girls in boots!
---
Nordstrom: Wear Your Pride
Non-Profit Partner: Human Rights Campaign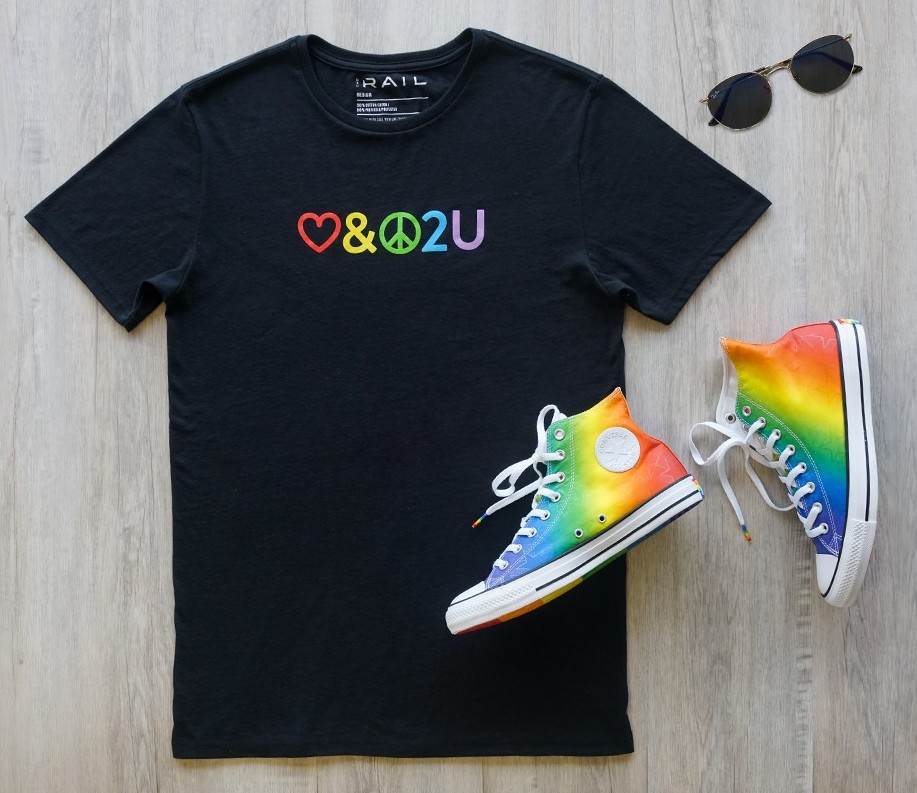 100% of proceeds from the $24 Women's Bp. Pride Tee and Men's The Rail Pride T-shirt, which suggests "Love & Peace 2 You," will go to the Human Rights Campaign Foundation, and Nordstrom ominously promises us all that their employees will be popping up at Pride events worldwide throughout the month of June. A Nordstrom blog post features 6 LGBTQ "names" in Fashion, Beauty and Entertainment discussing "Why Peace and Love Still Matter in 2017."
---
The Quite Good
American Eagle Outfitters: #WeAllCan
Non-Profit Partner: The It Gets Better Project

100% of the sales from American Eagle's Pride line benefits the It Gets Better Project, with options including t-shirts, boxer-briefs, boybriefs, a rainbow beaded choker and a hat. It's being rolled into their #WeAllCan campaign, which reminds human beings that they can "be anything" and "do everything," which is, I believe, the American Dream. Even though the American dream is dead, this Gay Trippin tank is a fun tank top you could wear on your body if you wanted to.
American Eagle is promoting their partnership by encouraging customers to take the It Gets Better Pledge and upload a video to Itgetsbetter.org, and also to take pics of themselves for AE to use on their Times Square billboard and NYC Pride March float. They're also providing a New voices Filmmaker Grant to an emerging LGBTQ filmmaker during NYC Pride's OutCinema festival.
---
Converse "Yes To All"
Non-Profit Partners: It Gets Better Project, The Happy Hippie Foundation
Converse's Pride collection includes 37 different shoe designs on its Chuck Taylors and at least half are pretty damn hot. In honor of the first-ever Pride Parade — New York City, 1970 — a section of the line is distinctly '70s-inspired, while others include customizable rainbow-soled high-tops and low-tops blazed with bright gradients, flags, spots/dots and stars.
Net proceeds go towards the It Gets Better Project and Miley Cyrus' Happy Hippie Foundation, "two organizations committed to empowering LGBTQ youth around the world." The #YESTOALL hashtag encourages customers to feel free to be who they are, "whatever your gender, orientation or identity." However, the animation for this particular project is wild and certainly in some way dangerous?
---
The Extra Good
These companies get extra points for their history with the LGBT community, inclusive media campaigns that feature real queer humans and/or turning a solid section of their retail store into a Gay Rave every June.
Kenneth Cole
Non-Profit Partner: Human Rights Campaign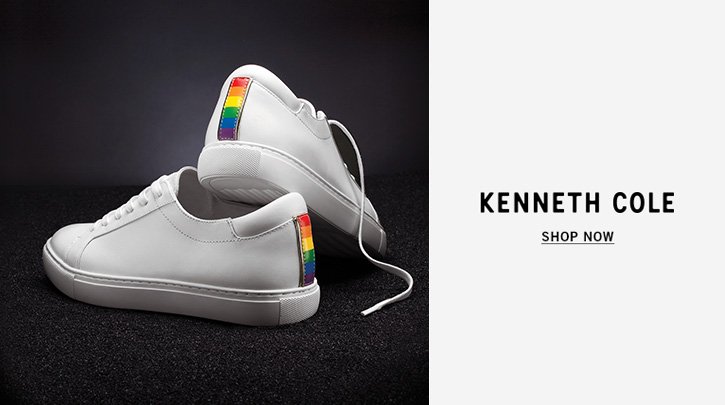 Kenneth Cole is legendarily associated with social justice causes and has been openly advocating for the LGBTQ community since 1983. (However, the brand hasn't always hit the right note or accurately represented the HIV/AIDS activist movement.)
This year's Pride product tie-in is fairly simple — a $125 limited edition KAM shoe adorned with a rainbow stripe and designed to honor LGBTQ Pride Month "in support of the Human Rights Campaign."
The brand's overall Pride initiative is a bit more ambitious: gay photographer Levi Jackman Foster shot the campaign for Kenneth Cole, which features actual! queer! people! in New York. A mural of Foster's photographs will hang out in Williamsburg on the corner of Wythe and North 15th Street for the entire month of June. But the true highlight of it all is that their Courageous Class Pride Edition includes Grace Manger of Everyone is Gay / The Parents Project!
---
Nike: BE TRUE
Non-Profit Partner: Human Rights Campaign
Apparently Nike's journey into LGBT allyship began with a few employees' "grassroots effort" in 2012 to introduce some Pride-inspired designs into the company line using the NIKEiD system. Boldly suggesting that rainbows are not, in fact, the only "gay symbol," the 2017 BE TRUE Collection pairs it with "other prominent symbols of Pride, including the color pink and the triangle, with Nike innovations and the encouraging message, RUN FIERCE, printed onto the shoes' sock-liners." Nike apparently has already given "approximately $2.5 million in financial and in-kind support to LGBTQ causes" and earned kudos from the HRC for its equality campaign, launched earlier this year, led by Nike LGBT Network Leader Robert Goman.
They've been shining a spotlight on local queer folks too, like this interview with skater Lacey Baker. In New York, Nike profiled two QPOC, Sara Geffrard of "A Dapper Chick" and Danielle Cooper of "She's a Gent," to illustrate "how staying true to one's truth transcends the culture of sport and style." Their #BETRUE Home Run, a weekly running meetup, will offer a special 4.8 mile route that traces New York's LGBT history. In Portland, where many Nike shoes are manufactured, 50 sneaker bikes from BIKETOWN, the local bike-share system, will be wrapped in limited-edition rainbow colorways and ridden by Portland community leaders at their Pride Parade.
---
Target: Take Pride
Non-Profit Partner: GLSEN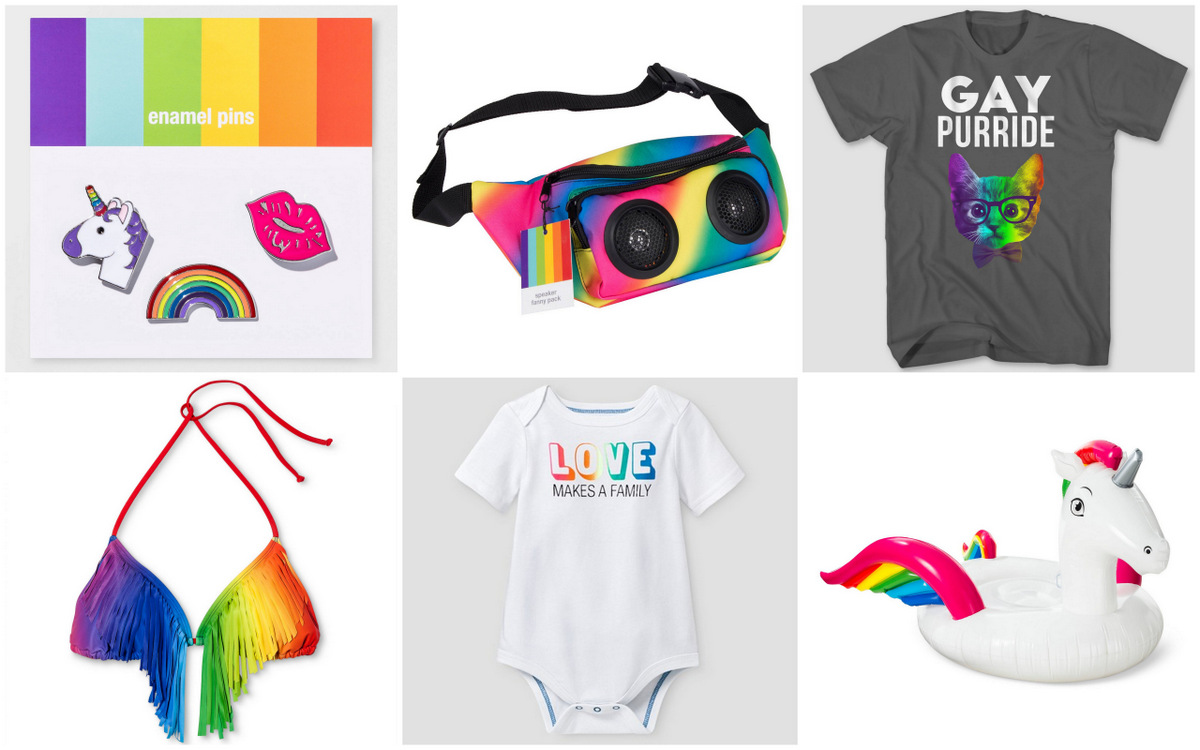 Listen we all shop at Target don't front, it's the hipster Wal-Mart, they've been sponsoring gay shit from the jump, and so thus of course every year, Target goes slightly more bananas about Pride, and the gays go slightly more bananas about Target. This year Target is truly the most Extra. There's no way they're gonna sell all this stuff! What happens to it in July? I'm concerned about waste!
Regardless, the Pride Rainbow Stereo Fanny Pack is a must-have for any self-respecting pride attendee, and props to Target for plowing without hesitation into youth apparel and for being consistent LGBT allies, standing up for trans folks w/r/t bathrooms, moving away from gender-based signs, committing $20 million to installing gender-neutral single-stall bathrooms in stores that don't have one, and making their stores obnoxiously gay for a month every year. Meanwhile, conservatives remain flummoxed by Target's refusal to cater to their intolerance, and alt-right news outlets remain convinced that their Target boycott caused the store's sales to tank.
Target customers are also invited to use its #takepride hashtag when posting selfies taken in Target stores.
---
The Greatest
These companies get extra points for exceptionally inventive & informed design choices and/or featuring a diverse array of actual queer people in their Pride campaigns.
Hollister: Safer For All
Non-Profit Partner: GLSEN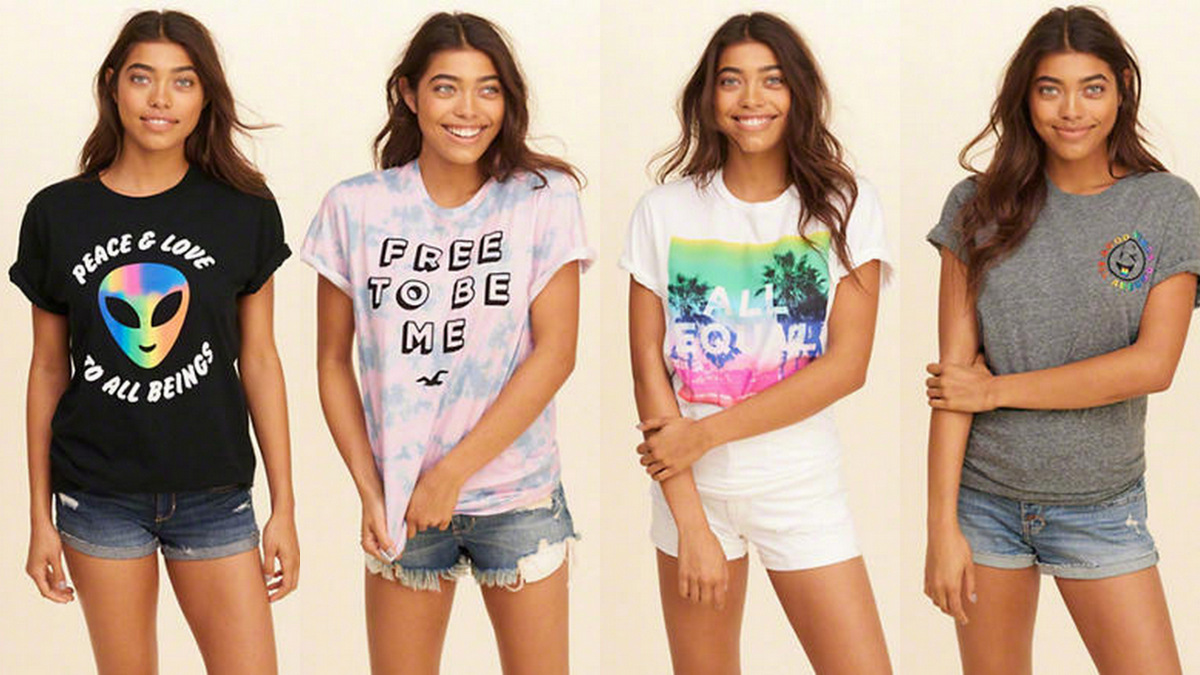 Hollister's partnership with GLSEN stands out for its relatively original t-shirt designs and clear, original focus: making all schools safe spaces for all students, regardless of sexual orientation, gender identity and gender expression. 100% of their Pride T-Shirt Collection proceeds go to GLSEN. On the Hollister website, queer students share their visions for a safe space in a video series. These ads are running in 500+ Hollister stores and feature student council leaders from GLSEN.
---
Everlane: Human Together
Non-Profit Partner: The Human Rights Campaign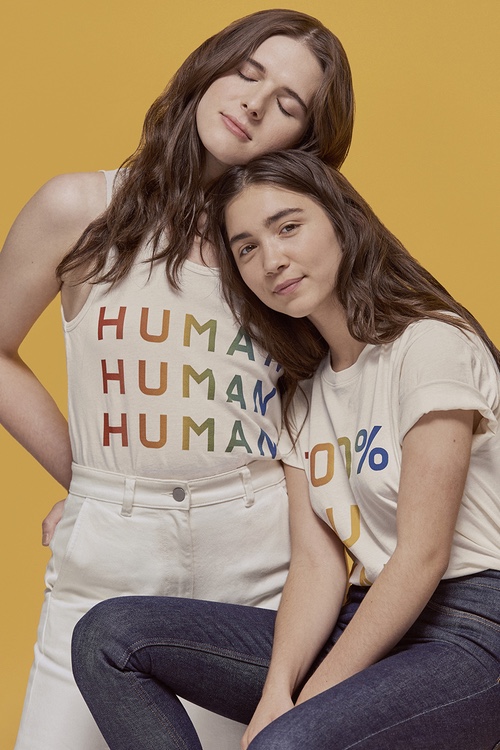 Everlane, one of the few companies on this list truly committed to ethical production practices (and one of the few companies on this list to reject Autostraddle as an affiliate, BUT IT'S FINE), began its 100% Human campaign in January, routing $5 of each purchase to the ACLU and, later, re-branding the shirts in "millennial pink" for International Women's Day with profits going to women's rights organizations. Now, the 100% Human focus is PRIDE. Look at these faces!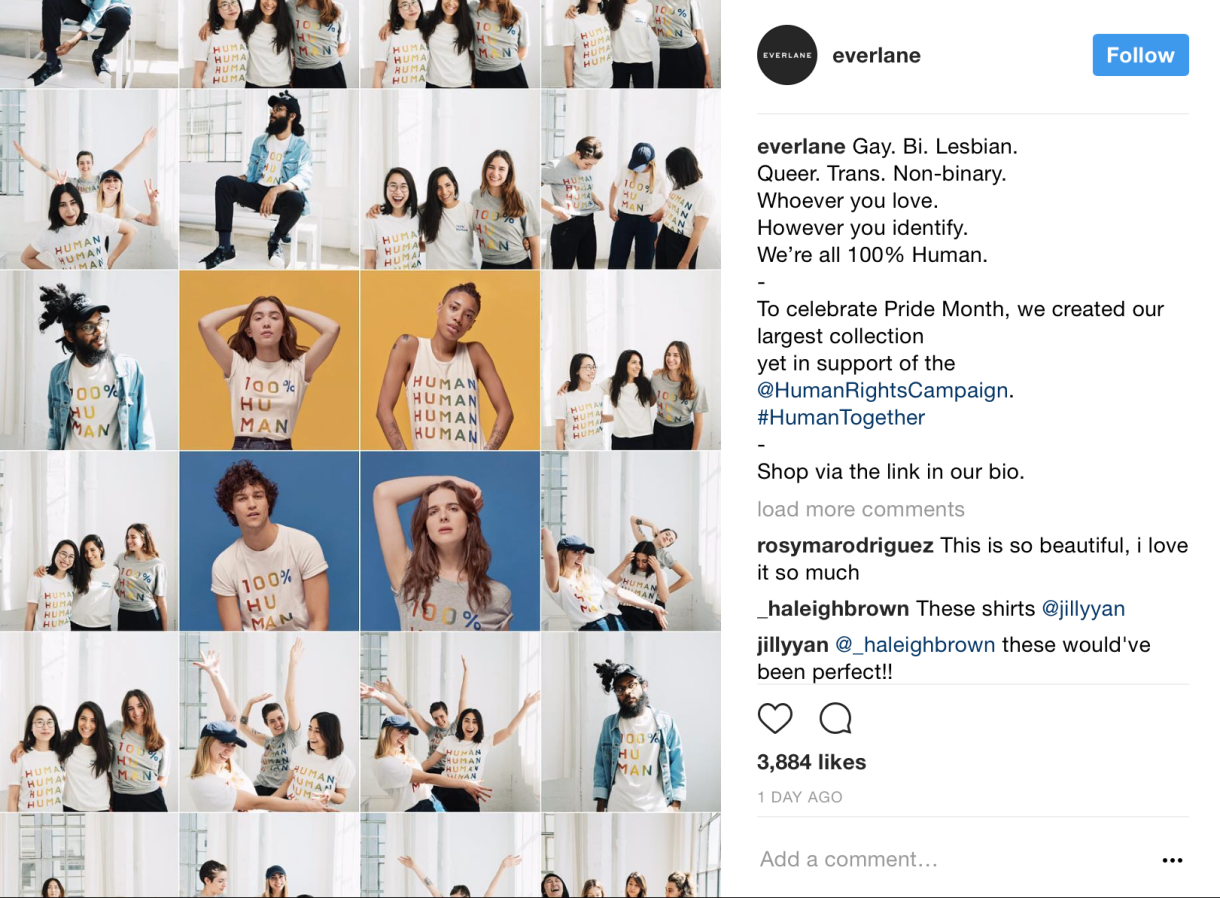 Through its #HumanTogether video campaign, Everlane seeks to raise $100k for the Human Rights Campaign while also soliciting content from its fans they'll use to create their grand masterpiece #HumanTogether campaign video. Models for the campaign include trans actress Hari Nef, photographer Lee Bullitt, actress Rowan Blanchard and painter/model Miles McMillan. The campaign declares "Gay. Bi, Lesbian. Queer. Trans. Non-Binary. Whoever you love. However you identify. We're all 100% Human."
---
MeUndies: Celebrate Yourself
Non-Profit Partner: The Los Angeles LGBT Center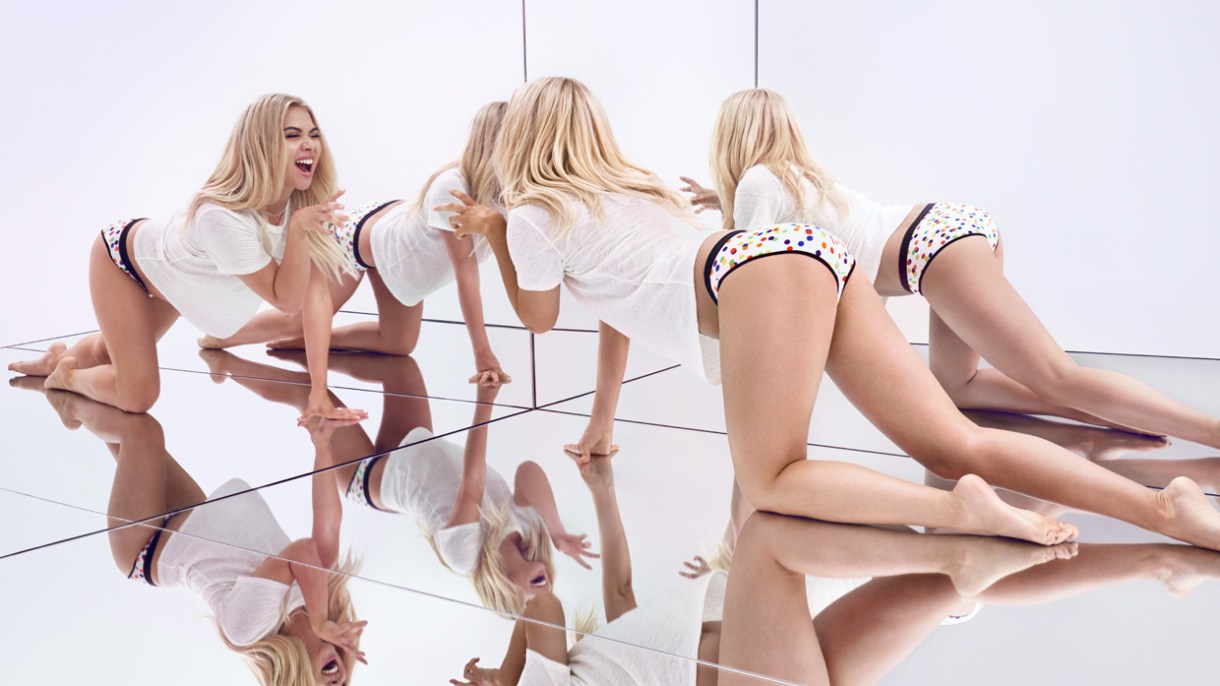 MeUndies, an ethical company who I truly think needs to advertise with Autostraddle, is donating $1 from every pair of their Pride underwear sold to the Los Angeles LGBT Center. Their campaign involves lesbian YouTube stars Ally Hills and Stevie Boebi, singer/songwriter/actress Hayley Kiyoko, Olympic athlete Gus Kenworthy and Queen of Bounce Big Freedia — a diverse and refreshingly female-focused line-up of human beings. Their "celebrate yourself" campaign and video series is about "feeling proud from the inside out." MeUndies partners include a whole bunch of your favorite YouTubers, like Gaby Dunn and Bria & Krissy.
ETA: MeUndies declined our application to their affiliate program today, which is FINE but also confusing and frustrating!!
---
Urban Outfitters: Love UO
Non-Profit Partner: GLSEN

Urban Outfitters, as a corporation, has a history of being truly terrible. But they've clearly got some quality people on their team who know what's up, as indicated by an refreshingly inventive Pride fashion line and diverse Pride campaign.
The #UOPride line was designed in a partnership with rising Chicago hip-hop artist Taylor Bennet, with all profits going to GLSEN. Bennet's designs are bubbly and fun, with softened rainbow colors and a beachy Free City vibe suitable for year-round wear.
Meanwhile, the UO Blog is highlighting the stories of young queer creatives, and so far it's almost entirely people of color. Recent profiles include gender-fluid artist Rayne, transgender artist/model Torraine Futurum and power couple Tea and Ziggy, the co-owners of kinsoul.
---
Levi's: Fight Stigma
Non-Profit Partners: The Harvey Milk Foundation and the Stonewall Community Foundation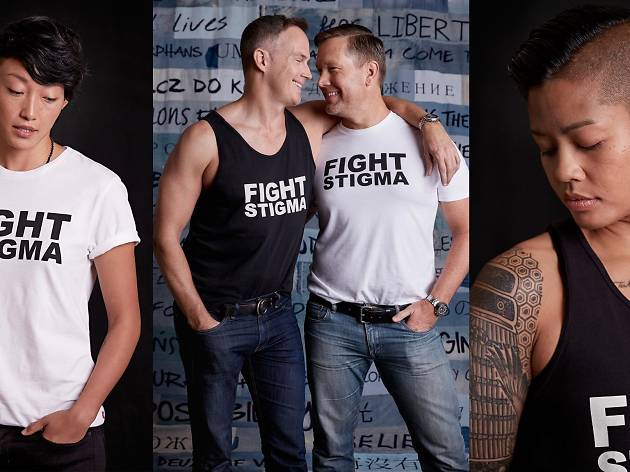 San Francisco based Levi's gets props for a genuine commitment to the LGBTQ community that began far before such a commitment was even remotely popular, and also for tying its annual Pride collections to historical moments rather than simply slapping rainbows on t-shirts.
This year's "Fight Stigma" initiative and product line is inspired by '80s HIV awareness efforts, with patchwork denim shorts slapped with "REMEMBER THEIR NAMES" badges as well as simple black-and-white tanks and tees. There's some generic rainbow stuff too: embellished signature bandanas, a flag pin, Pride Housemark tees and hats and rainbow-banded boxer-briefs.
As corporations go, Levi's history with the LGBTQ community is particularly exceptional. Levi's was the first corporation to give to HIV/AIDS causes, with a commitment that dates back to 1982, when they were the first corporate donor to help open the world's first AIDS clinic, at the San Francisco General Hospital. Then-CEO Robert Haas was a fierce critic of the federal response to AIDS and added AZT to employee healthcare plans in 1987. They were the first company to file an amicus brief with the CA Supreme Court in favor of same-sex marriage, and the first Fortune 500 company to extend domestic partnership benefits to same-sex couples. Their inclusive advertising efforts include the 2008 Logo/Levis Unbuttoned campaign that included a clip starring Sarah Croce, shot by our very own Robin Roemer.
In total, Levis has contributed over $70 million US dollars to HIV/AIDS organizations in over 40 countries and supported organizations including the National Center for Lesbian Rights and Lambda Legal. 100% of proceeds from this year's collection go to the Harvey Milk Foundation and the Stonewall Community Foundation.
The FIGHT STIGMA campaign also includes a video series featuring LGBTQ Levi's employees.
---
In conclusion, another great way to look as gay as possible for Pride is to buy merch from the Autostraddle store (we just got new pins in and you'll wanna get 'em sor to support some of these independent lesbian & queer owned businesses!
---
Affiliate Disclosure: In some cases, Autostraddle will receive a small commission for purchases made through links in this post.
SaveSave
SaveSave