feature image by Bekwo via deviantart
Welcome to your weekly pop culture fix, an in-depth look at everything you need to know about queer soda pop, queer popcorn, queer pick-up games of Hop on Pop, and Pop Chips.
---
WHY AREN'T WE GOOD ENOUGH FOR YOUR MOVIES
GLAAD's fourth annual Studio Responsibility Index, which ranks LGBTQ representation in film, found 17.5% of 2015's 126 major studio releases included LGBT characters. This percentage is up zero points from last year. It will surprise literally not one single solitary soul that the majority of these LGBTQ characters were white gay cis men.
Only one transgender character appeared in a major studio film in 2015, Warner Brothers' Hot Pursuit, and "her brief appearance served as a punchline to laugh at when her identity is revealed." "Brief appearance" is a good descriptor for most of the major studio films' LGBT characters —  73% clocked in less than ten minutes of screen time. Racial diversity remains dismal and saw a seven-percentage point drop. Furthermore, "there was a noticeable resurgence of outright offensive depictions of LGBT people, which relied on gay panic and defamatory stereotypes for cheap laughs."
It was also a landmark year for the Vito Russo Test in which major studios hit an all-time low of 36%. To pass the test, the film must contain an identifiably LGBT character who is: 1. Not soley/predominantly defined by their sexual orientation or gender identity, and 2. Tied into the plot in such a way that their removal would have a significant effect, meaning "they are not there to simply provide colorful commentary, paint urban authenticity, or (perhaps most commonly) set up a punchline." In other words, "The character should "matter."
Of course, independent films have always been more likely to feature LGBTQ characters, and GLAAD looked at four smaller art-house-geared studios associated with larger companies — Focus Features, Fox Searchlight, Roadside Attractions and Sony Pictures Classics. They found 22% of the releases from those four studios to be LGBT-inclusive, an increase from last year's 10.6%.
A lot of our favorite queer movies of 2015 didn't come from those smaller studios or the major ones they're affiliated with, though, but rather from distributors like IFC, Gravitas Ventures, Magnolia, Wolfe, Strand Releasing, The Weinstein Company, Open Road Films and Film Movement. Films from those distributors aren't part of GLAAD's statistical analysis, although they were discussed in the back of the report. These films include Tangerine, Carol, Appropriate Behavior, Addicted to Fresno, Dope and The Duke of Burgundy.
Walt Disney's epic failure in the Studio Index — 0% of their films were LGBT-inclusive — has inspired perhaps the internet's most ambitious representation campaign of all time: Frozen fans are pushing for Elsa to be a lesbian. Alexis Isabel Moncanda wrote on MTV about why she started the #GiveElsaAGirlfriend hashtag on on April 30th, recalling how growing up she "never saw a princess fall in love with another princess," although she did see princesses fall in love with beasts and ogres. The campaign caught on quick, even inspiring tweets at Disney from the actors who voice the characters and coverage from multiple news outlets. It was a great moment for fan art, too:
This campaign has also inspired super-cool dudes like this guy to write funny things like, "We have seen how Disney's militant progressive ideology is applied to sports through ESPN. It is also applied to the fairy tales used to entertain innocent children. Now cultural Marxist social justice warriors are pushing for Disney's first lesbian princess:"
But honestly… as awesome as this idea is and as great as LGBT representation in Disney films would be and as much as I honestly believe that Disneyworld is the happiest place on earth, I'm not holding my breath for a Disney princess to go gay any time soon. Disney still hasn't even figured out how to not be terrible at racial diversity.
According to Elite Daily, the truth of the matter is that most big studio films, including action movies like Star Wars and The Avengers and Disney cartoons like Frozen and The Lion King, also rely on revenue from international releases, including countries that aren't remotely accepting of LGBT people. (Not to mention the significant percentage of Americans who still aren't fans of the LGBTs.) Frozen is one of the top-grossing films of all time, and 68.6% of that gross came from overseas. Disney, specifically, also makes a huge chunk of cash through merchandising and licensing, as well as through revenue generated by its family-focused Disney Parks & Resorts, which include a new park in Shanghai, Hong Kong Disneyland and an increasingly sprawling mass of parks in Florida. In fact, Disney Parks & Resorts actually generate more revenue for the company than their films or merchandise. (And, of course Conservative Christian groups have been freaking out at Disney since 1991 for unofficially hosting "Gay Days" at its park.) We've made huge strides in LGBTQ representation in youth culture over the past two years with shows like Steven Universe, but I'd be very surprised if this campaign succeeds.
That being said, despite these international markets, the Russo Brothers have told Collider that when it comes to the Marvel universe, an LGBT character may very well come sooner rather than later. So who knows!
Beatrice Frasl at Newsweek thinks making Elsa a lesbian would be a weak compromise:
Other than "giving Elsa a girlfriend" retrospectively, queers deserve a film featuring an other-than-straight or other-than-cisgender character from the start, and no less than a main character in no less than a major film. They deserve this protagonist to be visibly out and proud on screen, not as a post scriptum addition to an already existing, self-contained heteronormative narrative. They deserve this protagonist to be represented in cinema as undoubtedly and unapologetically queer—not only in the form of subtextual codification or in the form of allusions to camp sensibility, like Disney frequently does in its portrayal of villains or comic relief characters; not only in the form of more or less subtly connoting coming-out narratives; and not only in a sequel.
---
Sense8
+ New pictures from the set of Sense8 feature some very suggestive poses involving two attractive females…
…and also Nomi! But no Amanita? IMDB has yet to update with word on which actors are staying through the second season, set to debut in December. Sigh.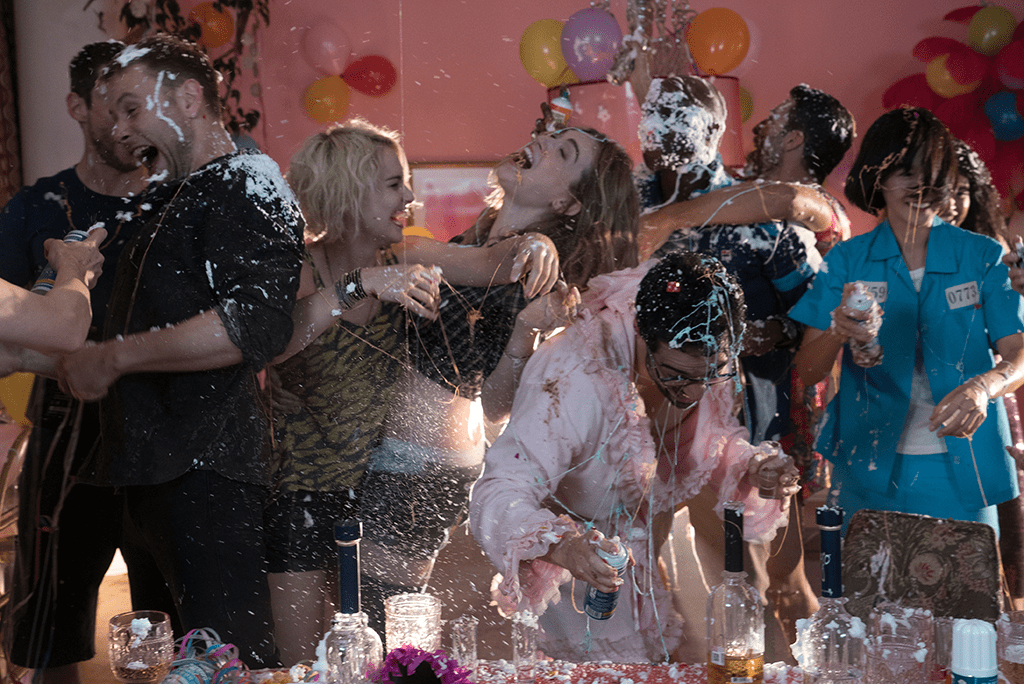 ---
Bad Moms Though
This trailer for Bad Moms looks amazing and also includes women kissing other women… and, believe it or not, there is not ONE — not-a-one! — adult male in the entire video. Not one!
---
Also:
+ Orphan Black and trans representation: Can They Fix Tony Sawicki?
+ Look, we've all asked ourselves this at one time or another: "how do you make a tasteful biopic about a lesbian mass murderer?"
+ We've added two more names to the list of Dead Lesbian and Bisexual Characters.
+ Kristen Stewart is directing a short for Refinery29.
+ Top ten landmarks in gay & lesbian literature