Q:
I'm currently in my second year at university. Even though I really like what I'm studying and I like living in my own tiny flat, things aren't really good at the moment. I have been struggling with my anxiety disorder so much lately. It often prevents me from doing the things I'd like to do.
I have an amazing girlfriend and a good relationship to my family, so I don't really know, where all this anxiety stems from.
I just have this feeling of being stuck and not really being able to live my life to the fullest. Like I'm just in this weird anxious place, while everybody else can move forward and I just keep on missing out great opportunities and adventures. I try my best to overcome my anxieties, but it doesn't work as fast as I'd like.
Maybe your cards have a hint about what to do about this mess?
---
Hey there, friend. Thank you so much for trusting me, and everyone here, with your question. I'm sorry to hear about your inexplicable-feeling anxiety, and that you're in something of a rut right now. As I read over your words and shuffle my cards, I'm focusing all of my energy on asking them where this anxiety is coming from, and what you can do to move forward.
First, a note about anxiety. For some, 'anxiety' may be a temporary feeling of worry or fear, and perhaps a period of sleepless nights. For others, this is a serious mental/emotional health condition which shouldn't be taken lightly. A tarot reading aims to shed new light on your situation, to encourage you and help you to find approaches that can help, but I can't diagnose you, and a tarot reading cannot 'cure' anxiety. If you're worried about your mental and/or emotional health, please consider talking to a professional counsellor or doctor.
I felt that this reading should offer both 'right now' advice and something deeper and longer term, so that you can feel proactive, but also invested in the slow journey that working with emotional difficulties can entail. I used Thea's Tarot, by Ruth West. It's simple paper cut illustrations called to me today, telling me that they would be kind and truthful.
I began with two cards to look at your situation, specifically where this anxiety is coming from. The Daughter of Swords, crossed by the Five of Swords. To me, it seems that these cards show the same person – on the one hand filled with aspirations and excitement for life…and on the other, feeling defeated and trapped.
Immediately as I looked at these cards, I saw you in a cycle of hope and insecurity. On a basic level, as the Daughter of Swords, you're loving your studies, you're hopeful for future adventures, you're keen to learn and everything seems filled with possibility. But this bright, open-minded card is overshadowed by a darker energy, the Five of Swords bringing this feeling that you're not good enough, that you've somehow failed or 'lost' in some way.
The Five of Swords is often about conflict – particularly the kind of conflict where there are no winners, only losers. In many tarot decks this card will show a group of people, but here, the lone figure suggests that your conflict is with yourself.
Placing the two cards side by side, it feels as though you are measuring yourself against something – an idealised version of yourself, perhaps. As I said, there's this real energy of not being good enough, and being incredibly hard on yourself. I understand why you say that you don't 'get' your anxiety, considering that on paper you have a happy life and everything going for you, but here too, remember that it is okay to feel what you're feeling. If you're beating yourself up all the more for 'feeling bad when you have no reason to', then its time to stop.
These cards remind me of how I felt when I was at uni (where I, too, spent several years struggling with anxiety). College is a weird place. On the one hand you're an adult, you're living on your own, you're working towards something that is supposed to set you up with a solid future. On the other hand, nothing is certain, you're going through this major transition, and you're continually being assessed and measured. On top of this, you're surrounded by other folks who are also going through the same thing. It's an atmosphere that is simply bound to produce anxiety in some folks.
Let's move on now to the 'advice' cards. The first, on the left, is for right now – something you can do in the present moment, today, or this week. The card on the right, is a longer-term approach – something to hold on to on a deeper level, and to carry with you over the whole of this year as you move through this anxious period. In the centre I placed a card from the Earthbound Oracle, to 'bridge' these advice cards and show us the common ground between them. I offer this card to you to interpret in your own way.
For 'right now', we see the Four of Pentacles. This is a card of order, of structure and stability, and also of selfishness. Here, it's about grounding yourself by knowing what your stable resources are.
In tarot, the pentacles cards are concerned with grounding, with the element of earth. What is solid in your life. What is of value to you. What is actually real. Pay attention to the earthy areas of your life – your diet, your environment, your physical journey to college. Are there places where you can create a little more structure, a little more solidity?
Do a stock-check of your incomings and outgoings – and here, I'm of your energetic resources as much as physical. In the process of measuring yourself (and being measured) against your ideals, you're giving a lot of your power and strength away. Instead you could be storing it up and building a strong foundation which may help you to feel safer and less anxious.
Think also about your sources of power, the resources you have available. Your mental acumen. Your dreams and visions for the future. How gorgeous and funny and loving you are. Your beloved home, which you created for yourself. Your strong relationship, which holds and reflects so much of your personal power. You are rich (as you know) but in your anxiety, you give away so much of your strength. Right now, it's okay to hold close to you what you value and what makes you feel strong. You don't need to compete with anyone, you don't owe anything to anyone, what you have, you have earned and can be proud of. Don't forget that!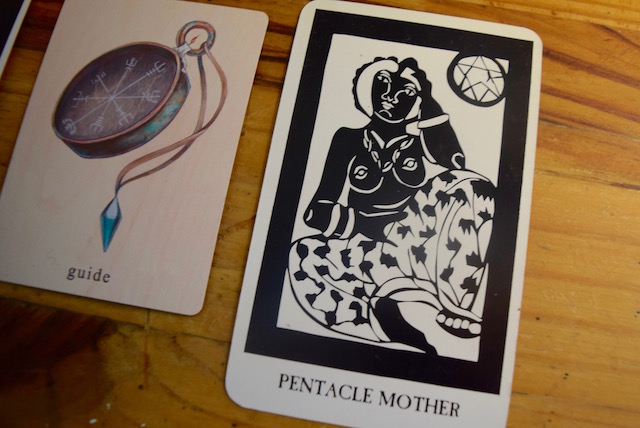 In the longer term, the Pentacle Mother continues this theme of solid foundations, earth, and strength, but here, you have reached a point of real self-confidence. With this card, there is no need to stock-check your resources or measure anything, because you're deeply confident in your own strength and abilities.
The Pentacle Mother (which corresponds with the King of Pentacles in more conventional decks) is a real 'goal' of a card, something to aim for as you transition through the ups and downs of college and emerge into the next phase of your life. Here, this is a person who is grounded in their own life, who understands the value of hard work…and that good things don't often come easy. This brings me back to your comment that you are doing what you can to overcome your anxiety, but it doesn't work as fast as you'd like. Pentacles are usually concerned with the long haul. With slow processes and organic growth. Do keep doing what you're doing, do keep trying to work through your anxiety, but try not to expect immediate or fast results. You are building strength and resilience and that takes time.
Let the Pentacle Mother give you hope, and something to aim for. It's natural and okay to be feeling anxious right now during such a transitional period in your life. Focus on those pentacles cards, on your own strength, and forget measuring yourself against anyone or anything. You're a hard worker and a strong person, and this is a tricky step in your journey. Focus on what grounds you.
Your oracle card is 'Guide', and shows a compass. This card is for you to interpret in your own way, but for my part, I feel that it speaks to the connection between earthly travel and the journey you're on, and your inner guidance and wisdom. It brings me back to the Daughter of Swords where we began – the bright, enthusiastic, open-minded and adventurous soul who is excited to be learning what life has in store. Imagine yourself handing her that compass, both a tool for navigating dreams and a tool for traversing the earth.
I know that anxiety is not something that is easily overcome or put aside simply because someone has a few positive words. I know that it is irrational, stomach-churning, fearsome and restrictive. I know that this tarot reading cannot 'solve' anxiety or make it go away, but I hope that these cards help to shine a light on your brilliance and strength and encourage you to keep going. I believe in you 100%.