Every winter we smash our heads together to bring you brand-new Autostraddle merch for the holigays. There's no better way to come out to your parents than requesting a scissoring sweatshirt for Hannukah, and there's no better way to love your girlfriend than to snap a She/Her pin on her denim vest. Everything in our store is designed and illustrated by queer artists, with our senior and writing staff at the conceptual helm. This year we're bringing back some old favorites in new colors, some fresh tees and sweaters, and a ton of colorful enamel pins to decorate yourself with!
---
New Enamel Pins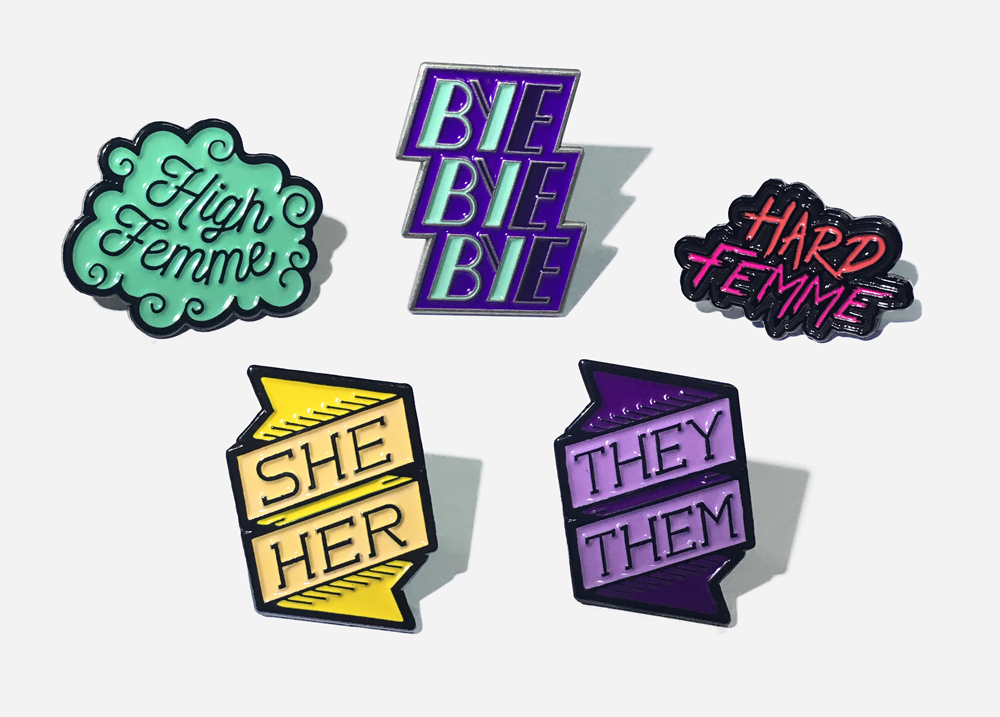 Did y'all know that the process of making enamel pins is extremely intense? I stumbled upon a video about how they are made from the Discovery Channel and was floored to know that each little pin is hand-painted! HAND-PAINTED! Like tiny little works of art. If you have five minutes, were really into the "How Things Are Madewp_postssegment on Sesame Street, and love cheesy music, you'll love this mini-documentary.
We've turned our Bi Bi Bi Shirt into a wildly bright mint and purple pin! We've produced most of our new pins on black enamel because it looks so gosh-darn pretty, however this particular pin radiates Millennium energy with a dash of J.T.'s silvery afro, so we finished this design with antique silver–oOoOo! Bi This Pin →
We've been talking about this forever, and finally the pronoun pins are here to declare you in a tiny, but powerful way. They've been painted with "goldenrodwp_postsand "pansy purplewp_postsenamel, which are two of the hues recommended by our color-trends expert, Mey Rude. She also notes: "I think the yellow will look good on ppl who wear lots of blue (including denim), pastels, bold patterns, soft neutrals, stripes and/or florals"  They/Them Pin → | She/Her Pin →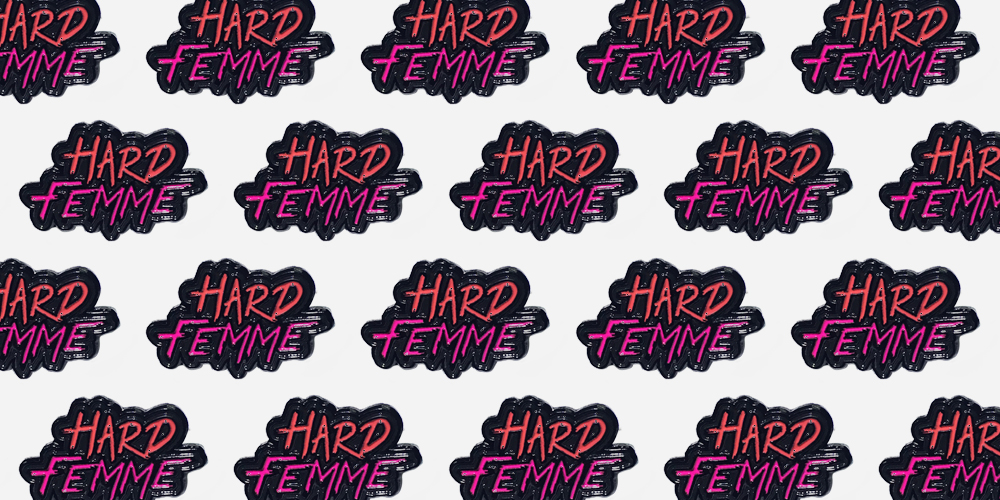 I don't know about y'all, but I think I've finally found my gender identity this year. I mean, well, I think one of my Gemini soul-twins is a Hard Femme. The other one is still deciding. What I mean to say is if you, like me, enjoy Kaylah inspiring you to wear the tallest pompadour of your life, and rock lipstick and short shorts with boots, this is the pin for you. It's painted with coral and hot pink enamel, and looks like something you smear-wrote in lipstick on a mirror last weekend. Buy This Pin →
Don't you wish you were enveloped in a hazy marijuana cloud, eyes half-closed, with the biggest smile on your face for no reason? So does this pin. All this pin wants to do is remind you of how high you usually are and love to be, and is all "listen, I'm not about to not be high!" I think is what it says. I'm not sure but does anyone want tortilla chips with cherry salsa and Dr. Pepper? No? Just me? Buy This Pin →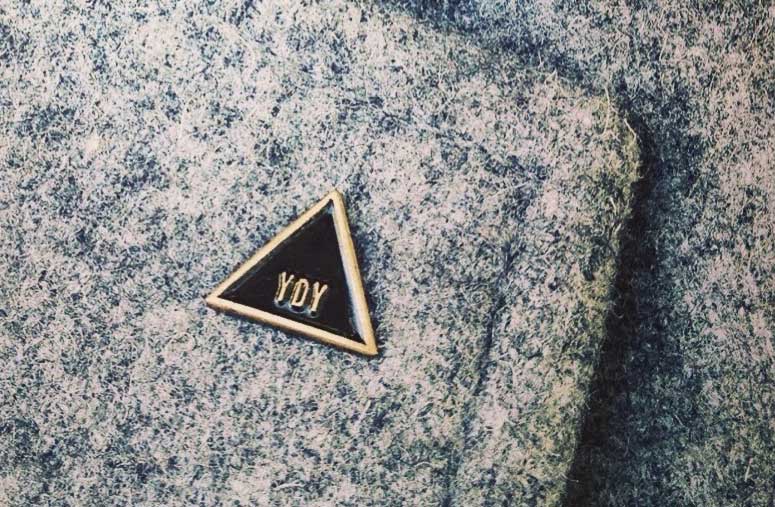 Alex Vega designed this sexy pin in 2012 for all of you who want to celebrate queerness and originality in a sophisticated, understated way. This gold triangle (which is a queer symbol did u kno?) is painted with black enamel, and stands tall yet tiny at ½". Now that enamel pins are back in style, so is our first enamel pin ever! Buy This Pin →
---
Tees! Tees! Tees!
XXS–2XL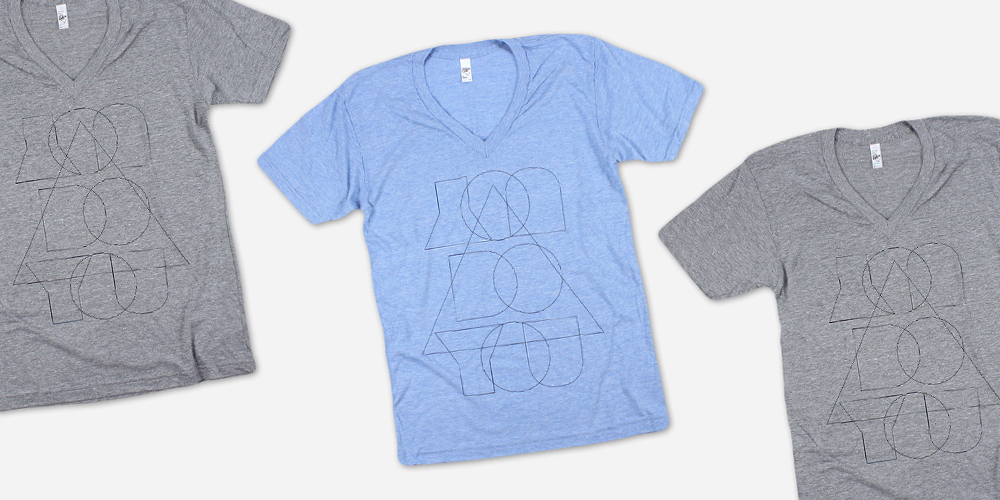 Another golden oldie, the You Do You Tee is back with a vengeance, now on heather grey and heather blue! We're only doing one run of these, so get yours ASAP. Heather Grey Tee → | Heather Blue Tee → 
XS–2XL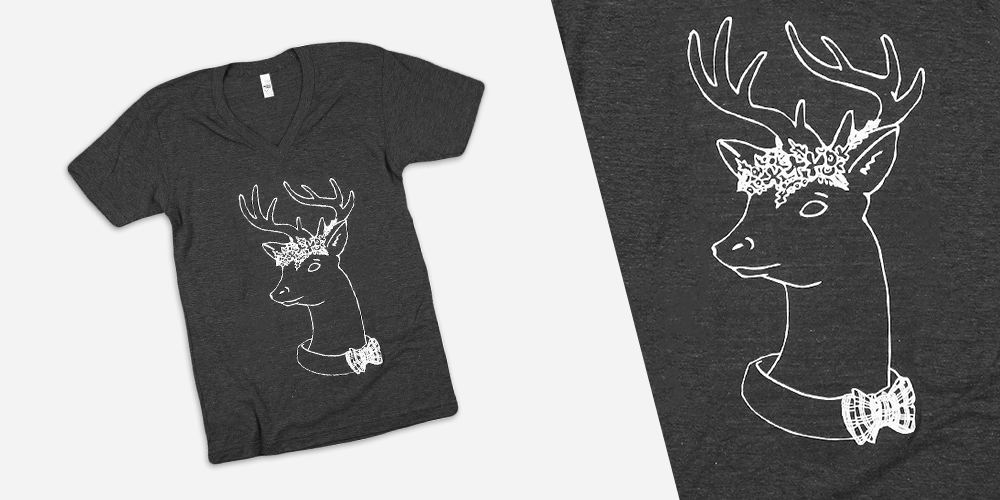 How queer is the Queer Deer? Welp, with a plaid bow-tie and a flower crown, I'd say off-the-charts gay af. Our talented illustrator Cameron Glavin first brought Queer Deer to life on A-Camp Midwest banners, and now it's making it's debut on a soft deep-grey unisex tri-blend tee from American Apparel. To be transparent, we were supposed to print it on a different style of shirt but messed up, so if you're a v-neck fan, you should get yours now because when we re-stock this tee it'll be in a TOTALLY DIFFERENT CONTEXT. It's also important to note that QD has been known to inspire wildly passionate dancing and late-night shenanigans. Buy this tee →
XS–2XL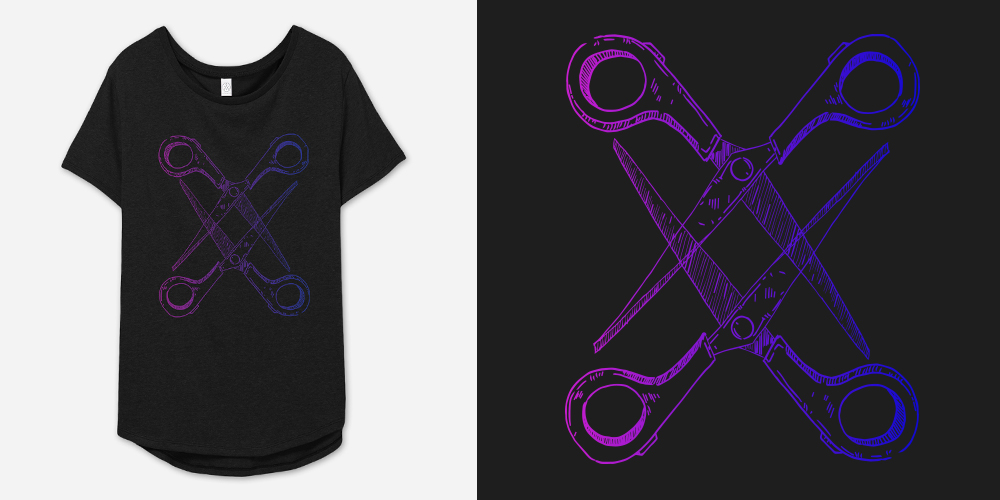 We've only had these tees in the store for over a week and they're selling like hot-cakes! Speaking of, does anyone know why that's a thing? I don't really eat hot cake and I'm pretty sure most people don't. But regardless, we wanted to bring you a flashy femme Scissoring tee, so we found a cute slouchy cut called the Backstage Tee from Alternative Apparel and washed our classic scissors in a bright gradient. Buy this tee →
---
Warm Things!
S–3XL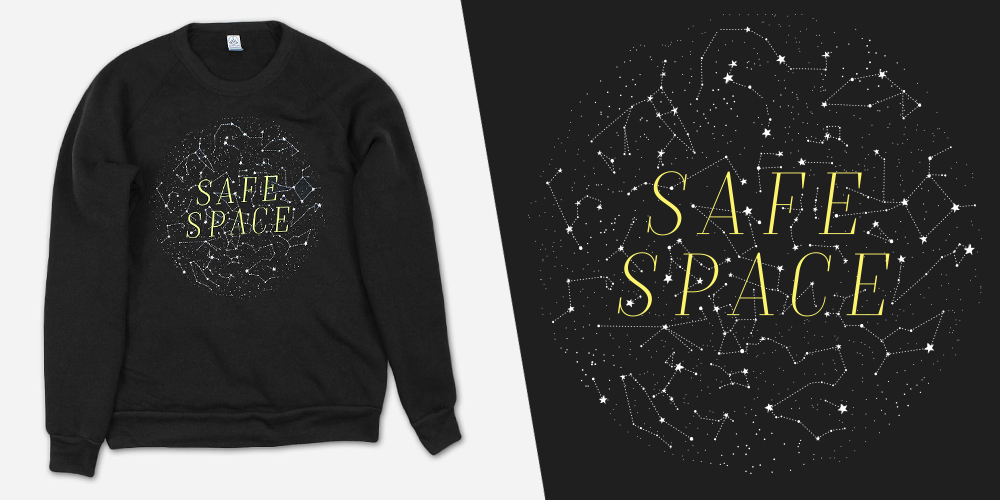 Dang y'all, we have been wanting to bring you more Safe Space merch for ages, and now seems like the best time to do it. Listen, the other side doesn't really understand what "safe space" means, so it's up to us to signal to each other that in a dangerous world, we are each other's safe spaces. We want to wrap you in a warm and cozy hug during the sometimes weird and unsafe family holiday gatherings, so we screenprinted the cosmos on our favorite eco-fleece sweatshirt from Alternative Apparel in vintage black. The words "Safe Spacewp_postsare in declarative and visible chartreuse hue. Buy this sweater →
XS–2XL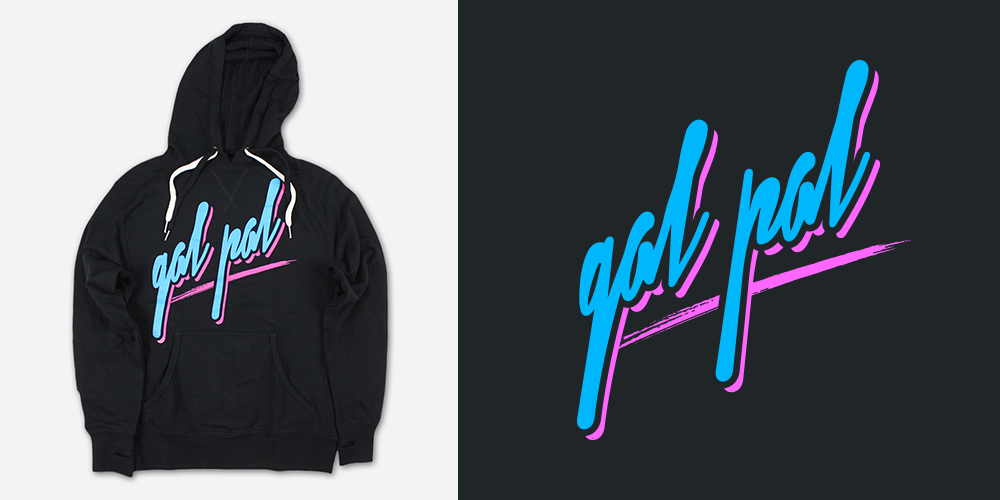 We are seriously into this hoodie, y'all. This is our third time printing on this pullover by Independent Trading Co., and we honestly can't get over how cool it is. Have you ever cut holes into your sleeves so you could hook your thumbs into them? Ok, this hoodie has those holes BUILT-IN, and they are so damn fun. We also happened to find out that the pocket in the front has a second secret pocket, which is about the size of a credit card, and is perfect for whatever tiny thing you'd like to slip into it. Oh, and don't forget the earphones jack in that secret pocket–yes–there's a teeny hole where you can plug your headphones into your Zune or whatever the kids are doing these days. And of course it features Samira Wiley's favorite design by Alex Vega–a bright magenta and cyan splash of color declaring your ownership that you are part of the Gal Pal army. I mean, let's face it. We've hit an all-time high of Gal Pal merch. How could it get any better? Buy this hoodie →
---
---
We want your photos!
Do you already own some of our sweet merch, or have you just purchased a new thing from us? Well we wanna see all you glorious humans those things! Post a pic of you in Autostraddle merch on Instagram and tag us (@autostraddle) with the hashtag #autostraddlemerch so we can add you to our upcoming gallery, and maybe even feature your photo in the store! ♡