Today we have something exciting to announce, and we hope our merch store will never be the same:

Sorte Tienda is Venezuelan design and fashion brand founded by three friends in Maracaibo. Working from their home, they create designs, do their own screenprinting, and with the help of family sew all the shirts by hand. For the first time ever, Autostraddle is collaborating with another brand to put merchandise into our store, and we're so glad it's Sorte. AS has 100 shirts with this amazing design: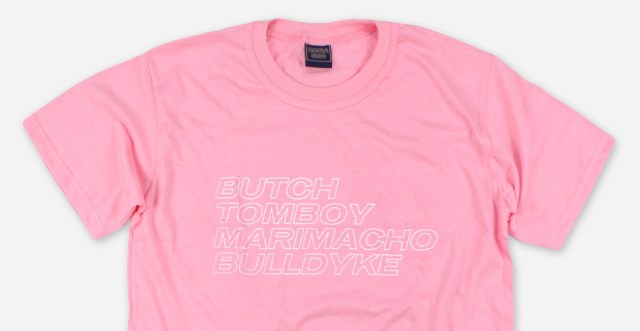 Graphic designer Mika Albornoz created this design especially for Sorte — they wanted to do creative work inspired by their Venezuelan upbringing and in collaboration with people there.
"I wanted to make that shirt for people who grew up like me. I wanted to make something that is 100 percent Venezuelan and from my city as a way of giving back,wp_postsAlbornoz said. "I wanted to set an example that it's not bad to use labels as a way to feel powerful. We sold a couple tee shirts and now here we are."
Albornoz grew up chased by the label "marimacho,wp_postsa Spanish slur that is equivalent to "dykewp_postsin English. It's a word that is supposed to degrade women who have masculine characteristics, but around Latin America women are reclaiming it to brandish it as a badge of honor.
Albornoz's focus in design is typography, and the shirt packs a lot of punch with just four words: Butch, Tomboy, Marimacho, Bulldyke on a pink tee.
We hope you will be as excited about this amazing shirt as we are. You can buy one here.
Arends hopes the collaboration will encourage people to be interested in homegrown design in Venezuela and beyond. In the middle of a conservative environment, Sorte seeks to make designs that appeal to marginalized people.
"We are surrounded with people that are queer, and through our brand we want to promote tolerance and equality," she said. "I find it funny that sometimes people get excited that we tell our friends or ourselves to put the shirts on and take the pictures for the different clothes – people get surprised that we don't use models."
They couldn't do it without their community, said co-founder Omer Paz.
"We do buy the t-shirts from factories when we have a large order for a design from a company, but everything else we make at home," Paz said. "We ask our friends to take the photos of the clothes, our whole family helps."
This makes the partnership between AS and Sorte seem perfectly natural. After all, at Autostraddle, we know a little bit about being underpaid weirdos with a pocket full of dreams and a deep love for our community.
"I learned that this shirt existed through my girlfriend, who is Instagram friends with @bbpapi, a.k.a., Mika Albornoz," said Riese. "It's such a great shirt! When I accidentally used her shirt to stop a nosebleed while at A-Camp, I went online to track it down and buy her a new one, at which point I started learning more about the company. Then I had the idea to ask them about working together in a way that'd enable them to make more money in less time and expose their brand to a wider market. They were into it, and now here we are!"
Head on over to the merch store now to make all your dreams come true! The shirts will also be available at A-Camp 7.5.
Some quotes were translated from Spanish by the author.
SaveSave