This week, in line with previous evidence suggesting that literally everybody is gay (such as Taylor Swift changing the pronouns in "Trouble," Janelle Monae and MC Lyte rocking each other's bodies and Kristen Stewart and Alicia Cargile holding hands while wearing sunglasses), serial cultural appropriator, millennial tongue icon, enthusiastic pop performer and furry-advocate Miley Cyrus has revealed to the AP that not all her past relationships have been 'straight, heterosexual' ones. She did not reveal which of her past relationships were not straight or heterosexual, but I think we can safely assume she means her past relationships with women. (If you are one of the women she is referring to, please e-mail Gothip Girl at stef [at] autostraddle [dot] com with pictures.)
However, just last week she was swapping spit with model Frankie Rayder. They're not in a relationship, I just thought you might wonder whether they're drinking Kendall-Jackson or Sutter Home, because I sure am! I keep looking at the wine label but can't figure it out. :-(
This revelation comes as no surprise from a girl who, queer or not, has been very into queerness, kissing girls and looking gay for quite some time now.
Apparently, until recently, Miley Cyrus had been dating Mr. Freeze's son Patrick Schwarzenegger, who looks kinda like Jason from Pretty Little Liars. They were together for five months, so that worked out pretty well, it sounds like.
More importantly, Miley did the interview at an event for her new charity, The Happy Hippie Foundation, which aims to "fight the injustices faced by homeless youth, LGBT youth and other vulnerable populations." In a strange move from The Daily Mail — a publication that regularly passes off "news" that is completely fabricated as fact — the writer of this particular piece on Miley Cyrus chose to include skeptical language regarding Miley's statement on the plight of homeless LGBT youth, declaring that Miley "claims" there is a huge intersection between LGBT youth and the homeless. How dare she claim such a thing! Furthermore, they write that "while the National Coalition for the Homeless estimates there are 1.6 million young people living on the streets in the United States, Cyrus insists two in five of them are LGBT." That's right, Cyrus "insists" that two in five of them are LGBT, and she does so in a clause presented as contradictory to the previous clause, as if both things could not be true. Seriously, The Daily Mail has reported with more confidence on the imaginary relationship between Ellen Page and Eric from True Blood than on the actual facts about LGBT homelessness. Anyhow!
Miley Cyrus is raising money for her non-profit through means including promoting exclusive "Backyard Session" videos on Facebook, featuring new songs with musicians including Ariana Grande, out trans musician Laura Jane Grace, and bisexual rock star Joan Jett. Her song with Joan Jett, "Different," dropped yesterday, and encourages viewers to donate if they like the song.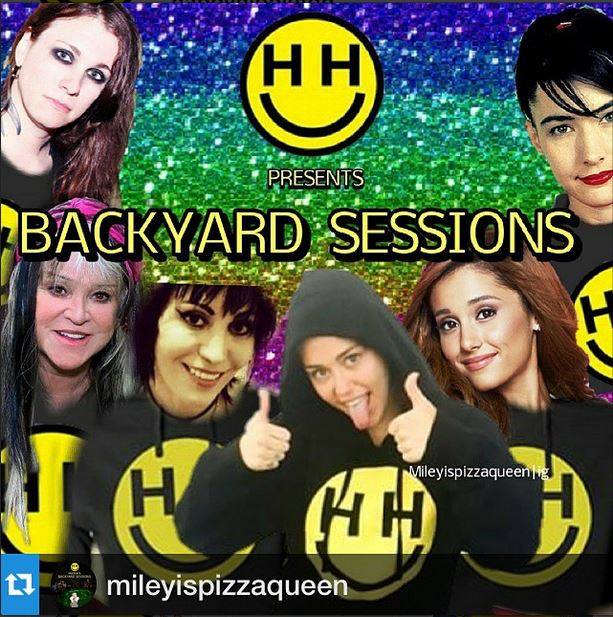 Cyrus also did an exclusive interview with OUT about the foundation, and, according to that interview, Miley has "spent a lot of time struggling with traditional gender expectations." She told the magazine, "I didn't want to be a boy. I kind of wanted to be nothing. I don't relate to what people would say defines a girl or a boy, and I think that's what I had to understand: Being a girl isn't what I hate, it's the box that I get put into." Some seem eager to classify this as Miley coming out as genderqueer, but that feels like a pretty generous leap for a young woman expressing a relatively common struggle with the boxes women get put into. Miley declared her dedication to a label-free existence on instagram, screenshotting The Daily Dot's article about her and declaring "NOTHING can/will define me! Free to be EVERYTHING!"
https://instagram.com/p/2WJAqmwzOQ/?taken-by=mileycyrus
Miley also told Out magazine that she's been "haunted by the murders of transgender women and the suicide of trans teenager Leelah Alcorn," reflecting a relatively impressive level of awareness around a very important issue in the LGBTQ community. Cyrus has long been an advocate for LGBTQ rights, much to the delight of many queers and the chagrin of many others. She also has a gay haircut.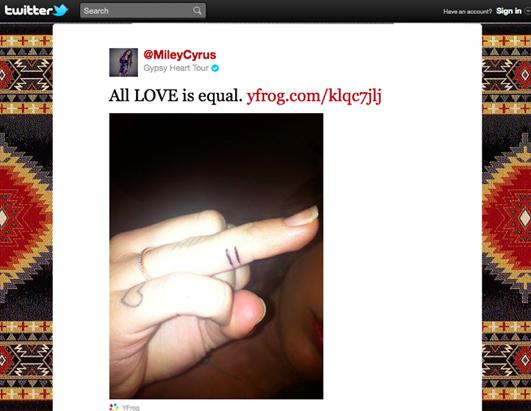 Additionally, Miley Cyrus recently posed on the red carpet at the Met Gala with Zoe Kravitz. Kravitz dropped a new music video yesterday with her band Lolawolf, which features Miley Cyrus and Zoe looking at each other's butts, playing with toy guns and playing cards in their underwear. Last I checked, that's a relationship, so.
Gothip Girl, our traditional reporter on breaking celebrity news, was unable to write this article today because of a fire at her place of employment, but she told me exclusively: "We've always suspected Miley Cyrus was a "friendly "girl, but the news that she's had a number of anonymous gal pals in the past gives us all hope. Personally, I suspect if she ever decided to come to A-Camp, she'd make a TON of friends. I mean, I'd be her friend."
If you wanna ask Miley questions about her charity or invite her to A-Camp, hit up Happy Hippie's facebook page at 3PM!
In conclusion, women are irresistible and pretty much everybody is figuring that out, including other women.