Feature image via prblmtq.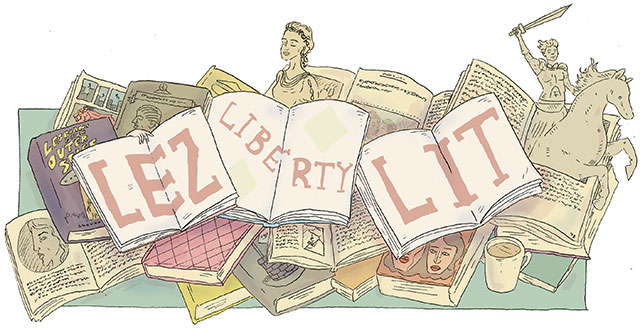 At LitHub, Tanwi Nandini Islam discusses writing transnational trans characters diaspora, being read differently across cultures and more:
"Writing fiction that explores gender and sexual identity across borders is a site of profound transformation and dialogue. Those conversations that we're not having can happen. Finessing these large political identities into intimate portraits and scenes is the heart of writing a novel about characters across borders. My characters emerge as part of an infinite continuum of sexualities, genders, and nationalities. Diaspora—derived from the Greek diaspeiro—is a portmanteau of dia, or "between," and speiro, "I sow, I scatter." Our collective scattering in South Asia includes Bangladesh, India, Pakistan, Nepal, Sri Lanka, Tibet, Bhutan, and Afghanistan. Past the Indian Ocean we've dispersed to every continent on earth (Yes, Antarctica too. Thanks, India.)

Diaspora is a porous entity, a net that tries to catch all of our shared histories. While a dominant story is told and retold—say that of a straight Indian male—there are many others that remain untold. Rather than thinking of these as voiceless characters, I like to think of them as bioluminescence beyond the net's reach."
Roxane Gay and Ta-Nehisi Coates had a conversation about Coates's Between The World And Me, which he describes as a personal essay in three parts, black bodies, discussing race and more:
"There is tendency in academia and in (some) social justice circles to make that which is oppressive distant and abstract. We use a language, which at times obscures what's going on — racial discrimination, racial segregation, racial justice, etc. This sort of language eliminates the actual actions of actual people. It was deeply important to me to situate racism as a done thing: as a thing you actually feel. I should add that in my stripe of atheism, it's very hard to see beyond the body. There is a tendency to adopt euphemism when confronted with the very real violence that comes with having a foot on your neck."
Everyone (else) is now publishing fiction.
Literary friendship is full of power, write Alexandra Kleeman and Kathleen Alcott: "Writing can be a lonely profession, but when you meet someone whose mind you trust, whose opinions you adore, and whose brain you'd like to smash into yours until they form a single powerful thinking entity, it's not so bad."
Book theft was a problem for medieval times, solved by chains, chests that also came with chains and curses.
At the Hairpin, Helen Holmes wrote about reading Clarice Lispector's Água Viva, noting that it "works that magic of being shatteringly universal and utterly individual."
Rereading books has a particular kind of magic, both for learning more about the book and for learning more about yourself:
"When I first read Harry Potter, I read as a young person, as a student with little regard for the systems I moved in. Rereading it in 2010 (and again in 2013 and 2015), I read as a grown up, as a teacher. I felt newly horrified by all the ways in which Harry's caretakers and instructors fail him: living in a closet under the stairs, once charming and hyperbolic, was straight-up child abuse. No neighbor called social services? Dumbledore couldn't even ensure that the Dursley's fed Harry adequately? (Who is going to kill Voldemort if Harry dies of malnutrition?) The experience was profound, not just because I was reading a text I knew and loved, but because I was also — in a way—reading myself. The series shook me in a way it hadn't the first time I read it."
The New York Public Library has an interactive map of novels based around the city. You could also observe an illustrated tour of New York from a dog's perspective.
Threesomes are the biggest thing in YA right now.
You could drink this book.
At Lambda Literary, Cat Fitzpatrick reviewed Baltimore: A Love Letter by Dana Figueroa Edidi. Heather Seggel reviewed Talk by Linda Rosenkrantz. Francisco Tirado reviewed Skyscraping by Cordelia Jensen. Sarah Sarai reviewed The One That Got Away by Carol Rosenfeld.
On Autostraddle, Mey wrote about Raina Telgemeier and Sara Graley. Riese listed lesbian slang you've never heard before. Melanie wrote about Jennica Harper's What It Feels Like for a Girl. Fikri wrote about Tanwi Nandini Islam's Bright Lines. Audrey wrote about The Right Side of History.
Book Things To Do In Person
21 August, Los Angeles: As part of the Nepantla reading series, Ryka Aoki, Joshua Jennifer Espinoza, Imani Tolliver, Margaret Rhee and Myriam Gurba will read at ONE National Gay & Lesbian Archives (909 W Adams Blvd.), 7 p.m.
22 August, Portland: Lori Lake, Karelia Stetz-Waters, Kate McLachlan, Jove Belle and Tonie Chacon will read from their work and discuss writing lesbian characters as lesbian authors at Another Read Through (3932 N Mississippi Ave), 1:30 p.m.
28 August, Berkeley: As part of the Nepantla reading series, Jewelle Gomez, Yosimar Reyes, Arisa White and Marvin K. White will read at Berkeley City College (student lounge, fifth floor, 2050 Center St.), 7 p.m.
1 December: Submissions for Topside's short speculative fiction anthology by trans writers are due.
1 December #Trans: An Anthology Collection about Transgender and Nonbinary Experience Online are due.
Know of a queer event with literary merit? Send it to us! The Liberty Lit is bi-weekly.