I've lived almost all my life now Muslim and a significant part of it queer, and y'know how many (non-academic) books on queer Muslims I've read? None. Zero. So I was really excited to get my hands on Tanwi Nandini Islam's Bright Lines, a debut novel about a Bangladeshi-American family in Brooklyn. In a multigenerational, transcontinental tale, Islam weaves together issues of gender and sexuality across cultures, migration, in/dependence, family secrets, conflict and tragedy, and well, botany. (Don't knock it till you've tried it — I was ready to skim through any scenes that involved lingering around roses, but this particular theme turned out to be surprisingly central to the narrative.)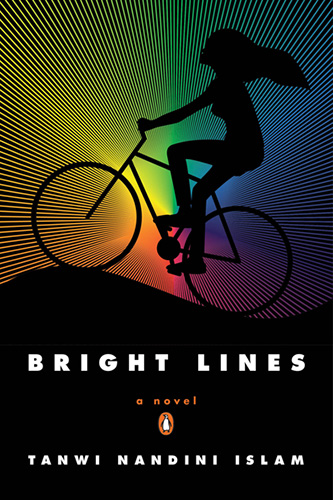 I found an unexpected favourite in the character of Anwar Saleem, a pot-smoking, well-meaning father-of-two who struggles to relate to his children after "their first bleeding had changed everything." I say "unexpected" exactly because he's the kind of guy who would imagine menstruation to be the cause of all his newfound inadequacies as a parent, but "favourite" because his sincere, reflective bumbling through middle age came to grow on me.
Anwar wondered how Charu knew this feeling of love. It was further proof of their distance. Had the movies taught her?
His story — together with that of his wife, Hashi — is revealed simultaneously through recollections of the Bangladesh Liberation War and the everyday goings-on of early-2000s Clinton Hill. Their struggles with marriage, family, community, history and religion are honest and endearing, and you might just find yourself rooting for them the way I did.
In contrast, the younger characters fell a little flat with me. Charu's looks are constantly emphasised at the expense of more compelling character development for too much of the book (also making her the rather uncomfortable target of desire of both her sibling/cousin and uncle), while El's self-serving brooding wore me out quickly. I took to their love interests better but neither got enough attention to really take form as fully fleshed out characters, and I found the romances themselves unconvincing.
The two siblings really come into their own when they visit Bangladesh. I initially resisted this, because using a third world country as the backdrop to a first world citizen's emotional growth is far too common a trope in storytelling. But Bangladesh is an integral part of both the characters' and author's history — they weren't Eat Pray Love-ing it, in other words — so it flows a lot better when you keep in mind that this is Bangladesh specifically as seen from the perspective of middle-class second-generation USAmerican migrants.
Ella felt a tug on her arm. A young girl, no older than eight or nine, stared up at her. She held out her little hand and said, "Kola dao." Give me a banana.

—Here, child, said Rana.

He pulled out three ten-taka bills. —Buy a bunch of bananas. He turned to Ella. "And that's how it is here. Brilliant characters everywhere you go. But the price you pay is guilt and too much traffic."
Also, while the book centres the coming-of-age of a transmasculine character, the inclusion of other queer folks sometimes came across as tokenistic: the trans woman they run into at a party, the hijra they encounter at a slum. There are a lot of characters — many of whom I was interested in getting to know better, regardless of how I felt about Charu and El — in these 300-odd pages, and at the end of it I found myself asking "wait, what happened to _____?" once too often to feel satisfied by the resolution.
Rana tapped the steering wheel, trying to think. "You know, I've heard of one word—swadhin. An Indian photographer I met—he told me the word meant a woman turned into a man. Over there, they've got a lot of interesting words we haven't found yet. I remember it stayed with me. Maybe because the photographer wanted to take me home after the exhibit. It's a good word. Swadhin."

"Why? What's it mean?"

"'Ultimate liberation.' We use it when we talk about winning the war."

"I've heard Anwar say it."

"But in this case, it means a female finding salvation by becoming a man. Which I'm not sure is possible."

"What's not possible?"

"Finding salvation."
Bright Lines, to be honest, did not live up to my expectations. I wanted to like it a lot more than I actually did. There was perhaps too much going on in too short a book, especially given that important events frequently bordered on the fantastical, including a fire, an orchestrated escape, and death by trampling — just to give a taste. Still, it's a good read and the writing shows incredible promise, and I look forward to reading more both from Islam and other writers exploring the intersections of queerness, race, religion and nationality.
Bright Lines (Penguin Books) by Tanwi Nandini Islam will be released on August 11, 2015. Preorder your copy on Amazon.