Welcome to Gal Pal Week on Autostraddle.com! Usually, our queer identities are discussed in three contexts: relationships, family, and politics. But our queerness plays a role in our friendships, too, and this week is all about that. We're celebrating gals who are genuinely pals (not girlfriends labeled "gal pals" by weirdo mass media.) We've got lots of fun content lined up — most notably a set of Queer BFF interviews — as well as new "gal pal" merch you're gonna love!
Whether you're deeply devoted to your BFF or having your publicist deny your romantic relationship to tabloid reporters, it's important to recognize the value of your gal pals. This playlist's got it all — songs about the value of having true and tested partners in crime, songs about finding out who your true friends are, and songs about the exquisite pain that comes with wanting to be more than friends. We hope you and your gal pals enjoy these songs on your Thelma and Louise-esque roadtrip, wherein you play by your own rules, take no prisoners and bring out the best in each other.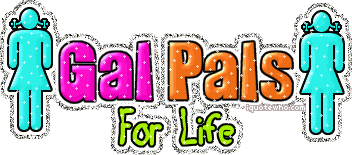 ---
Gal Pal Mix
[STREAM THE PLAYLIST]
Electric Lady – Janelle Monáe f/ Solange
Run The World (Girls) – Beyoncé
What About Your Friends – TLC
Wannabe – Spice Girls
Count On Me – Whitney Houston, Ce Ce Winans
Flawless (remix) – Beyoncé f/ Nicki Minaj
Cool For The Summer – Demi Lovato
Loves Me Not – t.A.T.u.
Damn I Wish I Was Your Lover – Sophie B Hawkins
The Whole Night – Ani DiFranco
Tonight's The Night – Janet Jackson
True Friend – Hannah Montana
All My Friends – LCD Soundsystem
---
Want to suggest a playlist theme? Hit Stef up and someone on the team might make it for you.