This article was created in partnership with HBO, in celebration of the premiere of Season Two of Gentleman Jack. 
---
There's a timeless allure to the concept of a Lesbian Power Couple – the idea of two accomplished, brilliant LGBTQ+ women aligning romantically, combining two extraordinary resumes under one unsuspecting roof. It is often simply too much to bear, all that queer excellence in one instagram photo of two female Olympians who not only know each other, but love each other and wore matching pajamas on Christmas. Often these partnerships turn into creative or professional collaborations, or they simply enable each other to better pursue their own interests in activism, art, social change and entrepreneurship.
Although lesbian couples only recently have been able to live openly as such, lesbian power couples have existed for centuries. In fact, the vast majority of historical lesbian couples we're currently aware of could be defined as Power Couples, as it was their noted accomplishments that garnered them a space on the historical record. That said, many lesbian power couples have been lost to the annals of history because they lacked the racial, economic or social privilege to have their lives documented.
Speaking of those with the privilege to have their lives recorded for posterity, one of history's first lesbian power couples – who certainly would've used that term for themselves had they known it – were Anne Lister and Ann Walker, whose story is told in HBO's Gentleman Jack. In celebration of the Season 2 premiere, we're here to celebrate some of our favorite lesbian power couples from yesterday and today: the partnerships that inspire our awe and envy.
---
1. Anne Lister (1791 – 1840) and Ann Walker (1803 – 1854)
Anne Lister and Ann Walker are generally regarded as the first gay couple to get married in the UK. Of course, they had to do it in secret, taking sacrament together in their own private ceremony in Holy Trinity Church in York in 1834. Lister was no stranger to parading her lesbianism around Halifax — actually, she was no stranger to parading it around the world. Her many, many love affairs with other women fill the pages of the 27 enormous journals — comprising four million words — she wrote about her life as a landowner, businessperson, science and medical aficionado, hobby philosopher, and athlete. The lesbian parts she wrote in a code she devised herself! In addition to being England's first known married gay woman, Lister was also the first woman to ascend Mount Perdu in the Pyrenees and Mount Vignemale in France. Although she tried to settle down with many women over the years, it was her wealthy neighbor Ann Walker who ultimately captured her heart and had the courage to make it official with her, even moving into Anne's family home, Shibden Hall, which she had convinced her uncle to leave to her, instead of any of the men in her family. Anne and Ann attended social outings together, traveled the world together, and received the first LGBT memorial plaque in the UK — at the church where she and Ann married — 178 years after her death.
– Heather Hogan
---
2. Niecy Nash (b. 1970) & Jessica Betts (b. 1982)
It's not every couple that gets to say they literally broke the internet — but the day Niecy Nash announced her marriage to Jessica Betts, the world stopped. A multiple Emmy® and Critics Choice nominated actress with a career spanning nearly 30 years, and a star on the Hollywood Walk of Fame, it's hard not to celebrate Niecy's happiness. And she's never seemed happier, more at peace, or radiant than she's been with JB — an independent musician with an indelible smooth alto. The unofficial gay Aunties you love to root for on Instagram, in February the Betts also became the first same-sex couple to cover Essence magazine in the publication's 51 year history. And once again they broke the internet, proving that their ceiling-shattering Black love story is just getting started.
– Carmen Phillips
---
3. Dorothy Arzner (1897 – 1979) & Marion Morgan (1881 – 1971)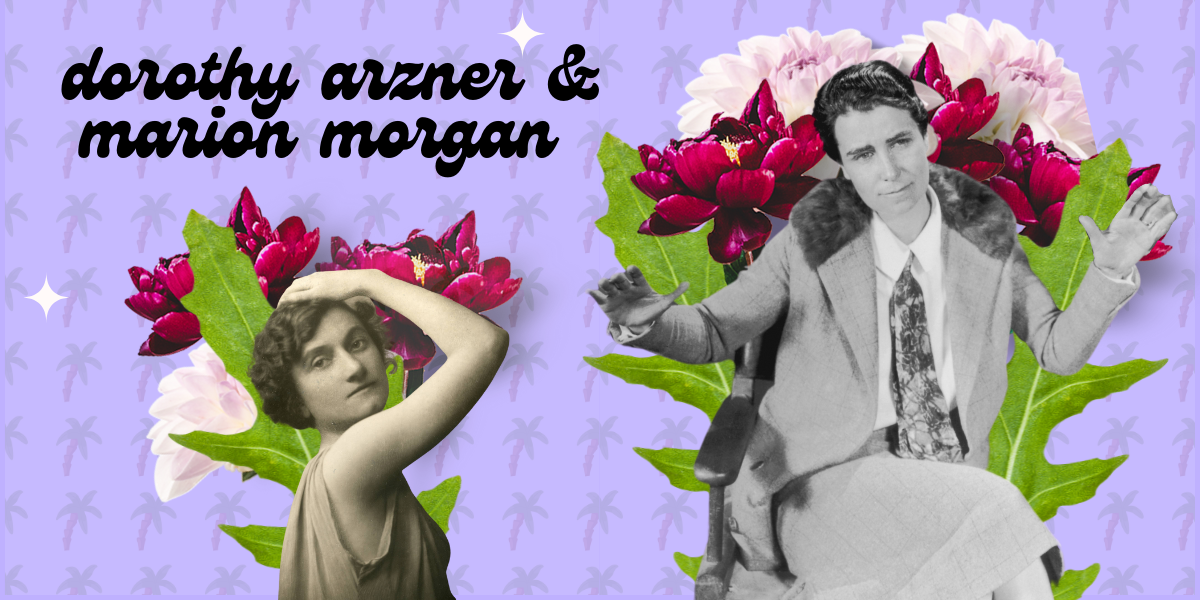 Reminder: women have been making movies since there were movies to make. And one of these early filmmaking icons was a promiscuous butch named Dorothy Arzner. In addition to launching the careers of people like Lucille Ball and Rosalind Russell and directing Paramount's first "talkie,wp_postsArzner is also widely credited with inventing the boom mic. As much a gay legend as a filmmaking one, Arzner had confirmed relationships with Billie Burke and Alla Nazimova and lots of rumored relationships with higher profile names like Joan Crawford and Katharine Hepburn.
But affairs are just affairs. Only one woman truly captured Arzner's heart. Marion Morgan was a choreographer with her own dance troupe who was so gay she made all her dancers be vegetarians. Arzner and Morgan met in 1921 on the set of a movie called Man-Woman-Marriage and ended up in a Woman-Woman-Partnership until Morgan's death fifty years later. They also established a working relationship with Morgan choreographing a sequence in Arzner's directorial debut, Fashions for Women (1927), and sequences in several other films including Dance, Girl, Dance (1940). They were as out as they could be for the time, living together in Los Feliz near the Griffith Observatory. Their art, their love, tucked in recent history, ready for the attention they've always deserved.
– Drew Gregory
---
4. Ariana DeBose (b. 1991) & Sue Makkoo (b. 1971)
A queer love story for the ages — that's Broadway baby! Ariana DeBose is the first queer woman of color to win an Academy Award® in acting for her work as Anita in 2021's "West Side Story." She credits her career to Broadway, where she worked in "Bring It On," "Motown: The Musical," "Hamilton," and as Disco Donna in "Summer: The Donna Summer Musical." Disco Donna changed her life; not only was she nominated for a Tony Award for Featured Actress in a Musical in 2018, it's also the production where she met her partner Sue Makkoo — who worked on the musical as a Costume Associate. Makkoo is a veteran costume designer and college professor, who also designed the Upstate New York cottage where the couple lives. It looks like it was created for Miss Honey in Matilda — you know, "if Miss Honey was a little bit rock and roll."
– Carmen Phillips
---
5. Sarah Paulson (b. 1974) & Holland Taylor (b. 1943)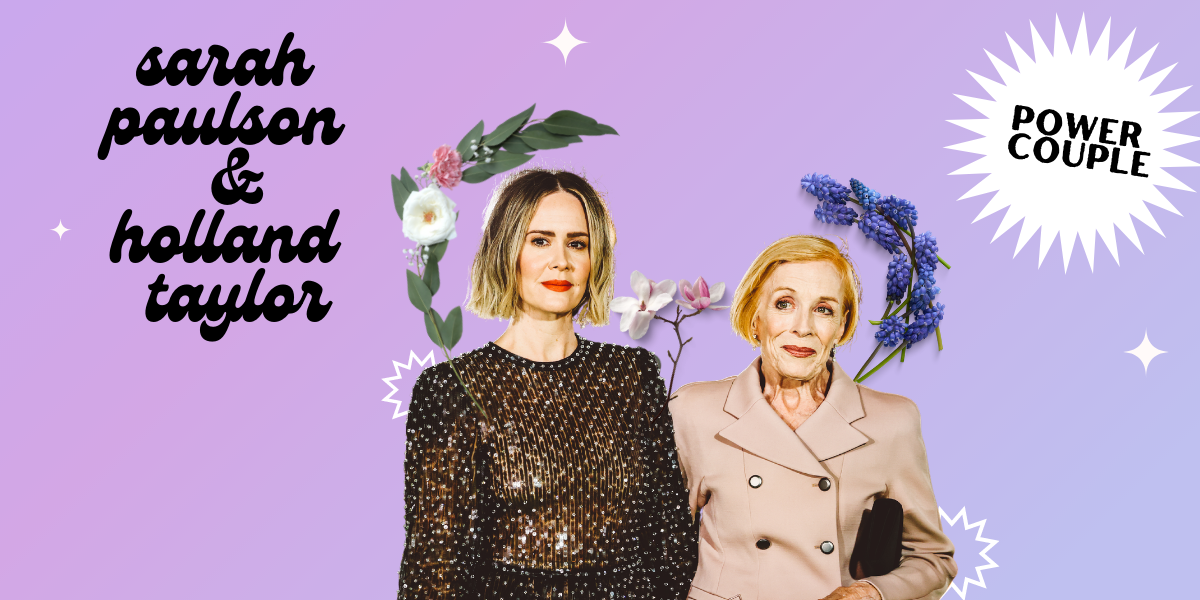 It feels a little silly to explain this one, no? I mean, it's Sarah Paulson AKA the best part about most seasons of American Horror Story and wildly prolific actress Holland Taylor AKA the greatest law professor in Legally Blonde!! What isn't to love about these two iconic Emmy®-winning actresses and their seven years together? From Sarah describing Holland as "probably the most exquisitely beautiful womanwp_postsshe's ever seen, to Holland sliding into Sarah's DMs after they ran into each other a few years following their introduction, they are a beacon of hope to all the online gays who just want a woman some thirty odd years older to DM them. (Tag yourself, I'm online gays!) Remember when they Zoomed into the virtual Emmy®'s and they were just snugged up on the couch looking so happy and content? Remember when Sarah was addicted to going on IG Live in 2020 and Holland was always happy to lend her reading glasses so Sarah could actually read the comments?? REMEMBER WHEN THEY ADOPTED WINNIE THE DOG? I do not know a better couple, and honestly I kind of hope I never do??
– Christina Tucker
---
6. Ruby Lucas (unknown) & Tiny Davis (1907 – 1994)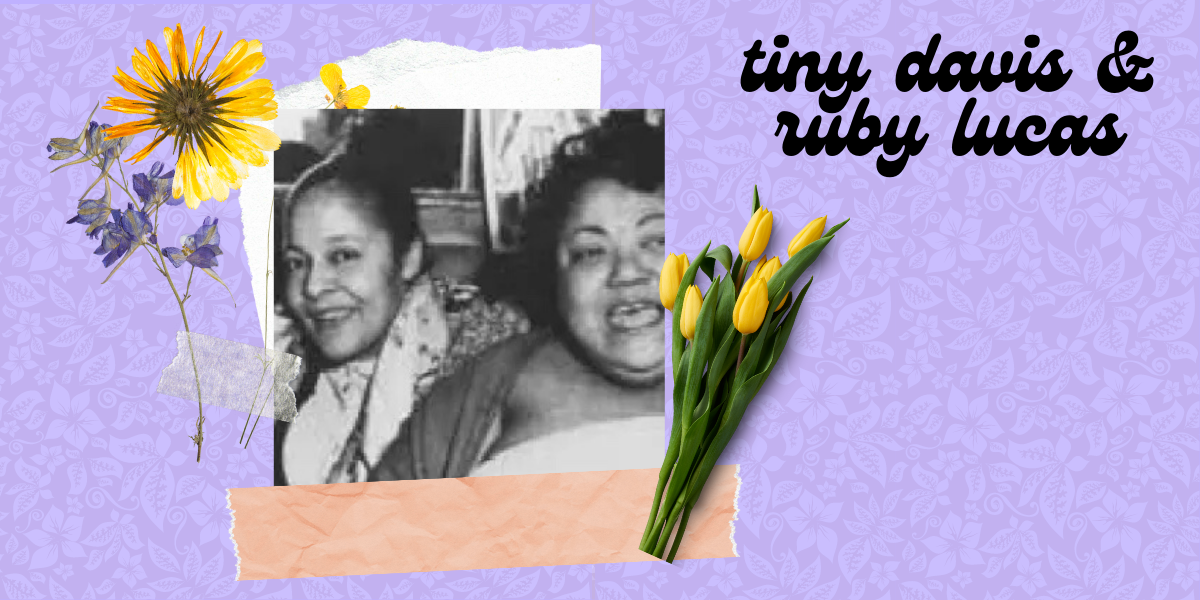 Truly no one made music like Ernestine "Tinywp_postsDavis and her partner Ruby Lucas, members of the all women's jazz band The International Sweethearts of Rhythm. Notorious with Black audiences in the late 1930s and 1940s, they performed everywhere from the Apollo in Harlem to the Howard Theater in Washington DC — where their debut shattered a box office record of 35,000 tickets in one week! Tiny on a trumpet and Ruby behind the mic was a sight to be seen, even Louis Armstrong and Count Basie counted themselves as fans. After the Sweethearts of Rhythm retired, Tiny Davis and Ruby Lucas went on to own "Tiny and Ruby's Gay Spotwp_postsin 1950s Chicago (we simply love a club with a direct gay name). In 1988, the short film "Tiny & Ruby: Hell Divin' Womenwp_postswas made as a tribute to their iconic, decades long love.
– Carmen Phillips
---
7. Da Brat (b. 1974) & Judy Dupart (b. 1982)
Rap veteran Shawntae "Da Bratwp_postsHarris married Jesseca "Judywp_postsDupart just this past February — 2/22/22. They picked the date on purpose, calling each other their "twin flame.wp_postsThat's gay. Da Brat's been making music for over 30 years, signing with So So Def records in 1992 and recording two different Top Ten hits on the Billboard Hot 100. Dupart's an entrepreneur and beauty mogul; her Kaleidoscope Hair Products (she's the founder and CEO) has grown into a multi-million dollar business. Those accomplishments are impressive on their own, but together Da Brat and Judy are unstoppable. That wedding? Fairy tale worthy. Cinderella style carriages and all. And did we mention there's also a new baby on the way?
– Carmen Phillips
---
8. Tuulikki Pietilä (1917 – 2009) & Tove Jansson (1914 – 2001)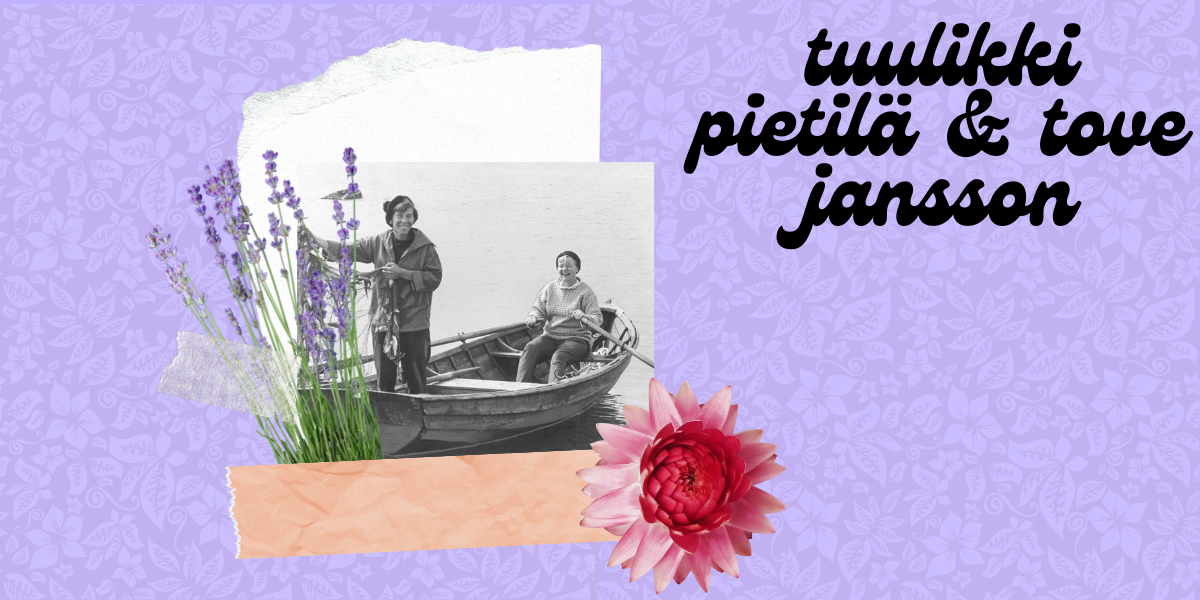 Tuulikki Pietilä and Tove Jansson truly embodied the lesbian art couple dream – after meeting in the mid-1950s, they spent 45 years together in adjacent studios in Helsinki and then a remote island in the Gulf of Finland. Jansson is, of course, the creator of the highly beloved Moomins, characters featured in her comics and books, which have spawned TV series, theme parks, plays, video games, music and so much more. Her passionate worldwide audience includes queers who felt drawn to familiar themes in her work. Meanwhile, Pietilä is considered one of the most influential Finnish graphic artists of all time. In addition to her own work as an artist, educator and writer, she and Jansson collaborated on many art projects, including the Moomins, and she inspired the character Tooticky. They also recorded footage of their travels throughout Europe from 1972-1993, which have been collected in the documentaries "Haru, the Lonely Islandwp_postsand "Tove and Tooti in Europe.wp_postsJansson also wrote a short story collection, Fair Play, that fictionalized her relationship with Pietila. Jansson's legacy — as an author, as an artist, and as a lesbian icon – is continually being re-evaluated,wp_postswrites Hannah Williams. "But the public perception of her as a lonely figure bent over her Moomin drawings, isolated on her Finnish island, still lingers. Jansson's private life is still hidden from view, glossed over in author biographies and critical examinations of her work. But to neglect to pay attention to this; to treat Jansson's queerness as extraneous, is to fail to see how crucial her love for women is to her work. Whether in the pages of her Moomin books or on the walls of Helsinki, it's on display to all those who care to look."
– Riese Bernard
---
9. Megan Rapinoe (b. 1985) & Sue Bird (b.1980)
When Sue Bird and Megan Rapinoe went public with their relationship in 2017, the sports world and the gay world took a collective gasp of shock and awe. Rapinoe, of course, has been open about her sexuality for as long as she's been playing soccer professionally and for the USWNT. She's even joked(?) on multiple occasions that the one word that best describes her is GAY. Bird, like so many athletes in the WNBA, had long been rumored to be queer, but she didn't open up about it until she started showing up everywhere with soccer's most famous lesbian. (Which is saying something because soccer is almost as gay as basketball.) Their relationship really became public, though, when Donald Trump went after Rapinoe during the FIFA Women's World Cup in 2019. Bird wrote an essay in the Players Tribune called "So the President F*cking Hates My Girlfriend" and the rest is history. They did ESPN's Body Issue together, kissed on the lips on national TV at the 2021 summer Olympics, and are now doing insurance ads together. Makes sense: That's a whole lot of gold medals and world championship trophies under one roof.
– Heather Hogan
---
10. Mai-Mai Sze (1909 – 1992) & Irene Sharaff (1910 – 1993)
Mai-Mai Sze, the daughter of the first Chinese ambassador to the U.S., is best known for an oft-reproduced drawing of Eugene O'Neill and her English translation of the 15th century Chinese text The Mustard Seed Garden Manual of Painting —published as The Tao of Painting — but her full resume is long and diverse. She exhibited her art worldwide, wrote several books of fiction and non-fiction, was a new York Post columnist, organized New York's Chinese War Relief Committee and was photographed for fashion magazines including Vogue. Her life partner, Irene Sharaff, is amongst the greatest costume designers of all time – from working on over 40 movies and 60 stage productions she won five Academy Awards® (for films including West Side Story, Cleopatra and The King and I) and a Tony. The couple lived together in New York, traveled together on Sharaff's work trips, attended literary parties and made a life together that allowed both space to grow intellectually and creatively, while maintaining love and devotion to each other. In fact they were SO devoted that they managed to die within months of one another, after donating their book collections to the New York Society Library and a generous monetary gift to Lucy Cavendish College, where their ashes lie underneath a rock in the Music and Meditation Pavilion.
– Riese Bernard
---
11. Jane Addams (1860 – 1935) and Ellen Gates Starr (1859 – 1940)
Jane Addams, quite notably the first American woman to win a Nobel Peace Prize, met social reformer Ellen Gates Starr at the Rockford Female Seminary in 1877 and together they founded the now-legendary Hull House in Chicago. Designed to provide social and educational opportunities for working class women (mostly recent immigrants), the Hull House offered classes in literature and history, hosted public concerts, provided child care and midwifery, sheltered victims of domestic violence and worked within the neighborhood to study and provide resources around poverty to enable progressive legislation. Starr was active in the labor reform and Arts and Crafts movement, and eventually got super into religion, around the same time as her breakup with Addams, who went on to date the daughter of a wealthy Chicago industrialist who supported her projects. Addams never slowed down: she co-founded the American Civil Liberties Union, founded the concept of Social work as a profession (which has since enticed many lesbians), campaigned for international peace throughout World War I and died as the best-known female social reformer in the country.
– Riese Bernard
---
12. Lauren Morelli (b. 1982) & Samira Wiley (b. 1987)
In 2014, during the height of Orange Is the New Black's popularity, news broke that Samira Wiley (who played Poussey, everyone's favorite character in the series) was dating writer Lauren Morelli. The news followed an essay Morelli penned on Mic about realizing she was gay while writing on the show. Since they've been together, Wiley has snagged a Primetime Emmy® Award for Outstanding Guest Actress in a Drama Series for her work as Moira in The Handmaid's Tale, and starred in numerous movies and TV series, including making Karen finally pay-off her bisexual jokes on Will & Grace! Morelli was nominated twice by the Writers Guild of America for her writing on Orange Is the New Black and adapted the wildly popular pulp series, Tales of the City, from Netflix. Most recently, the TV power couple welcomed a baby girl, George Elizabeth, into the world.
– Heather Hogan
---
13. Ethel Williams (1891 – 1961?) & Ethel Waters (1896 – 1977)
Ethel Waters is one of the most influential Black women in the history of entertainment: she started out as a dancer on the Black vaudeville circuit, performed as a Blues singer during the Harlem Renaissance, and her extraordinary voice made her the highest paid Black recording artist of the early '20s. By the late '20s she was appearing in Broadway musicals, and she eventually added film and television to her resume: she was the second Black person nominated for an Academy Award® (for Pinky), the first to star in her own television show (The Ethel Waters Show) and the first nominated for a Primetime Emmy®.
In 1920s Harlem, Waters didn't have to hide her bisexuality or her relationship with dancer Ethel Williams, who she met at the Alhabmbra Theater in Harlem. Waters got Williams a job at the cabaret where she worked and took Williams on her first nationwide tour, where Williams did a pre-show dance to warm up the crowd. They had a bit in the touring revenue Oh! Joy! about being "partnerswp_poststhat resonated with queer audiences while bypassing the notice of straight ones. They eventually lived together in Waters' prestigious address in Harlem's Sugar Hill. Waters' managers at Black Swan manufactured gossip to explain her lack of a male partner but as her star rose, Waters eventually did leave Williams and married a male dancer, Clarence Dotson.
– Riese Bernard
---
14. Marty Mann (1904 – 1980) and Priscilla Peck (1907 – 1982)
Amongst the liquor-soaked stories of daring lesbian heiresses and tortured bisexual poets of the early-to-mid-century we find one couple in recovery who often served as inspiration to gay women looking to beat their addictions to drugs or alcohol — Marty Mann and Priscilla Peck. Marty Mann is commonly known as "the first lady of AAwp_postsand was a pivotal figure back when people didn't really believe or understand that alcoholism was a disease or that women could suffer from it. She wrote a chapter of AA's primary text and went on to organize the National Council on Alcoholism. She spent her life traveling across the country teaching doctors, politicians and regular human beings about alcoholism, while hoping to reduce stigma around it. Her partner Priscilla, an art lover and pianist, worked as an art director at Harper's Bazaar and at Sak's Fifth Avenue before becoming Art Editor of Vogue in 1947, where she remained until her retirement. They were both amongst the founders of AA's magazine "The Grapevine.wp_postsThey did business trips together and entertained in their shared apartment in Greenwich Village. Marty and Priscilla's circles overlapped with all the major queer figures of the era, including Carson McCulers and Jane Bowles — they vacationed on noted hotbed Cherry Grove on Fire Island, where they could live openly in a way they couldn't in their professional lives.
– Riese Bernard
---
15. Gail Marquis (b.1954) & Audrey Smaltz (b.1937)
When these two announced their union in The New York Times in 2011, the whole community took a moment to swoon: Gail Marquis, a 6'2 former professional basketball player who'd won a silver medal in the 1976 Montreal Olympics and Audrey Smaltz, a 6-foot-tall former model and Ebony fashion commentator and the CEO of backstage management company Ground Crew, were married in pantsuits in Central Park at the ages of 74 (Smaltz) and 56 (Marquis). They'd met at a Landmark seminar in 1999, and were immediately drawn to each other, although Smaltz had never dated a woman before. While continuing their fordimade careers, they also campaigned for marriage equality, appearing in this adorable 2013 Freedom to Marry Video and earning a spot on the annual Out 100.
– Riese Bernard
---
16. Ruth Ellis (1899 – 2000) & Babe Franklin (1909 – 1973)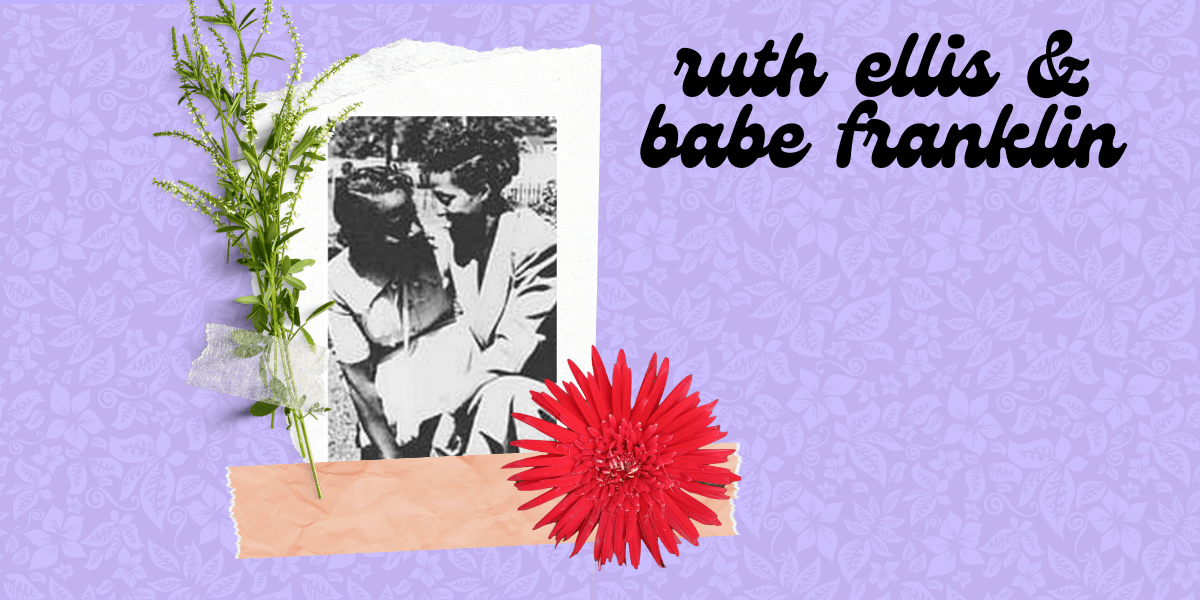 Detroit's Ruth Ellis Center, which provides housing and support services for LGBTQ+ youth, is named after lesbian legend Ruth Ellis, who lived until the age of 101, telling a photographer of her new gay friends: "I'm the oldest lesbian that they know of. That's it. Everyone wants to meet this old lesbian.They just take me around here, there and yonder. " Once upon a time she was a young lesbian, who met Ceciline "Babewp_postsFranklin in 1936, and U-Hauled with her in Detroit, where they founded The Ellis and Franklin Printing Company, making Ellis the first woman in the city to own her own printing business. Franklin worked as a chef. In 1946, they bought the house that came to be known as "the Gay Spot,wp_postsa gathering place for the local Black gay and lesbian community who were unwelcome in the white bar scene. They stayed together for 30 years. Ellis remained an activist for Black LGBTQ+ people all her life, and is honored by the city of Detroit on Ruth Ellis Day.
– Riese Bernard