Howdy, howdy, howdy — here's your Monday Pop Culture Fix!
---
+ On Saturday night, right after Team USA won another gold medal in women's basketball, Sue Bird kissed Megan Rapinoe on the sidelines, and our traffic went THROUGH THE ROOF.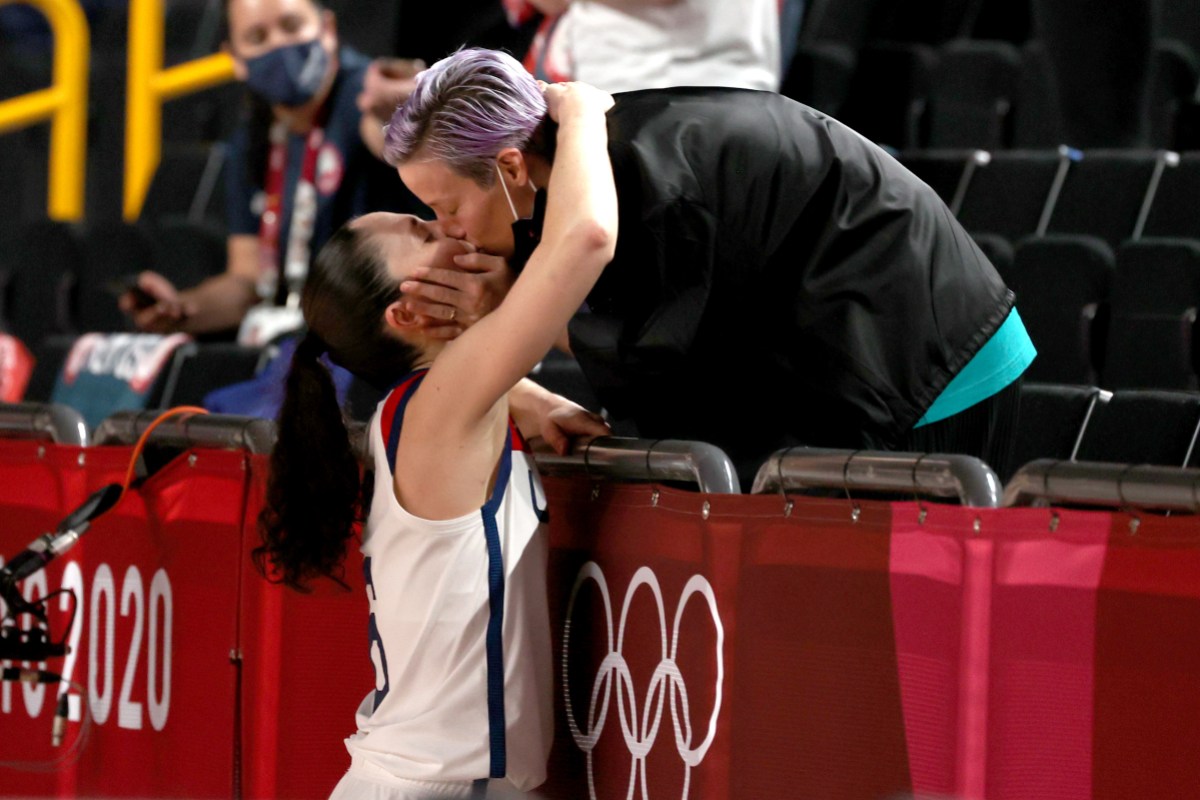 Riese thought we were under attack. It was our biggest sudden traffic spike since we started tracking real-time traffic in 2018. We got over ten thousand views in ten minutes at midnight on a Saturday, which is usually the slowest hour of the week. Luckily it was just straight people frantically Googling what they did not know and landing on Autostraddle dot com.
Last night @autostraddle had its biggest traffic spike ever when sue bird kissed Megan Rapinoe and for five minutes the entire world was googling "Olympics basketball gay" https://t.co/UAbcltyVGx

— riese (@autowin) August 8, 2021
I would be remiss not to also mention that four of the five starters on Team USA — Brittney Griner, Breanna Stewart, Diana Taurasi, and Sue Bird — are gay, gay, gay, and so is their often-times six man, Chelsea Gray. And so is 3 x 3 gold medal winner Stefanie Dolson. So! 🏀🌈
+ How Gossip Girl broke the fantasy of being the world's most special girl.
+ I am so torn between being constantly annoyed at everything Ryan Murphy touches and also really wanting to watch American Crime Story: Impeachment. Here's the first teaser Beanie Feldstein is doing nothing to quell my curiosity.
+ And also here's the trailer for Diary of a Future President season two!
+ If everything's a little bit gay, what happens to queer film and TV?
+ Dominic Fike, Minka Kelly, and Demetrius 'Lil Meech' Flenory Jr are joining the cast of Euphoria.
+ Jennifer Beals talked to EW about Bette's season two love journey on Generation Q.
+ This NYT profile of Ashley Nicole Black is an excellent read to kick off your week.
+ Margot Robbie opens up about bisexual anti-hero Harley Quinn — and Leslie Grace's casting as Batgirl — in new interview.
+ Also: Margot Robbie really did that foot escape in Suicide Squad 2.
+ Why is The Owl House so far ahead of the rest of Disney when it comes to queer representation?
+ Lesley Goldberg and Daniel Fienberg's THR "TV's Top 5" podcast features Gen Q showrunner Marja-Lewis Ryan this week.
+ The trailer for Ashley Benson's new noir thriller is — sadly, and unlike Ashley Benson — very straight.
+ Jes Macallan on her directorial debut in last night's "wackadoo" Legends of Tomorrow.
+ Ellen's goodbyes begin next month.
+ Elliot Page will be honored at OutFest with the LGBTQ film festival's annual Achievement Award.
+ The trailer for FX/Hulu's Y: The Last Man trailer is here and I am so nervous about this show after reading the kiiiinda problematic comic books.