Lesbians are well-known for our unique ability to find a girlfriend and then turn that romantic relationship into an all-consuming life partnership — starting businesses, pursuing activism, revolutionizing social services, erecting schools, liberating marginalized groups. This is true today but has also been true since the beginning of time. Back in the day, many women were held back from activism and entrepreneurship by the demands of marriage and motherhood, making some women-loving-women uniquely able to pursue civilization-shifting ventures. (Although many managed to do both!) We're gonna talk about some of those relationships here today.
For the purposes of this list, I defined "power couple" as a relationship through which both women were able to achieve greater professional, artistic or service-related success because of their relationship with each other. I leaned towards couples that actually made or did things together — whether that be starting a school, hosting a nightclub, creating social services for disadvantaged humans or making films. Also, as usual, the word "lesbian" is used as an adjective to describe a same-sex relationship, not the sexual orientation of the women in the relationship.
Sources include Elisa Rolle's Days of Love: Celebrating LGBT History One Story at a Time, Lilian Faderman's To Believe in Women: What Lesbians Have Done For America – A History and Christina Anne Wooner's incredible thesis I stayed up late reading last night, "The Famous Lady Lovers: African American Women and Same-Sex Desire from Reconstruction to World War II." Most other sources are linked within the post. I found a lot of contradictory information throughout my research so I imagine many of you will have some of your own!
For this installment, I'm focusing on couples who began their courtship prior to 1940. Future installments will obviously be more racially diverse as we move into eras where non-white people had more access to "power" and also more recorded histories.
---
16 Lesbian Power Couples, 1830s – 1940s
Rebecca Perot and Minister Rebecca Cox Jackson (1830s-1871)
Rebecca Cox Jackson was raised in an African Methodist Episcopal family but, following a spiritual vision that put the voice of the divine within her, she broke off from the patriarchal church to start her own thing. Her success as a preacher led to her divorce, which led to her traveling around Pennsylvania and New England sharing her gifts, eventually falling for the community she found within a woman-led group of Shakers. She became a Shaker minister and met Rebecca Perot, with whom she joined a sect of the Watervliet Shakers. Eventually the two women — whose "mystical visions" had feminist and homoerotic undertones and often featured the other in divine contexts — decided they'd had it with white people and started their own family of black Shakers in Philadelphia, combining black female praying band traditions with Shaker theology. When Jackson died in 1871, Perot re-named herself "Mother Rebecca Jackson Jr" and took over the Philadelphia family.
---
Sallie Holley and Caroline Putnam (1848 – 1893)
Sallie and Caroline met at good ol' Oberlin College, and the noted "anti-slavery team" became agents of the American Anti-Slavery Society immediately after graduation. They traveled on the abolitionist lecture circuit, often along with the legendary Sojourner Truth. After the Civil War, Sallie stayed up North giving talks, raising money to educate freed slaves in the South, and Putnam went to Virginia to teach freed slaves, eventually starting The Holley School, which became America's first settlement house. Sallie then joined Caroline in Lottsburg, where they integrated themselves with the community, operated their school year-round and unlike some future suffragettes, were dedicated to enabling, preserving and protecting the right of Black men to vote even when white women could not yet do so. Sallie died in 1893 and Caroline in 1917, at which point the school was deeded to an all-Black board of trustees and continued operating for decades.
---
Harriet E. Giles and Sophia B. Packard (1855-1891)
Giles met Packard in in the mid-1850s when Giles was a student at the New Salem Academy in New Salem, Massachusetts, and Packard was the preceptor. They hit it off right away, and shortly thereafter shuttled off to Atlanta to start a school for Black women who had been newly released from slavery. Packard was the first president of the school, then known as the Atlanta Baptist Female Seminary and now known as Spelman College, when it opened its doors in 1888. Giles took over after Packard's death in 1891. The two women are now buried next to each other in Silver Lake Cemetery.
---
Ellen Gates Starr & Jane Addams (1877-1892)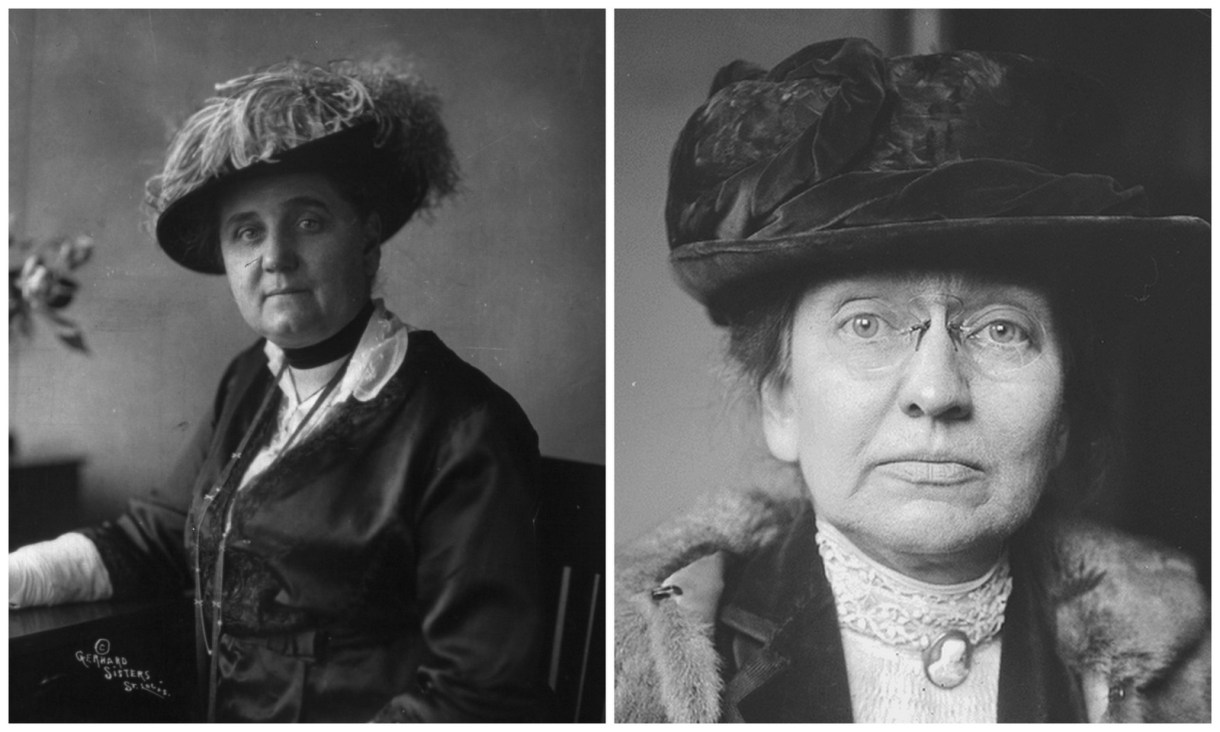 Ellen Gates Starr met Jane Addams at the Rockford Female Seminary in 1877, and it was through their relationship that Addams got the confidence to embark on the GROUNDBREAKING AND INFLUENTIAL Hull House Project in Chicago. The Hull House was part of a movement to provide social and educational opportunities for working class women, mostly recent immigrants; offering classes in literature and history, hosting public concerts, providing child care and putting on free lectures. The two women taught classes, served as on-call midwives, sheltered victims of domestic violence, and advocated for legislative reforms that are now seen as the first models for "social welfare." Ellen was far more religious than Jane, which may have played a role in their eventual breakup. Jane subsequently moved right along, in classic lesbian fashion, to Mary Rozet Smith, the daughter of a wealthy Chicago industrialist, who was very helpful to Addams' various missions through other means.
---
Edith Anna Somerville & Violet Florence Martin (1887-1915)
Edith, an Irish novelist and her cousin/girlfriend (listen it was a different time), Violet, co-wrote fourteen stories and novels under the name "Martin Ross." Their most popular titles were The Real Charlotte and The Experiences of Irish R.M.. After Violet's death, Edith was inconsolable, and decided to keep writing as Martin Ross, convinced the two were communicating through spiritualist séances, which I personally feel is totally legit.
---
Ethel Mars & Maud Hunt Squire (1894-1954)
These two American artists met at the Cincinnati Art Academy in the 1890s and stayed together for 60 years, living for patches in France and in Provincetown, Massachusetts. Maud was known for her book illustrations and color etchings, Ethel for her painting, color woodblock prints and drawings. They collaborated on projects like illustrating the legendary Child's Garden of Verses. The couple were regulars at Gertrude Stein's salon in France (and the subject of her word portrait Miss Furr and Miss Skeene). Also, The New York Times says they "loved to behave outrageously."
---
Mabel Reed & Mary Ellicott Arnold (1894-1963)
Mabel and Mary were together for around 69 years, having met as children in New Jersey, and went on to be prominent urban organizers, philanthropists and social activists. After five years of middling success farming a 50-acre plot, they put in time at the City and Suburban Homes Company, which provided housing solutions for the working poor. They were then positioned as "field matrons" at the Hoopa Valley Indian Reservation, where they defied pressure to enforce white cultural values upon the Natives who lived there, and wrote the book In the Land of the Grasshopper Song. Later organizing projects included cooperative cafeterias and apartments in New York, credit unions for lobster fisherman and cooperative housing projects for coal miners, as well as many other housing projects throughout the Northeast. They became widely regarded social activists and organizers, known for their drive to include women in their husband's housing decisions and unconcerned by critics of their unconventional behavior — wearing divided skirts, riding horses through the backwoods, living in non-white areas, and thwarting conventional Victorian female ideals.
---
Fannie Johnston & Mattie Edwards Hewitt (1901-1917)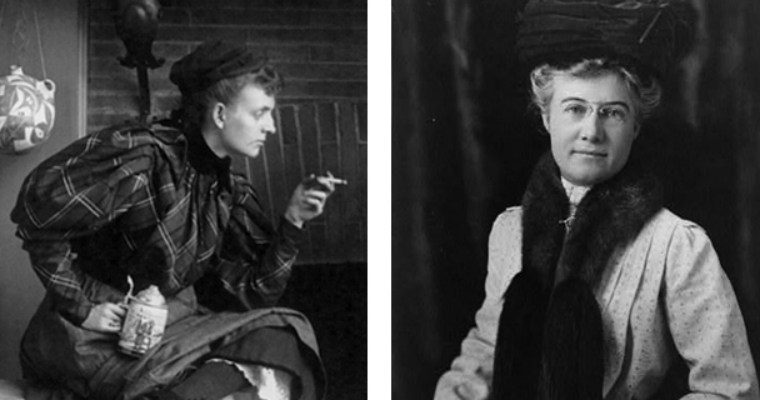 These two photographers met at the 1901 Pan American Exposition in Buffalo. Johnston was a pioneer in her field as one of the most successful female photographers in America, snagging cool gigs like shooting Edith Wharton's Paris-adjacent villa, Booker T Washington's face and Alice Roosevelt's wedding. Hewitt was then working as an assistant to her husband, also a photographer, who she officially divorced in 1909. Thus, after eight years of an intense epistolary long-distance love affair with Fannie, Mattie U-Hauled with Fannie in New York, eventually opening an architectural photography studio together. Like so many great power lesbian couples, Mattie's admiration of Fannie's work was instrumental in what drew them together. They were commissioned to photograph buildings like the Cathedral of St. John the Divine and the Hotel Manhattan. Then in 1917 they had a huge blowout fight and broke up forever.
---
Gertrude Stein & Alice B. Toklas (1907-1946)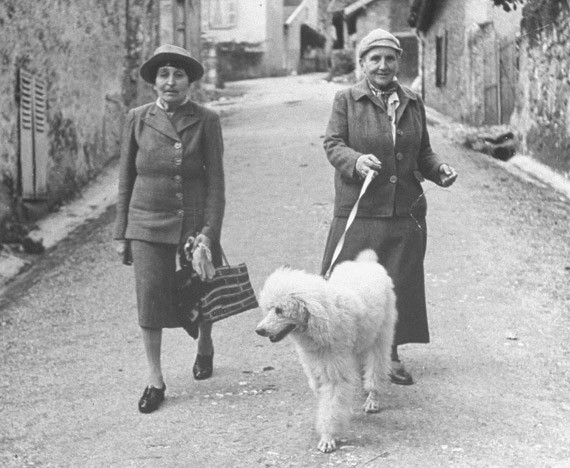 One of the most revered lesbian couples of all time, Gertrude Stein was an American novelist, playwright and poet with an unconventional style and a Modernist art collector. She met Alice B. Toklas, who would serve as her "confidante, lover, cook, secretary, muse, editor, critic and general organizer," the day Toklas arrived in Paris. Stein fell hard and fast for Toklas, and by 1910 they were hosting a salon in their home on 27 rue de Fleurus that is now known as one of the most influential gathering spots in the history of arts, literature and queerdom. Guests included Pablo Picasso, Ernest Hemmingway, F. Scott Fitzgerald, James Joyce, Thornton Wilder, Sherwood Anderson, Henri Matisse, Ethel Mars, Maud Hunt-Squire, Eleonara Sears, Eva Le Galienne and Francis Cyril Rose. Toklas hosted the wives and the girlfriends and Stein handled the men. The duo hit the big time with the mass market publication of The Autobiography of Alice B. Toklas in 1933, which led to an extended U.S. lecture tour. Toklas and Stein were together until Stein's death in 1946.
---
Frances Witherspoon & Tracy D. Mygatt (1908-1973)
Frances and Tracy both graduated from Bryn Mawr in 1908, and then committed themselves entirely to the causes that mattered to them: world peace, pacifism, women's rights and civil rights. But pacifism was always their number one passion. During World War I, they advocated for conscientious objectors: Tracy helped organize the Anti-Enlistment League and Frances founded America's first-ever organization to support the rights of objectors as well as those persecuted for free speech, the Bureau of Legal Advice. The BLA is considered the forerunner of the American Civil Liberties Union, which was founded shortly thereafter, and which worked in tandem with the BLA towards common causes. They joined the Socialist Party in New York upon moving there in 1913, and helped organize shelters and food distribution programs in churches for the homeless. They were inseparable for 65 years, even dying within weeks of each other, which everybody knows is the ultimate lesbian love act.
---
Ethel Collins Dunham & Martha May Eliot (1910-1969)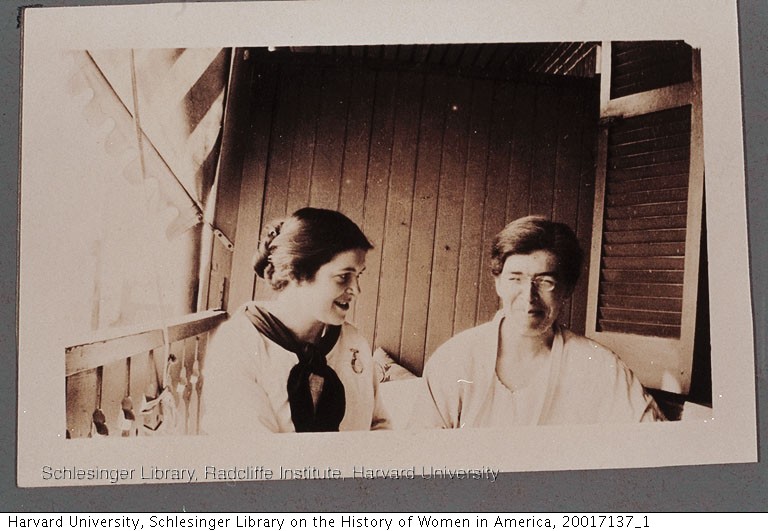 Martha was a headstrong and stubborn young woman from the jump, refusing to marry and insisting on a life of travel and learning. She met Ethel, who'd felt uninspired by the socialite lifestyle she'd been living, at Bryn Mawr, and the two decided to attend medical school together, become doctors together, and live together forever and ever. AND THEY DID. They got their medical degrees from Johns Hopkins, where they were active in the local suffrage movement, but were then separated by subsequent work placements. Eventually they were reunited at the brand-new department of Pediatrics at the Yale hospital in New Haven. Martha undertook a study of rickets amongst low-income children, which launched her career in community pediatrics and then got her a gig as director of the Child Hygiene Department of the Children's Bureau, around the same time that Ethel became one of the first female professors at Yale's School of Medicine. Their ambitions, extensive research accomplishments and subsequent appointments — including President Truman naming Martha chief of the Children's Bureau and Ethel becoming the first female member of the American Pediatric Society — often meant spending a lot of time apart, but as Faderman wrote in To Believe in Women, "they seem to have believed that their relationship gave them sustenance for the challenges and that their work and their life together were inextricably connected."
---
Ethel Williams & Ethel Waters (1910s-1920s)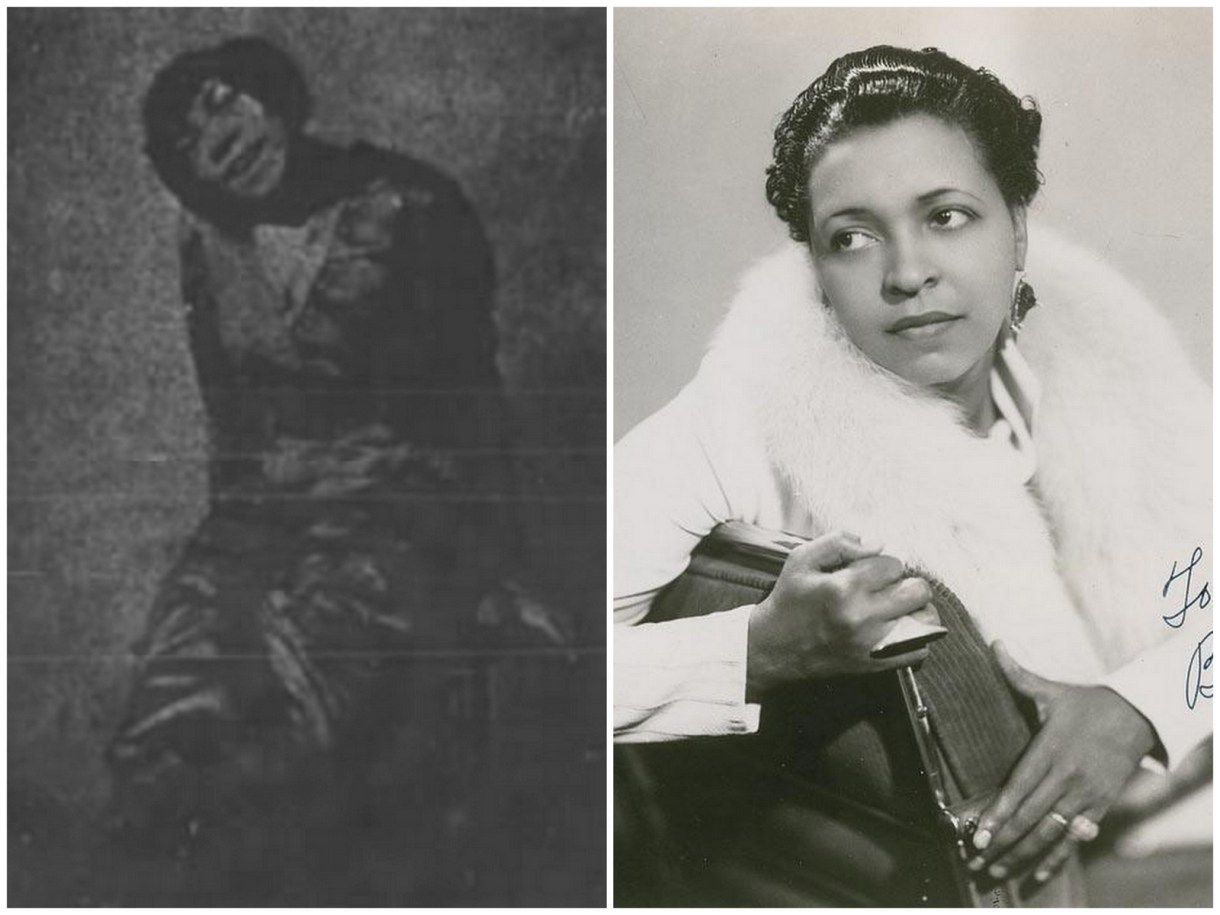 "The Two Ethels" met at the Alhambra Theater in Harlem — Ethel Waters was a popular blues singer and Ethel Williams was a dancer. They fell in love and summarily merged: Waters got Williams a job working at the cabaret where she worked, they lived together in Harlem and Waters took Williams with her on her first nationwide tour, where Williams would dance to warm up the crowd before Waters' performances. In the touring revue Oh! Joy! they even did a little bit about being "partners" that winked at queer audience members while refusing mainstream identification. Waters' managers at Black Swan Records manufactured gossip about Waters, once pushing a piece about how her recording contract stipulated that she couldn't get married to explain her not having a male partner. Eventually, Ethel Williams left Waters and her job to marry a dancer named Clarence Dotson.
---
Florence Yoch and Lucile Council (1921-1964)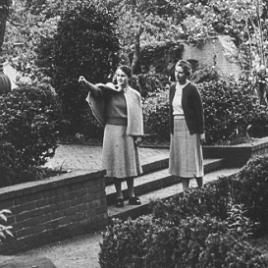 Considered "two of the finest garden designers and landscape architects in California," Lucile started out as Florence's "apprentice" at her firm and then became her "partner," as you do. They designed estates, parks, movie sets and botanical gardens. Notable works include The Getty House gardens, the film sets for the exterior of "Tara" in Gone With the Wind and the estate of Howard Huntington. Their collected works are documented in the book Landscaping the American dream: the gardens and film sets of Florence Yoch, 1890-1972.
---
Dorothy Arzner and Marion Morgan (1927-1971)
Arzner was the only successful female film director of Hollywood's golden age, and she met her beloved Marion on the set of Fashions for Women. Marion Morgan was a vaudeville dancer and choreographer who led her own performance troupe. They began working together on films and in 1930 and commissioned architect W.C. Tanner to build them a Hollywood Hills estate — Florence Yoch designed the gardens. They lived there for 40 years, until Morgan's death in 1971.
---
Mabel Hampton and Lilian Foster, 1932-1978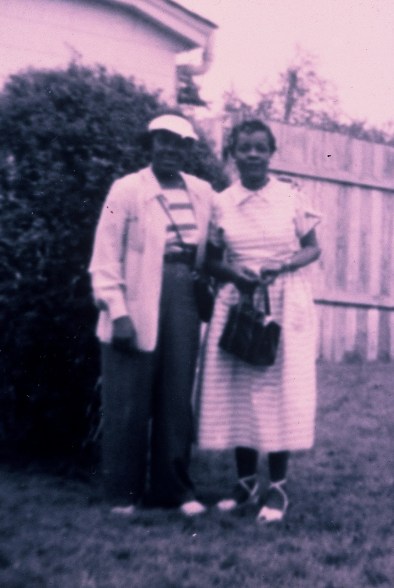 Mabel Hampton, born in 1902, had a tumultuous childhood that took her from North Carolina to New York City to New Jersey and eventually to a job dancing in Coney Island just as the Harlem Renaissance was in full swing. She performed with stars like Moms Mabley and Gladys Bently and lived openly as a lesbian, eventually giving up dancing and becoming a domestic worker — for the family of the now-famous Joan Nestle. She met Lillian Foster in 1932, and they were inseparable until Lilian's death, living together on 169th street in the Bronx and calling each other husband and wife. They were active in the Gay Rights movement, ran their own laundering business, and worked together to collect and organize a wealth of documents, newspaper clippings, photographs and books, including programs from the opera performances she and Foster loved attending, that would help form the Lesbian Herstory Archives, of which Joan Nestle named Mabel a founding member. Mabel's oral history was preserved by Joan in the archives.
---
Ruth Ellis and Ceceline "Babe" Franklin, 1936 – 1971
Ruth C. Ellis met Ceciline "Babe" Franklin in 1936, and then they moved to Detroit and launched Ellis and Franklin Printing, which made Ellis the first woman in the city to own her own printing business. Franklin worked as a chef. They bought a house in 1946 which became known as the "Gay Spot," a gathering place for the local black gay and lesbian community. It was a welcome refuge for black folks who weren't given access to the white bar scene. "Gay people didn't have anyplace else to go," Ellis said in Family: A Portrait of Gay and Lesbian America. "Everybody would bring a bottle. We used to dance a lot. We had a piano in the basement and we'd sing and play. We'd dance and drink and play cards." They gave lodging to gay black men newly arrived from the south, and helped young folks through college. Since 1999, The Ruth Ellis Center in Detroit has been a place of refuge for homeless LGBTQ youth, so her incredible legacy lives on.
---
If you know of a lesbian couple who got together before 1940 and did cool shit, tell me about it in the comments!!!