Wow! I'm so glad all of you came to this party, I know it's a LITTLE last minute, but it took me all day to decide if I should save my avocados for next week, or if I should stay on schedule despite the fact that the guest of honour is on Internet Vacation until Tuesday February 15th.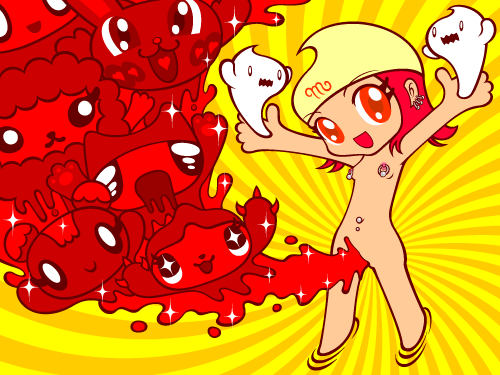 If you hang around here too much AND LET'S BE HONEST, YOU PROBABLY DO, this face should look familiar. Here, I've used a photo of a computer screen so that you will feel this is happening in your natural habitat:
Anyhowwwwwwww IT'S LANEIA'S BIRTHDAY!  And I feel like you should all tell her how much you love her so that there will be evidence of this upon her return, like a "welcome back"/belated birthday party.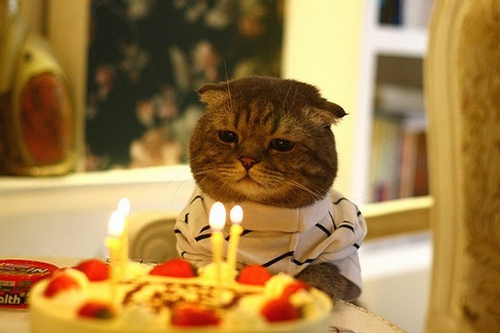 You might be thinking — what does Laneia want? I've done a quick gmail search and assembled the following list of things Laneia has said she wants recently:
1. i want to go to a museum
2. i want to ask her what liquor i should buy next and should i re-pot my fern in a white or orange pot and is it ok if i walk everywhere from now on instead of driving b/c i think my brakes are fucked and i can't afford to fix them. i think she'd say yes
3. i want you to put the post back up please
4. i want a fort. i want a one bedroom fort. with a kitchen.
5. i want to write a story about a bird. and i want to draw the illustrations on napkins.
6. i want to lol louder but i don't want to disturb the people who will never understand
7. i want to kick food
8. i want a vodka balsamic tonic
9. I WANT A BRANDON NOW
10. i want to ask my computer but it doesn't know the answer
11. i want to punch people who go on dates. fuck you where did you get that money and that cute girl. PUNCH.
12. i want things to right themselves
So that's a starter set. You could mail her a card to our PO Box that I don't know the address of because Laneia is in charge of that.
In conclusion, Rachel and I are dying a slow death without Laneia and if she was not celebrating her 30th birthday today and then subsequently living all the ensuing days of her life, then we'd all be in trouble.
Here, catch up on some of Laneia's best work to remind yourself how lovely it is when she's here:
1. Laneia's Team Pick: These Cashews
2. Sister Spit: The Autostraddle Interview
3. Look at That F*cking Stuff Lesbian Kittens Liked
4. It's National Sandwich Day
5. Obama Says It Gets Better
6. I Read Tao Lin's Richard Yates and I Liked It
7. 8 Honest Things About New York
8. Marissa Meltzer: The Autostraddle Interview
9. Trans Photographer Amos Mac: The Autostraddle Interview
10. When I Knew
11. Get Baked (all of them)
Also here's her first post here ever JUST FOR OLD TIME'S SAKE.