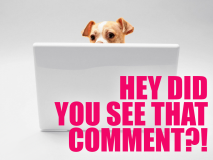 Good afternoon/morning/evening depending on where in the world you are. It's Laura, here for Emily Choo who is in China right now for the summer/winter if you're in Australia. Besides her flight across the world, many other things happened this week. There's a new lesbian film site on the horizon. Episodes 2 and 3 of the third season of Anyone But Me came out as did the 2011 Autostraddle Hot 100! We counted down the top chapsticks and everyone reviewed Lady Gaga's new album. Riese recapped the season finale of Glee and prescribed the antidote to disappearing queer bookshops. Have a nice weekend, weirdos!
---
On Rachel's Team Pick: Feminist iPhone Apps:
The Old Fashioned Award to collectedprose: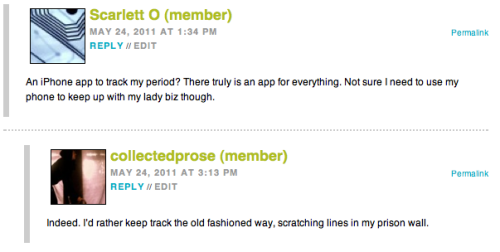 On NYT Joins Anti-Gay-Bullying Activism Epidemic with "Coming Out: Gay Teens In Their Own Words":
The A Homosexual Legume? Award to Merin: I'm not satisfied until Will Shortz makes an "all Queer crossword." 4 down: "I Feel it in my ____" 12 across: "Famous actress, Bisexual"
On Tennessee Passes 'Don't Say Gay' and 'Do Be Racist' Bills:
The Award for Excellence in Schoolwork Methods to thelovelyjazmin: I have a few questions:
1) Why would not talking about something make it not exist? I have tried that with papers and projects and it DOES NOT work. And if I'm having sex ed, we better be talking about protection from STDs regardless of the gender of my partner.
2) Who uses the public restroom in a park? Gross. You should just pee behind a bush. It is much less disgusting.
The Award for the Oldest (215-years-old) 7th Grader to novastar: I think Tennessee is acting out because it is named after a gay playwright, and is anxious to demonstrate its heterostraightness to the other kids. Hopefully Tennessee will get passed middle school soon.
On Top 10 Lesbian Chapsticks for Chapstick Lesbians:
The Dentures and Diapers Award to eldie: Oh, no! Don't do it! Don't try the honey kind!
It tastes like Old Lady Soup. Like, if you were to make soup out of old ladies, that is what it would taste like.
I'm a die-hard Burt's Bees user, and once bought the honey variety thinking, "Oh, this will be nice–a touch of sweetness" but when I put it on, I could think of nothing other than Old Lady Soup.
Which is really disturbing, frankly.
On Canadian Parents Raise Gender-Neutral Baby by Not Revealing Its Sex:
The Our Commenters are the Best Award to Erin: I should have waited for Autostraddle to cover this instead of reading the shitty comments on parentcentral.ca. So much ignorance. Glad there are smart people on this website, whether you disagree or agree. You're all much more eloquent
On In Which We Review Lady Gaga's 'Born This Way' Track-By-Track:
The Comment Award™ to yodelmachine®©™※☂☝: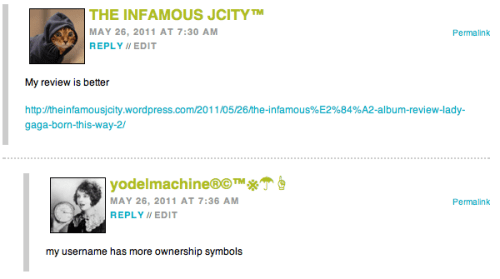 On Riese's Team Pick: TGI Fridays Invented Restaurants or Something:
The iLoveyou Award to kat:
On Taylor's Team Pick: My Drunk Kitchen:
The Just Make Ramen Award to TSwizzle: This show is the greatest invention since sliced bread. (Seriously, you ever tried to slice bread whilst drunk? Bad. Idea.)
On Bisexual Lindsay Lohan "Still Likes Boys," is Bisexual:
The She Has Her Priorities Straight Award to Daisy: I'm reading this while drunk after watching Harry Potter (DH pt. 1) and I have a lot of feelings, mostly: Lindsay's rack is so awesome. Fox should stop judging. Fox News has no boobies at all. I hope this is not the most offensive thing of all time, but maybe it is.