LINDSAY LOHAN:
Lilo opened up big time in a new interview with Australian radio hosts Kyle and Jackie O, chatting about everything from the disses against her on Glee to rumors of being un-insurable, to her sexuality. She doesn't watch the show but says she'd still allow them to use her music even though:
"…they've made a lot of snarky remarks about me. Which I don't know why, they don't need to do that. I think they're all really talented though. And their work schedules are insane I've heard. It's a lot, it's like 7 days a week, which doesn't sound legal."
She states that she is single as of today and that boys "still have a chance" with her. When the female host asks if she has a chance Lilo's response is priceless. To check out the whole interview, just let the player continue. It's separated into smaller clips, but it's all there.
Her statement regarding still liking boys was a huge deal in the media, which is confusing, because she's more or less identified as bisexual, right? I feel like "bisexual" means that she likes boys and girls.
+ Single Lindsay Lohan reveals she's still interested in men after two years
+ Lindsay Lohan on dating boys again — I'm available!
+ Lindsay Lohan hasn't given up on men
+ Lindsay Lohan swings both ways
+ Lindsay Lohan admits she's still into guys
+ Lindsay Lohan is still interested in men
+ Lindsay Lohan — I'm still into boys, too
Meanwhile, Fox News is really really really concerned about Lindsay's breasts and the possibility that they are starting to sag. Because if Lindsay Lohan ages, the terrorists win.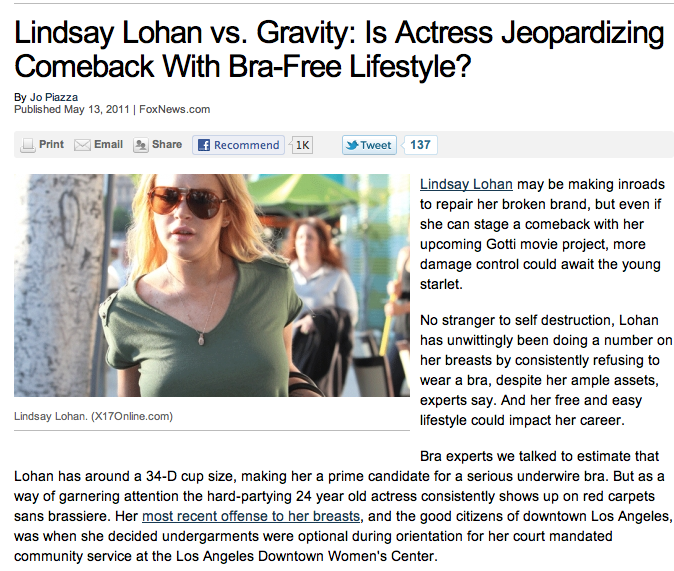 I mean — WOW! Fox News interviewed bra EXPERTS for this. Unfortunate that it's none of their fucking business.
ROSEANNE:
Roseanne offers one of the most insightful, funny and honest takes on fame, sexism and television industry I've ever come across in her article "And I Should Know" for New York Magazine. On the subject of fame and Charlie Sheen, Roseanne writes:
"I do know what it's like to be seized by bipolar thoughts that make one spout wise about Tiger Blood and brag about winning when one is actually losing."
.
She details a history of how her old show, Roseanne, per her original vision, almost never came to be — and her sense of how it could never exist today: "Viewers now prefer their comedy dumb and sexist." The show she cites to illustrate her point? Two and a Half Men.

"…I honestly think Roseanne is even more ahead of its time today, when Americans are, to use a technical term from classical economics, screwed."
Speaking of Roseanne, anyone watch Sara Gilbert on The Talk? Although she barely uttered a peep about her partner in the early months, she has recently been much more open about her family life, which is nice to see.
KRISTIN CHENOWETH:
Auto-friend Kristin Chenoweth is all set to return to TV full-time in the new ABC series, Good Christian Belles co-starring Leslie Bibb and Annie Potts. Sayeth the logline:
Amanda Vaughn (Leslie Bibb), once the ultimate high school "mean girl," is forced to return home in disgrace after her marriage ends in scandal. Amanda is nothing like the girl she was 20 years ago, but as her old classmates reacquaint themselves with the new Amanda, will her home town welcome her with open arms or seek revenge? No one in this town is a saint, but that doesn't mean they can't have a heart. As Amanda and her teenage kids try to adjust to their new lives, the ladies from her past alternate between sympathy and scheming.
.
Any interest in watching this? Check out a video promo.
LADY GAGA:
DVR alert! Gaga is the musical guest tomorrow night on Saturday Night Live with host Justin Timberlake. Speaking of Gaga, I'm sure we're all aware by now that Born This Way has leaked (and is also streaming online for those in the UK).
HEATHER MORRIS:
Wanna stare at Brittany S. Pierce's hot bod for a few hours? Heather Morris is the covergirl for the new issue of Women's Health:
"I'm exactly like Brittany — I love to dance, I like to have fun. I'd rather have innocence than be serious all the time."