New statistics from Gallup reveal that Americans believe one in four people are gay and lesbian. 35% think more than one in four people are riding the train to homo-ville and 52% of our fine American citizenry think that at least one in five Americans are gay. Wow! MATH!
At first glance this seems promising — they're recognizing our existence! But honestly this makes the consistent denial of our civil rights even more perplexing — do our fellow Americans actually think the gay agenda has been THAT successful? Do they think we're everywhere and we have each other and so we don't need equal rights? Do they think we're legitimately taking over the world and therefore they must stop us before we steal all the children and dress them in gender neutral clothing and chant Heather Has Two Mommies into their earholes as they sleep?
The most recent "credible study" on the actual homogay population shows about 3.5% of the population is gay, which is significantly less than the 10% figure we've been using since we saw Kinsey in 2005 and way less than these estimates.
"Americans perceive that there is a large U.S. gay population — one far larger than is likely reality. Perhaps more informative than the exact figure Americans give is the trend that more Americans now than in 2002 feel they have enough information offer an estimate. This suggests Americans have had even more exposure to gays and lesbians, be it in their personal lives or through entertainment or other means."
Also, Americans are just generally shitty at guestimating:
Gallup previously found that a majority of Americans personally know someone who is gay or lesbian, though Gallup did not ask Americans how many gay or lesbian individuals they know, or whether they know more individuals now than they did before. Additionally, Americans tend to have difficulty estimating percentages of population groups whose numbers are more widely known. Gallup a decade ago found Americans estimating much larger U.S. black and Hispanic populations than what the U.S. Census Bureau reported for those groups.
However only 40% of Americans think gay people were born that way. 42% blame upbringing and environment!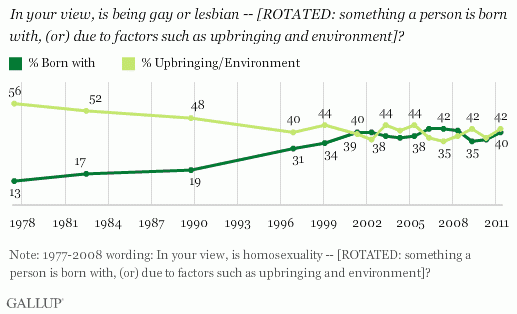 Unsurprisingly, those who think people are born gay are more likely to support gay rights:
A statistical analysis of the data reveals that Americans' beliefs about the origins of same-sex orientation are much more strongly related to their views of the legality and morality of gay or lesbian relations than to party identification, ideology, religious commitment, age, and other demographic characteristics, taking all those factors into account simultaneously.
But support of gay rights is at an all-time high!
+
Of all these statistics the one that's most compelling to me is that young people overestimate the gay population. Yeah, it's easy enough to conclude that like "less educated people," young people just are stupid and wrong, but maybe that's not the only reason — hopefully they're also seeing something very different in their peer groups than prior generations.
It's been socially unacceptable to be a homo for so long that many homos chose to stay in the closet or repress their true selves, but as homosexuality edges its way into the national conversation and the internet connects more and more people to other homos, more and more people feel comfortable coming out. Furthermore, at least where women are concerned, discovering their latent homosexuality is coming quicker than it has in prior generations. See — when men don't respond sexually to women, they're quickly pegged as "gay." But when women don't respond sexually to men, they're just pegged as — you know — women! Women aren't socialized to expect sex to be pleasurable, often turning to Cosmo articles and special lotions rather than considering they're maybe sleeping with the wrong gender! More gays for everyone!
Statistics will change not because there are more gay people, but because there are more OUT gay people.
Also: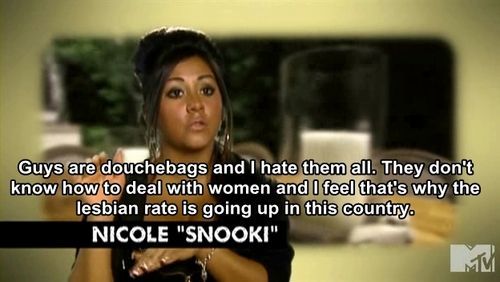 Americans are now as accepting of gays and lesbians as at any point in the last three decades, if not in U.S. history. This greater acceptance extends to their views of the morality of gay and lesbian relations, of their legality, and of whether marriage should legally be granted to same-sex couples.
If the trends continue and political leaders are responsive to public opinion on the issue, one would expect more states and the federal government to expand the legal rights of gays and lesbians, including the right to legally marry.
Do these statistics surprise you? Can you believe that 42% of Americans thinks it's your mom's fault that you're gay? That blows my mind.