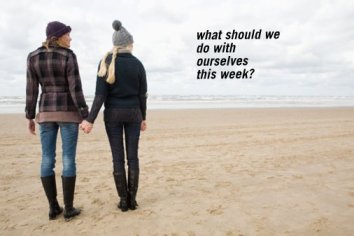 Hi! Welcome to the very first What's a Lesbian to Do With Herself, in which we inform you what you should be doing if, G-d  forbid, you leave this website and head out into the world. We get a lot of people asking us to talk about their events so HERE WE ARE, putting them all into one little post! This isn't nightlife listings (check GO! Magazine for that) , just a compilation of things you've told us about or asked us to talk about on Autostraddle.
Are you hosting an Autostraddle Meet-Up you'd like added to this? Email grace [at] Autostraddle [dot] com with the details of your very special specialness. Also welcome are information about pride parties, poetry readings, craft fairs and Harry Potter movie premieres. To Grace!
**For the most thorough nightlife and lesbian events listings, check GO! Magazine, which features nightlife listings all around the country. **
**
Featured Event

**
May 26th – May 30th
Pensacola Beach, Florida
This exciting events combines two of our favorite things: half-naked girls and Julie Goldman. Friday "morning" The Real L Word cast (Romi & Sara), Julie Goldman, Brandy Howard and Top Chef Sandy Birdsong will be hosting the first round of the Dodgeball Charity Tournament and that very night Brandy will be hosting a comedy show featuring YOU GUESSED IT, Julie Goldman!
Other sexual activities include a party cleverly named "Sexacola" which inludes "infamous, fire-blowing Fuel Girls," a Bikini Contest, a Wet T-Shirt Contest, a Drag King Competition and a White Party!
You can buy tickets for individual events or weekend passes online or at My Sister's Room in Atlanta, Georgia or the PWW Welcome Center in Pensacola Beach.

At last, a LESBO NIGHT at The Abbey!
Who: Girlbar
When: Wednesday Nights Starting Right Now
Where: The Abbey – 692 N Robertson Blvd, West Hollywood
How much: Free!
Come early for dinner (new menu, they serve awesome food) stay for the party — no cover charge
$3 Tacos & Cocktail Specials All Night!

Original Plumbing GREEN ISSUE Release Party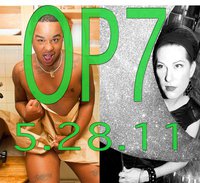 When: Saturday May 28th 10pm
What: "Celebrate the release of Original Plumbing's 7th issue with an unforgettable party in honor of THE GREEN ISSUE! Come out, dance, get cruised, and pick up a copy of your fave trans male magazine while surrounding yourselves with community, art and music."

Autostraddle Meet-Ups:
Los Angeles, CA: Autostraddle Dance Party
When: Friday May 27th
Where: Mugshot / Down 'n Out Bar
Why: "dance your clam off" and "celebrate our victorious 7th place finish in bar trivia"
ASS Group: We Straddle L.A., Bitch

Wanna Hang out with other Autostraddlers in your city? Join these ASS Groups — and here's the catch — actually talk on them! (These things will eventually become forums, bear with us)
West:
Los Angeles, CA – We Straddle LA, Bitch
San Francisco Bay Area, CA – Straddling by the Bay
San Diego, CA – San Diego Straddlers
Portland, Oregon – Pdx Autostraddlers
Seattle, WA – Seattlestraddle
Eastern Division:
New York, NY – NYC Autostraddlers
Upstate New York – Straddling Upstate New York
Washington DC/Baltimore – Washington D.C/Baltimore
Boston, MA – Autostraddle Social Club, Boston Chapter
Smith College (MA) – Smithie Straddlers
Pennsylvania – Straddlers of Pennsylvania
Philadelphia, PA – Philly Straddles Hard
New Jersey – Jersey Straddlers
+
Midwestern Conference:
Michigan – Michigan Lesbogays
Ohio – Ohio is For Autostraddlers
Chicago, IL – Chicagostraddlers
Minneapolis & St Paul – Twin Cities Straddlers
+
South/Southwest League:
Phoenix, AZ – Phoenix Meet Up Group
Las Vegas, NV – SinStraddlers
Texas – Texastraddle
Atlanta, GA – Auto-Lanta
North Carolina – North Carolina
+
International Team:
Australia – Aussiestraddle
New Zealand –New Zealanders
UK & Ireland – UK & Ireland
Birmingham, UK – BASS
Scotland – AutoScots!
Montreal, Canada – Montrealers
Canada – Ohhh! Canada
China/Taiwan/Hong Kong – Straddlers of China, Taiwan, Hong Kong and those who wish they were
Paris, France – Autostraddleuses à Paris
Russia – РоссияStraddle
+
Are we missing anything? Let us know!