Once upon a time we had a dream. It involved a couple hundred of you, 40 of us, a group retreat site in the San Bernardino Mountains and a weekend packed with workshops, panels, classes, meet-ups, activities and performances designed to inspire, educate, entertain and/or make you laugh — basically, it was the spirit of this website manifested in three entire dimensions mixed with a dash of old-fashioned Summer Camp goodness and an infusion of conference style. We wanted to create a special (and affordable!) space where you could be yourself, enhance your relationships within the international queer community, support Autostraddle, be a kid again and make new friends forever.
It was a dream called A-Camp, and it came true the last weekend of April 2012 and it was a total shitshow but also amazing. We've since held increasingly spectacular A-Camps in September 2012, May 2013 and October 2013. In 2014, we're only gonna be holding only one A-Camp, and it's gonna be the longest, best and most ambitious A-Camp yet!
You can get the full scoop on our A-Camp Website. That's also where you can find the FAQ, read our camp blog and witness the gradual roll-out of our talent and staff.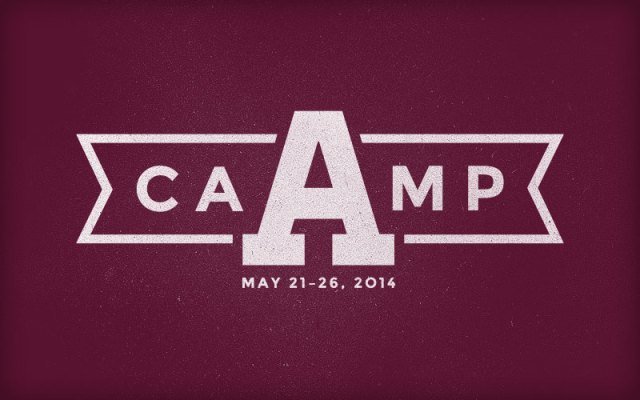 When
6:00 PM Wednesday May 21st – 11:00 AM Monday May 26th
Where
Alpine Meadows Retreat Center in Angelus Oaks, California. It's two and a half hours from Los Angeles and San Diego, four hours from Las Vegas, five hours from Phoenix and seven hours from San Francisco. We'll be running shuttles from LAX to the campsite from 11:30 AM to 2PM on May 21st and shuttles back to LAX at 10:00 AM on May 26th.
Who?
You weirdos! Our campers range in age from 18 to 50 and came from all over the world, including lots of Canadians and quite a few Australians and Europeans. Generally half our campers are under 25 and half are over 25, and 60% are first-timers. Also: Us! We are headed up by A-Camp Co-Directors Robin Roemer & Marni Kellison, and in order to give you the broadest range of programming possible, we've got a staff-to-camper ratio of about 7:1.  Also: HANNAH HART.
How
Tuition is $545 and is all-inclusive – that's five days and nights of lodging, programming and entertainment for less than $109 a day! Just $75 down reserves your spot.
This Camp Is A Brand New Thing
We're a restless bunch of inventive creatures, always dreaming up new ways to have enormous amounts of kickass fun. May 2014 camp is going to be our most BRAND-NEW camp yet. We'll be hosting our first-ever A-Camp State Fair and a special last-day event that'll surely be the sweetest evening of all time. Plus, the weather will be warm, which means you'll get a chance to party at the pool or canoe at Jenks Lake! The extended session gives us the chance to revamp how A-Camp is scheduled, and you'll definitely want to witness what we have in store.
Some of the many new activities we're already developing for May 2014 Camp include Rock Yoga, Ukulele Lessons, Mixed-Race Queers Discussion Group, Self-Portrait Workshop With Rory, Kink 101, Make An Entire 'Zine, Gamer Grog and Battle Booze, The Best Activism Panel Ever, Lez Talk About Sex (To Each Other), Sacred Queer Latina Heart Shrines and Discussion, Self-Defense 101 and Mindfulness/Meditation.
Details: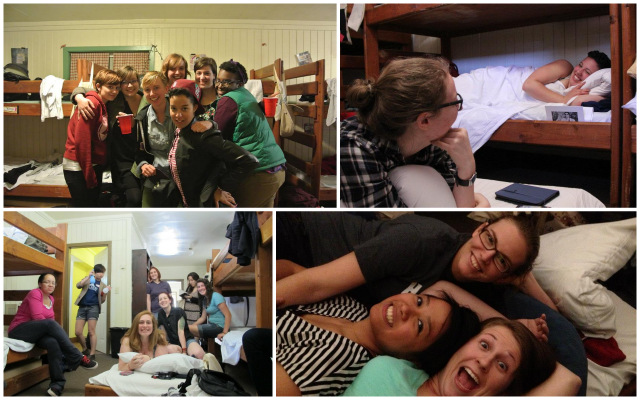 Lodging
You'll be having the bestest biggest surprise slumber party of your life in fully insulated, carpeted & heated cabins with private bathroom/showers/baths and bunk beds. You'll be sharing these cabins with somewhere between 12 and 18 others and you will have two cabin staffers from Team Autostraddle serving as your "counselors." Cabin groups are designed with your best interests in mind, and you'll also be teaming up with another cabin to compete in the camp-wide Rainbow Wars.
Food
You'll get three meals a day with snacks – we now work with the chef to design a menu and options catered specifically for our group, with vegetarian, vegan and gluten-free options as well as meals for people with food allergies.

Daytime Programming
You'll have full access to a variety of activities, workshops, panels, sports, discussion groups, classes and arts & crafts. Past activities have included Party of One: An Introvert Feelings Atrium, "Ropes Course" and Kink Workshop, Hip-Hop Dance, DIYke Hardware Jewelry, Swagger 101, Ballet for Basic Bitches, Tardy for the Party: A Coming Out Later In Life Discussion Group, Car Repair, Slam Poetry, Queer People of Color Panel, Make a Thing: Merit Badges, Zine-Making, DIY Body Scrubs and Real Talk: Your Relationship Doesn't Have To Suck.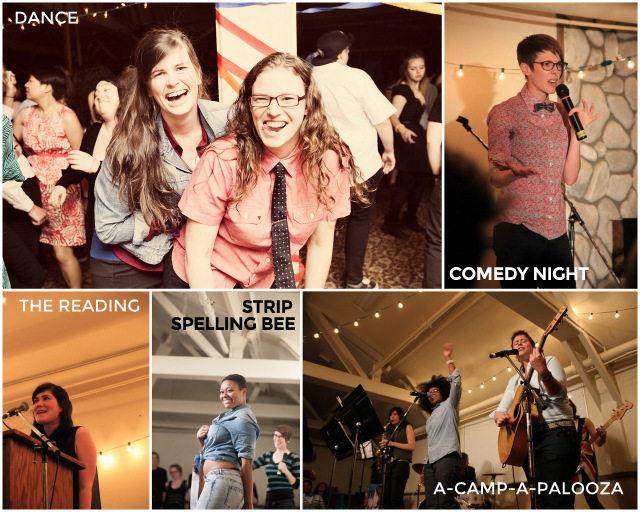 Night-time Entertainment
Autostraddle After Dark will include crazy-fun evening entertainment from comedian Elicia Sanchez and from our musical talent including the prolific rock star Somer Bingham and esteemed actress and musician Haviland Stillwell. Every camp our nighttime programming is different — there's always a Staff Reading and some kind of last-night dance, and other past After Dark activities have included game shows like Faggity Feud and The Strip Spelling Bee, musical extravaganzas like Lilith Flair, X-Files screenings and Comedy Night with Deanne Smith.

Swag
You'll get your very own A-Camp Tote bag, chock full of fun shit from our sponsors and your very own A-Camp T-Shirt. (If you're an independently owned business who'd like to see your swag in our bags, hit us up!)

Talent
We're still building our Talent Roster for this camp, but who we've already got on board is pretty spectacular! Check it:
Hannah Hart:  One day, Hannah Hart decided to make a cooking show and get drunk while doing it. "My Drunk Kitchen" was received with much critical acclaim from aspiring alcoholics everywhere, earning over 3 million YouTube channel hits within months. Hannah has been featured in TIME Magazine, on CBS News, BoingBoing and LA Weekly. She's the winner of the 2013 Steamy Award for Best Female Performance in a Comedy, was featured in Wil Wheaton's board game show, Rainn Wilson's Soulpancake spinoff and the 2012 YouTube documentary Please Subscribe.

Elicia Sanchez: Elicia Sanchez is a stand-up comedian, a comic book reader and practically an adult. She has performed at the Bumbershoot Music & Arts Festival, the Bridgetown Comedy Festival, the All Jane No Dick Festival and is a regular opener for comedian Hari Kondabolu. She produces three monthly Seattle comedy shows and hosts a podcast about terrible movies. She also happens to be the lead singer of Seattle's premiere Michael Bolton cover band, Lightning Bolton. Elicia currently resides in Seattle, WA where when not performing, she splits her time between panic attacks on the bus, watching creepy forensic crime shows and dusting her action figures.

Somer Bingham: You know Somer from the terrifying Showtime reality series The Real L Word, throughout which Somer remained a low-key down-to-earth human amid a gaggle of oversexed lesbians, but if you really wanna get real you've gotta read our amazing interview with her. Somer hosted Somer Fridays for Showtime with her wife Donna and heads up Clinical Trials, a "thrashy all-female electro grunge rock [band] with a side of angst."

Haviland Stillwell: Haviland is an actress, singer, writer and producer, who has contributed to Autostraddle, as one of the co-creators and stars of the series "Unicorn Plan-It," and as one half of the OG "Riese and Hav Vlogs" back in the day. She has has guest starred on lots of TV shows, performed in two Broadway shows, done a few movies, and voices some of your favorite animated characters. She has an album out and a new one on the way, full of hot dance music. Also known as "your intergalactic space siren," she is likely to transport you to another dimension of love and light. Check out her website and twitter!
Camperships & Tuition Discounts
Your generosity has sent over 20 deserving humans to A-Camp over the past two years, and you'll have the chance to make dreams come true again for May. We usually are able to give 5-8 full camperships per session and this camp, we plan on also allocating donations and resources towards at least ten partial camperships of 30%-60% off the tuition price. We'll start accepting essay applications and soliciting donations next month in a post which will feature essays from our October campershippers! But if you wanna donate to the campership fund right now, you totally can!
For More Information
On our A-Camp website, you'll find our FAQ, our camp blog, the talent/staff we've got on board so far and a link to register the fuck out of your unit. For more information about what goes on at A-Camp, you can check out our recaps from past camps and testimonies from campers about the joy of the experience. But A-Camp is whatever you make of it: every camper writes their own story. Come with your heart wide open and do whatever you want.
---
Okay, I'm in. What Now?
If you wanna get on the saddle and trot on over to A-Camp with us this fall, here's what you've gotta do:
1. For the low low price of a $75 non-refundable non-transferrable deposit, you can snag your spot for the spring festivities. Please read the instructions at the top of each registration interface page if anything seems remotely complicated. Your full tuition is due April 1st.
2. If registration fills up, you can put yourself on the waitlist. Be sure to put an e-mail address you check regularly and often, so you don't miss our note if you're up!
3. If you're driving in on Wednesday, please plan to arrive between 3 PM and 5:30 PM. On Sunday, please plan to leave by noon.
4. If you're looking for flights and will need transportation from the airport, be sure you can be at Terminal 6 by 2 PM on May 21st. If you're getting in later than 2PM, you'll have to make your own travel arrangements.
If you'll need transportation to the airport on Monday, May 26th, there will be shuttles leaving at 10am. It takes two to three hours to get to the airport, so we advise against booking flights that leave after 2PM. If the 10AM shuttle won't get you to the airport in time to make your flight, you'll have to make your own travel arrangements. Options exists such as "getting a ride with another camper," "bribing the kitchen staff" (no really this might be your best option) and "renting a car for a very low in-airport price." Also, many campers stick around LA for the night or a few days or a few weeks, too, which is lots of fun!
5. If you need to cancel, you can just log back in to the registration interface and cancel!

What are you waiting for?