Once upon a time we had a dream. It involved a couple hundred of you, 35 of us, a group retreat site in the San Bernardino Mountains and a weekend packed with workshops, panels, classes, meet-ups, activities and performances designed to inspire, educate, entertain and/or make you laugh — basically, it was the spirit of this website manifested in three entire dimensions mixed with a dash of old-fashioned Summer Camp goodness. We wanted to create a special (and affordable!) space where you could be yourself, enhance your relationships within the international queer community, support Autostraddle, be a kid again and make new friends forever.
It was a dream called A-Camp, and it was a dream that came true the last weekend of April, 2012 and again in September 2012 and again in May 2013.
Obviously, we're doing it again — and this time, we have a website! That's where you can find the FAQ, our camp blog, the talent/staff we've got on board so far and register the fuck out of your unit.
Details
When:
Wednesday October 9th – Sunday October 13th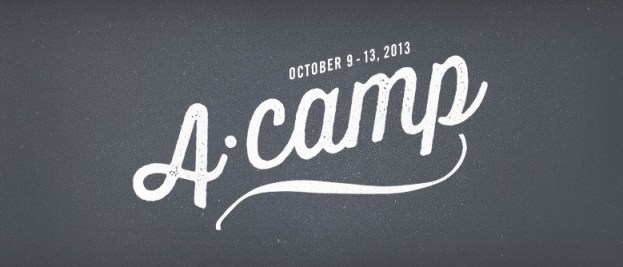 Where:
Alpine Meadows Retreat Center in Angelus Oaks, California. It's two hours from Los Angeles, 2.5 hours from San Diego, four hours from Las Vegas, five hours from Phoenix and eight hours from San Francisco. We'll be running shuttles from LAX to the campsite from 11 AM to 2PM on October 9th and shuttles back to LAX at 11AM on October 13th.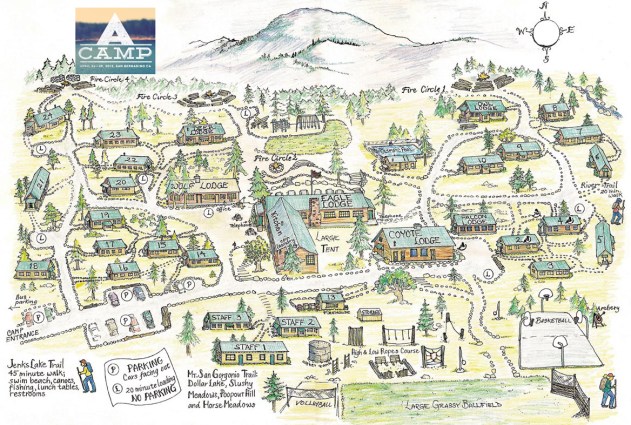 +
Who:
You weirdos! In May, our campers ranged in age from 18 to 50 and came from all over the world, including lots of Canadians and quite a few Australians and Europeans. Half our campers were over 25 and half were under. At least 60% of campers are brand new!
Also: us. We'll be rolling out the staff roster and additional talent gradually over at A-Camp.org and making announcements here as events warrant.
Lodging:
You'll be having the bestest biggest surprise slumber party of your life in fully insulated, carpeted & heated cabins with private bathroom/showers/baths and generously-sized bunk beds. You'll be sharing these cabins with somewhere between 12 and 18 others, led by two counsellors from Team Autostraddle. Cabin groups are designed with your happiness in mind.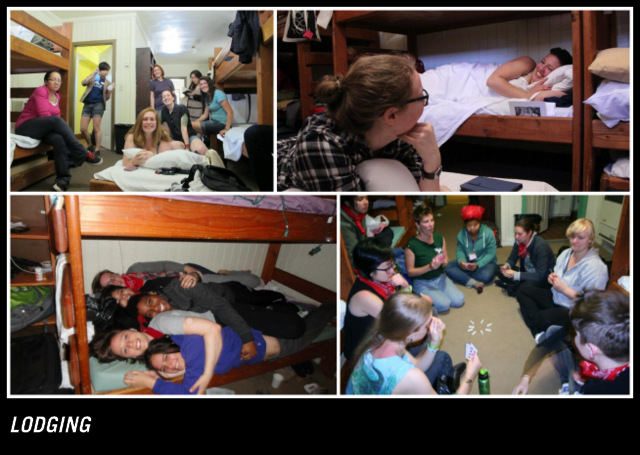 How
Tuition is $465 and is all-inclusive.
Just $75 down reserves your spot!
+
Your tuition includes:
Four nights lodging (linens included)
Three meals a day with snacks – we now work with the chef to design a menu and options catered specifically for our group, with vegetarian, vegan and gluten-free options as well as meals for people with food allergies.
Full access to a variety of activities, workshops, panels, sports, discussion groups, classes and arts & crafts. You'll also have the option to get fun one-on-one stuff like an Alternative Lifestyle Haircut, One-on-One Career Mentoring or an Individual Style Consultation, all included!
Crazy-fun evening entertainment from comedian DeAnne Smith and from our musical talent including the prolific rock star Somer Bingham and esteemed vocalist Haviland Stillwell. 
Tote bag packed with awesome swag including your A-Camp T-Shirt.
What the hell goes on at A-Camp?

For more information about what goes on at A-Camp, you can check out our recaps from April and September and May's camp  and testimonies from campers about the joy of the experience. (Keep in mind that this time around, things will be even more awesome.) But A-Camp is whatever you make of it: every camper writes their own story. Come with your heart wide open and do whatever you want.
A-Camp Daytime
Days at A-Camp are spent participating in a variety of programming options offered by the Autostraddle Team and Guest Facilitators — last camp's activities included Mind The Generation Gap, Hip-Hop Dance, Safer Sex Q&A, Nerdcraft, Swagger 101, Kickass Heroines in Popular Sci-Fi/Fantasy, DIY Body Scrubs, Real Talk: Your Relationship Doesn't Have To Suck, Erotica Writing, Car Repair, Music Trivia, T-Shirt Cutting/Stenciling and the Bisexual/Sexual Fluidity Panel. You're welcome to attend as many or as few activities as you like and make your own path in the world. This camp we're really excited to host the first-ever A-Camp Carnivalfestival.
+
A-Camp After Dark
We open A-Camp with an all-camp campfire, but the rest of our evening entertainment changes every time.  In past camps, we've enjoyed wet/riotous games of Faggity Feud With Julie & Brandy, hosted Staff Readings, laughed our asses off for DeAnne Smith and put on musical performances like Lilith Flair. What will happen in October? The best way to find out is to come to camp. Or check our A-Camp blog for updates.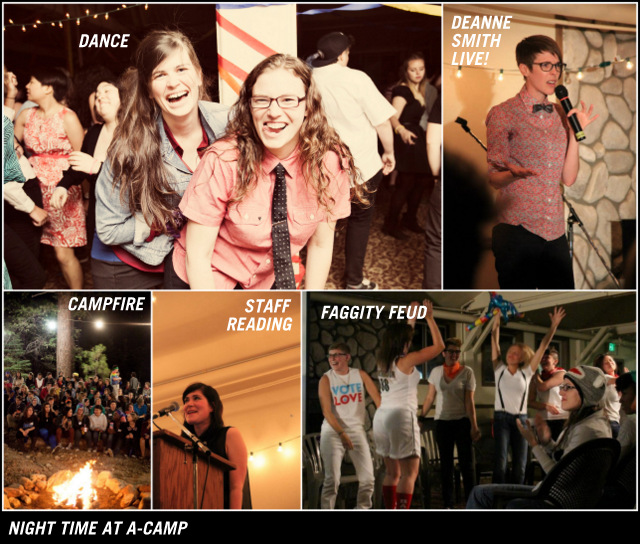 ---
We've Got Talent:
We'll be rolling out our staff and talent gradually, you can check out the website for that. But here's who we've got on board right now: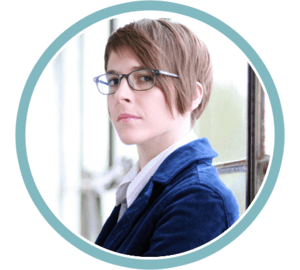 DeAnne Smith: DeAnne blogs for Autostraddle, but mostly she's known for her hilarious stand-up and prolific career as a comic. DeAnne has appeared on teevee sets all over the universe including appearances on The Late Late Show With Craig Ferguson, Last Comic Standing, Good News Week, Canada's The Comedy Network and HBO Canada. She's won and been nominated for heaps of awards all over the world, such as the Sydney Comedy Festival's Time Out Best Newcomer and the Barry Award at the Melbourne International Comedy Festival. DeAnne Smith NAILS IT.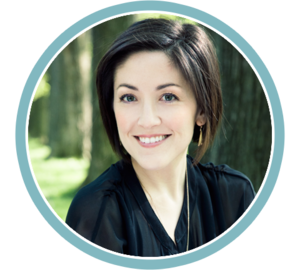 +
Grace Bonney:
Grace Bonney is the founder & CEO of Design*Sponge, which The New York Times declared "Martha Stewart Living for Millenials." Founded nine years ago, Design*Sponge is now a cornerstone of the design and craft community, recently publishing Bonney's Design*Sponge At Home. Grace has worked for publications such as Domino, In Style, New York Magazine, Better Homes and Gardens, Everyday With Rachel Ray and House & Garden as well as being a featured guest on Good Morning America and The Martha Stewart Show. She runs meetups for women running design-based businesses, founded the anual Design*Sponge scholarship to support up-and-coming art and design students, and came out two weeks ago!
Somer Bingham
Somer Bingham almost won Intern of the Year in a self-started possibly-rigged election at A-Camp May 2013 despite not being an actual intern. Also, she's a rock star you may recognize from the esteemed television situation The Real L Word, where she appeared along with her then-band Hunter Valentine. Somer hosted Somer Fridays on Showtime and is currently one-half of 'Electro-grunge unicorn-riding badasses from a landy of whiskey waterfalls,' Clinical Trials.
---
How Is This Camp Not Like All Other Camps?
If you've been to camp before, rest assured that in October 2013 we'll have plenty of new innovative stuff going on, including the first ever A-Camp Carnival/Festival Situation which will undoubtedly blow your mind. We're especially excited about the addition of Grace Bonney to our A-Camp Team because she's gonna take our programming to a whole new level. We're amped to see what everybody comes up with and the guest facilitators we can rope in! The sky's the limit. Just kidding! The limit does not exist.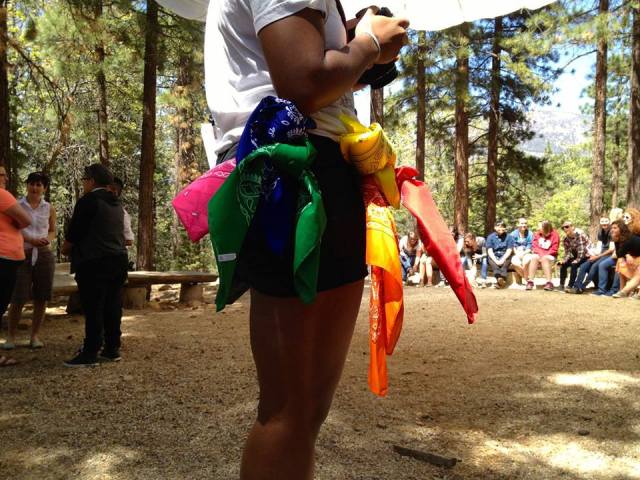 Okay, I'm in. What Now?
If you wanna get on the saddle and trot on over to A-Camp with us this fall, here's what you've gotta do:
1. For the low low price of a $75 non-refundable deposit, you can snag your spot for the fall festivities. Please read the instructions at the top of each registration interface page if anything seems remotely complicated. Your full tuition is due August 15th, but just contact us if you need an extension.
2. If registration fills up, you can put yourself on the waitlist. Be sure to put an e-mail address you check regularly and often, so you don't miss our note if you're up! We'll also be doing a raffle on July 15th to let in ten people off the waitlist.
3. If you're driving in on Wednesday, please plan to arrive between 2 PM and 5:30 PM. On Sunday, please plan to leave by noon.
4. If you're looking for flights and will need transportation from the airport, be sure you can be at Terminal 6 by 2 PM on October 9th. If you're getting in later than 2PM, you'll have to make your own travel arrangements.
If you'll need transportation to the airport on Sunday, October 13th, there will be shuttles leaving at 11am. It takes 2.5-3+ hours to get to the airport, so we won't show up at LAX 'til 1:30 at the absolute earliest, so we advise against booking flights that leave before 4:00PM. If the 11AM shuttle won't get you to the airport in time to make your flight, you'll have to make your own travel arrangements. Options exists such as "getting a ride with another camper," "bribing the kitchen staff" (no really this might be your best option) and "renting a car for a very low in-airport price." Also, many campers stick around LA for the night or a few days or a few weeks, too, which is lots of fun!
5. If you need to cancel, you can just log back in to the registration interface and cancel!

Camperships
Your generosity has sent over 20 deserving humans to A-Camp over the past year, and you'll have the chance to make dreams come true again for October. We'll put up a post soliciting donations and applicants for Camperships the first week of July and the page will be put up on our A-Camp website. This year we'll be partitioning some of the donated money into partial camperships as well.
Also
If you have questions, check out our FAQ!
What are you waiting for?