A new survey from The Office for National Statistics released this week found that "only one percent of Brits say they are gay or lesbian." Or, as simply put in generalized headlines: "JUST ONE IN 100 BRITS ARE GAY." New Study Reveals Only 1.5% of UK Population is Gay! Just 1.5 per cent of Britons are gay, says pioneering survey!
This "groundbreaking" survey has been garnering many similar headlines this week, exciting conservative anti-gay wingnuts, and, consequently, inspiring a handful of angry articles like this one which suggest that this groundbreaking survey is totally full of shit.
The ONS asked 238,206 people about their sexuality. How many people live in the UK anyhow?, you are probably asking yourself while questioning everything you ever believed about the UK, which you've mostly pieced together based on repeat viewings of Tipping the Velvet and Naomily fanfic. Well get your head out of your thighs, the answer is 62,041,708 people. More or less. So, this survey has drawn some very serious conclusions about the UK's gay population after surveying… .003% of them!
If I remember anything from Statistics 350 — and I'm pretty sure that I don't — this sample size isn't necessarily problematic. (Actually the fact that .003% is not a problematic sample size was one of the most confusing elements of Statistics 350 which inspired me to sleep through it every morning.) But homogays are an elusive group. The last time UK homos were notably counted, for 1999-2001's National Survey of Sexual Attitudes and Lifestyles, just over 11,000 people got counted. In that group, 8% reported same-sex sexual experiences with 9.7% of women reporting same-sex responses. As it was so aptly put in yesterday's Guardian article "Not Everyone Wants to Talk About Their Sex Lifeo n the Doorstep": "Are we to believe the pool of potential partners for gay and bisexuals has recently evaporated by millions? If not, then why the vast discrepancy?"
The Guardian also reports that the Office for National Statistics' Integrated Household Survey "comes out once a year to a normally muted response, largely because it's buried on the terrible ONS website." But this year the information has really caught on! Apparently someone attended Design Director Alex's informative panel at BlogHer 2010, and consequently,  made an infographic: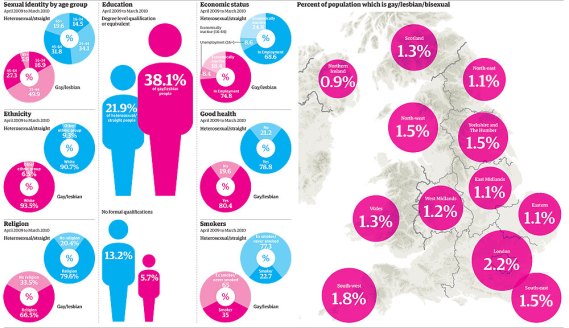 … and also this was the first year they asked people about sexual orientation.
A Government report in 2005 estimated that up to 3.6million people or six per cent of the population were gay.
But a massive survey of more than 450,000* people by the Office for National Statistics* has now shattered these estimates.
[*238,206 is the actual number of how many people were surveyed about their sexual orientation, the source of this 450,000 number is unclear]
Really? "SHATTERED"? Firstly, 1.4 million people in the survey — an INCREDIBLE number, really — claimed they "don't know" if they are gay, bisexual or straight. Hell, a bunch of us don't know. But we do all know what the right answer is, don't we? STRAIGHT AS A MOTHERF*CKING ARROW, Y'ALL! And therefore, although we're going to make a giant generalization here that wouldn't pass on the SAT IIs, most people who say they "don't know" are likely NOT 100% heterosexual, yannow? 'Cause then they'd just say "straight" and everyone would be happy.
But there are some people in Britain, including the staff of The Sun, who are coming in their pants for the first time ever over this news:
Family groups today said the figures raised serious questions about the millions of pounds of taxpayers' cash spent on gay causes.
Family Education Trust Norman Wells told The Sun: "This survey suggests that previous estimates of 6-9 per cent are wide of the mark and that the number of people who say they are gay, lesbian or bisexual is far smaller than the government and gay rights activists would have us believe.
"Now we have a clearer view of the real figures, we need to start asking some serious questions about the vast sums of taxpayers' money being spent on such a small minority and the disproportionate amount of attention they receive both in Whitehall and in the media."
If you're a lonely lez in Britain waiting for your very own Naomi or Emily to come along, this may be depressing news. But don't worry, like most news about gay people, it's more or less bullshit. Why? Well, firstly, as Stonewall Chief Executive Ben Summerskill told reporters:
"Data collection happened on doorsteps or over the phone, which may deter people from giving accurate responses – particularly if someone isn't openly gay at home."
There's other failures too. For example, Sarah Toce at SheWired.com pointed out, "the option to mark "transgender" was not offered on this particular study."
Gay dating websites like Gaydar and GaydarGirls find this data especially confusing, considering they have 2.2 million members in the UK and probably only like 46 of those are straight guys in New Jersey pretending to be 18-year-old Welsh bisexual swimwear models.
And I mean, then there's YOU! That's right, YOU! There's probably at least a million lesbians reading this right now, more or less — okay, much less. We're not nearly that popular. But regardless, about 6.7% of our readership is UK-based. 18% of our readers hark from "unknown" lands, however, so who knows what's going on with those people, they'll probably figure it out when they're older.
In conclusion, we probably still have no idea how many gay people there are in Britain or really anywhere else. So we should all work very hard to eliminate homophobia so we can get better statistics. I'm sure you can figure out how do to that because according to aforementioned bad statistics, you're on the whole way better educated than other people.