Hello Autostraddle, I used to be married to a man.
We've gone over this before, but it's been a while, so here's the refresher:
I got pregnant and married, in that order duh, while I was in high school! I stayed married, got pregnant again, and kept staying married for something like eight years — I lost count. Then we moved to Virginia, into a house I hated, in a neighborhood I hated, away from my favorite place (California) and my favorite person on the planet (the straight best friend I subconsciously wanted to marry). My husband was in the military and he'd be gone for months at a time. I was perpetually in a bad mood/depressed. Then there was free Showtime and a Season Three marathon. I watched Shane fuck Cherie Jaffe by the pool over and over and spent the next month googling ALL THE THINGS + FEELINGS. Everything — every last fucking thing ever — finally made sense. I made sense.
I came out, we separated.
But it wasn't quite as neat and easy as that. Not even close.
I'm often asked, not necessarily outright, how I kept up that husband thing for as long as I did. It's not an easy question to answer, both because it involves summoning a state of mind I can no longer relate to and because I'm scared of being judged. I judge myself so harshly, and I judge the girl I used to be, even though everything seemed normal to me then.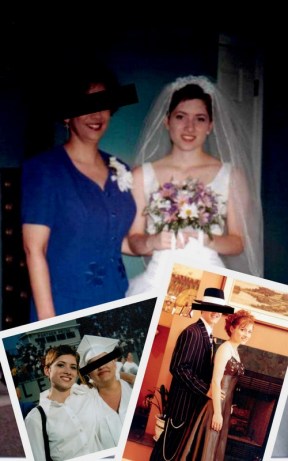 Where I grew up, it wasn't uncommon to be young and pregnant and married. Birth control was available but not really discussed or supported, and no one talked about homosexuality or feminism. This was the 80s and early 90s, so there wasn't any internet or gay people on television. All I had was what I saw, which to me looked like a prevailing acceptance of just sorta settling.
Yes, I was miserable in my relationship(s), but I thought that everyone was miserable in their relationships. I'd been listening to women complain about their husbands or boyfriends — in real life and on television and in movies and magazines — for as long as I could remember. From what I'd gathered, it seemed like women chose a spouse based on who annoyed or disgusted them the least. Maybe they also considered whether or not this guy would be nice to their future kids, and his capacity to eventually afford a boat. It never occurred to me that being "in love" could feel like anything more than kindly agreeing not to be mean to each other. And attraction? Actually wanting sex? I mean, what must that be like?? Women aren't socialized, like men are, to think they deserve sexual satisfaction. Maybe it's different now, but at the time, I interpreted sex as a thing that made boys happy, but for which women shouldn't set their sights too high.
That part — the sex part — is hands-down the most difficult thing for me to talk about, process or explain. Not just because of how personal sex is, for everybody, but also because of the terrible sad vacant feeling that comes with discussing a thing that I never related to and now can barely fathom ever doing. At that time, sex was how I could get someone to like me.
It's sad to know that I thought so little of myself, that something that should've been… something, was so very nothing for me, and that I stayed anyway. When I realized I was gay — and I wish there was a different phrase for this because it sounds like I figured out something as simple as my zipper being down, "realized" — things started making a little bit more sense. I finally understood why my husband felt more like a brother than a romantic partner, and I started to wonder if the communal heterosexual misery I'd considered myself a part of wasn't the same for me as it was for everyone else, after all. If I admitted I'd been miserable with him for a long time, would people wonder why I hadn't already left?  And how could any future person trust that I knew my elbow from my asshole if I'd gone 25 years without even knowing I was gay? I'd have to tell everybody, and they'd ask me all these questions and they'd be really confused and I wouldn't be able to help them because I also had a bunch of questions for myself, like about my levels of self-awareness and self-worth.
So anyway, imagine my surprise when all of a sudden, the world looked like a real place — a place where self-awareness was possible and I could see out windows and speak the language and understand why people had ambitions. I could finally be honest with myself. I mean, just imagine that.
When I came out, I came out as a lesbian, which also confuses a lot of people who assume that because I was married to a man, then I must be bisexual. I'm not, and that's not what this post or my story is about. I guess the easiest way to explain it is that I was basically a lesbian in the closet trying my very best to be a straight person (like so many gay women have done, and still do, and was the norm for most of human history).
From what I can tell, coming out after being married to a man has the tendency to send almost everyone who knows you into screaming hysterics. People just can't wrap their heads around how you could've lived one life and now want to live an altogether different one. At least, that's how they see it — it's actually still just you and your life. And unlike the typical coming out story, which can also result in confusion and hysterics, you get the added thrill of parading your personal journey through the court system!
So for those of you in similar situations, or who know somebody in a similar situation, here are my tidbits of wisdom for how to get yourself out of Man Land. (Coming out, both to yourself and to the masses, is different for everyone, so you may not see yourself in this piece. That doesn't mean you're weird or I'm stupid, it just means we're humans! Share your own experiences in the comments!)

Things I Wish Someone Had Told Me
Write this down.
You're Not The Only One
If you are [anything — anything AT ALL], there are other people who are also [that thing]. This means that you're not uniquely or permanently fucked. Things might be terrible at the beginning, but you'll make it to the other side of this because other people have. That will be your mantra.
You're Not Fundamentally Unappealing/Damaged Goods
Probably everyone who's ended a long-term relationship of any kind comes away feeling a little disheveled. Exhausted. Like you need three weeks/years of full body exfoliations and maybe even new teeth. This feeling will pass. You'll meet other people who've molted and you'll believe in possibilities again (or maybe for the first time). Also noteworthy: other humans on this planet will and do find you attractive and interesting!
You're Welcome Here
Does it seem like the queer girls' world is a members-only treehouse in Narnia? It's not! You might think that your history with a -gasp- man will forever alienate you from the club, but actually you're already a member, via your desire to cuddlefuck another woman-type person. Welcome! There is no club president — though that doesn't stop some from trying — so it's total anarchy up in here. Who will kill the spiders now?? Only time will tell!
This Is Not Legal Advice
I'm not a lawyer, so be sure to get your own, but let's talk about this shit anyway.
Don't begin a relationship with anyone else while you're still married. This is called having an affair and it's a bad idea. If you sleep with a woman, it's still an affair. Try to keep it in your heart/pants until the divorce is all tied up. Do not have an affair! If it can be used against you in the divorce, don't freakin' do it. Which brings me to…
Consider waiting until after the divorce to come out. You probably have a lot of pent-up militant lesbian feminazi rage that's compelling you to shout your newfound identity from the rooftops — and that is a fun thing to do — but take a minute/month to think about the repercussions.
Divorces are not friendly events and you should go into yours assuming that every single thing possible will be used against you during this process. Even if you know your husband isn't a bigoted jerk, who knows what kind of lawyer he'll hire, or what his friends/family will plant in his skull. We always advocate for safety over visibility, and that's what I'm talking about here.
Know your state. Every state has different requirements for filing a no-fault divorce, so do your research. Virginia, for example, requires that you be separated for a year before you can divorce. Isn't that neat and not a pain in the ass at all?!
Be the first to file. There are probably solid legal reasons why this is a good (or even bad?) idea, but if nothing else it's at least proactive, and that's your new middle name. Also, if you file first, the paperwork won't say "[HIS NAME] vs. [YOUR NAME]" (it'll be the other way around) and that will make you feel better. I'm not kidding.
Speaking of Kids!
Do you have one or more? Congratulations!
Working out custody and visitation can be/is hellish. If you're like most hetero couples, conceiving your child didn't require anyone's permission and no one ever asked you to prove why you should get to keep them. That's pretty much over now, and it's weird. Gathering information to show why he's not "in the best interest of the child" and you are just isn't how you want to spend a Saturday afternoon.
Most states can't legally consider your flaming gayness when awarding custody, but that doesn't mean they won't. Judges and lawyers are also just people, with their own prejudices and beliefs, so sometimes things don't turn out like they should. (Shock me!) A handful of states can take your children away based on sexual orientation, which is why you really need to research your state's laws. The ACLU has some useful info for gay parents.
Don't leave it up to your lawyer to know everything! My lawyer, in fact, turned out to be mostly useless. Instead of looking into whether or not a judge in Virginia could legally rule against me based on sexuality (they can't), she assumed that he would and advised me accordingly. Because I believed her and didn't do my research, I found myself in a mediation room across from my ex-husband and his lawyer, giving up everything but custody.
This is a good time to reiterate that not coming out, should you have that option and decide to go that route, is not a cowardly thing to do. Defending yourself in court is expensive and soul-sucking, and there are no guarantees. I honestly think if I could do it over again, I would wait to come out until after the custody/visitation situation had been handled. I still have court-related bills I can't pay and enough animosity to resurrect Dark Willow, but my mother always said I made things harder than they had to be, so.
You'll probably experience sudden and crippling guilt, maybe even doubt. You may ask yourself, "Am I doing the right thing? Is this selfish? Have I fucked over everyone by being so blind to my true self? Would it be better to stay for their sake? Can I be an effective single parent? Will we end up on Intervention in 12 years?" Someone might even ask those questions for you, which is a truly special kind of agony. Give these moments the space the need to run around in your brain and exhaust themselves. After a while they won't come back.
For the record: You're doing the right thing. It is selfish, but in a good way, like going to yoga. You haven't fucked over anyone (this was the hardest one for me to believe). It would NEVER ever be better if you stayed for their sake. Being a single parent is hard but you can do it. You probably won't be on Intervention because that show won't be on in 12 years.

In short: take a deep breath! Everything's ok and you're not crazy. If you've been married to a guy and have some advice or stories you'd like to share, please do! Next time we'll talk about even more feelings and new relationshippy stuff. Hoorah!
---
Special Note: Autostraddle's "First Person" personal essays do not necessarily reflect the ideals of Autostraddle or its editors, nor do any First Person writers intend to speak on behalf of anyone other than themselves. First Person writers are simply speaking honestly from their own hearts.