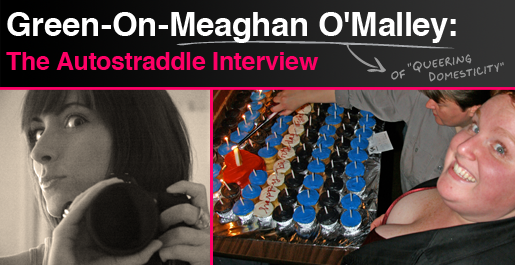 … And Queering Domesticity is the blog where she drives a pistol-gripped rotary hammer through the idea that a woman can't be butchy and femme, feminist and "feminine", queer and domestic. In fact, she'd like to frog those terms altogether and start, as they say, from scratch. After years of struggling with the allegedly mutually exclusive binary labels imposed upon her, Meaghan now proudly states that "my blog is a final declaration, if you will, of my identity.  I am a queer woman, a plain and simple pseudo-femme, and a gay housewife.  Everything that is important to me is something I've had to sublimate at one point in time or another to fit in."
Everyone wants to be proud of exactly who they are, labels be damned. And radically enough, Meaghan is doing just that.
How This Girl Gets it On ….
Queering Domesticity is full of recipes, crafty links, pretty flowers, glass jars, anecdotes, and gay-ass pictures of gay Meaghan and her gay partner, Em. At her Etsy shop, oh ginger, Meaghan sells handmade jewlery, like these vintage lucite earrings I want right now. (Special shop discounts for AutoStraddle readers at the bottom of this post!) Along with regular segments like Vintage Fridays and Recipe Tuesdays, recent post topics include The Casserole Queens (spotted on The Food Network's Throwdown with Bobby Flay), making stuffed animals/monsters from children's drawings, the band Dance Yourself to Death, how to save money in the kitchen, love letter paper cranes and how Costco steals your soul.

Now! Girl-on-Girl with Meaghan O'Malley!
I asked Meaghan some questions and she was kind enough to give me some answers. It was all very professional and awesome, of course.
Green: Do you think people are born with the desire to create?
Meaghan O'Malley: I think that people are born to do a lot of things.  We're born to be gay, born to be funny, born with a dairy allergy.  And like those three examples, engaging the desire to create requires interaction with the world around you; I would have no idea I was allergic to cheese unless I indulged in some kick ass fondue.  I imagine that if I didn't have my grandmother or my mom creating like whirlwinds around me, I would certainly be stifled, confused and probably ready to combust.  I'd be the crafty Billy Elliot, frolicking down the alley spinning and twirling just because I had to, but without direction.  My desire to create is something that had to be discovered and harnessed, but I was certainly born with it.
G: What, if anything, about your childhood influenced your style of crafting?
MO: I probably had what most would consider the quintessential suburban childhood, about 25 miles outside of Washington D.C.  Everything about my surroundings was bland, but I was fortunate that my mother and my grandmother were active crafters/domestics.  I was also uniquely fortunate that my mother grew up poor, so she instilled the value of "do it yourself" in me from a young age; she never really had a choice.  My parents also gave me simple toys…paintbrushes instead of art kits, kid-size pots and pans instead of fake food, etc.  I always had to think when I played, and I think that is my personal crafting root.  The fact that my mom and grandmother were always crafting, out of necessity or for enjoyment, also made it seem as ritualistic as brushing teeth or putting clothes into a laundry bin.  It is in that same vein that I craft…it is compulsion, ritual, tradition.  I can't not craft, basically.
G: Talk about your creative influences.
MO: I think I'm pretty heavily rooted in the practical.  Jewelry is the most frivolous thing I make, but anthropologically speaking, adornment is born out of instinct.  I just asked my partner what my influences were, and she said, "extraordinary opportunities in everyday objects."  So true! I am also ridiculously nostalgic.  I'm working on a new line of screen-printed home goods, and the images I'm using are all connected to memories.

G: Explain your creative process.
MO: It starts with anything and everything around me.  A magazine, an Etsy item, a blog, a television show or some sort of want or need a friend has expressed will sort of ignite the creative fire.  When it comes to my jewelry, I buy supplies that I find beautiful or interesting without any idea of what I will ultimately do with them.  I tend to stare at my beads until a combination makes sense and then I make it.  I have an over-active, almost manic imagination.  I can see something through from start to finish without making a single motion with my hands.  Sometimes I even spook myself. I craft in manic spurts.  When I got my sewing machine this year, I sewed for 10 hours straight…until my neck was throbbing and my eyes were crossing.  I will play with wire and beads until my fingers are sore and I can't make a fist with my hand.  And then I won't touch it for a week.
G: Is there an artist/crafter/blogger/writer you'd like to meet?
MO: For quite a while, I was fascinated with Matisse.  I was particularly fond of his collages; he called his technique "painting with scissors".  He did what he could with what he had, and when he couldn't paint with a brush, he painted with scissors. To be honest, though, I don't have a fan-crush on any one artist or writer in particular.  When people ask me this, I often want to say that I'd like to bring all of my female ancestors to a table so we can talk about our collective history.  That's more interesting and unique to me,and certainly more inspiring.  Ok, and maybe Elizabeth I.

G: There are so many crafting/lifestyle books and magazines out there — what are your favorites?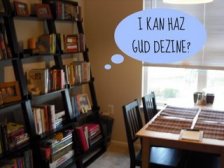 MO: I'm a sucky craft book reader!  I read two magazines religiously – Bitch and Bon Appetit.  As far as craft/lifestyle books are concerned, I'd have to say that there is little you can't read on the internet.  The books I've picked up are more tutorial/pattern based books.   I'm most excited about Sew What! Bags by Lexie Barnes.  Everything else I've learned from trial and error.  I think the most important thing you can do is find a crafting community.  This can be with your family, friends or strangers you find randomly through Etsy or other craft/DIY sites. My book of choice is the cookbook … I have so many.  And in thinking about it, I derive a lot of color and style inspiration from food and cooking.  I love the Barefoot Contessa.
G: Tell me about a crafted item or vintage piece that your most proud of.
MO: My great-grandmother traveled from France through Ellis Island and settled in the Garment District of New York City where she made samples of popular clothing items for department store windows.  She came to America with coins sewn into the hem of her dress.  She also brought with her a black trunk with small wooden hangers and a few drawers for her important belongings.  It's now mine.  It's a persistent reminder of my crafty, handmade heritage.
G: Ok, let's get into the gay stuff — Your blog, and especially the piece titled "What's Queer About Domesticity?", raises some interesting ideas with regard to gender and societal norms. You seem to view yourself as a walking contradiction — queer because your gay / queer because you're domestic [which you admit is traditionally viewed as a heterosexual attribute]. On the surface, you appear to be bucking the idea that lesbians have to be singular, independent women with no desire to nest or beautify [which is a ridiculous stereotype, of course], yet you also have the voice of a strong activist woman, ready to take on and question everything. You're taking the stereotypes – the categories of 'butch' and 'femme' – and deconstructing them. Tell me more! Talk and talk and talk! I LOVE THIS.
I am a queer woman, a plain and simple pseudo-femme, and a gay housewife.
MO: I've been out of the closet for almost eight years.  Those eight years have been strange, special and intense.  My first girlfriend was 9 years my senior and just as much as our relationship was about love and intimacy, it was also very much a student/teacher dynamic.  When we first approached the idea of sex, she handed me Les Feinberg's Stone Butch Blues and told me to read it for a general understanding of her identity, sexuality and in some ways, approach to love.  I read that book and sobbed.  I was overwhelmed by the idea of someone not needing an expression of physical love (directed at their body) in order to feel sexually fulfilled, for whatever reason.  But I was also completely and intensely confused, excited and intrigued by the concept of butch.  What was initially an innocent curiosity would quickly turn into a defined preference.  The conflict at that point was not "who do I love?wp_postsbut "who am I?"
I've spent the past eight years trying to figure that out.  Girlfriend #1 really didn't care how I identified, and so I just plugged along without an idea of whether or not I had a specific gender identity beyond girl or woman.  Girlfriend #2, butch yet very female-identified, was 100% convinced I was femme and proceeded to coax me into heels and make-up.  I dated quite a bit but nothing serious presented itself, mostly because I had no idea who I was and we are in a community where people want to know.  I had handsome butches and transguys tell me I wasn't "feminine or femme enough", or that I wasn't butch enough, or that I just wasn't right for them.  I developed strong friendships with femme-identified people and felt completely lost and confused about my own identity.  I wanted to be able to wear cargo shorts and make jewelry and not be judged or labeled by my GQBLT¹ community. It was just hard to get to a place where I could even consider that, let alone say it.
My blog is a final declaration, if you will, of my identity. I am a queer woman, a plain and simple pseudo-femme, and a gay housewife. Everything that is important to me is something I've had to sublimate at one point in time or another to fit in.  I'm too feminist to relish in the banality of domestic life, but I love it.  I'm too femme to enjoy doing things that require muscles, but I love picking up heavy things and playing in the mud.  I'm too dykey to enjoy swirling homemade icing on a cupcake, but I would bake a cake for any occasion. I'm too gay to want to feel like I'm in an old-fashioned husband/wife relationship, but Em and I are very much like an old couple.  So here I am, all of those things and still fiercely queer acting and identified.
G: Talk about what feminism means to you.
MO: There are so many clichés about feminism that the mere concept of "women's rights!wp_postssounds trite and simplistic.  Feminism is just as much fighting for equal pay as it is telling your closest friend that what they just said was racist.  I take my definition of feminism from bell hooks; feminism is the fight to end all forms of oppression.  Feminists have a moral obligation to face and eradicate oppression and prejudice in all its forms. I don't rank oppression; the bigotry I face as a gay person is uniquely different than the prejudice a person of color experiences.  Being gay, or female, does not bring me closer to understanding what it's like to be black or transgendered.  Being gay and female also does not absolve me of my responsibility to acknowledge, deconstruct and fight oppression for members of groups other those into which I fit.  If I could say something to a young lesbian, it would most certainly be, "oppression does not end when you feel secure."  Feminism, or simply social justice, is the responsibility of everyone in the world.  Denying or languishing in your privilege hurts the world; it hurts people.  That's not something anyone should be willing to shoulder.
G: Do you have any upcoming projects or events we should know about?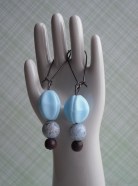 MO: I'm putting a heavy amount of focus into my blog right now.  I find it incredibly fulfilling and interactive, and because my content and approach is unique but accessible, I have the opportunity to reach out in a number of unexpected directions. Last year I helped organize Phasefest, the largest queer music and arts festival on the East Coast, and through the event I was able to work with two really awesome queer crafters.  We've since formed the Queer Crafter Collective here in D.C. and we're working on plans to expand and grow, within the city and within our respective crafts.  We're also hoping to interact extensively with the queer arts scene in D.C. and do some trunk shows, art events and other DIY endeavors that make art and crafts accessible to the general public. oh ginger is something I will continue to focus on and a place where I will test the ways in which I can make my craft accessible and profitable. My most recent endeavor is the screen-printed home goods line that I'm going to call 5th Street. It's an homage to my crafty ancestors; I will use vintage imagery and simple fabrics to create unique home accessories and possibly clothing. Like you said in your first AutoStraddle piece, one of the most important facets of indie crafting is paying due respect and reverence to the women who paved the way.
There is something very unique that differentiates queer people from straight people, and I never want to lose that even if politics and government finally consider us equal
G: What do you hope for the future with regard to what it will mean to be queer?
MO: I hope that queer people are able to maintain their individualism and sense of pride without having to face the same hurdles that we face now, or that were faced by our forequeers. There is something very unique that differentiates queer people from straight people, and I never want to lose that even if politics and government finally consider us equal, but I want it to be celebrated rather that being a tool of scorn, derision and bigotry.
+++++++++++++
Meaghan O'Malley can also be found talking about lesbians and cupcakes in the Washington Blade, and telling fatphobics what's what and sharing her feelings on Pride and her gay brother on TheNewGay.com.
I'm super excited to announce that from now through April 15, oh ginger is offering an exclusive 25% discount for AutoStraddle readers! Just send her a note via Etsy Conversation and type AutoStraddle in the 'Notes to Seller' box upon checkout. Meaghan will send you a revised PayPal invoice with your discount! Wheee!