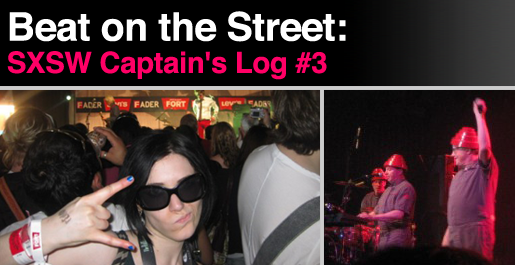 Hello everyone! Good morrow! How are you feeling? You look simply radiant! I feel like the walking undead.
Can we have a moment to talk about how random SXSW can be?  Like, yesterday Sara and I walked past this tiny, surly-looking girl wearing an electric blue t-shirt and a huge gold chain, and it wasn't until I recognized her publicist walking behind her that I noticed it was Lady Sovereign.  Oh music industry, you are so weird.
So this morning I left my hotel room at the ungodly hour of noon!  The Pains of Being Pure at Heart were standing right outside, trying to find the Cedar Street Courtyard.  I wooed them with flattery, pointed them in the right direction with my trusty map, then took off for the Creekside Lounge.
Um, I showed up with no idea whatsoever what band I was going to see, but my friend Erick Sanger had told me he was playing so I sucked down a Red Bull and made it my business to be there.  It turns out it was a reunion show for his band Pop Unknown, who broke up sometime around 2003 and the turned into a short-lived band called Kissing Chaos. I guess they don't really count as a new band then, huh?  Well, I saw them, and they were a pretty sweet way to kick off a very intense day.  Here's a picture to prove I was there:
---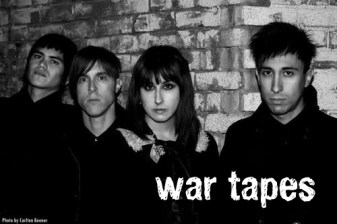 I really had no idea what I was going to do with myself after Pop Unknown finished up, but fortunately Aimee jumped up, pointed at me and sang: "You! I wanna take you to a GAYYY BAR!"  In fact, we actually did go to a gay bar, the Rusty Spur, where a band called War Tapes were playing.  War Tapes are a gloomy four-piece from LA who wear tight pants and have nice haircuts.  If you listen to their EP, they clearly listen to a lot of Sisters of Mercy and Joy Division, not that I'm complaining.  They were music to my pale little ears.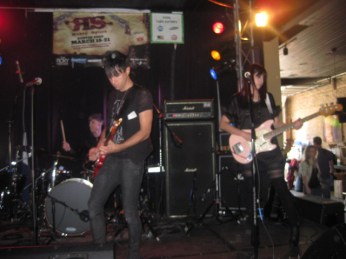 I'm pretty much in love with that baby pink Fender Mustang bass.  After they were done, they gave me a 2-song sampler and a t-shirt I'll probably never wear, because it's white.  I feel like these guys of ALL people should know not to make white t-shirts.
I don't know anything about this band, but my new friend Becca (bass player) from War Tapes described Mr. White Fedora White Jeans as being "a perfect mix between Duran Duran and Kid Rock."  She was spot on: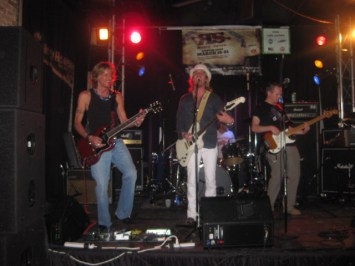 All in all, I was into the Rusty Spur, and I loved that the giveaways at this showcase were actual useful things, as opposed to my gift bag full of magazines, condoms and gum.  Chelsea and I scored drum heads and bass strings!  Thanks again, SXSW!
Oh, and here's a picture of me and Kirsten!  For no reason!  SXSW is turning me into a four-eyed mutant.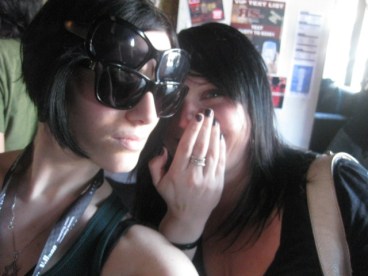 ---

From there, it was off to Emo's for the Pitchfork party – at long last, School of Seven Bells!
I've been really into School of Seven Bells' particular brand of shoegazy, gauzy rock for a few months now, and I'm glad we were able to see them during afternoon show when it wasn't as insane …
That said, I feel like maybe they weren't giving it their all – I'm sure they're tired from playing a million showcases, but there was definitely some kind of audience disconnect going on.  They're playing at the Bowery Ballroom in NYC in a few weeks; I'm hoping they've perked up their live show a little bit by then… I feel like this might also have had something to do with it being 3 in the afternoon. I think School of Seven Bells might be the kind of band you have to see when it's dark out.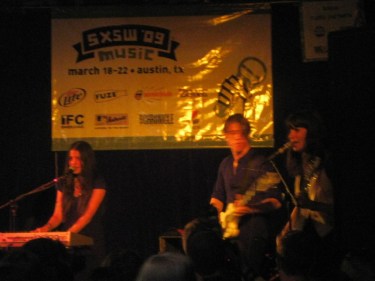 On the way back to the Rusty Spur (our new favorite bar), we ran into Mike, Josie and Michael from the AKAs, fresh from their opening slot at Red 7.  They were planning on checking out SXSW for a few hours, and then booking it to Tempe to record a new album – even though their last one came out barely a year ago.  If you haven't heard 'em, they're one of my favorite unsung heroes of rock'n'roll – raucous keyboard-laced ballads with righteous guitar riffs, occasionally political, always dance-able.  Love 'em.
It was very bright on the street, and Aimee and I hid in the long shadow cast by a telephone pole in an effort to maintain our respective pasty pallors:
---
Back at the Rusty Spur, Girl in a Coma played an all-too-quick set to a packed house.  They're a great San Antonio-based all-female trio (signed to Joan Jett's Blackheart Records) whose singer Nina Diaz has an otherworldly, almost Patsy Cline-esque voice.  I'm not gonna lie; I was a little drunk when this set happened, but I'm pretty sure they played almost all new material.  As long as they bust out "Their Cell," their prettiest song, I'm fine with whatever they do.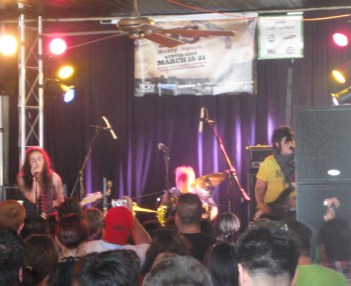 The goal after this was to head over to Red 7 to catch the Bouncing Souls – unfortunately, by this point, Red 7 was at capacity.  I ended up wandering kind of aimlessly, which worked out fine – when I approached Club DeVille, I heard the sweet sounds of the Hold Steady emanating from the outdoor patio.  I hung out in there for a minute while I tried to make plans, cos there were so many people in there I couldn't really see the stage at all.  Once I'd figured out a tentative game plan, I had a lot of trouble leaving as they kept playing songs I loved – I finally tore myself away after "Party Pit."  The Hold Steady write great songs about being drunk and lovin' life, which was exactly what I needed to power through and pick up a second wind.
I was heading down Red River in search of further adventure when I noticed signs for the SPIN party happening at Stubb's.  I had a laminate, so I thought I'd pop my head in and see who was playing.  By some amazing stroke of luck, I walked in about ten seconds after Echo and the Bunnymen had taken the stage – that's right, I saw Echo and the Bunnymen completely by accident.  I called a friend during "The Killing Moon," cos I could hardly believe my own eyes.

---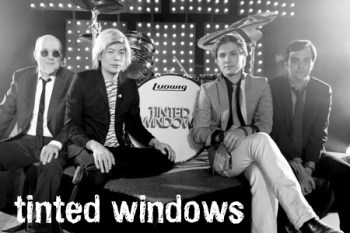 So the huge deal after this was a band called Tinted Windows at the Fader Fort.  This band has gotten a lot of press because um, THEY ARE RIDICULOUS.  It's basically Bun E. Carlos (drummer from Cheap Trick), Adam Schlesinger (bassist from Fountains of Wayne), James Iha (guitarist from the Smashing Pumpkins when they actually were the Smashing Pumpkins) and TAYLOR FUCKING HANSON.  They sound ultimately exactly the way you would expect – really accessible, shiny pop with guitar solos and catchy hooks, only it ends up so polished it sounds a little bit like the Jonas Brothers.  The fact that I can describe something else as sounding like the Jonas Brothers should tell you all you need.  That said, it wasn't actually awful, and I've had "Kind of a Girl" stuck in my head ever since.
His Mmmm Bopping Days Are Over
++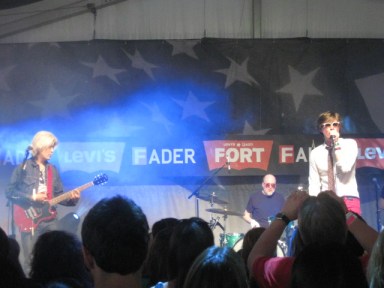 P.S. Taylor Hanson had a goatee.  Really Papi?  I guess he's trying really hard to not look so much like a girl… As I said, they were enjoyable, but really generic.  Nice to see Taylor Hanson doing something new though, I guess.
Tinted Windows "Kind of a Girl"

---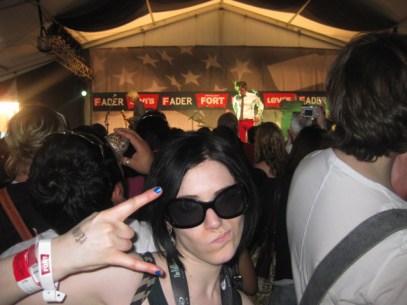 On my way back to the hotel, I passed this bumper sticker… I guess I'm in Texas after all: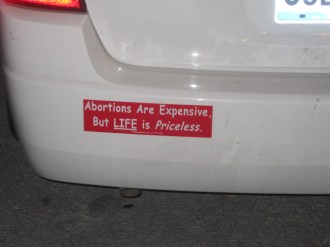 ---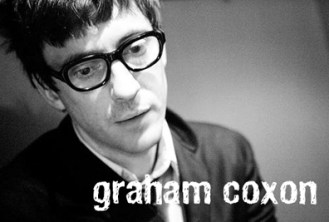 My next stop was Pangaea for Graham Coxon's showcase.  Graham was the principal guitar player in Blur for a long time, and he was responsible for some of their best songs – for those of you who didn't follow Blur, he's the guy who sang "Coffee & TV":
Apparently he's playing with Blur again, following a separation that's lasted something like seven years, but he's also still actively pursuing his solo work.  The man's an insane guitar player with an adorable pop sensibility, and as I've never really gotten over my abiding love for Britpop I absolutely needed to be at this show at all costs.  This wasn't easy, as I got there ten minutes late and there was a line outside, but I did make it in the last twenty minutes or so.  It turned out to really just be Graham and his guitar, performing songs off his upcoming concept album The Spinning Top, which follows the story of one man from the cradle to the grave.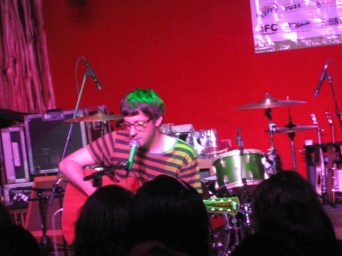 I don't even know how to say this … I was disappointed with the new stuff. If he hadn't written some of my favorite Blur songs, I don't think I'd still be listening to this guy. Though the last couple songs sounded like the Graham I know, he definitely lost the plot for a while in there. I was hoping the album, with musicians and production behind it, would sound different aaaaaannd then I just read that the album is mostly acoustic. Okay!
Well!  I'll still give it a try, cos I do love Graham and always will.
---
I hauled out to the Austin Music Hall convinced I'd have to wait in a multi-hour line for Devo, but surprisingly they let me in the moment I arrived (an hour early). So uh, now what? Well I was pleasantly surprised to watch a set from Tricky.

The man's a legend.  I've never seen him live, and I'm not sure I'd ever actually go out of my way to do so, but obviously he was amazing and blew us all away.  I was a little surprised that he actually played with real guitars and drums, but that made for a huger sound.  He had a really incredible lady back-up singer with him, and I feel like she did most of the vocal work; he mostly stood around in his suspenders, smoking a joint and looking crazy.  There are worse ways to spend an hour.
And then… DEVO.
OK, first of all I want to have serious words about the guy next to me, who was wearing a red Devo hat and a yellow homemade Devo t-shirt.  He was one of those guys who can whistle by sticking two fingers in their mouth, and loved to yell "THE MONITORS ARE FINE! COME ONNNN!" during soundcheck – in short, a wonderful individual that I hope to encounter as much as possible for the rest of my stay in Austin. He spent most of the set desperately attempting to catch the eyes of any Devo members, followed by frantically giving them a big thumbs up.
Regardless, Devo was amazing. They performed in front of a giant screen with crazy animations, they wore crazy outfits, they choreographed their stage movements, they are old as fuck but still have great stage presence and obviously love what they do.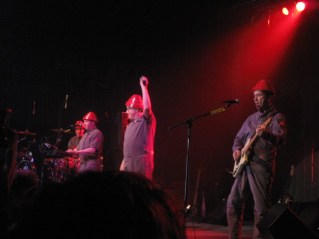 They played everything I could have wanted to hear – "Uncontrollable Urge," "Girl U Want," "Whip It," and "Peekaboo," the song that encouraged me to get so into Devo in the first place.
Being sort of the forefathers of the New Wave movement, Devo had a lot of material to choose from — plenty to fill an hor and twenty minutes. However I left pre-encore 'cause I thought my entire body was possibly broken.
There's not a lot going on during the day on Saturday, so I think we're going to investigate Austin a little further and then head back for the nighttime showcases.  Until then, I'll be nursing my aching skeleton.