feature images via TV Movie, Geek and Sundry, and The Gay Times.
Hello my sweet fun-sized candy bars! Welcome to the Friday Open Thread, where we all talk to each other about everything and nothing, our weeks and our theme, which is, of course, on this particular week, Halloween. Now I know what you're thinking—we don't need yet another place to post our Halloween costumes! Vanessa already did that gallery (and I highly recommend you go take a look at all these queer babes). No, this is about all the other ways we went full Halloween this week. As a person who doesn't really do parties, I am most concerned with the ways we embody Halloween that don't involve going out. But talk about your spooky week however you like! Live your ghastly and ghostly truths!
I hit the Netflix really hard in service of my fave holiday this year. The first thing I did was watch The Chilling Adventures of Sabrina. I am of so many minds about Sabrina—like how much queer bashing do we really have to watch, you know? But I am OBSESSED with Susie even as I am screaming at the computer screen SAY THE WORD TRANS YOU COWARDS. I want to shake Lachlan Watson's hand (they're the nonbinary actor who portrays Susie) for handling the sometimes-frustrating, sometimes-very-cool role with aplomb. And at 17 too! Gosh, I was a hot mess of a monster at 17! Mostly watching this series for me meant the repetitive thought, okay, okay, all fine well and good, but can we please get back to Susie's storyline? And then checking in with my trans friends who were watching, too, because occasionally we had FEELINGS about HIGH SCHOOL and how violent and terrible that time was and can be.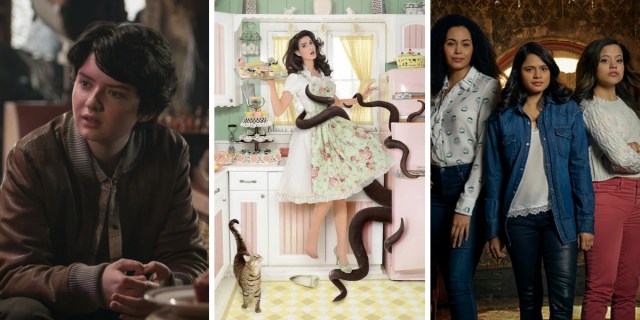 After I'd got through the whole first season of Sabrina, my thirst for Halloween television content was not sated. I turned my attention to The Curious Creations of Christine McConnell, a show I sent to all of my friends with strict instructions to watch and report back so I could make sure I wasn't hallucinating its existence. It's sort of a Martha Stewart show, except spooky…and with puppets? And a storyline? And murder? And a ball gag? McConnell is Instagram-famous for her crazy creations, things like a full Halloween house, cookies with eyes on them and realistic edible spiders. This show is…I can't even describe it, has anyone else seen this?
McConnell is relatively short, so I hunted down the first three episodes of the Charmed reboot. Hearing Twitter abuzz with it, I expected to hate it. But our own Jeanna Kadlec convinced me that I should give it a try. And y'all, I was…charmed…by it. Most of the critiques I've heard of it aren't taking into account the feel of the first one. It's supposed to be so bad it laps itself and becomes good again, you know? It's a romp. It's not, like, serious television. As soon as the attic was almost exactly the same as the first, I was hooked. Plus, you know, queers. Real cute queers. And witches. I can't wait for the next episode!
I also did other Halloweeny things that didn't involve sitting in front of my computer consuming content. I signed my apartment up with the building to hand out candy to any trick or treaters—alas, I only got one young witch who came to the door. I miss children for reals trick or treating. I haven't been able to give kids the good candy (I only get the good candy) in YEARS and it's killing me. But now I do have a whole trifle bowl filled with Hello Panda and Milky Way bars to eat, so I guess it's fine? I did get into my sailor costume, recycled from A-Camp, to hand out this actual candy to these theoretical children, so here is the one costume related thing in this whole post.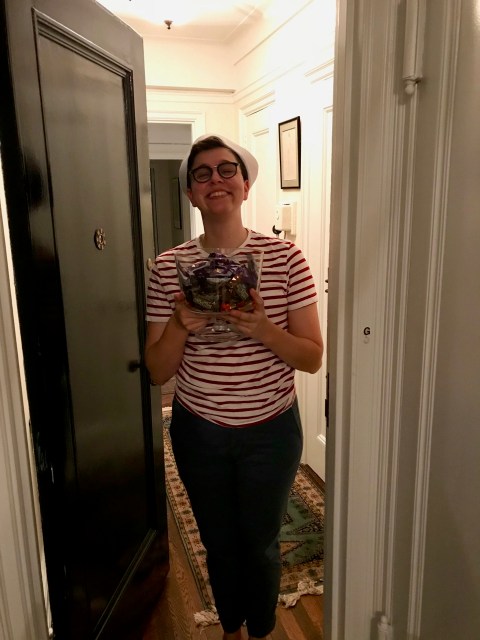 I carved a tarot pumpkin (all the tarot suits, not posting a picture because I messed up the Cups) and roasted the pumpkin seeds (not pictured because we ate them before we could photograph them) and asked my new oracle deck if there were any messages I needed to pick up from the beyond. I pulled this card.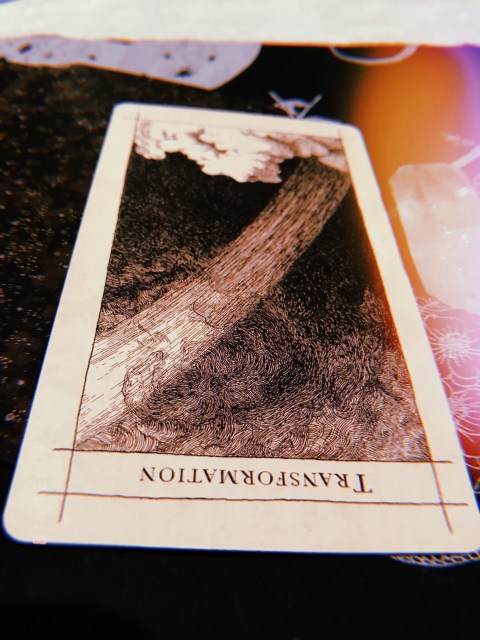 Makes me wonder if I have some transcestors giving me hugs from beyond the veil.
---
How To Post A Photo In The Comments:
Find a photo on the web, right click (on a Mac, control+click), hit "Copy Image URL" and then…
code it in to your comment like so:
If you need to upload the photo you love from your computer, try using imgur. To learn more about posting photos, check out A.E.'s step-by-step guide.
How To Post A Video In The Comments, Too:
Find a video on YouTube, copy the URL, and paste the link on its own separate line in your comment. You no longer need to use the "embed" code!