My sister and I share many things. We look nothing alike, but the family resemblance is unmistakable. We are both queer women. We are both more eloquent when angry. Despite not being totally comfortable with our bodies, we're typically willing to take off our clothes at a moment's notice, probably a habit leftover from being members of a Russian ballet company in our youth.
We're also both disabled, thanks to two parents whose cocktail of recessive genes would make 23andMe blush. But there's the difference between us.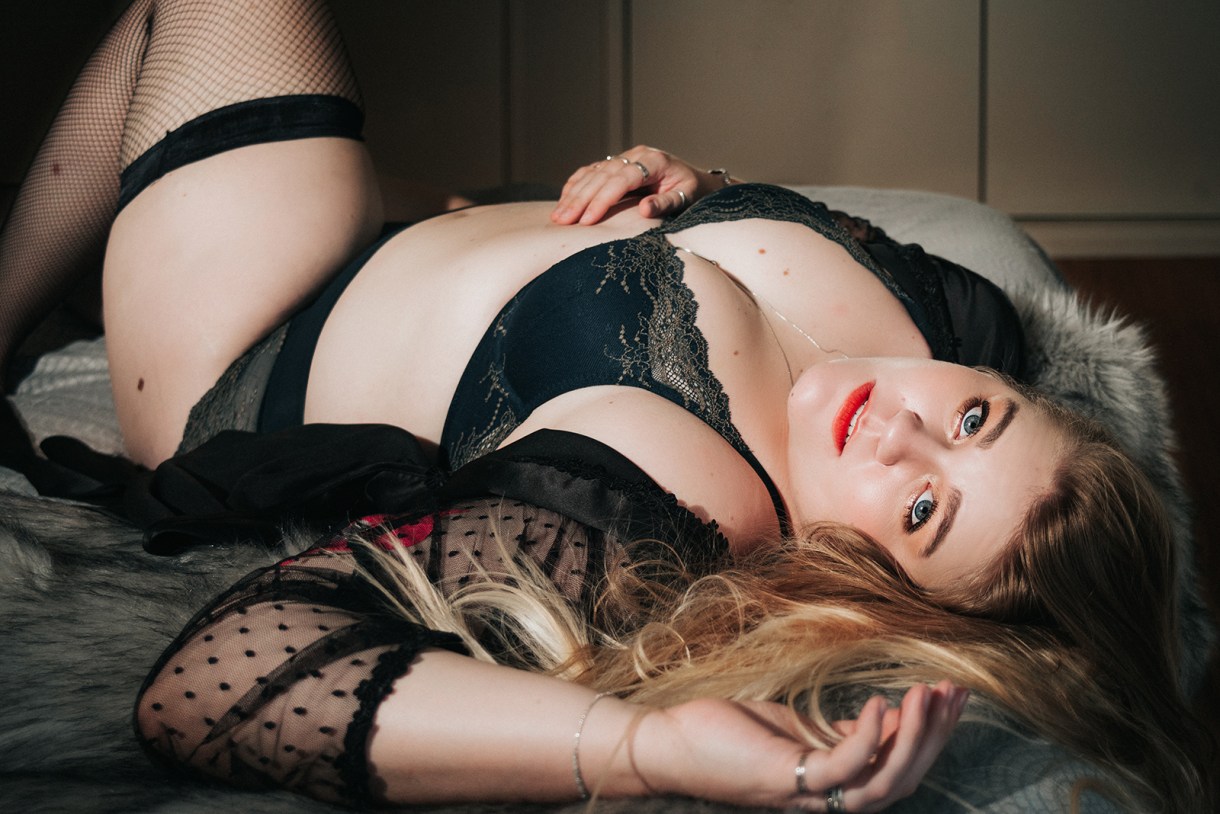 While my disabilities perhaps provide more drama (a life of hospitalizations, of my joints falling apart, of my bipolar brain giving me funny ideas in college), hers is ever-present. If I do everything right — even if "everything" is a tall order — I can have stretches where I am, generally, fine. My sister and my father, both Type 1 diabetics from childhood, share an illness that will never abate, never stop being difficult to control. They can do everything right and still experience inexplicable highs and lows. Even under the best of circumstances, it might take their sight, eventually, or their limbs.
My sister is named Brennah. It means "raven haired" in Gaelic, though she's a natural blonde. She was diagnosed with Type 1 at the tender age of 18 months, and therefore has never known a life without needles, without  getting mistreated at airport security, without getting strange looks when she pricks her finger in public. My father got a blissful 12 years before the illness set in. My therapist once watched me frantically knock back Starbursts when I was faint and hungry; she commented that I didn't need the sugar. My body was fine in this respect, but as some people say: there are no Type 1 individuals, just Type 1 families.
Like many responsible Type 1 diabetics, my sister and father both wear insulin pumps. They also wear sensors, a recent advancement that allows their blood sugar to be tested continually. The combination of these two devices means that my father and sister will live longer than diabetics of past decades, but these devices are, of course, visible. My father wears his pump on his belt or in his pocket. It rarely, if ever, crosses his mind. Menswear is ideally suited to putting things in pockets and waistbands. Womenswear is not.
My father moves through this world disabled, yes, but in many ways his disability is unseen. That isn't to say he hasn't faced discrimination; it's to say that the kind of discrimination he's faced is the kind that all disabled people, regardless of sex or gender presentation, face in this world.
Brennah does not move through this world unseen.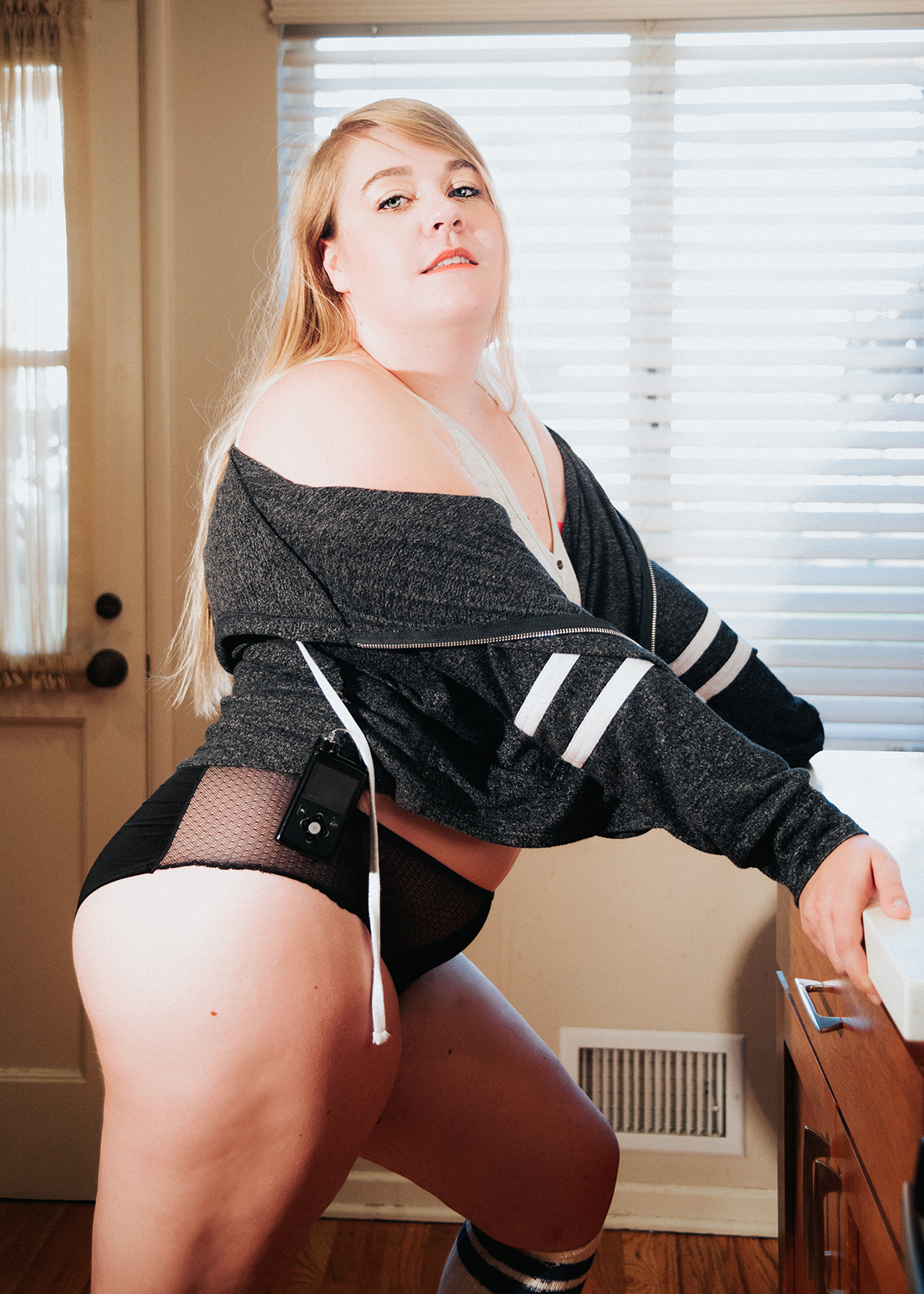 Brennah struggles to find where to put her pump without creating bulges in her clothing. She gets told by well-meaning salespeople that a dress would look better if she could "put it somewhere else," as if a person's body is filled with convenient alcoves to store a device roughly the size of a deck of cards. When dating, she's been told to put it away, that it's weird, that it's inconvenient, that she'd be prettier without it. Brennah is beautiful; she's tall, with Blake Lively hair and a Marilyn Monroe smile, and yet she gets passed over by men and some women who look at her and see nothing but the hard plastic and tubing at her waist.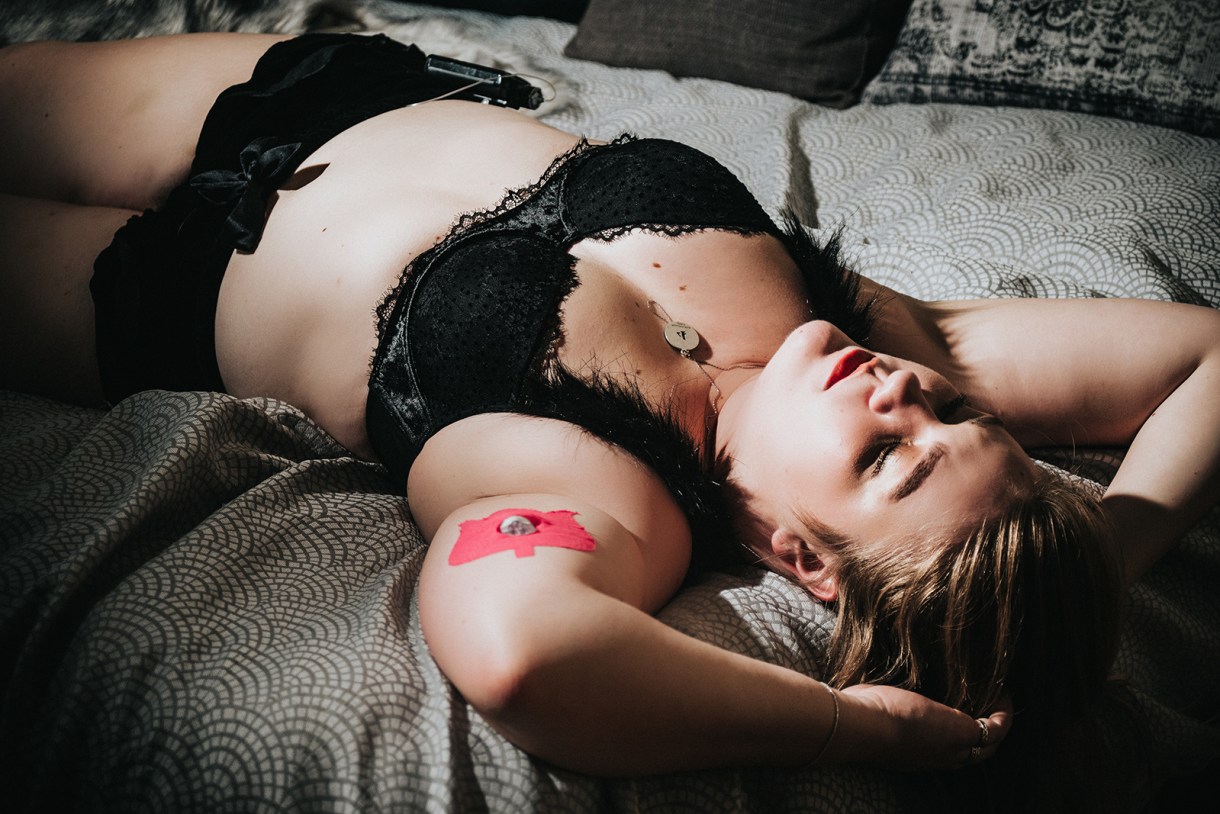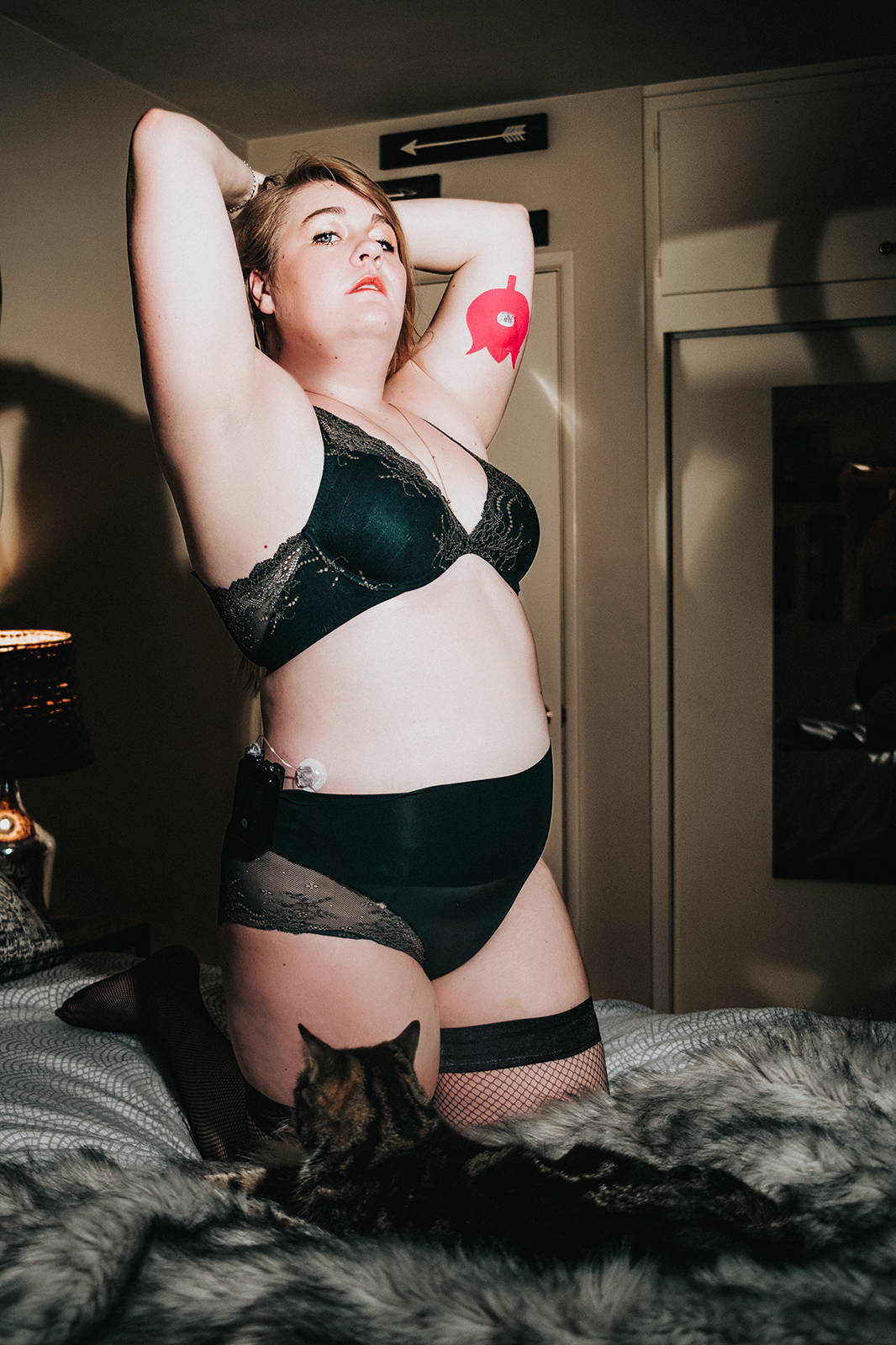 Disabled bodies are frequently desexualized. Images of disabled people typically occupy two roles: to invoke pity, or to serve as inspiration. We exist to either remind you of what you have or remind you of what you could be if only you had something so difficult to work against. We don't exist to inspire lust. We don't exist to be sexual. Images of us are so rarely, truly about us: our desires, or the desire we may want to inspire in others.
My goal in depicting my sister as a boudoir photographer was to show just how sexy she is — not without her pump, not without her sensor, but with them fully visible, clipped to her lingerie. The question of "but where will I put my pump?" became obvious: wherever she wanted, wherever was convenient. Hiding it is for the benefit of others. For once, I think, she truly believed that it did not matter; she was sexy and disabled, not one or the other but both at all times. She could have her cake and eat it too — metaphorically and literally. We bought a chocolate cake as a joke, a dig at all the people who shame her for eating anything resembling dessert.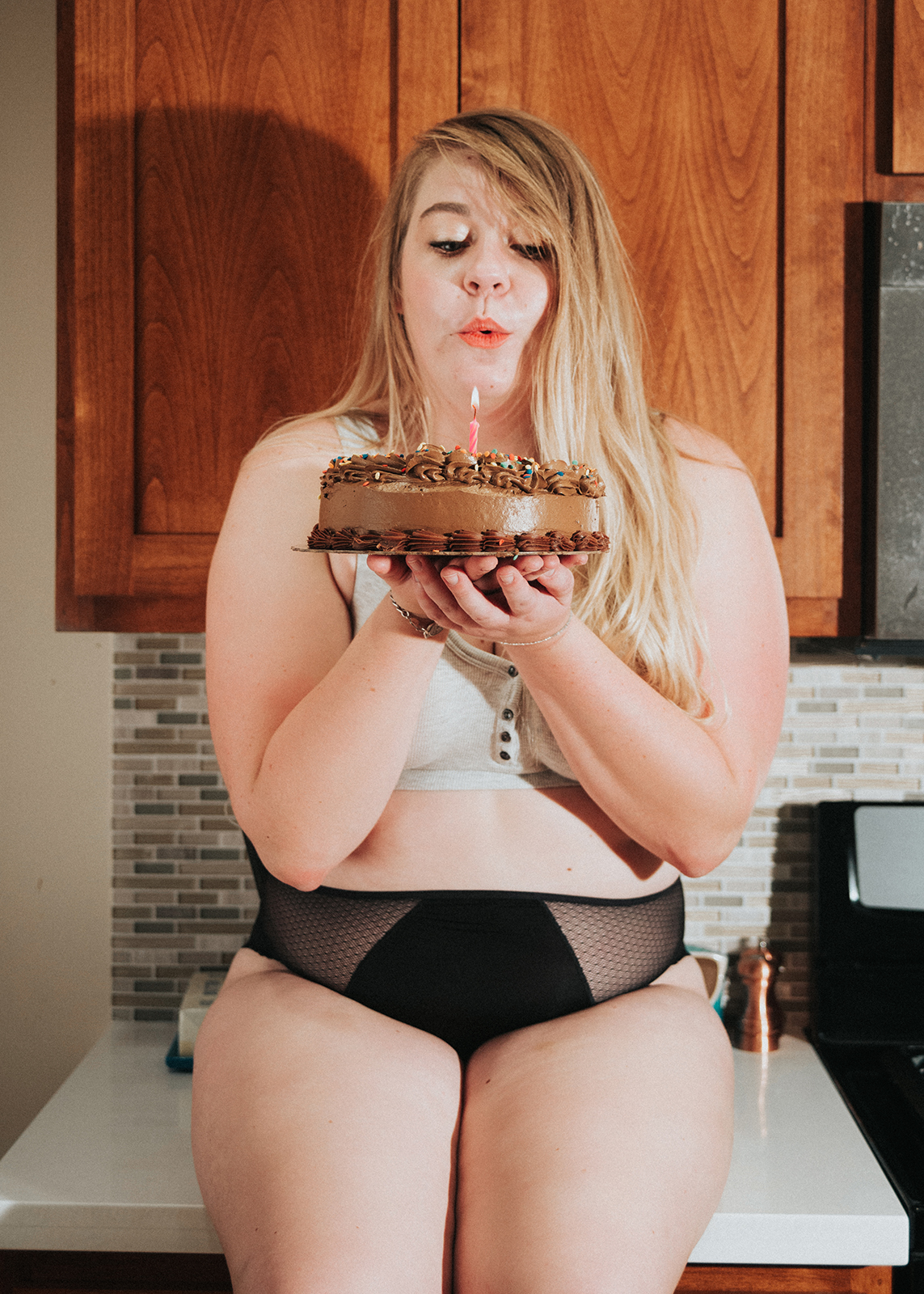 I've noticed a change in Brennah recently. She's gotten cute bandages for her sensor designed to be seen, not hidden; she thinks of them as a changeable tattoo. For Halloween, she got Jack-o-lantern shaped ones. During our last visit, I noticed her wearing her pump more visibly, doing less work to hide it. She asked me to take more photos of her. She left her pump and sensor on without thinking about it. Finally, it seemed, it had become part of her. 

---