November 3 is National Sandwich Day, which is like Christmas for Autostraddle if Christmas were un-religiously affiliated and didn't involve gifts and was celebrated on your own instead of with a family group and also only by Autostraddlers. So actually it has virtually nothing to do with Christmas at all except the good food part. But the important thing is, we can eat sandwiches! And so we shall.
Several weeks ago, Laneia and I got copies of Vegan Sandwiches Save the Day!
. At first this seems like a silly idea for a cookbook. Sandwiches aren't hard to make. You put a thing between two slices of bread (maybe even one slice!) and you're done. But when you realize that in this cookbook, "sandwiches" somehow include ginger cream crépes with pears, beans on waffles, and ratatouille sandwiches, it makes way more sense. "Sandwiches" is a very inclusive label.
There are a million and one ways to celebrate National Sandwich Day, vegan or no, but hard decisions have to be made. We chose two recipes from Vegan Sandwiches Save The Day! for our own personal sandwich celebrations.
FRENCH TOFU SALAD SANDWICH
by Rachel
I'm not usually into tofu-y mayonnaise-y salads. But this recipe is almost an exact replica of a Barefoot Contessa chicken salad that I loved back in my non-vegan days, and so I had to try it. And it's great! There's enough other salad ingredients that you never get a whole bite that's just tofu and fake mayonnaise, and there are many delicious flavors and textures all mixed together. I used a multigrain baguette, which I think was a good choice. All in all this was very pleasing and felt pretty fancy, especially considering that I just made it for myself to eat alone on the couch while listening to the Go-Go's.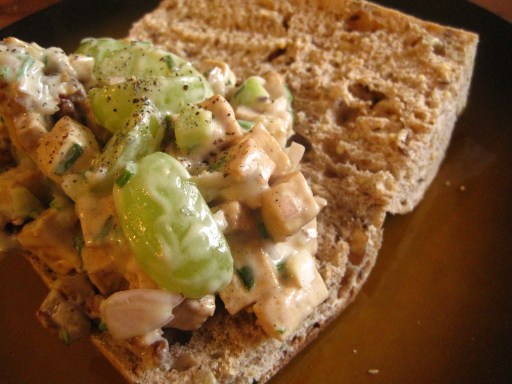 Ingredients:
1 teaspoon canola oil, if needed
1 pound extra-firm tofu, drained, pressed, and cut into 1/2-inch cubes
1 teaspoon tamari
1/4 cup vegan mayonnaise
1/4 cup quartered seedless green grapes
2 tablespoons minced shallot
1 tablespoon minced celery
1 tablespoon white wine vinegar
1 tablespoon slivered almonds, toasted (I used walnuts and it was fine.)
1 teaspoon minced fresh chives
1/2 teaspoon Dijon mustard
1/2 teaspoon minced fresh thyme
1/2 teaspoon minced fresh parsley
1/4 teaspoon dried tarragon, crumbled
1/4 teaspoon dried herbes de Provence
1 baguette
1. Heat a small skillet with a very thin layer of canola oil, and fry your tofu cubes gently, stirring occasionally until most of the sides are a light golden color. This will take maybe 5-8 minutes. After they're cooked, take the skillet off the heat and toss the cubes with the tamari (or soy sauce would probably be fine). If you haven't already toasted your nuts, make sure you do. It makes a big difference.
2. While you wait for your tofu and nuts to cool, chop all your choppable ingredients (grapes, shallot, celery, herbs) and mix them in a bowl with your wet ingredients. (As a note, I used pretty much all dried herbs for this instead of fresh, with the exception of chives. It was totes fine.) When your tofu and nuts are at room temperature, stir those in too.
3. You're supposed to let this chill in the fridge for a full hour so the flavors can meld. If you have that much patience, hats off to you.
4. The recipe doesn't tell you to, but I recommend gently heating your baguette under the broiler on low so it's warm and crispy. Because a warm baguette with a cold salad on it is delicious.
5. Now you're ready to assemble! You can add a layer of arugula or spinach on your sandwich if you want, or just slap your salad on. Then you're ready to celebrate with your mouth!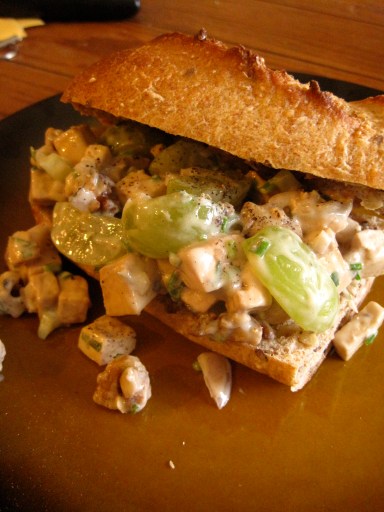 SHROOMS ON A SHINGLE
by Laneia
My grandfather basically lived off the original version, called sh*t on a shingle, while he was in the Army in the early 1950s, so of course I felt historically obligated to choose this vegan redux. It's an open-faced sandwich — which, to me, means it isn't actually a sandwich at all, but let's stay focused — and this vegan version takes everything that seemed terrible about the original and turns it into a mushroom disco! You guys, this sandwich is amazing. I'm making it again tomorrow.
Topping
2tsp olive oil
2 tsp butter / nondairy butter
1/4 c minced shallot
4 portobello mushrooms, stemmed & gilled, then cut into 1/2-inch slices
1lb other mushrooms, cut into 1/4-inch slices
salt + pepper
1/2 c chopped roasted red pepper
2 cloves garlic
1 Tbl drained capers
pinch of red pepper flakes
1/4 c minced fresh basil
1 Tbl minced fresh chives
2 Tbl fresh lemon juice
1 1/4 c vegetable broth, divided
1 Tbl cornstarch
1. Heat the oil and butter in a skillet on med-high, then saute the shallot and the mushrooms for about 4 minutes or until the mushroom babies are soft. Sprinkle with some salt and pepper until you're happy.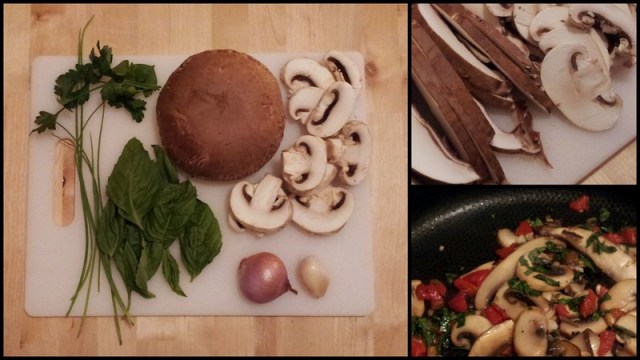 2. Reduce heat to medium. Add the roasted peppers, garlic, capers, pepper flakes, basil, chives and lemon juice. Tl;dr add everything from roasted red peppers to lemon juice and cook for another 2ish minutes.
3. Now add 1 cup of the vegetable broth! In a separate little bowl, stir together the remaining 1/4 cup of broth and the cornstarch until smooth. Stir this into the saute pan situation and cook for another minute or two, until it's thickened. BAM. MUSHROOM ANGEL CELEBRATION DISCO MIX.
Shingles
1 Tbl butter / nondairy butter, softened
1 Tbl olive oil
2 cloves garlic, crushed
1/4 tsp dried thyme
1/4 tsp dried oregano
salt + pepper
8 slices ciabatta or other Italian-style bread
minced fresh parsley
4. Set the oven to broil and combine the butter and oil with all the herbs and such. Spread this herby butter onto one side of your bread, then broil this bread butter side up until it's pretty and golden.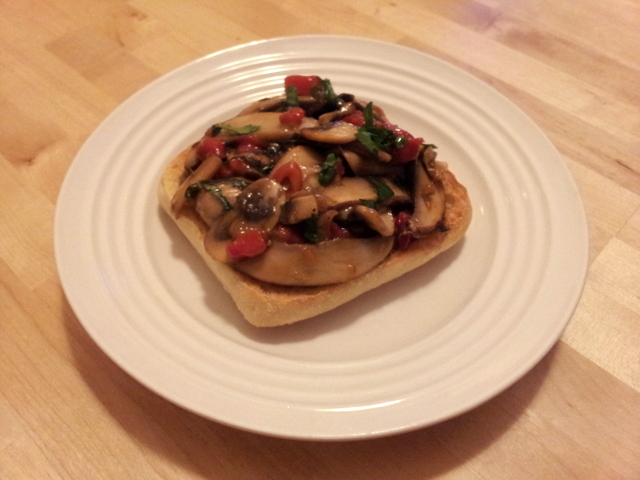 5. Mmmkay now just put these bread slices on a plate and top them with the mushroom angel celebration disco mix. Because you are one fancy motherfucker, this is when you garnish your party with parsley, the most royal of all herbs.
---
What are you eating for National Sandwich Day? Share in the comments!