It's award season again! Time to don your best tux, top hat and/or inappropriately shiny formalwear as you flop down on your couch to watch it on your MacBook. Tina Fey and Amy Poehler will be hosting the Golden Globes, Katy Perry is picking one up from the Trevor Project and on the other side of the pond, the Stonewall Awards gave out their fair share of shiny accolades. The seventh annual event recognizes people and groups that have made an impact in the lives of LGBT people — for better or for worse. Much like other social justice awards, the charity bequeaths awards for Hero, Broadcast, Entertainer, Journalist, Politician, Publication, Sports Award, Writer and Community Group of the Year, but unlike other groups, they also christen someone as Bigot of the Year.
That's right, Bigot of the Year! Although the award ceremony focuses on how far we've come and the people that have helped, the charity also acknowledges individuals that have "gone out of their way to harm, hurt or snub lesbian, gay and bisexual people in the last year." Sadly it's an award worth giving, since there are plenty of people trying to erase the progress our trailblazers have made.
In its sixth year, the award isn't sitting too well with a number of groups. The Christian Concern took it upon themselves to advocate for the nominees, saying that the Stonewall Awards were unfairly targeting religious figures. They petitioned Stonewall's sponsors, saying that the Bigot of the Year Award was hypocritical given that the charity condemns bullying.  The Catholic Church says Stonewall and other gay rights activists use the terms "bigot and homophobe relentlessly, in order to intimidate and vilify anyone who dares oppose their agenda." Maybe it's coincidence or maybe the campaign worked, but Barclay and Coutts threatened to pull their sponsorship if Stonewall hands out the award. Although both sponsors supported the ceremony (that included the award) for a number of years, now they're worried about being associated with the B word. Mark McLane, Managing Director and Head of Global Diversity and Inclusion at Barclay says, "To label any individual so subjectively and pejoratively runs contrary to our view on fair treatment, and detracts from what should be a wholly positively focused event."
Is it hypocritical to call out your bullies? Should Stonewall continue giving out the award? Do these individuals warrant such harsh, public criticism? Let's let the nominees' actions speak for themselves.
Alan Craig, leader of the Christian Peoples Alliance,  compared the gay rights movement to the political battles before the Nazis rose to power. He claimed anyone that was intolerant of his intolerance was part of the Gaystapo, a fascist group set on destroying traditional marriage.
Cultural domination is their aim and fascist-type intolerance of politically-incorrect dissent is their weapon. The eradication of marriage as "the life-long union between a man and a womanwp_postsis a huge next step along their way.

Cometh the hour, cometh the man or woman. Who will stand up and publicly confront this new domination and intolerance? In 1938 it was perfectly reasonable to like the German people but hate Nazi ambitions and ideology. Today it is perfectly reasonable to warmly engage with your gay neighbours while at the same time forcefully confronting the vaulting ambitions of gay leaders and their atheist and humanist fellow-travellers.
Simon Lokodo, Uganda's Ethics and Integrity Minister, accused NGOs of promoting a homosexual agenda and subsequently arrested some members and banned the organizations.
I have established beyond reasonable doubt that the 38 NGOs, if not even more, exist not for humanitarian reasons but to destroy the traditions and culture of this country by promoting homosexuality. We found that, on the pretext of humanitarian concerns, these organisations are being used to promote negative cultures. They are encouraging homosexuality as if it is the best form of sexual behaviour.
Lord Maginnis, an ex-Ulster Unionist Party member, appeared as a guest on the Nolan Show saying he would never dictate how another person ran their life, yet proceeded to demean homosexuals calling them sexual deviants and professing that they are not equal to their heterosexual neighbours. He compared homosexuality to an illness and urged queer teens to get psychiatric help.
Does that mean that every deviant sexual practice has to be accommodated? Will the next thing be that we legislate for some sort of bestiality?
Archbishop Philip Tartaglia callously blamed MP David Cairns' death on his sexuality.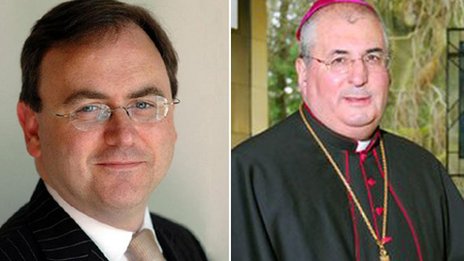 The late David Cairns and Archbishop Tartaglia via BBC
If what I have heard is true about the relationship between physical and mental health of gay men, if it is true, then society has been very quiet about it. Recently in Scotland there was a gay Catholic MP who died at the age of 44 or so and nobody said anything and why his body should just shut down at that age, obviously he could have had a disease which would have killed anyone, but you seem to hear so many stories about this kind of thing.
Cardinal Keith O'Brien, President of the Bishops' Conference of Scotland, called Scotland's movement towards marriage equality a "grotesque subversion of a universally accepted human right." He outlined the "dangers" that lay ahead if gay marriage were legalized and created the National Commission for Marriage and the Family to campaign against marriage equality.

Same-sex marriage would eliminate entirely in law the basic idea of a mother and a father for every child. It would create a society which deliberately chooses to deprive a child of either a mother or a father.

Other dangers exist. If marriage can be redefined so that it no longer means a man and a woman but two men or two women, why stop there? Why not allow three men or a woman and two men to constitute a marriage, if they pledge their fidelity to one another?
In my opinion, these men deserve more than a simple nomination. When is it ever appropriate to compare someone to the Nazis or blame someone's death on a characteristic unrelated to their health? If the tables had been turned and these illogical, unproven arguments had been used against religious or political groups, the commenters would be harangued. Instead Barclay and Coutts would prefer if Stonewall zipped their traps and pretended everything was hunky dory. The Bigot of the Year identifies people for their repeated prejudiced actions against the entire LGBT community, not simple petty remarks. These nominees have proven time and time again that these are their firm opinions and they want to indoctrinate their audience with the same hate.
The Christian Concern claimed that the nominees weren't given a fair chance to defend themselves against these accusations. Given that all of these people gained their notoriety because of their social standing and media presence, any of them could have apologized or explained their misinterpreted actions. But they didn't, and in fact some spoke to the media, proving they deserved their nomination.
By attempting to bully, intimidate, humiliate and generate hatred of individuals through the award, Stonewall fully justifies the Gaystapo tag which I gave the organisation and for which apparently I have been nominated. Nonetheless if I win the award over the other candidates and if Stonewall invite me, and permit me without harassment to offer a proper acceptance speech, I plan to attend their awards dinner and ceremony. — Alan Craig
If people are truly doing things to hurt us, they deserve to be held accountable. Critics of the award are arguing that the term "bigot" is too harsh and is nothing more than immature name-calling. If this really is an argument about semantics, the award can revert to Bully of the Year or something "less offensive" to the recipient. Call it petty, call it childish, call it bullying, but all we're doing is returning the disrespect these people have shown us. We're oppressed and silenced so often, why wouldn't we use one of our only platforms to speak the truth? It's disingenuous for sponsors to only support gay causes when they're shiny and press-worthy. It's fantastic that Ben and Jerry's support of gay marriage or Jessie J is raising the profile of bisexuals on a global stage, but sadly that isn't enough when it comes to equal rights. If they think the nominees' actions aren't worthy of criticism, they might be supporting the wrong charity. Part of making a difference and promoting change means you have to get your hands dirty and take an actual stand on an issue. Ben Summerskill, Stonewall's chief executive replies to the criticism,
We have never called anyone a bigot just because they disagreed with us. All the nominees have gone well beyond what anyone normal would call a decent level of public discourse. We welcome sponsorship from anyone who shares our core values, but we have an obligation to the 3.6 million gay people to do what is right, and highlighting extreme examples of bigotry when we know how harmful this unpleasantness is to the self-esteem of young people is right.
Kudos to Stonewall for not backing down when awarding Cardinal O'Brien for his outstanding commitment to quashing same-sex marriage. I'm sure one of the voters knows a sponsor that supports your work.
Over 10,000 Stonewall supporters voted for this year's Bigot of the Year – Cardinal Keith O'Brien. #StonewallAwards

— Stonewall (@stonewalluk) November 1, 2012