We're celebrating Autostraddle's Fifth Birthday all month long by publishing a bunch of Top Fives. This is one of them!
---
Restraining people is fun! Here are five ways to do it.
Always start by discussing what you both like, what you both don't like, physical or mental health considerations, safe words (or other ways to stop the scene) and what anyone might require for aftercare. Safety is important, and so is having fun.
In all cases, make sure the restraints or your grip isn't too tight and avoid joints – for example, if you're holding someone's arms behind their back, grip their lower forearms rather than their wrists. Do not restrain someone by the neck. Check circulation by looking for skin that may turn blue or white, and ask (or order) your activity partner to tell you if they start to feel pins and needles. Also make sure you can release them quickly, either by practicing undoing the restraints or by keeping a pair of flat bandage scissors on hand for rope play.
Read Autostraddle's beginner's guide to bondage for more information on getting started.
---
1. Your Body
Your body is always within reach, and you know how to use it. Pinning someone down is the often the easiest and fastest way to restrain them, particularly if they want to struggle a little. It's also the most intimate. The best targets, both for safety and for restricting mobility, are their shoulders, upper arms, forearms or thighs.
---
2. Their Body
Order your activity partner to stay still, and punish them if they don't.
---
3. Rope
Unlike other types of restraints, rope is super versatile and can be as simple or elaborate as you want it to be. It takes a bit more practice than other types of restraints, but can also be more rewarding.
At the hardware store, ask for solid-braid nylon rope 7/16″ or 3/8″ in diameter. You can also buy thick cotton or silk bondage rope, or prettier nylon rope, from many sex shops.
For a guide to making rope handcuffs, check out Autostraddle's intro to rope bondage. (Use the same instructions but about 35 feet of rope to tie someone by the calves rather than forearms.)
---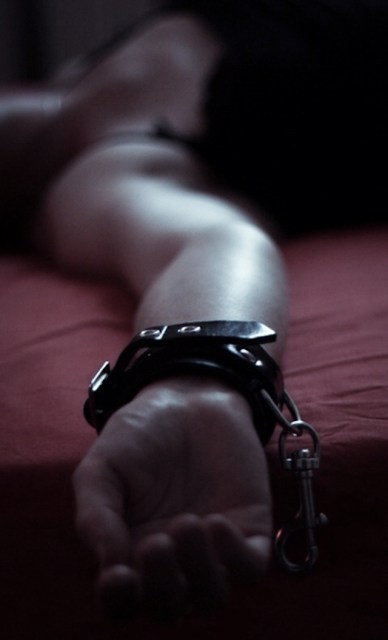 4. Standard Restraints
The best restraints are often lightly padded, are unlikely to break in a struggle and are thicker and heavier to avoid cutting off circulation. They usually stay in place with buckles or Velcro and are easy to adjust or remove quickly if you need to.
Though police handcuffs are easy to find, a restrained person could damage their joints in even a light struggle. Instead, try the leather Kookie Cuffs or the nylon and neoprene Super Cuffs.
Bondage tape also acts as a rope/restraints hybrid, giving you the fun of putting a little effort into restraining someone but with the tiniest learning curve.
---
5. DIY Restraints
You probably already own scarves, ties or stockings, though keep your ties loose and be extra careful, as they often tighten unintentionally and can cut off circulation. Use a pillowcase pulled up over your activity partner's elbows to restrain their arms behind their back.
You can also turn a belt into handcuffs really easily.
Making your own sex toys is just as fun as making anything else, but it may take longer if done with an activity partner, as you will have to stop to have sex a lot during the process. Hardware stores have all the things like quick-release clamps, snap hooks, rings, buckles and obviously more. Kasidie, for example, has instructions on how to make your own spreader bar. If you have access to tools, it's also pretty simple to make your own buckling restraints.
feature image via loneookami
---
Header Image by Rory Midhani