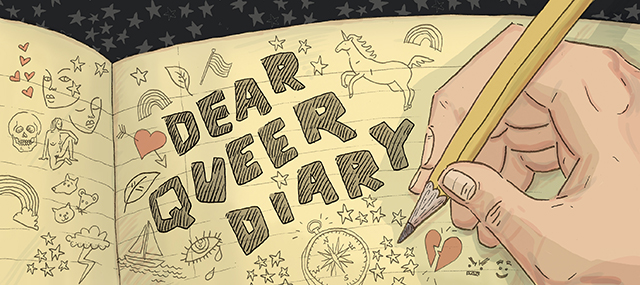 When I was a tiny lesbian, I wanted to grow up to become an artist. In my young mind, this would consist mainly of sitting by scenic vistas with an easel and a set of watercolors, flourishing my brush dramatically. After a few years, I imagined, my work would be displayed in heavy gold frames at major museums around the world.
I also imagined I would spend the rest of my life with a bowl cut and bangs straight across my forehead, and I am sure you know how that worked out.
In fact, before I hit fifth grade, my career aspirations (and haircut!) had shifted rapidly— I went from hopeful artist to wannabe private detective (in the style of The Boxcar Children) to possible architect to future Broadway star. By high school, the easel I had received as an eighth(?) birthday present was collecting dust in the basement. In spite of this change, there was one area of my life in which my love of art continued to flourish: I was an inveterate doodler.
My early love of doodling can probably be traced to Amelia's Notebook, Marissa Moss's composition-book-spotted masterpiece of fictional journal drawings. However, given the fact that I considered myself constitutionally incapable of drawing people, I had to devote my energies to a variety of other subjects.
Between fifth and twelfth grade, some of my favorite things to doodle included:
Poké Balls
vines
foods I hoped would be for lunch
books
the events covered in the A.P. U.S. History curriculum
fairy castles
elaborate geometric patterns that would cover the entire "Saturday" column of my homework planner
city skylines
mermaids (with carefully rendered breasts)
(In my defense, studies do show that doodlers are actually more likely than non-doodlers to retain information.)
It should come as no surprise that, outside of school, doodles snuck into my journals. There's a floor plan of my Argentine host family's house, several layouts for the school newspaper, the outline of a Silly Band pig, and something that looks troublingly like an over-decorated coffin.
While I have always been primarily a word-writer, I would guess that there are many among our dear queer diarist fellows who use doodles as a primary method for recording their thoughts, experiences, and fantasies about making out with Ellen Page.
If you spend half as much time in bookstores as I do, you know that there are about a basquillion doodle-related journals out there; however, I feel that I simply must inform you that one lovely Straddler has helped to create her own doodle-friendly diary—or as she calls it, "a coloring book for adults." You may recall reading about it way back when it was in the Kickstarter phase, but I can assure you that 1. Free Period Press is now a beautiful reality, and 2. my mini-notebook has already facilitated journal-doodles aplenty. I, personally, lack the moral fiber to color outside the lines, but as usual, you can do you, my journaling geniuses.
What is your doodling modus operandi, dear queer diarists? Do you need a grown-up coloring book to hide in your desk drawer at work? Most importantly, have you ever drawn a picture of a Squirtle in your journal? Please, reassure me that I am not alone.
---
Dear Queer Diary is a column about the joys (and occasionally, the pains) of journaling. We crack open our tiny notebooks and break out the rainbow-colored pens on the regular, so get ready to limber up your writing hands and document all your beautiful feelings!
Header by Rory Midhani