Hello, love machines! Let's go through the stories we missed this week while Beyonce went out to ride her bike and then cut all her hair off.
Wanna Be On Top?
Everyone's always trying to list everything.
+ The Princeton Review decided on the top 20 LGBT-friendly schools.
+ Out lists 17 gay superhero couples. (It's the stuff of dreams! Unless you already own an Avengers sex toy or something.)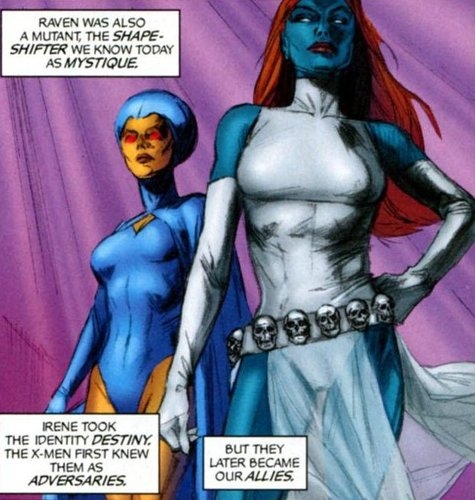 + At Flavorwire: 25 essential works of LGBT non-fiction.
+ ThinkProgress lists 5 LGBT employees who have faced workplace discrimination.
This Makes Me Want to veer Back Into My Shopping Addiction
The veer nyc Fall 2013 lookbook is here. And it's magnificent.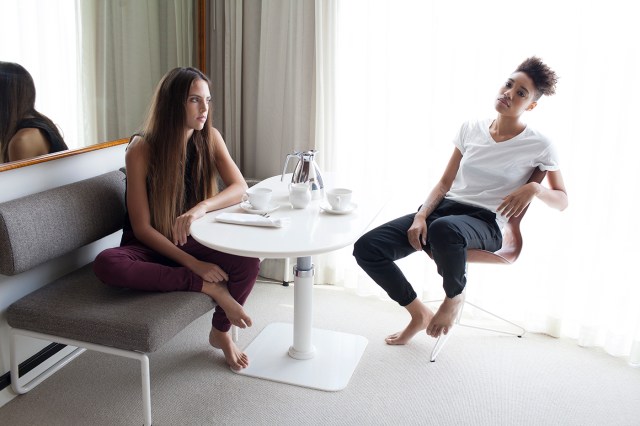 Deeply Moved
This shit is deep. Y'know?
+ How Ozzy Osbourne (and metal in general) made one very lucky woman a homo.
+ DOMA: it's about family, stupid!
"During a period in my life when I felt that the church had turned its back on me, I never felt that from my dad," Murray said from that pulpit. "And the strong faith and deep relationship I have with God today is built on his example."

Dad – good old, old school dad – would never think of himself as a bold fighter for social justice. He did not speak often of Murray being gay, except that once when he gathered the strength to stand before thousands of Methodist preachers debating the acceptance of gays. He argued for equality by stating his undying belief that Jesus is love. And love is unconditional.

It was a losing argument, as it turned out. But it was enough for us.

So forgive me today if I don't see a threat to the sacrament of marriage. Forgive me if I cannot see the looming danger of allowing gay people in committed relationships the same privileges awarded the rest of us.

Because I see only my brother and the man I've considered a brother-in-law for 70 percent of my life. I see the best uncles my children could know.

I see Murray and Steve, and when I do, I see a lot more than gay men. I see a family.
+ A queer of color takes on Fruitvale Station.
+ CeCe McDonald talks Trayvon: "I feel a revolution is amongst us, and I know that there is no better time than now."
+ Russia's "gay propaganda" law uniquely impacts same-sex parents. Here's how that feels.
+ "Here's What I Learned from 25 Years of Fighting for LGBT Equality."
You Should Go
+ The North Carolina Gay and Lesbian Film Festival is upon us!
+ Go be Queer Between The Covers from 12pm to 6pm on Saturday, August 17 at Comité social Centre-Sud. If you're Canadian, that is.
For the sixth year in a row, queer organizers in Montreal are presenting Queer Between the Covers, a queer bookfair featuring materials from Montreal-based and out-of-town queer publishers, zine distros, bookstores, and independent artists and authors. Last year's bookfair attracted several hundred people and this year's will feature an even larger cross-section of materials sure to draw in the biggest attendance yet. Longtime bookfair organizer Claire Forsyth speaks of the event's significance:

"The bookfair is about creating a space to make queer lives and experiences visible, to share knowledge, and to build community. The fact that we don't have many explicitly queer venues in this city makes holding a bookfair like this extremely important. I think we're really helping to fill a critical cultural gap in Montreal."
You Should Give
I want to keep "Free Period: A Patternful Coloring Book for Adults + Kids" in my desk at work.
You know how you work all day and then come home and want to do something awesome and creative but are super-exhausted from working all day? OMG us too!

Then we remembered that coloring is pretty much the best. After 15 minutes of zoned-out coloring, you're left with something tangible: proof of your creativity in the form of a piece of art! That you just made! Yourself! (Like us, you may also be left with proof of your inability to color within the lines. But that's ok because you are a creative force that cannot be contained!)

Our coloring book contains patterns created by Free Period Press, a group of four Cleveland-based artists and friends. We each developed patterns to stimulate your right brain. We hope each page of the book turns into a collaborative artwork between you and us.
Stay Young, Go Dancing
Is the lesbian bar of New York a dying breed? For the sake of the Eastern seaboard I hope to fuck not.
"Lesbian culture has tended to be organized around dense social networks of friends rather than the bar scene, so there have always been fewer lesbian bars than gay male bars in general," says Lauren J. Joseph, a Pennsylvania State University sociologist whose areas of study include gender and sexuality. "Before the Internet, I would argue that women patronized the Manhattan bars because that was where they could find other lesbians to date or to socialize with."

Now, Joseph says, "women do not need to go to the bar to meet other women."

With forums for communication now accessible from anywhere with WiFi, lesbian bar patrons can go wherever they want.
Think There's Nothing They Can Do?
If you thought raising the minimum wage would cause everyone to crash/burn/go bankrupt I would very eagerly show you this proof that you were wrong. Thank god you're not.
Good News
In Taiwan, a unique and adorable marriage equality victory:
In a surprise decision that shocked even the couple themselves, the Taiwanese government has decided not to revoke a marriage between two trans women.

After a marathon meeting with colleagues from justice and welfare ministries and other experts, the Interior Ministry announced today (7 Aug) that the marriage license of Abbygail Wu and Ji-yi Wu should remain valid.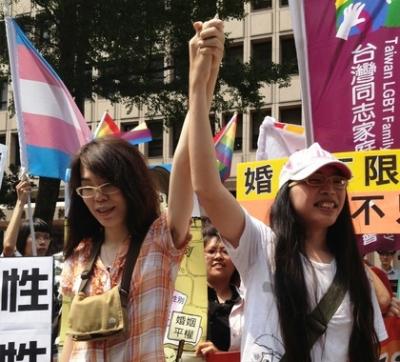 This Shit is Whack
+ Unlike its peer federal institutions, Social Security will not be granting partner benefits to same-sex couples nationwide; only those who reside in states where gay marriage is legal will see a penny of it.
+ "99.3 percent of all Egyptian women report being sexually harassed, and 91.5 percent have experienced unwelcome physical contact."
+ In Louisiana, a parish is arguing that a 14-year-old girl consented to being raped by a 40-year-old guard.
+ Queer homelessness is a problem across the nation.
+ Girls of color make up a majority of the juvenile justice system. Why aren't we talking about it?
Ask A Homosexual
(And if that's not enough, you could always ask the NY Times about "fending off" questions about gay marriage.)