Welcome to I Just Now Saw, a new column in which I attempt to conduct conversations about television shows you watched ten years ago and I just now saw, in their entirety, for the first time.
So, Battlestar Galactica. The final frontier. The sci-fi franchise y'all have been begging me to watch for years, and which I attempted to watch a few times before finally investing in it, at which point I became pretty hooked and watched it constantly for months, until I'd completed all four seasons. During that first watch I abided by my self-imposed media blackout (refusing to read anything about the show until I was done watching it). Then I read a few things, and then I went back and watched the whole series all over again so that I could write this, and now HERE WE ARE.
Before we begin — SPOILER ALERT FOR EVERYTHING. If you've yet to watch the show and plan to, I strongly encourage you not to read this, because some secrets (like the identities of the Final Five) are worth waiting for!
---
8. Starbuck Feelings
Here's the thing about Starbuck: she's a lesbian. Kara Thrace is a lesbian. I mean, she's not a lesbian, but I think there's a thing we see in a person — in a real person too, like it's a thing I think we'll see in Kristen Stewart and Ellen Page when they get older, that we saw in Jodie Foster — this toughness, this hardness. It's not just toughness, but whatever the word is for this, it would be in the same general linguistic web as "toughness." And I think it's a toughness that is uniquely appealing to women, and attractive to women, and it's got nothing to do with gender presentation, femininity or masculinity, although it shows up almost universally amongst "hard femmes." This whole theory is essentialist, sure, but damn this quality makes a really fucking sexy lesbian. You know what else Starbuck is? She's toppy. She's fucking toppy, even when she's not being a top. As a feminist, I appreciate that she meets men eye-to-eye and I like how she does heterosexuality, but as a queer I just want her to dyke out. Regardless, I wasn't that into Starbuck after the first season, because…
---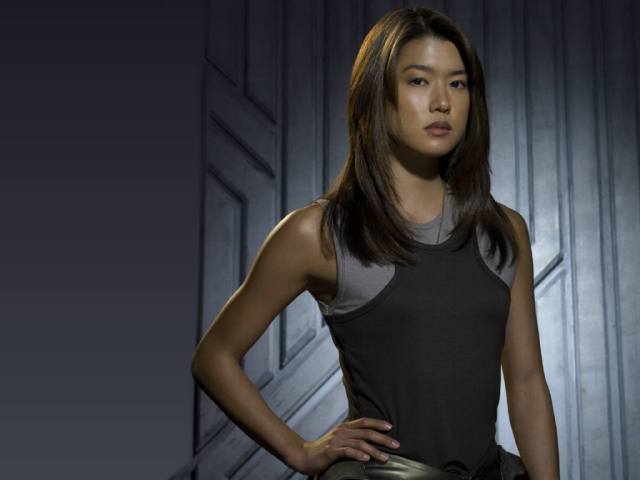 7. Number Eight Feelings
Hey-o Sharon / Boomer / Athena! So many Number 8s, so little time. Remember when the Sharons didn't all know about each other yet? When she was still brand new and didn't know her spine was on fire. But meanwhile all these other eights did know. The Sixes seemed intellectually torn between humans and cylons, whereas the Eights seemed more emotionally torn, and therefore less consistent or predictable. In turns I was so mad at them (especially when Boomer was sleeping with John), but my heart-strings and sweatpants-strings got tugged again and again.
---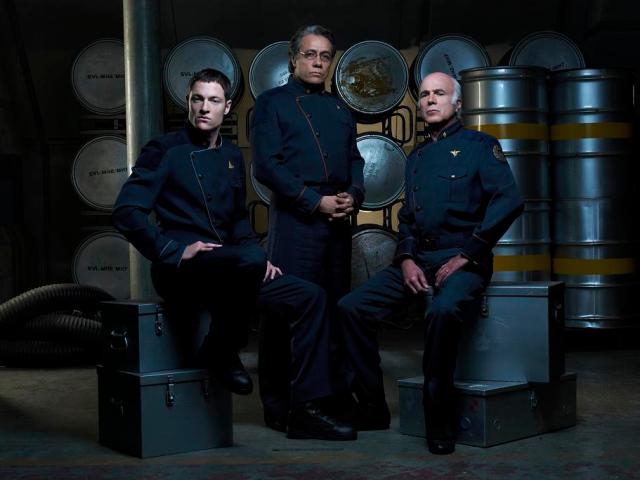 6. It's Raining Men
There are SO MANY DUDES IN THIS SHOW. So many male faces. Here's the thing about grown men: they're not really all that interesting to look at. I mean it's variations on a theme. Show me a bunch of middle-aged men and I will show you to the door so I can walk out that door, walk into a dimly lit room with a bed in it, lie down, and take a nice long nap.
But it wasn't just that the male:female ratio on this show is criminal, it's that the men on this show SUCK. However, I watched Battlestar twice all the way though, and my feelings about Gaius Baltar changed dramatically on the second run. Knowing the whole arc enabled me to finally see how fucking hilarious he is, in his megalomania, and to comprehend the source of his vulnerability and the insecurity that laces all his sociopathic self-preservation. But the first time through, his scenes were nails on a chalkboard and at first I hated Caprica Six by association.
Men from Battlestar who I hated a lot, in order of how much I hated them:
Colonel Tigh
Al from Quantam Leap
Gaius Baltar (the first time I watched it)
Blonde Cylon guy who could've been in Trainspotting
Dark-haired Cylon guy who looks kinda like Keivn Spacey
Also, why were these douchebags always bedding hot chicks, like (as aforementioned) John with Boomer and Tigh with Number Six? Seriously, WHAT THE FUCK WAS UP WITH TIGH AND NUMBER SIX?
---
5. High-Impact Television
These people are basically Vampire Slayers. They get thrown around and are subjected to explosions and electrical wires exploding and getting punched in the face and they just persevere. I mean seriously if I fell really hard on the deck of a ship when we got hit by a Cylon Raider, I would be in severe pain for days. These people leap out of the way when an explosion rocks the entire hall and kills three people and they're in ship-shape like two minutes later. Was anybody else disturbed by this.
---

4. Does BSG Have a Race Problem?
There's some weird shit going on in this show w/r/t race, because in a way the entire story is an allegory for racism — the human race vs. the Cylon race. Post-9/11 xenophobia as well as issues of prejudice, discrimination, classism and arbitrary divisions between people based on country-of-origin are arguably the show's fundamental struggle. Furthermore, race as it's defined in contemporary American society is never mentioned on the show, but how could it be when our words for different racial groups are so tied to countries and continents that don't exist in BSG? That all being said — in my opinion, when you've got an opportunity to create a brand new world, why not make it as racially diverse as possible?
These things are true: Edward James Olmos, who plays Commanding Officer William Adama, is Latino. The two actors who play his children, Jamie Bamber and Tobis Mehler, are not. (Olmos' actual son, Bodie, plays "Hot Dog.") Kandyse McClure, who plays Dualla — a character made relevant primarily due to her relationships with high-ranking white men, and who eventually kills herself — is a light-skinned black woman. Sharon is played by Korean-Canadian actress Grace Park and Tory is played by Indian-Canadian actress Rekha Sharma. Colin Lawrence, who had a small role as "Skulls," is black. Tahmoh Penikett, who plays Helo, is multiracial, as his mother is First Nations. So there is quite a bit of racial diversity in the cast, but especially because race as we conceive of it is never talked about, I did wish that there could have been more visually apparent racial diversity.
I started thinking about how Sharon and Tory do, arguably, fall into certain damaging racial tropes, but then I realized that honestly, so many of Battlestar's characters are so flawed that it's difficult to think of a character a person of color could've played that would've broken retrograde racial tropes, so I gave up on that paragraph. For example, the abusive alcoholic asshole womanizer Saul Tigh was played by a black man in the original series, so would we have been better off if they'd kept it that way for this incarnation? It is a fully formed character, after all, and a plum role. I'm honestly not sure.
Regardless — although casting was allegedly color-blind, I think the show could've benefited from a non-white-passing person of color playing Sam, Lee, Billy, Doc, Tyrol, President Roslyn or any of the pilots (e.g., Racetrack, Hardball, Narcho). Why not, you know?
Admittedly, it was Bulldog's episode that sort of thrust the specific issue of lack-of-black-people (and lack of dark-skinned black people specifically) in my face — he's sacrificed by Adama, and then he returns to Galactica after spending three years IN A CAGE on a Cylon ship, only to attempt to kill Adama, at which point an old white guy beats him dead with a pipe.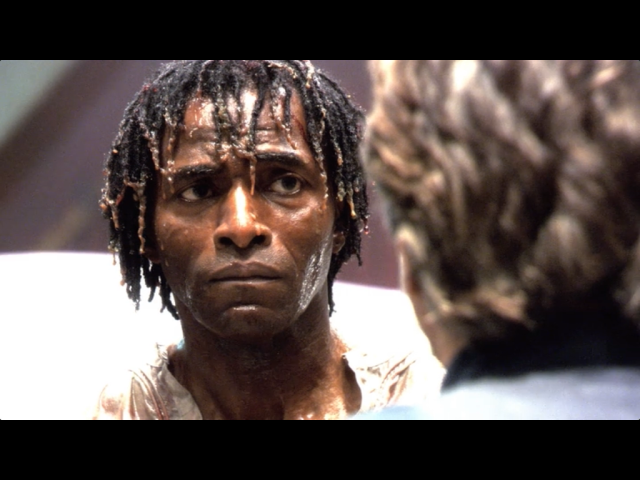 Then we have Simon, who's first introduced as the guy who kidnaps and enables the rape of a white woman (Starbuck), and later is seen near-death being lead onto the ship in chains with a restraint around his neck in order to be ruthlessly interrogated. Aside from Dee, the only black women on the show are the Geminon representative who wants to outlaw abortion and the personal priestess/oracle to Laura Roslin. So, I don't know, but it's something to think about.
---
3. We're Here, Where are the Queers, Get Used to It?
Seriously, it's the motherfucking future. I know sci-fi has a strange track record in this department, each franchise alternately presenting us with ahead-of-its-time homosexual possibilities (see: Lost Girl, Buffy) and retrograde heterosexuality  (see: Star Trek) eons into the future. But the only lesbian in four seasons of Battlestar was Cain, who appeared for two episodes and who I hated even more than I hated most of the men on this show. Although many of the Cylon ladies are presented as being interested in sexual liaisons with both men and women, their romantic interests seem strictly male-oriented.
Gaeda is queer though, right? Everybody hated him, but I didn't hate him as much as everyone else did. I thought it was brave what he did on New Caprica.
---
2. This Show Is Smarter Than Me
See, I didn't even hate the ending, because I didn't really realize that the ending didn't resolve everything, because I'd only barely been keeping up with The Shit That Needed To Get Resolved.
I was so confused by the end that I was not even bothered that the end was also confusing.
I figured that I was just missing something, as I'd been all along.
I think writing this "I Just Now Saw" has taken forever because I feel like I'll be taken less seriously as a television writer if I don't have any deep thoughts about Battlestar. But then I realized that I could write about it, episode by episode, it's just hard to write about the entire series all at once.
And to be honest, so much of it remains unclear.
Yet… I still loved it? And the story felt so huge, even if I couldn't draw a map of it, I knew I was looking at something vast and ambitious and that's the best kind of feeling you can have when you watch a story unfold before your very eyes.
But back before I educated myself, I had the following commoner opinions about the ending: I liked that Helo and Boomer got to raise their child in a place with air and grass, and that Starbuck and Lee had a final moment, and that Gaius said "I know how to farm" and started crying. I'm sentimental every 15 or so days.
---
1. But It Is Not Smarter Than Jacob Clifton
But you know who does have a shit-ton to say about Battlestar and who made my head explode with his Television Without Pity recaps, particularly those of the last several episodes of the series? Jacob Fucking Clifton, duh. His recaps are what all recaps dream of being; it's a re-telling so good it begs the obnoxious question I'm often asked, which is why are you using your talents talking about this show instead of writing one/something else? But whatever, let's just be grateful, eh? That he wrote so beautifully of this masterpiece epic of a show to begin with, that it has been done justice.