Hello, kittens! I hope you have your mittens because it's still snowing! When will it be spring time for real? Here's the news we missed while I was knitting myself a scarf to keep warm.
---
It's Still Dangerous to be Queer…
+ A new documentary captures the challenges of homophobia, oppression and discrimination in Cameroon.
+ A  woman confronted the ATLAH World Missionary Church in Harlem, NY when she saw their sign proclaiming "Harlem is a homo free zone."
The next day, Lopez knocked on the church door and told the man who answered that she had seen their sign.

"I'm here for my stoning," she said. "I'm a lesbian."

In a minute-long exchanged filmed by Lopez and posted on her Facebook page, the man tells Lopez he doesn't have any stones and that she should come back the next day.
+ Filmmaker Kelly Kendziorski has launched a KickStarter campaign for Yeah Maybe, No, "a film that explores a gay man's experience with sexual violence at his college."

---
…But People are Taking Action!
+ Faith Cheltenham, President of BiNet USA has created a Change.org petition asking Google to stop its ban on the word 'bisexual.' Come on, Google, get with it!
+ The American Association of University Women released a statement in support of LGBTQ rights on Monday.
We aren't empowering women at all if we focus only on issues facing straight and cisgender women. We must be equally committed to ending the particular kinds of prejudice and harassment that women who are lesbian, gay, bisexual, questioning, and transgender face. To ignore those realities is to ignore systemic discrimination against many women. We believe in empowerment for all, not in empowerment for some.
---
Let's Talk About "The Work of Sex Work"
+ Melissa Gira Grant's new book Playing the Whore: The Work of Sex Work explores the labor politics and double standards of sex work, asking critical questions. (Read the Autostraddle review!)
Is sex work always exploitative? "It's a hard question to ask without thinking about all of the work that we do," Melissa Gira Grant tells GRITtv. "We put such a double standard on sex workers to prove that they made an empowered choice, in a way that we don't do about other service work that can also be quite exploitative."  

"A better question might be, what kinds of power and control do you have at work?" Grant says. "What happens when you need to take a day off? Can you choose the customers that you'd like to see? Can you choose the kinds of safer sex that you want to have?"
Watch her GRITtv interview here:

---
There's Not Much Justice in the Criminal Justice System
+  MSNBC asked the Urban Institute to conduct a study on the effectiveness of Stand Your Ground Laws. The results are not surprising. Women deserve better.
"Calls to repeal 'Stand Your Ground' are anti-woman. Imposing a duty-to-flee places the safety of the rapist above a woman's own life," wrote a pair of Florida lawmakers in 2012. Or as NRA President Wayne LaPierre has explained it, "The one thing a violent rapist deserves to face is a good woman with a gun."

But as Marissa Alexander faces a possible 60-year sentence in Florida for what she called a warning shot fired against her abusive husband – and on Friday filed a request for a new Stand Your Ground immunity hearing – it's clear the definition of "a good woman with a gun" doesn't necessarily apply to everyone. And according to a new analysis of FBI homicide data, race plays a disproportionate role.
+ Minor offenses continue to prevent women of color from getting jobs, especially since employers often don't take the circumstances of these offenses into consideration.
---
You Should Go and/or Give!
+ Registration for The Asexual Visibility and Education Network's Community, Advocacy, and Knowledge Expo (AVEN CAKE) in NYC is happening now! Check out the (Un)conference on Saturday, April 12th at Parson's New School, which will be followed by an Aces and Allies Prom at the Metropolitan Community Church of New York.
+ Remember when we covered, live-tweeted and generally gushed about the Lesbians Who Tech Summit in San Francisco? East Coasters, now's your chance to experience that very same magic in New York City. Lesbians Who Tech launched an Indiegogo campaign to pre-sell Summit tickets. If they hit their goal, you too can network with and learn from amazing nerdy queers.
From their Indiegogo page:
"So many people said, "It sounds amazing – you should bring it to New York!" And that's what we're going to do, with your help.

To make it happen, we have to pre-sell 150 tickets, which shows that you all really want the Summit to happen. And we have just 5 days to do it because we don't want to lose the venue we have on hold!
What are you waiting for?! Be part of the initial 150 and grab tickets at discounted prices. You definitely don't want to miss this.
+ Uh Huh Her is touring next month and coming to a location near you! But actually though, they're going to lots of venues. It's a reason to see Leisha Hailey in real life. Need I say more?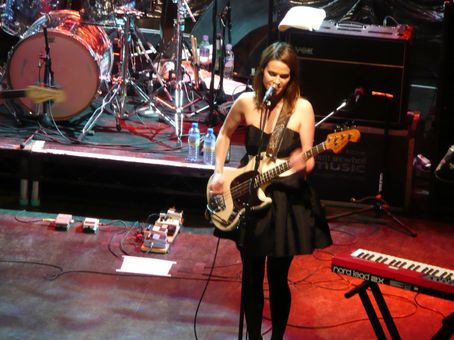 And just for funsies, here's a picture of Kate Moennig in an UHH t-shirt holding a power drill. You are welcome.