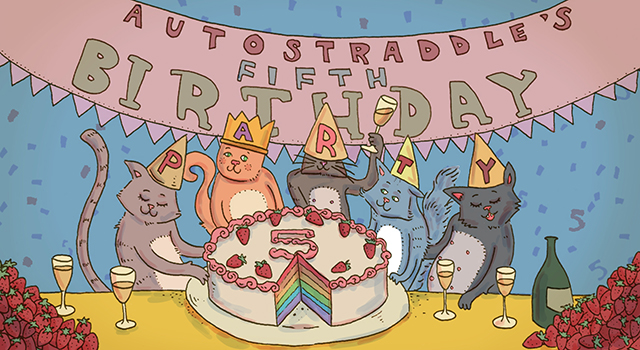 We're celebrating Autostraddle's Fifth Birthday all month long by publishing a bunch of Top Fives. This is one of them!
---
Usually, I'm a big fan of real live books made of paper that smell like adventure and imagination. I don't know how I'd decorate my apartment if I didn't have scores of books, mostly read but some unread, lining my walls and shelves and tables and all other flat surfaces. I can only imagine my life would appear to be empty to the outside observer. There is one exception to my physical book preference, though. And that's periodicals. I simply do not have the g.d. space to also stack magazines and newspapers in all the places. Here are five publications I was surprised to find out I could get digitally.
---
1. The Paris Review
This bastion of literary publication certainly has the resources to tackle publication from every angle, so it's not for that reason that I'm surprised. I'm surprised that The Paris Review is available digitally because I just view this journal as soooo traditional. They don't even accept digital submissions—is it so wrong for me to be just a wee bit surprised that not only do they offer digital subscriptions, but that they have their own dedicated iOS app? Well they do and I am and if I'm wrong then I don't wanna be right. The reason I'm putting this one in particular front and center is because the digital subscription is so cost effective—$29.99 for four issues versus $40.00 for four issues. I know, I know—The Paris Review isn't your typical periodical publication in that each issue is really more like a book—so if you're the kind of person who'd really prefer to have this one in print, know that the print subscription gets you access to the digital one as well. No need to bring that whopper of a journal on the bus.
---
2. All Sorts of American Newspapers from 1836-1922
Did you know that the Library of Congress, the National Endowment for the Humanities and the National Digital Newspaper Program are all working together to bring you American history via the papes in a project entitled Chronicling America? And that you can access all this through a website maintained by the Library of Congress. I didn't either. But they are and you can has! Also this reminds me of—
https://www.youtube.com/watch?v=htawT7i6Gqk
Once you get there, you can see what was going 100 years ago today. Or you can look for your local paper on the complete list (no New Jersey papers, I was v. v. disappointed).
---
3. One Story
This is exactly what's on the box—one story, once a month and that story will be amazing. You can subscribe on your iOS device or on any device running the Kindle app. I also got a free sample issue when I downloaded their iOS app, so be aware that's a thing that happens and that I'm grateful for.
---
4. Bellevue Literary Review
This quirky publication deals with illness, disability, addiction and health in often quirky and always compelling literary ways. From their website:
Bellevue Hospital, the oldest public hospital in the United States, has been witness to nearly three centuries of human drama. In this tradition we have created the Bellevue Literary Review, a forum for illuminating humanity and human experience. The BLR is published by the Department of Medicine at NYU Langone Medical Center. We invite submissions of previously unpublished works of fiction, nonfiction, and poetry that touch upon relationships to the human body, illness, health and healing.
Consider subscribing to this publication and many others via Lit Ragger, an app I didn't know existed until like right now, which is crazy since I adore literary journals—this app is also cool because you can tap the "free reads" section in there and get a couple cool literary things to read for free (one of which is the Native American Lit section of Winter 2012 Prairie Schooner, curated by Sherman Alexie. I love Sherman Alexie).
---

5. Free Articles from Fast Company, Elle, The Atlantic and a bunch more.
Okay, probably most of you know this exists. But for the one of you that doesn't, I'm about to forever change your morning tea ritual. If you head to Zinio, hit up their Android app or download their iPad app and tap/click "explore," you can get full free articles from some of the most chatted about magazines. Probably gonna make you a great conversationalist around the water cooler or wherever you personally chat to people.
So what're y'all reading on your tech? Where's your line between wanting the physical copy of magazines and newspapers and absolutely not wanting to add more paper to your living space?
---
This has been the seventy-first installment of  Queer Your Tech with Fun, Autostraddle's nerdy tech column. Not everything we cover is queer per se, but we talk about customizing this awesome technology you've got. Having it our way, expressing our appy selves just like we do with our identities. Here we can talk about anything from app recommendations to choosing a wireless printer to web sites you have to favorite to any other fun shit we can do with technology.
Header by Rory Midhani