Lady lovers assemble! This past week, Empire's Tiana Brown revealed that she has a girlfriend. In addition to her boyfriend. Clear your schedule now, because Empire airs at 8/7c on Fox and we need to talk about this show.
Haven't been watching? Let's catch you up real quick. Here's the premise: When successful hip hop mogul Lucious Lyons (Terrence Howard) is diagnosed with ALS, he puts his three sons in competition with each other to determine who will take over as CEO of his entertainment company, Empire Enterprises.
The frontrunner is oldest son Andre (Trai Byers), who's basically all business and has a conniving and power-hungry wife, Rhonda (Kaitlin Doubleday). Middle son Jamal (Jussie Smollett) is a talented indie singer-songwriter, but he has a live-in boyfriend, Michael (Rafael de la Fuente), and Lucious is super homophobic. Youngest son Hakeem (Bryshere Y. Gray) is allegedly recording his debut hip hop album, but appears to be more interested in partying than anything else. The boys' tough-as-nails mother, Cookie (Taraji P. Henson), has just been released from a 17-year jail sentence, and is (secretly) working as an informant. As one of the only people who knows the truth about how Lucious started the company using drug money, Cookie works out a deal in the first episode to get a $5 million salary along with a spot in Empire's A&R department. She takes Jamal under her wing, and soon after, also begins to manage Tiana (played by actress Serayah).
https://www.youtube.com/watch?v=Lp7cEz-ZpeI
From the moment Tiana graces the screen, it's immediately clear that she's the hottest act at Empire. When Hakeem runs into her in a rehearsal studio in the second episode, he immediately tries to pick her up by complimenting her act as "bananas" and telling her that there are "a lot of perks that come with being nice to me." Tiana is not impressed. She tells him to stop ruining her rehearsal and turns him down in no uncertain terms.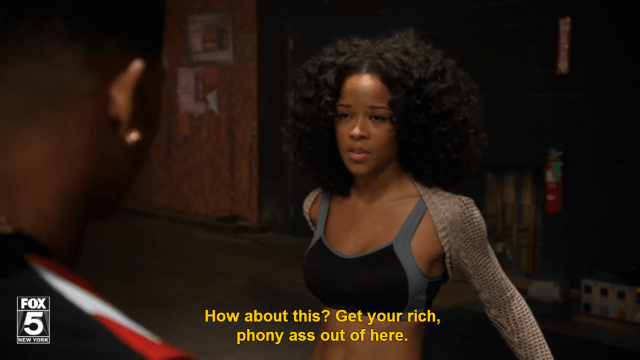 Hours later, Hakeem and his crew get drunk in a fancy restaurant and film a viral video in which they call out everyone from Tiana to President Obama (whom Hakeem's father calls personally to apologize to). Hakeem doesn't apologize to Tiana, exactly, but during his performance at Laviticus, he works her name into his song lyrics. She's intrigued. After the show, she meets him in his dressing room and they hook up.
The next time we see Tiana, she's recording a music video with labelmate Veronica (Veronika Bozeman). Tiana sings about looking for a hot boy so she can be a hot girl, "oh na, na, na." It's very Rihanna circa 2010.
Lucious pushes Hakeem to continue his relationship with Tiana, and takes her side when a disagreement breaks out over who should be foregrounded in the video. When Veronica's manager complains with a veiled threat about "needing protection," Lucious takes him into his trailer, beats him with a metal rod, and fires him.
Later, Tiana joins the family for dinner as Hakeem's date. It's uncomfortable but also hilarious when Cookie pointedly stares down Lucious' new girlfriend, Anika (Grace Gealey), and leads grace by asking God not to withhold blessings even from "hoes that hire skanks to spy on me." (Yeah, that happened. This show is a little soap opera-y. Okay, more than a little.)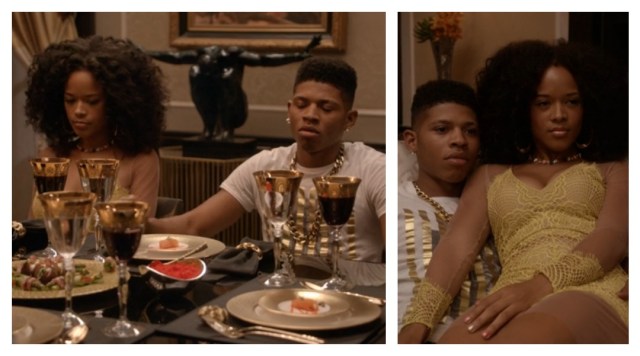 Tiana sits on Hakeem's lap during a post-dinner musical performance by Jamal. Everything seems to be looking good for them as a couple… until the very next scene, where we see Jamal making out with another chick (Camilla, played by Naomi Campbell) on top of a pool table. It's revealed that they've secretly been seeing each other for over a year.
When Hakeem fails to show up for dinner later that week with just Cookie and Tiana, Tiana goes to his penthouse and walks in on him and Camilla. She walks out without saying a word. Meanwhile, Camilla asks Hakeem why he gave Tiana a key to his apartment when he knew he might be taking romantic bubble baths with another woman. A valid question.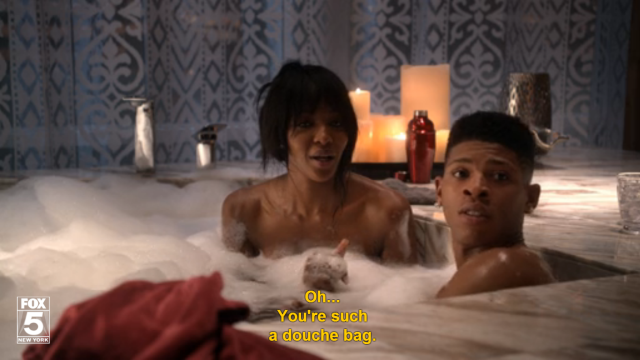 Tiana and Hakeem don't speak again until the night of their duet at the Teen Choice Awards. Hakeem misses sound check and is confused when Tiana doesn't seem to care about Hakeem seeing Camilla. "Don't you dare blow this," she says. "Let's get it really tight and bring this house down." They do.
One week later, "Takeem" is in full force in the public eye. Tiana stands up for Hakeem to a reporter, and they make cute faces at each other on the red carpet. On the ride home, Hakeem asks if Tiana will come over to his house. She declines. He asks if she's "feeling [him] like that," presumably referring to their status as a public "it" couple. She says "yeah" with a kiss, and says she'll see him later. Hakeem's crew teases him for being in love.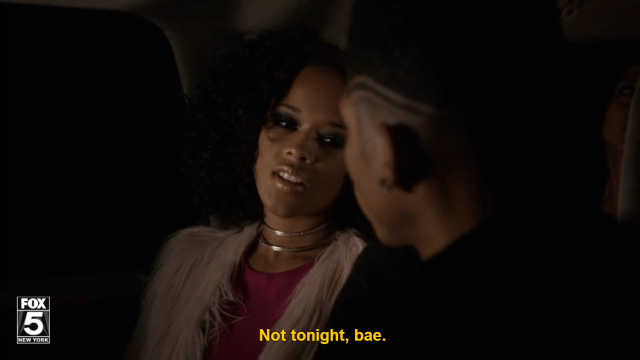 When Tiana gets home, there's someone already waiting for her: a blonde woman in a neon sports bra.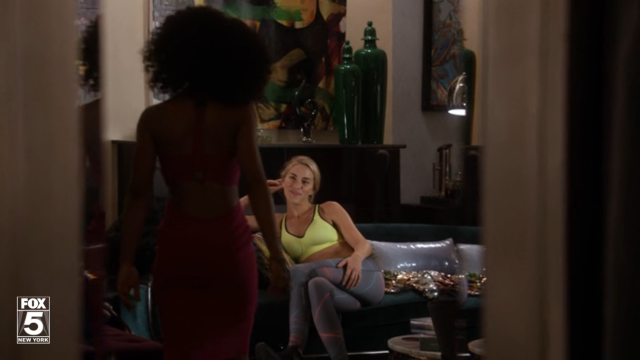 Mystery Woman: Hey, T. Did you have fun?

Tiana: Yeah.

Mystery Woman: You're already up on Perez.

Tiana: I know.

Mystery Woman: You looked hot.

Tiana: Thanks.
Tiana takes off her coat, walks across the room, and sits on Mystery Woman's lap. They make out.
At a photo shoot the next day, Rhonda calls Andre into the studio. He's mildly annoyed, but she's insistent. "I would not have pulled you down here unless it was important," says Rhonda. "God loves us. And he sent us a little gift." She pulls back the clothing on a hanging clothes rack to reveal Tiana and Mystery Woman, limbs entwined, sharing an intimate moment on a chaise. Rhonda pulls out her phone, telling her husband the recording will serve as fodder for "a meltdown for Hakeem."
Some unspecified amount of time later, we see Tiana and her background dancers practicing synchronized choreography to Hakeem's newest song, "Drip Drop." Tiana asks Cookie's assistant, Porsha (Ta'Rhonda Jones), to handle the knuckleheads Hakeem rolls with. Porsha just laughs at her.
Here's a photo, because they both have really excellent hair in this scene: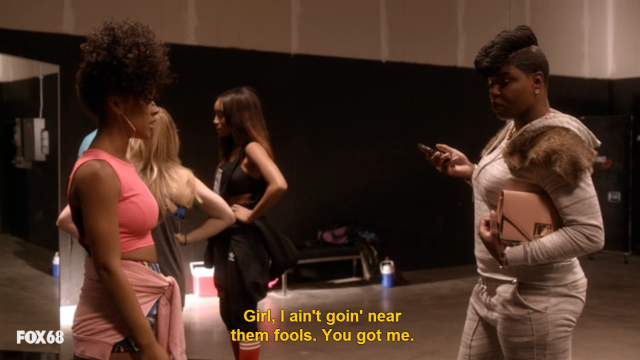 When it's time to film, Tiana meets up with Hakeem on set. He thanks her for agreeing to be in the video. Mid-shoot, Andre steps outside and tells Rhonda to go ahead and spread the footage they took earlier all over the internet. When the story goes live on Perez Hilton, we finally learn Mystery Woman's name: India (who is, by the way, played by Elizabeth Whitson).
After finding the story, Porsha immediately shows the other assistants. They appear alternately shocked, delighted and concerned."That is hot as hell," Porsha exclaims with excitement.
Unsurprisingly, Hakeem is not pleased with this development. He confronts Tiana.
Hakeem: Hey, yo, Tiana, this how we really roll? We supposed to be a team. Whatever you do reflects off me. What the hell is you doing?

Tiana: Don't yell at me.

Hakeem: What you mean, don't yell at you?

Tiana: Somebody at India's job was taping us.

Hakeem: India? You my girl. You ain't supposed to be kissing no damn India chick, and you know that.

Tiana: So, if it was a dude, it would've been all right?

Hakeem: I'm not saying that.

Tiana: Look, you got a sidepiece, too.
Everyone is surprised to learn about Hakeem's chick on the side, although I'm not entirely sure why, given the boy's reputation. Tiana scoffs and walks off. Hakeem calls off the video shoot.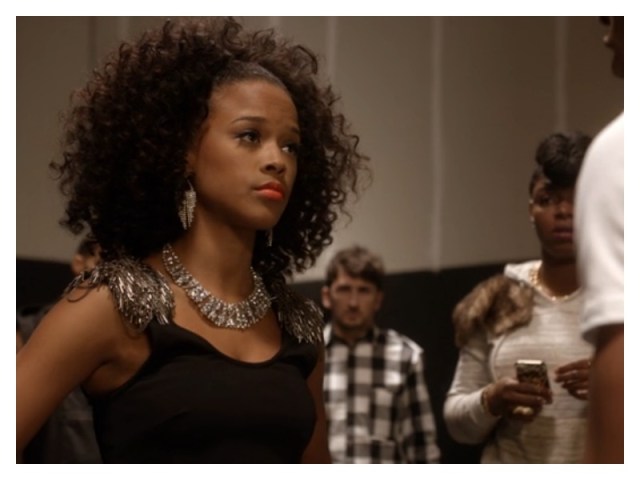 Tiana calls Cookie and tells her what happened, referring to India specifically as "my girlfriend." Overcoming the urge to make incoherent gleeful noises for half an hour (I assume), Cookie takes it all in stride. "All right, look, girl, I don't judge, but you's a freak," she says. "That's a good thing. We can sell that."
…Yeah.
In response, Tiana makes the only appropriate face one can make in reaction to that remark.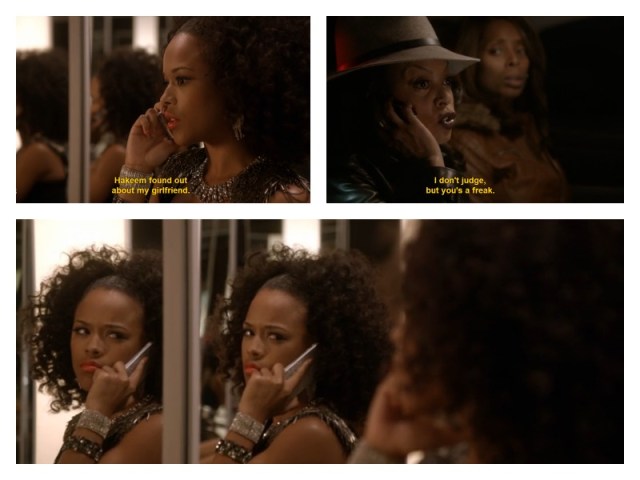 Back at the studio, Andre advises Hakeem, "It is the measure of a man how you come back from these things." Hakeem replies that he doesn't want to work with "that girl."
Across the room, Tiana has zero fucks to give. She's now accompanied by India, who specializes in looking pensive, sullen and bored.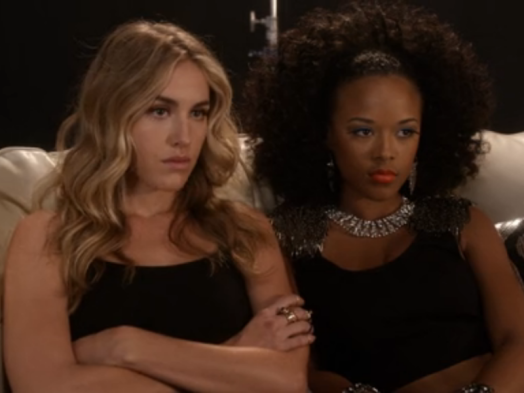 Lucious comes by to tell his son that he can't afford to waste precious time, "especially over a thot." (Because what better way to rally your offspring than by throwing misogynistic slurs, amirite?)
Lucious: Let's look at it from a mathematical perspective. Your girlfriend has a girlfriend.

Hakeem: Mm.

Lucious: Add that up.

Hakeem: Two?

Lucious: Two girlfriends. It's a mathematician's dream. You… it's trigonometry.
Umm, I'm not so sure about that. Also, I'm slightly surprised by how seamless his reaction is here, considering that in an earlier flashback, we literally saw Lucious throw his gay son away. As in, he physically picked up little-kid Jamal, stuffed him in a trash can, and slammed the lid down. But biphobia intersected with misogynoir is a different equation to solve than straight up homophobia, I guess.
Regardless, Lucious' little motivational speech works here, and Hakeem gets back to recording. By the final music montage, it appears that India, Tiana and Hakeem are all on the same page. They're going to work their triad for all it's worth as they venture down the road to wealth and fame together. At least in public.
And that's where we are today. Good Lord. There's so much to process, I hardly know where to start.
On the one hand, I absolutely love Tiana's brazen self-sufficiency. She's not afraid to turn a guy down… and then change her mind and seduce him, just because she can and she wants to. I like that she goes after her desires and doesn't waste any time being apologetic for it. Her dance moves are mesmerizing, and adding another bi women of color character to broadcast TV is a-okay with me.
On the other hand, the relationship between Tiana and Hakeem strikes me as totally self-serving, on both ends. They're clearly using each other to get ahead, and the way they (don't) communicate is highly annoying to me. Bisexuality is often used as a trope to indicate immaturity, deceptiveness, or both, and I worry about the ways in which Tiana fulfills harmful stereotypes. Though to be fair, Hakeem has her beat on both counts, and it's not fair to ask one bisexual to represent all bisexuals everywhere. It's also a little early to tell how they're going to handle her storyline. So.
It seems realistic to me that the people around Tiana would want to leverage her bisexuality as "hot" and a titillating novelty they can use to further her career. Within the music industry, lady loving ladies have historically been the "holographic Charizard card of urban music." As Brittani once explained,
Hip hop and R&B remain genres fraught with tension when it comes to relations with the LGBTQ community. Between Nicki Minaj's faux bisexuality and Chris Brown's what-seems-like-weekly homophobic rants, who would've thunk that male artists would be so affirming of the queer lady lifestyle… kind of? In these industries, being a gay male is equated with weakness and failure as it's the exact opposite of the "I got bitches" mentality that's so prevalent. …

Using supposedly bisexual women as a pawn in their mastermind scheme shows just how cunning the artist is. In a landscape where sexual prowess is as important as money and power, sending sexy woman folk out to do their bidding has become the ultimate bragging right. These men are only interested in lesbian action as it relates to them. The sexual conquests and flawed versions of bisexuality strangely assert and negate women's sexual agency simultaneously.
Obviously I'm not in favor of outsiders exploiting queer sexuality, but I am looking forward to watching this show dig in to the issue a bit more. For one thing, Tiana has an honest-to-goodness girlfriend; they don't appear to be setting her up Katy Perry-style to obnoxiously reinforce the idea that women do everything — including having same-sex relationships — for the benefit of men. Tiana was clearly not having it when she heard Cookie's plan, and I very much doubt she's going to silently let it happen. Also, Jamal is being positioned as the brother for audiences to root for, right? It just seems like there's a strong vibe of wanting to do right by LGBQ people on this show.
Perhaps my biggest hope right now is that Tiana will label her sexuality. Nobody ever says the word "bisexual" on TV! Not Emily Fields, not Piper Chapman, not Brittany S. Pierce , and I'm sick of it. Wouldn't it be awesome to see the outspoken Tiana break the silence? And even if her queerness isn't something the fictional public can stomach, we know that real life pop music stars (such as Nicki Minaj, Jessie J. and Mel B.) sometimes recant on their queerness. That's sad, but it's a thing that happens, and we never get to see the other side of it. If it turns out we can't have out-and-proud for this character, wouldn't that be an interesting story to explore?
Anyway, that's hypothetical, and I'm probably getting ahead of myself. What do you think?