When Jessie J came out as being a human who likes both men and women a few years back, many of her diehard fans were surprised: not to learn that their favorite human wasn't heterosexual, but that she wasn't homosexual. There were rumors — never confirmed — that she'd been an out lesbian prior to getting a record deal, but we were on board with this new information, too, because it didn't negate the especially glorious rumor that her girlfriend was one of the studs/AGs dancing in her amazing music video "Do It Like a Dude." It was a groundbreaking video — studs and AGs are a severely underrepresented portion of the LGBTQ community and many of us queer women were thrilled in our hearts and pants to finally see a reflection of that diverse population on MTV. Because of that video and the queer subtext in her other songs, we were instantly happy to have Jessie J on our team. Needless to say, these same fans were pretty surprised to hear today that Jessie J is now coming out as… straight?
"For me, it was a phase. But I'm not saying bisexuality is a phase for everybody. I feel that if I continue my career not speaking on it, I almost feel more of a liar than if I didn't. I just want to be honest, and it's really not a big deal. Who cares?"
Obviously we all know the answer to that question: WE DO. I'm not sure exactly why we care, or why I care, or if we even have a right to care (I'm pretty sure we don't). Regardless: we do. But before we get into that, let's look back on how we got here to begin with.
Here's what Jessie J told Glamour UK in July 2011:
It's important for me to be open and honest about [my sexuality]. My Mom and Dad have known for years and were super cool, my sisters made jokes about it because they were married with kids and I was the rebellious one. I had a girlfriend and tattoos… Because I haven't tried to hide it, people have gone, 'Oh, she's so cool about it, so we're cool about it.'

I never wanted to be called a hypocrite, but I didn't want my sexuality to become a gimmick. There are lots of people who go, 'Oh, I'm bisexual.' No. You've kissed your friend.
Here's what she said in another 2011 interview:
I'm very open, and it's funny because people say I'm very mysterious. They want me to be mysterious. I don't think I am at all. I think they want me to be mysterious because that's what they're used to… but I've never denied it, even four or five years ago when people used to talk to me about it, I always said I've always liked girls and I've always liked boys. I've never put my sexuality in a box and I've never named it, and I've never labeled it.
I've never denied it. Whoopie doo guys, yes, I've dated girls and I've dated boys – get over it. It's not a secret, but it's the only thing they can grab onto – they're like, "She never drinks and she comes out of the party looking like she did when she went in, damn her!"
My family and friends never made me feel like I had to put a label on it. The same goes for my music. I don't feel like I have to say I'm pop or I'm rock or I'm hip-hop. I make music – and if people like it, they like it. And I think it gets people frustrated because they need to pigeonhole me, but I won't allow them to, because I just think it's about being who you are.
I've been with guys and I've been with girls. And I kind of think it's about the person not the genitals. A lot of people are like, "'Oh, she doesn't know what she is,'" she says, sighing with impatience. 'But I definitely think my generation is more easygoing about it.'
Those declarations were actually pretty meaningful, at the time, and when I wrote about her coming out in May 2011, I praised her for eschewing the linguistic runaround so many other pop stars favor. Which brings us to yesterday, when news broke that she'd said this:
"I did talk about it, and I was open about it, and I do support being lesbian/gay/bisexual/transgender — love who you want. That's what I'm doing. I don't regret anything I ever said, but I never knew back then that whatever I said became a fact that I couldn't change. I'm just so bored of it, and that's kind of it – I want to stop talking about it completely now and find myself a husband. It's a true struggle. All the chick flicks that didn't make sense to me, I now understand – Sex and the City is real! I'm not anything. I'm aware of who I want to be and I want to marry a man. That's it."
I think we can all agree that Sex and the City isn't real, for starters — although it bears mentioning that SATC, while worshipping at the altar of gay male sexuality, treated lesbianism alternately like a desperate and monotonous last resort, a trendy thing all the kids are doing, a way to get ahead in the workplace and a party game (literally and figuratively, re: the party game). Perhaps Jessie J marathoned all six seasons in a sound-depravation chamber and is now rocking back and forth softly in a chair clutching a purse made out of a bird and wondering when her White Knight is coming because her hair hurts?
No, but seriously, obviously many humans have reacted with emotional violence to this revelation, inspiring Jessie to take to twitter to point out that she hasn't killed anybody.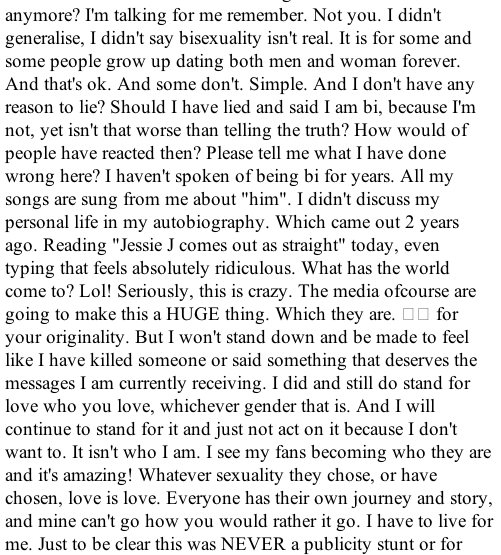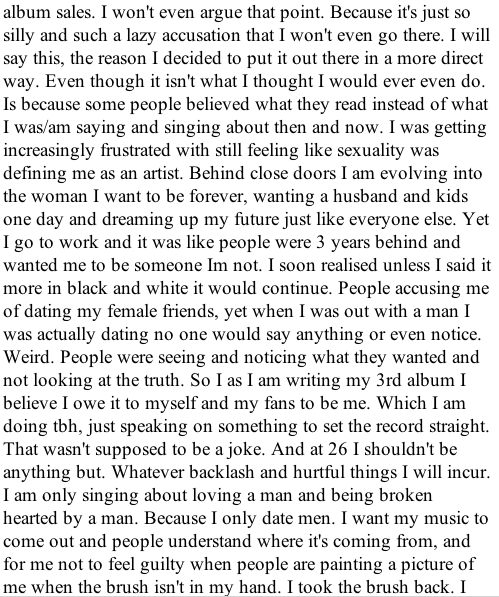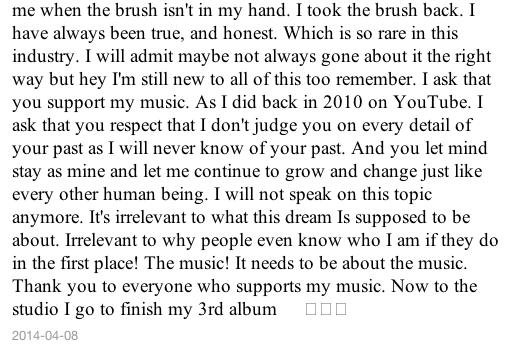 Although I agree that directing hate towards Jessie J or anybody, ever, is counterproductive and misguided, there's also a lot about that statement that rubs me the wrong way, including her incorrect citation of twitter's 140-character limit. But before I get into that, I will say this: we do put pressure on stars to declare their sexual orientation at a really young age, and that's not always fair, and it's not fair to chastise them later for reclaiming what they've come to realize is their true identity. I think about this a lot when people talk about Kristen Stewart — she might be gay, she might be bi, she might be straight, we really don't know, but I'm surprised by how infrequently people consider the possibility that Kristen herself is either still figuring it out, or, if she is gay, might still honestly believe that she is straight. She wouldn't be the first woman to not realize her own queerness no matter how many times inquiring minds wanted to know. I was 25 by the time I finally beat my internalized homophobia into submission and felt comfortable openly identifying as gay, queer, lesbian or bisexual, and we do need to realize that anything coming from a young person is not necessarily a "final answer." Treating it as such only serves to make young stars more hesitant to open up about feelings that might be really confusing.
That being said, in Jessie's follow-up statements on twitter, it's curious that she seems to be positing bisexuality as an identity which puts her "into a box," but is eager to speak openly and bluntly about her heterosexuality, seemingly because she doesn't feel straightness does put her in a box. She's miffed that people assumed she was dating her female friends but failed to acknowledge her boyfriends. To be honest, her twitter speech is uncomfortably familiar, like something your now-straight ex-girlfriend would say to explain why she doesn't want anyone to know that you used to date 'cause she's worried being labeled "bisexual" will ruin her chances with men and therefore wants to distance herself from that word as dramatically as possible. To which I say: any man who won't date you 'cause you're bisexual sucks even more than all cis men inherently suck, which is a lot.
Jessie insists that she never used that word to describe herself, but she basically did by referring to girls who just kissed their friends as "not bisexual" in opposition to her own identity. Regardless, I personally believe that if we're okay with calling women who date men "heterosexual" even if they've never stood up and said "I am heterosexual," we should be okay with calling women who openly declare that they date men and women as "bisexual" or "queer," too, unless they've requested we use another label, in which case we should exclusively use their chosen label when discussing them. That vigilant in-community policing of applying those words to celebrities only serves to amp up the stigma around those words (there's no universally agreed-upon catch-all word, after all!) by treating them differently than we do every other word in the dictionary (wherein a thing that matches a certain definition can be called the word that definition defines until we are otherwise notified). 
Furthermore, she also seems to be positing some things as mutually exclusive that are not mutually exclusive: I too want a husband and kids one day, but I also expect that the "husband" I raise my kids with will be female. Being gay or bisexual and "wanting a husband and kids one day" are not mutually exclusive. The fact that she wants to date men now doesn't have to mean that she's not bisexual, either, as "wanting to date men" or even "wanting to marry men" and "being bisexual" also aren't mutually exclusive. I can't tell Jessie J what she is, but I can suggest that her narrative sounds a lot more like sexual fluidity than heterosexuality. If she's honestly saying she's been straight all along and that dating girls was just a misguided phase, then, honestly, I feel sorry for her ex-girlfriend. The media is always eager to feel bad for ex-boyfriends and ex-husbands of women who come out as lesbians later in life, after all.
Ouch.
It's not Jessie J's responsibility to ensure that your friends and family believe that your bisexuality is real, and anybody who takes your sexuality less seriously because of Jessie J's recent revelation is being a jackass who doesn't deserve our collective concern. But it is her responsibility, as it is every ally's responsibility, to not talk about bisexuality like it's a curse or a disease she can't wait to be rid of — a nasty thing from the past she loathes to revisit. And although she doesn't have to lie to the media, it would've been awfully kind for her to refrain from referring to it as a "phase," specifically.
"Jessie J's assertion that she wants to "stop talking about it completely" is directed at a media fond of asking her questions about her sexuality, but however justified her frustration, the message to young women and men questioning their sexuality is that she's over it, she doesn't want it to be a part of her life anymore, it's something that she wants to move away from," writes Laura Kay in The Guardian. "But having already entered into a public discussion about it, to dismiss her previous brave coming out as something she did when she was young and naive, just "a part of growing up," is a real shame."
Ultimately there's nothing wrong with being straight, there's nothing wrong with being gay, there's nothing wrong with being bisexual or queer or a lesbian or pansexual or however you identify. Wanting to do it like a dude doesn't mean you can't do it with a dude and Jessie J doesn't have to be anybody but herself, that's true, and I don't think she deserves to be mercilessly attacked. But I don't think she deserves your unqualified affections, either — no musical artist does. And if her unabashed queerness was what drew you to her music, you're certainly not obligated to maintain that affection in light of her recent conversion to The Bible of Charlotte York.
To be honest, I'm personally way less interested in her whole situation now than I was yesterday when I still thought she was bisexual. As the wise and totally real Carrie Bradshaw once said:
---
In order to make sure that the comments section on this article is a healthy and welcoming place for our bisexual readers, please note that any comments that question the validity of bisexuality or sexual fluidity as a sexual orientation, question Autostraddle's decision to publish pieces discussing bisexuality, or make essentialist claims about bisexual people (ex. bisexuals are cheaters, bisexuals turn out to be gay) will be swiftly deleted.