This will be shocking, but – it appears that Katy Perry has said or done something that is deeply offensive to the queer community. I know! I know. What was it this time? In the print version of her Rolling Stone feature on her California Girls tour, Tomas Mournian reports on Queerty that Perry is quoted as saying "You can't be a full tranny every day of the week… that's an exaggerated part of my personality." Yup! Those were words that her mouth formed!
Since the quote and its context are judiciously left out of the online version of the same feature, I was initially forced to analyze this situation based on what's left, which is filled with gems like "When I was a kid, I asked questions about my faith. Now I'm asking questions about the world," a tactful nod to the fact that Perry's career began as a Christian singer with minister parents.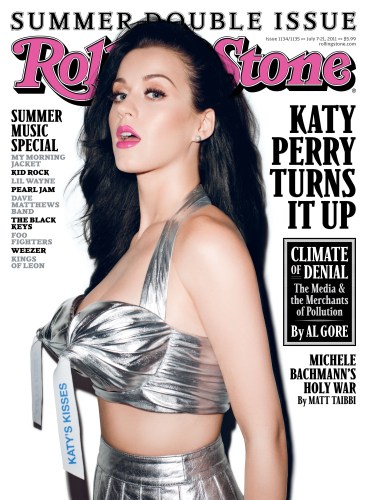 Luckily, my editor has a lot of magazine subscriptions, including Rolling Stone. Here is what the print magazine says (following a section where she talks about her husband's former sex addiction and how he's changed so much since then):
"…but what about that pic of her [Russel Brand] tweeted to the world, looking more or less like she looks right now? Wasn't she pissed?
"I wasn't pissed," she says. "I mean, I can't be a full tranny every day of the week. That's an exaggerated part of my personality. It's me hamming it up. The exterior me is a little bit more smiley than the interior me. So, that picture, it just shows that I'm a normal, everyday woman who has really big dreams. It gives encouragement to any girls out there that they, too, can be a larger-than-life cartoon."
[my editor would also like to add that the quote "I can't be a full tranny every day of the week. That's an exaggerated part of my personality" is, in fact, the pullquote on page 74 of Rolling Stone, which means it's in a larger font and the first clause is highlighted in yellow.]
Why would anyone use an outright slur so incredibly dismissive and offensive, especially when talking to a reporter for a nationally circulated magazine? (Sidenote: does Katy Perry know the difference between a trans woman and a drag queen?) That's a good question. Probably the answer is the same as the answer to "why would you perform song lyrics like this?"
+ "Just wanna try you on/I'm curious for you"
+ "I hope my boyfriend don't mind it."
+ "It doesn't matter/you're my experimental game"
+ "It's not what good girls do"
+ "You're so gay"
+ "I hope you hang yourself with your H&M scarf"
+ "I can't believe I fell in love with someone who wears more makeup than me"
So, to recap: maybe Katy Perry says things like this because she has zero concern for queer, gay, lesbian, bisexual, trans and non-gender conforming people! Perry has indeed released a song that she says is not only about fireworks, but about convincing gay kids not to commit suicide; the video features two boys kissing. The same song was recently used by Michele Bachmann, virulently anti-gay GOP candidate, on her campaign trail.  Bachmann claims to have virtually no knowledge of the song's background, but somehow it seems fitting. Perry has been quoted as saying "I am a gay activist and I say that proudly. I voted no on Prop 8." But Perry was also chastised by GLAAD for a tweet last year that openly mocked a trans man's body, joking that it was a medically induced deformity:
In the end, Perry's success as a hugely popular mainstream star stems from her enthusiastic embrace of norms of gender and sex; the integrity of her brand requires her to be at best dismissive of difference in gender presentation and sexual orientation, and at worst insulting towards it. Another interesting quote from her Rolling Stone piece is as follows:
"I think we are largely in desperate need of revolutionary change in the way our mindset is. Our priority is fame, and people's wellness is way low. I saw this knowing full well that I'm a part of the problem. I'm playing the game… though I am trying to reroute. Anyway, not to get all politically divulging and introspective, but the fact that America doesn't have free health care drives me fucking absolutely crazy, and is so wrong."
Perry's entire career is based on complicity with dominant values, especially surrounding gender and bodies; from her days as a Christian singer with a veneer of wide-eyed naivete to her current sex symbol status. Holding out any hope for her to support alternative expressions of those categories is almost certainly wasted energy. Katy Perry isn't going to start actually caring about queer or trans people; the rest of us should just stop being surprised.